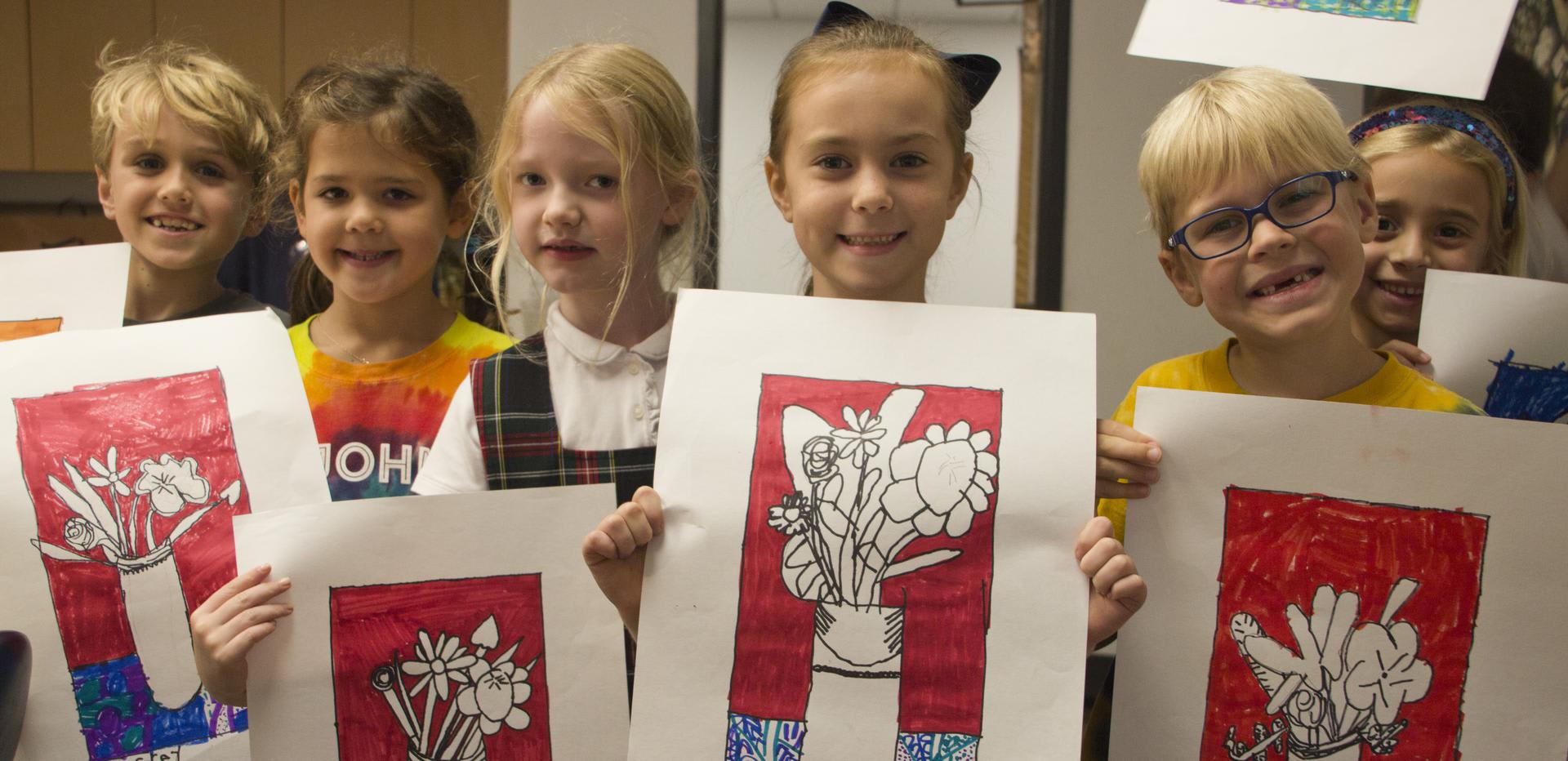 First-grade students show off their still-life artwork.
NEWS & NEXT WEEK'S EVENTS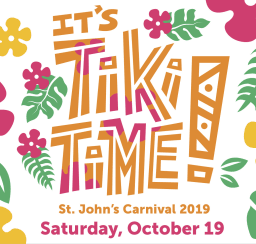 CARNIVAL 2019: IT'S TIKI TIME!
Saturday, October 19, 2:00 - 6:00 p.m. 
Catch a Wave - Advance Ticket Sales Close Tonight!
A $35 gold wristband is all-inclusive, giving you full access to games, rides, entertainment, and sliders from neighborhood favorite Liberty Burger! Blue wristbands for $15 get you in the door with pay-as-you-go access to all activities and events. Online ticket sales will close tonight, Friday, October 11 at midnight so purchase your wristbands and tickets now. Wristband prices will increase by $5 when purchased on the day of Carnival.
Hang Loose and Volunteer
You can be an island hero by working a shift at your class-assigned booth or event during the carnival. We need everyone to pitch in! Volunteers are also needed to lend a hand with setup before the luau and cleanup after the party ends. Sign up today!   
Coconut or Chocolate?
Whatever your taste buds crave, sign up for the Bake Sale! Share your favorite nut-free, homemade or purchased treats. Baked goods may be dropped off on conference day, Friday, October 18 between the hours of 8:00 a.m. and 1:00 p.m. in Parish Hall.
10th Annual Tailgate BBQ Competition
Who will be crowned the Big Kahuna at this year's tailgate? Are you a grill master, or ready to "pit" your skills against the best around? Entry is limited to 10 teams, so register now to guarantee your spot. Scroll down to "Tailgate Team Entry" or contact Bethany Jordan with questions.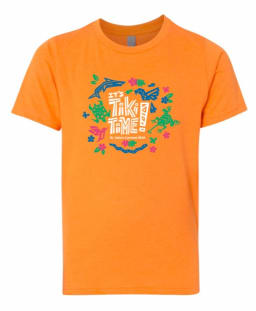 CARNIVAL SPIRIT DAY
Spirit Day is Thursday, October 17. Students may wear this year's official carnival T-shirt (or any St. John's shirt) with jeans, athletic pants or shorts. Free dress guidelines apply, located on page 43 in the school handbook, which can be found on ParentsWeb under Resources/Documents. If your child chooses not to participate, he or she must wear a regular school uniform.
IMPORTANT SAFETY GUIDELINES
We need your help to protect students during carpool as we are continuing to experience non-compliance of carpool guidelines. Parking on the Harter greenbelt adjacent to the outdoor classroom is strictly prohibited during carpool. It creates a hazardous situation by reducing visibility and interfering with the flow of vehicles exiting the school property. Additionally, parking against traffic is illegal and unattended vehicles will receive a parking ticket. We ask that everyone respect these regulations for the safety of all of our students. Please do your part by following the carpool procedures listed on your hangtag and dropping off and picking up your child at the designated school entrances for both Lower and Middle School. If you have any questions, please contact Sue Trumbo at x107.
iPadOS DO NOT UPDATE
We are still testing some necessary apps for the newly released iPadOS. Please remind your child NOT to upgrade his or her iPad until you receive an all-clear email from the school. Upgrading before we test frequently used apps may mean your child will be unable to access apps or complete assignments for school.
FALL BREAK
No classes will be held on Monday, October 14. Classes will resume on Tuesday, October 15 at 8:00 a.m. Enjoy some cooler weather over the Fall Break!
LOWER SCHOOL ADMISSION COFFEE
St. John's will host our first admission event with a Lower School (pre-k through fourth grade) Admission Coffee on Wednesday, October 16 from 9:30 to 11:00 a.m. in the library. Please encourage your friends who are evaluating options for the 2020-2021 school year to join us for this informative preview! They can read more about the admission process and RSVP at stjohnsschool.org/openhouse.
FALL CONFERENCE DAY
Conference Day will be Friday, October 18. Please note that fourth through eighth grade students attend the conference with their parents. There will be no classes on Conference Day; however, After School Program staff will provide childcare for children four years old through fourth grade in Owen Gym for the duration of your child's conference. Drop-in childcare is available between 7:30 a.m. and 4:30 p.m. All students must be picked up by 4:30 p.m. This year, the service is free of charge. Students may not bring iPads or other electronic devices.
EARLY CHILDHOOD ADMISSION COFFEE
St. John's will host our Early Childhood (pre-k and kindergarten) Admission Coffee on Wednesday, October 23 from 9:30 to 11:00 a.m. in the library. We would love to have your friends who are evaluating options for the 2020-2021 school year join us for this informative event! They can read more about the admission process and RSVP at stjohnsschool.org/openhouse.
PICTURE DAY RETAKES
School photo retakes will take place on Tuesday, October 29 from 7:30 - 9:30 a.m. in the Lower School Commons. If you wish to have your child's photo retaken, please return the photo packet that you received to your child's teacher before October 29.  All students who wish to have their photos taken must wear full dress uniforms including sweaters/blazers.
LOWER SCHOOL HALLOWEEN GUIDELINES
This year, Lower School students may wear Halloween costumes all day. On Thursday, October 31 the Lower School will celebrate Halloween with a parade, sing-along, and classroom parties at the end of the school day. Students who would like to wear a costume should come dressed to morning drop-off, as students will not be changing into their costumes at school. If a student opts to not wear a costume, they must wear their normal school uniform. Dismissal for kindergarten through fourth grade is 3:00 p.m. Please review the Lower School Halloween Guidelines. Please keep in mind that all costumes must comply with our free dress guidelines.
MIDDLE SCHOOL HALLOWEEN GUIDELINES
Student Council and National Junior Honor Society have planned a Middle School Halloween costume day for Thursday, October 31. Middle School students may wear their costumes to school that day. Costumes must follow free-dress guidelines and may not include masks, makeup, weapons, inflatables or elements considered inappropriate for Lower School students. School uniforms are required for those who choose not to participate.
SAVE THE DATE FOR GRANDPARENTS AND GRANDEST FRIENDS DAY
St. John's will celebrate Grandparents and Grandest Friends Day on Friday, November 22. Invitations will be mailed this month. To ensure that your child's special guests receive an invitation, please fill out the form here if the information you provided during enrollment has changed.
ALUMNI RETURN AS GUEST TEACHERS
Current Hockaday juniors from the St. John's Class of 2017 visited Mr. Herod's fifth-grade math class on Wednesday to assist with the lesson for the day. In addition to the curriculum, our alumnae spoke to the students about the importance of building a solid foundation of math skills and developing good study habits in middle school.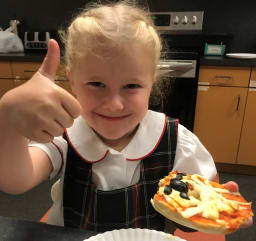 PRE-K MAKES SPIDER PIZZAS
Pre-k students made their own spiderweb pizzas this week with bagels, string cheese, tomato sauce, and black olives arranged to look like a spider! The cooking activity went hand-in-hand with other elements of our spider PBL, including our reading of Eric Carle's book The Very Busy Spider.
PA NOMINATING COMMITTEE
The Parents Association is starting the nominations process for the 2020-2021 school year! We are currently forming the Nominating Committee, which helps identify volunteers to serve on the PA Council each year. Consider nominating one fellow parent (or self-nominate) from Lower School and Middle School to serve on the Nominating Committee here no later than Friday, November 1. All nominees will be contacted to confirm they have time and would like to serve if elected. Nominees will be voted on at the November 5, 2019 PA Meeting. For questions or more information, contact PA Parliamentarian Kristi Bare (kbare@earthlink.net or 214-697-9829)
CHILI COOK-OFF AND TRUNK OR TREAT
St. John's Annual Chili Cook-Off and Trunk or Treat is Saturday, October 26 at noon in the Parish Hall. Dust off those family recipes and compete for this year's title. Get your fill of tasty chili, then get the kids into their costumes and head outside for trick or treating in our parking lot. If you would like to enter your chili or decorate your trunk, please email Michelle Reed.
EARNING THE RIGHT TO BE HEARD
When I was a teenager, I had one of my several experiences when I 'came to faith.' I had been attracted to my school's Young Life club mostly for social reasons, but I also found adult leaders not much older than myself who took me and my questions about faith seriously. When they wanted to talk to me about faith, I could really tell that they were interested in me for my own sake, not just a 'conversion statistic' they could report. It was because of these relationships that I was able to come into a relationship with God. I'll never forget how those adults in my life modeled God to me that first time by taking me seriously. By listening to me, they earned the right to be heard. Because these adults listened to me, I was able to see in a new way how my parents were also trying to listen to me. Yes, we had our share of showdowns, but I could tell how they had spent my entire life earning the right to be heard also.
As the school year settles into this groove and we start conferences, we have one of those opportunities with our young people to really tell them how proud we are of them, especially as they are trying new things and wrestling with growing up. As we give feedback on their growth, we'll also be listening, encouraging, and dreaming with them as they learn how to listen and be heard for who they are becoming.
I'll be praying this week for all our families as we enter into conference time, and that all of the children in our St. John's family feel how much we care for them.
Faithfully,
Fr. Chris Steele+
SJES REMINDERS AND FOLLOW-UP
SIBLING ADMISSION FOR 2020-2021
In order to facilitate planning for the 2020-21 school year, please contact the Admission Office if your child has a sibling for whom you will be applying for admission.
ST. PHILIP'S KIDPRENEUR EXPO
St. Philip's is hosting their 6th annual Kidpreneur Expo on Saturday, October 12 from 12:00 – 3:00 p.m. The Kidpreneur Expo is a St. Philip's School & Community Center initiative that highlights young entrepreneurs ages 6-16 in the Dallas/Fort Worth community and helps them develop their business skills. The mission of the expo is to help students embrace their passion, funnel their creative energy, and achieve profitability from their hard work and talent. Attendance is free, but you must register to receive your ticket.