CHIEF CULTURE, STRATEGY, AND COMMUNICATIONS OFFICER
Head of School Meshea Matthews is delighted to announce that Susan Brower has been named St. John's new Chief Culture, Strategy, and Communications Officer.
As a member of the senior leadership team, Susan will lead the development and implementation of our brand, vision, strategy, and public relations to support the communication and marketing needs of the School, and she will collaborate with other senior leaders on the creation of all publications.
Susan has most recently served as the Director of Communications at The Hockaday School. She brings to the St. John's community extensive experience in communications in an independent school education setting, including strategic planning, culture development, and community engagement.
Prior to her six years at Hockaday, Susan served as the Vice President of Marketing and Communications for the International Association of Exhibitions and Events, an international association headquartered in Dallas serving the needs of thousands of exhibition organizers around the world. While there, she managed the organization's communications, branding, and marketing initiatives in support of its global membership, certification, and events. Susan earned a Bachelor of Arts in Corporate Communications and Public Affairs from Southern Methodist University and is completing a Master of Science in Strategic Communications from Purdue University.
Please join us in welcoming Susan and her family into the St. John's community. 
2020-2021 STUDENT PHYSICALS
In order to make preparations for the best possible learning environment for our students, starting with the 2020-2021 school year, St. John's will require a medical certificate (physical form) to be completed for students entering grades PK, K, 1st, 3rd, 5th, 7th and for all students new to the school.  The information obtained from these forms will be held confidential and will only be communicated to those who need to know in order to care for your student.
The form should be returned to Nurse Amy Johns by July 15, 2020 and must have been completed within the last 12 months. If your child's physical with their pediatrician was completed after June 1, 2019, please submit the form to your child's doctor's office for completion.  Please contact Amy Johns if you have any questions.
Note that it is likely that vision, hearing, and spinal screenings will not take place at school next year due to COVID-19 physical distancing guidelines, so please do have these important screenings done by your child's physician as indicated on the form.
Forms can be sent to:
Amy Johns, BSN, RN
848 Harter Rd.
Dallas, TX 75218
Fax: 214-320-0205
ajohns@stjohnsschool.org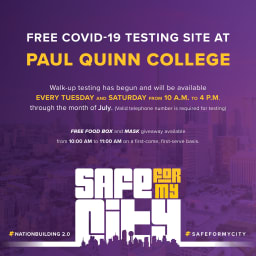 SAFE FOR MY CITY
St. John's is one of Paul Quinn College's partners in "Safe for My City," a free COVID-19 testing campaign which began June 18. Paul Quinn's testing site will be open every Tuesday and Saturday through July between the hours of 10:00 a.m. and 4:00 p.m. To be tested, individuals must have access to a valid telephone number as results will be shared via call/text within 3-5 days.
Paul Quinn is also providing mask giveaways and Minnie's Food Pantry is supplying food boxes for those in need. To volunteer to assist with mask and food distribution, which takes place in a separate area, please use this link or contact Kelsel Thompson.
LOOKING AHEAD
All-Employee Inservice will be held Monday, August 17 - Monday, August 24, 2020.
The first day of school for students will be Tuesday, August 25 with a mid-day dismissal.
Labor Day Break for families will be Friday, September 4 through Monday, September 7 so that employees can take part in a full day of in-service on September 4.
Fall Break for families is scheduled for Friday, October 9 through Monday, October 12 with all employees participating in in-service on October 9.
ST. JOHN'S EPISCOPAL SCHOOL | STJOHNSSCHOOL.ORG | 214-328-9131