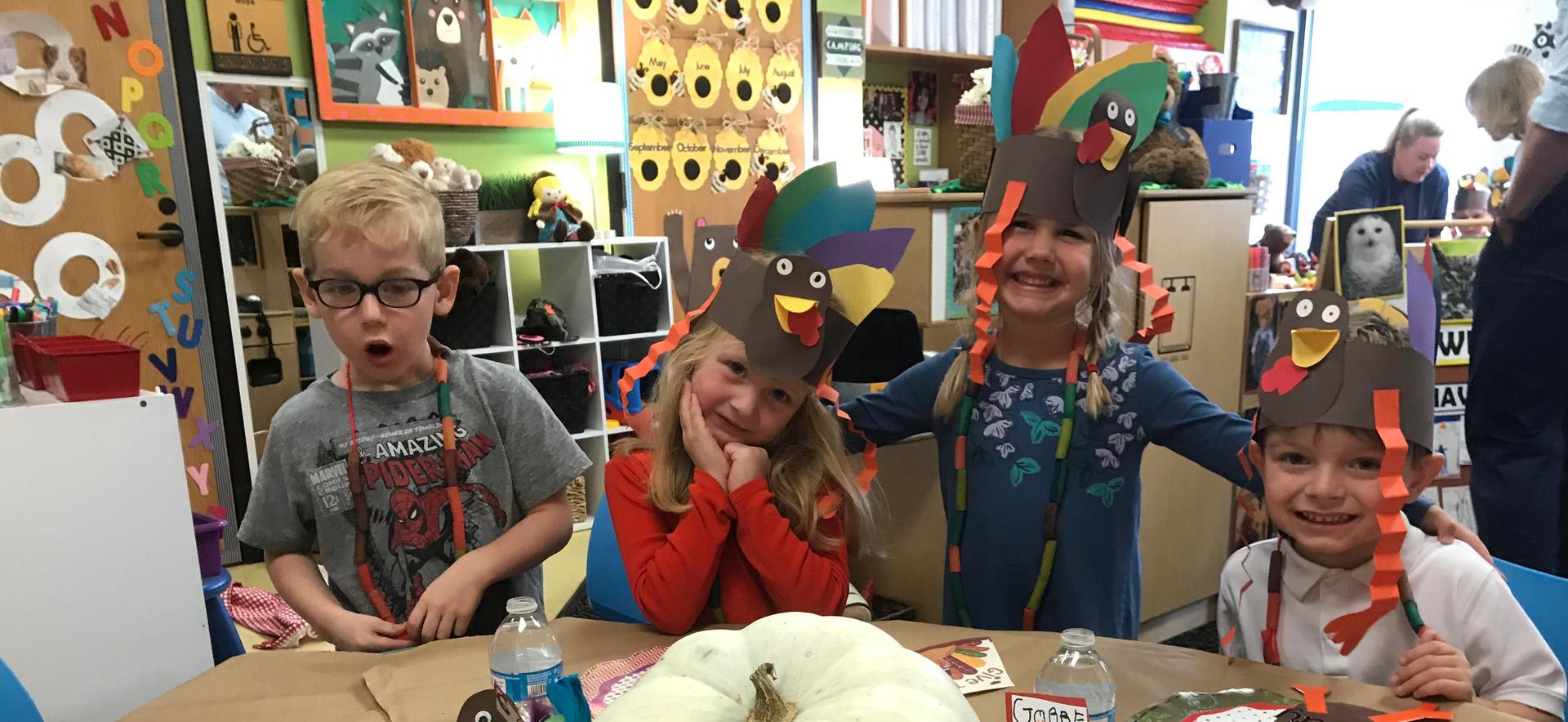 Pre-k students welcomed their parents for a pre-Thanksgiving feast.
NEWS & NEXT WEEK'S EVENTS
GRANDPARENTS AND GRANDEST FRIENDS DAY
We look forward to seeing our students' grandparents and friends on the morning of Friday, November 22.
Please note: Grandparents and Grandest Friends Day concludes at 10:30 a.m. for Lower School and 11:00 a.m. for Middle School. Students not leaving with their grandparents must be picked up by 11:30 a.m. There will be no after-school program or homework club. 
Also: Eucharist will be celebrated on Friday, November 22, instead of the preceding Wednesday. Correspondingly, full-dress uniforms will be required on Friday, but not on Wednesday.
THANKSGIVING BREAK
Thanksgiving break will begin Monday, November 25, and will continue through Friday, November 29. Classes will resume on Monday, December 2, at 8:00 a.m. Have a fun and safe Thanksgiving break!
TUITION ASSISTANCE DUE DECEMBER 6
The FACTS financial aid application portal for the 2020-2021 school year is open. For currently enrolled students, the deadline for application is Friday, December 6. Please contact Director of Finance & Financial Aid Linda Wilson or Finance Assistant Lani Jones with any questions regarding our financial assistance program.
MIDDLE SCHOOL SPELLING BEE
Twenty-five fifth through eighth graders will participate in the Middle School Spelling Bee on Tuesday, December 3, at 8:05 a.m. in the main gym. The winner of this Bee will move on to the Dallas County Private School Spelling Bee, which will be the evening of Tuesday, February 18 at Good Shepherd Episcopal School. See the participant list.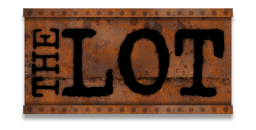 ST. JOHN'S FUNDRAISER AT THE LOT
Please visit one of our neighborhood favorites, The LOT, for a St. John's fundraiser on Tuesday, December 3. Whether it's lunch or dinner, dine in or pick up, The LOT will donate 15% of sales to our school. Don't forget to mention St. John's when you place your order, and be sure to enter to win a gift certificate while you're there!
ADMISSION OPEN HOUSE
St. John's will be hosting an admission open house from on Wednesday, December 4, from 9:30 to 11:00 a.m. Please continue to refer your friends and family who are interested in St. John's for the 2020-2021 school year.
INVITATION TO RETIREMENT RECEPTION FOR NANCY JACOBS
Please join us for a come-and-go reception honoring retiring Admission Director Nancy Jacobs Wednesday, December 4, 3:30 – 5:00 p.m. in Parish Hall. See the invitation and read Nancy's bio.
LOWER SCHOOL ADVENT & LESSONS AND CAROLS
Advent Carol services will be held in the chapel on Tuesday, December 10, for first through fourth grade students and their families. The first and second grade service will be held at 8:15 a.m. and the third and fourth grade service will be held at 9:15 a.m. Pre-k and kindergarten students will present their Lessons and Carols on Friday, December 13, from 2:15 p.m. to 2:35 p.m. in the chapel. All performances will be recorded and links to the footage will be made available afterward.
STOCK MARKET GAME
The most recent results of the Stock Market Game are in, with our two middle school teams in 8th and 23rd place overall. With over 100 teams involved in North Texas, our students are doing very well. The Peppa Trons have grown their $100,000 portfolio to a current total of $107,540 and are in 8th place. The 3 Amigos Team grew their portfolio at an average of $632 per day, taking their $100,000 portfolio up to a current total of $104,468. The competition will run through December 6.
SIXTH GRADE TRIP TO PAUL QUINN COLLEGE
On Tuesday, sixth grade students made their first trip to Paul Quinn College to work at We Over Me Farm. This farm, operated by student employees, aims to feed low income residents of the surrounding community while giving students valuable work experience. Sixth grade students built rows of compost, planted celery and harvested sweet potatoes. They look forward to visiting the farm again for their next Service Saturday on December 14.
PENGUIN AWARD WINNERS
At St. John's, we guide students to discover a passion for learning and for life, teaching compassion, creativity, exploration and collaboration. We are dedicated to supporting the growth of our students throughout their time with us, which is often the result of trying something new, giving extraordinary effort, and acting with an attitude of discovery. To recognize these traits, we have adopted the Penguin Award, awarded to students from each Middle School grade each trimester. The recipients have shown they are willing to plunge into a new project, topic, subject, assignment or area of study. Through their actions, they have been an inspiration to others, and they have demonstrated qualities we value in our graduates, such as tenacity, resiliency, optimism and genuine curiosity. We congratulate the following fifth and sixth grade students, who were honored in chapel: Maddy Fisher, Andrew Skarbek, Sydney Fallen, and Anderson Hardin. The seventh and eighth grade Penguin Awards will be presented following the Thanksgiving break.
There will be no sports games or practices during the week of November 25-29. Enjoy your Thanksgiving Break.
NOMINATIONS FOR PARENTS ASSOCIATION COUNCIL
The Parents Association wants YOU! The Nominations Committee is excited to meet soon to begin to slate PA Leadership for 2020-2021. Nominate yourself or a friend to serve on the PA Council. There are jobs that fit all interests, skill sets and schedules. We are thrilled to launch the new online Nominations form which also includes descriptions of each position. All individuals who would like to be considered for a position on the PA Council are asked to please fill out the online form. For questions or additional information, please contact the PA Parliamentarian Kristi Bare. All submissions are due no later than noon on Tuesday, December 3.
NEIMAN MARCUS SOCIAL THANK YOU
The Neiman Marcus Social was the best one yet! We appreciate the team at Neiman Marcus for creating a unique event for our school. Special gratitude to Jennifer Robinson for orchestrating such a wonderful evening. The event was also made possible thanks to the support of hostesses Liz Lamberson, Holly Watkins, Julie Halverson, Deborah Hill, Sarah McCallum, Lissa Dewar, Alison Silliman, Kelly St. John Forde, Carrie Sethi, Claudia Magee, Jennifer Kukla, Donna Vaught, Deborah Perry, Meagan Skarbek, Juli Srinivasan, Allison Methvin, Jenny Lerom-Cooper, Becky Clarke, Natalie Anderson, and Keri Hulsey.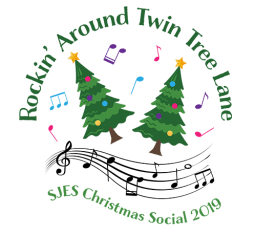 ROCKIN' AROUND TWIN TREE LANE - CHRISTMAS SOCIAL
Come "Rock Around Twin Tree Lane" as our annual popular Christmas family social moves to a new street this year. On Friday, December 6, from 6:00 - 9:00 p.m. enjoy the holiday lights while stopping at several houses for many treats, which include festive drinks and snacks, an outdoor movie, pictures with Santa and more. Generously hosted by the Anderson, Barry, Watts Betasso, Brinkley, Brown, Butler, Davis, Dunkin, Parkey, Sieg, Skarbek, Srinivasan, Sze, McCord, Halverson, Hamilton, Matthews, Wedeberg, and Williamson families. Get your tickets before they are sold out.
ST. JOHN'S HOLIDAY APPRECIATION FUND
Considering a holiday gift for your child's teacher? In lieu of a personal gift, the Parents Association encourages you to contribute to the St. John's Holiday Appreciation Fund, which is now open. Donations are neither required nor expected, but always appreciated. The fund serves as an inclusive, easy way for parents to show their appreciation and for all faculty to feel parents' gratitude. Donations, which have no monetary limit, received by Friday, December 13, will be divided and hand-delivered before Christmas. You may use the link above or drop a check off at the front desk. When you contribute to the fund, you will receive a printable certificate to include in a Holiday card to your teachers, letting them know about the donation.