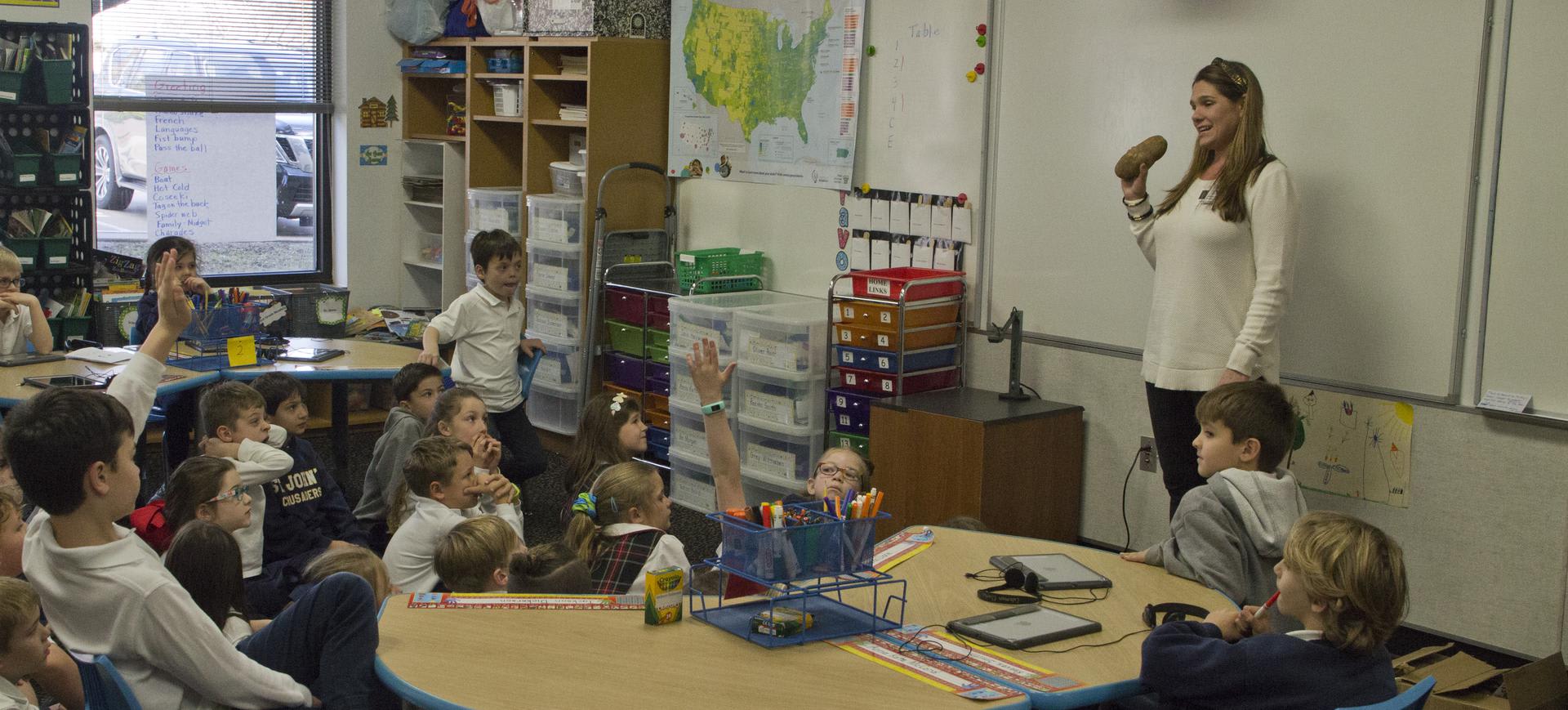 Jennifer Dickerson of Bud's Salads taught the first grade the life cycle of the potato plant.
NEWS & NEXT WEEK'S EVENTS
RED HOT PEPPERS SMU TICKETS
The St. John's jump rope team has been selected to present the half-time performance at the SMU Men's Basketball game against Wichita State University on Sunday, March 1, at 3:00 p.m. The St. John's community has been provided discount tickets to watch our jumpers wow the crowd at Moody Coliseum on the SMU campus in the last conference game of the season. 
If you wish to join us cheering on St. John's at the SMU game, please contact Lynn Granello for tickets. $9 discount tickets must be ordered through Lynn no later than February 23. Come cheer on our Red Hot Peppers and the SMU Mustangs!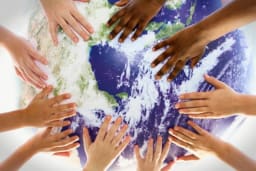 CULTURE FEST 2020 TABLE HOSTS
¡Hola! G'day, Mate! Salut! Top of the morning to you! Guten Tag!
Do you ever think about what makes YOU you? Cultural heritage plays an important role in personal identity and sharing our background and traditions helps everyone gain a deeper appreciation of our diversity. St. John's will celebrate Culture Fest next Friday, February 28 and we would love to have your support!
Sign up today to share your family heritage with our students and enjoy an afternoon devoted to fun activities that enrich our understanding of each other. Culture Fest coordinators Monica Breeding or Morgan Martinez are happy to answer any questions you might have.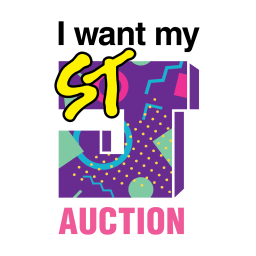 AUCTION 2020: I WANT MY ST. JOHN'S AUCTION
BUELLER? BUELLER? BUELLER?  There's no time for a day off, ticket prices increase from $150 to $175 at MIDNIGHT FEBRUARY 23!  This IS the week to purchase your tickets for the most rad party celebrating the best decade, ever: The '80s. Get your leg warmers, perms and mullets ready to party, karamu, fiesta, forever, all night long! 
Woooaah, you're halfway there... you could be livin' on a prayer by winning HALF-PRICED TUITION in this year's tuition raffle! Two lucky families will win, so get your single raffle tickets for $125 or a 5-pack for $500. Tickets are running out, so hurry and purchase your tickets now before they're gone! 
ASH WEDNESDAY
Dress uniforms are required for all students Wednesday, February 26, in celebration of Eucharist. First- through eighth-grade students will receive the imposition of ashes. Your preference for whether your child will receive ashes or a blessing during the service is part of our annual online enrollment process. Your child's homeroom teacher/advisor will have that information.
SIXTH THROUGH EIGHTH GRADE DANCE
The sixth through eighth grade dance will be on Friday, February 28 in the Owen Gym. Please consult page 46 of the Handbook for guidelines on proper attire. The 2020 Handbook is available on the Resources page of RenWeb.
CRUSADER CLUB IS INTERESTED IN YOU
The Crusader Club showcases our students' talents, connects parents through fun events, ties our school to its' Episcopal identity, and gives back to the school and greater community through volunteer service activities and annual fundraising events.
We need your help to continue the success!  We are actively soliciting volunteers for Crusader Club leadership next year. Volunteer positions take into consideration family, career obligations, and require a modest investment of time. We have four opportunities: President, Social Chair (Cornhole), Service Chair (Crusader Club Cares Day), and Sports Chair (Golf Tourney). What better place to share your talents than for your child's school!
Please submit your suggestions here by February 28. Questions? Crusader Club President Byron Johnson or PA Liaison Sarah Donahue are happy to help.
CRUSADER CLUB CARES
All St. John's families are invited to join the Crusader Club Saturday, February 29, for the eleventh annual Crusader Club Cares Day. Pre-k through fourth grade volunteers and their parents will gather in the Lower School commons area by 8:45 a.m. for coffee, snacks and a prayer. Fifth through eighth grade participants will go directly to the We Over Me Farm that morning. Groups will divide for individual, age-appropriate projects, all of which will be completed by noon. This year, participants will help three local agencies: SoupMobile, Buckner International, and the We Over Me Farm. Register here to secure your spot.
TIP OF THE WEEK
TikTok Nonstop: Should You Say Yes or No?
There are plenty of flash-in-the-pan apps, but it turns out TikTok is decidedly not one of them. If your child isn't already using it, they're probably asking to. But should you say yes? What are the pros and cons?
CELEBRATE READING WEEK
The week of March 2, our Lower School will celebrate READING with fun activities and dress-up days.
Thursday, March 5, from 8:00 until 8:30 am, Lower School will observe D.E.A.R. (Drop Everything and Read). Third and fourth graders should bring non-school-related reading material with them (book, magazine, comic, etc.). Pre-k through second graders will be read to or will read themselves during that time.
Throughout the week, we'll celebrate reading with fun dress-up days:
Monday, March 2: OH, THE PLACES YOU'LL GO (Wear jeans/athletic pants/shorts/leggings (if the shirt is long enough to cover bottom) and a vacation shirt that has the name of a place on it.
Tuesday, March 3: READING ROUNDUP (Wear western-themed (bandana, cowboy hat (no boots), etc.) free dress and "round up" your favorite books.)
Wednesday, March 4: KIDS IN SOCKS (Wear crazy socks with your uniform.)
Thursday, March 5: INSPIRED BY READING (Wear a book or book character-themed shirt (homemade or store-bought) OR dress up as your favorite book character.)
Friday, March 6: HOORAY FOR ST. JOHN'S (Wear a St. John's T-shirt with jeans/athletic pants/shorts and tennis shoes today.)
If a child chooses not to participate in any of the dress-up day activities, he or she must wear a regular school uniform. Please contact librarian Jennifer Powers with questions.
BUDDY DAY
The next Buddy Day will be Monday, March 2. Buddy days are anticipated events at St. John's that integrate the older and younger students of the school and give the older students a chance to be role models.
"LIKE" THE MOVIE
LIKE is a documentary that explores the impact of social media on our lives. Technology is a tool. It's here to stay and social platforms are a place to connect, share and care, but what's really happening? Are we addicted? How do we stop? Where do we start? What do we need to know? By understanding the effects of technology and social media on the brain, on our lives and on our civilization, we can learn how to navigate it more safely together. Please join us from 6:30-8:00 p.m. on Wednesday, March 4 in Clements Hall for the film screening and discussion moderated by Dr. Ryan Smith. The event is free, but we request that you RSVP to reserve your space.
ATHLETICS CONGRATULATIONS
Congratulations to the MAL Girls basketball team! Though they lost a close playoff game by only two points, their hard work and determination made us all proud.

EIGHTH GRADE SERVICE LEARNING
Beginning Monday, February 25, St. John's eighth graders will begin their eagerly anticipated trimester of service learning. This year, this important part of St. John's commitment to service learning will begin with a launch event at Trusted World. This is a wonderful organization that provides supplies and services to client-facing organizations. St. John's first worked with Trusted World in the aftermath of Hurricane Harvey, and eighth graders will be helping to sort and organize donated clothing in their warehouse.
FIRST GRADE LEARNS ABOUT POTATOES
Jennifer Dickerson visited the first grade to teach the students about the farming, harvesting, transportation, and sale of potatoes. The first grade was excited to learn that the potatoes that they planted in our community garden will be fully grown and ready to be harvest in just three months!  At the end of the visit, Mrs. Dickerson gave each student received a bag of fingerling potatoes and a potato scrubber. Thank you Jennifer Dickerson and Bud's Salads!
There are no scheduled sports activities for the week of February 24-28.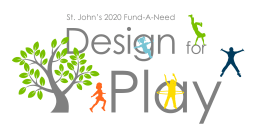 FUND-A-NEED: DESIGN FOR PLAY
The Parent's Association is thrilled to announce the 2020 Fund-A-Need, Design For Play, an initiative to optimize the playground area to create additional play spaces while further beautifying our campus, a project that is backed unanimously by the St. John's faculty.
Along with a focus on environmental conservation efforts to protect our campus, Bare Roots Landscape Solutions is incorporating our student's research and solutions and putting their science into action. Visual renderings will showcase the ideas around terracing, additional seating, artificial turf for additional play spaces, safety and ramp accessibility, and new landscaping, to list a few.
Stay tuned in the coming weeks for details around our fundraising goal and naming rights opportunities!  Questions? Don't hesitate to contact Shannon DeVilbiss for additional information.
FINAL 2020 PA MEETING and STATE OF THE UNION
Mark your calendars for Tuesday, March 3, at noon in Parish Hall, as the Parents Association hosts its final general meeting of the school year. Attendees will hear about the state of the union from Head of School Meshea Matthews, Head of Lower School Jayme Johnson and Head of Middle School Pam Jordan. We will announce, vote, and approve the PA Council for 2020-2021. Also, attendees will have a chance to preview the beautiful art that our students have created to be featured at auction. All parents are invited, and a light lunch will be served.
AUCTION ART PREVIEW
In addition to saving the date for our most righteous auction to date, Saturday, March 7, at Gilley's South Side Ballroom, please mark your calendar for Tuesday, March 3, to preview I WANT MY ST. JOHN'S grade level art projects. From 10:00 a.m. - 5:00 p.m., drop into Parish Hall to view these visual stunners. You can also preview these pieces of art at the last PA meeting Tuesday, March 3, from noon - 1:00 p.m.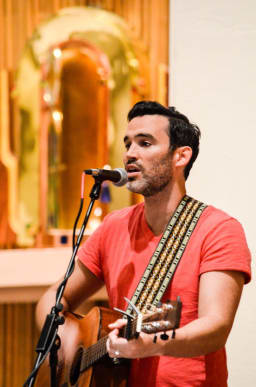 GOD IS...
This week we finished up the theme "God is Love." Mr. Porcheddu's brilliant chapel talk on Wednesday focused on the self-giving, Christ-like love that is at the heart of the Disney smash Frozen. (And I hope all y'all can make it to the seventh grade's production of Frozen this weekend.)
Next week we move on to the topic "God is Holy." It's the perfect theme as we head into Lent on Ash Wednesday. Why do we need to repent, and say we are sorry, and confess our sins? Because we are not the perfect goodness, beauty, and truth that we see in God—that's his holiness. And even as we admit to God all that we are not, God is gracious to share with us everything that he is.
Also, don't forget about my invitation for you to join us for Mardi Gras. Click on the link and come to the party!
As always, let me know how chapel is going and what your kids are talking about.
Peace,
Fr. David Houk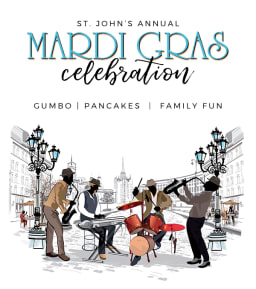 ST. JOHN'S MARDI GRAS
Join us Tuesday evening, February 25, for a New Orleans-style party. Fill up on tasty gumbo or pancakes (or both). Friends of all ages are invited to compete in pancake races for cool prizes. Everyone is invited to decorate Mardi Gras masks in the Parish Hall classroom while rocking to some great music. Come and go as you please. Purchase your individual or family tickets on Sundays between or after services, online, or at the door.
Individual Tickets $5, Family Tickets $15
SJES REMINDERS AND FOLLOW-UP
MARCH BIRTHDAY + LUNCH MENU
The birthday blessing schedule for pre-k through eighth grade March birthdays is posted on ParentsWeb (School / Resources). You will also find the monthly lunch menu in ParentsWeb (School / Resources), as well as under the Current Families page of the website. See the March menu.
WINSTON LECTURE SERIES
You are invited to attend a Winston Lecture Series event hosted by the Grant Halliburton Foundation on Wednesday, March 11, at 6:30 p.m. at The Winston School. Vanita Halliburton will give her Bounce Back presentation, which explores how adults can help children navigate stress, challenge, tragedy, trauma, or adversity. Please register to reserve your seat.