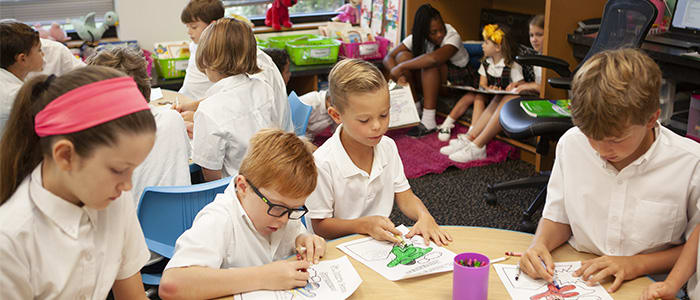 Students working together on Buddy Day
NEWS & NEXT WEEK'S EVENTS
CARPOOL ALERT
Cars picking up Middle School students are allowed to enter the carpool line at 3:40 p.m. (3:10 on Wednesdays). The Middle School carpool area is coned-off and not accessible until that time. If families with both Lower and Middle School students opt to enter the carpool line and pick up Lower School students during an earlier carpool window, cars will be asked to exit, get back in line, and re-enter at 3:40 p.m. Please review our carpool entry and grade level dismissal times.
INSTALLATION CEREMONY TOMORROW
First through eighth grade students had great morning practicing the processional, and we are all prepared for the Head of School installation ceremony. We are looking forward to seeing everyone for this all-school celebration tomorrow, September 14, at 5:30 p.m. If you would like to attend, please RSVP. This event will be valet only; you may drive to the back of campus to valet your vehicle. If your child is in first through eighth, drop-off will be 4:15-4:30 p.m.
ROAD CONSTRUCTION
Please be aware of the extensive road construction on Buckner between Northwest Highway and Northcliff. This will be a long-term project by the City of Dallas that will most likely affect your commute to and from St. John's. Please make allowances for delays.
NORTH TEXAS GIVING DAY
Schedule your online donation to the St. John's Fund. All scheduled donations will receive bonus dollars from the Communities Foundation of Texas on September 19 during NTGD. Last year, more than half of our families made donations, resulting in bonus funds of more than $4,500 to support teaching and learning.
CRUSADER CLUB CORNHOLE TOURNAMENT
Join the Crusader Club for our 2nd Annual Singles Cornhole Tournament Thursday, September 19 from 7:00 to 10:00 p.m. at the Oak Highlands Brewery (10484 Brockwood Rd.). First Place Prize is $400! Tickets are $75 per person, including dinner from Mi Cocina, tap beer, and entry to play in the tournament. You must purchase a ticket in advance to attend, so buy your ticket now. Friends of St. John's are also welcome to attend!
INSPECTION NOTIFICATION
St. John's has recently undergone a re-inspection for asbestos-containing material of the school and church. The school is required to make the results public. Please view the letter from Director of Operations Sue Trumbo.
KINDERGARTEN PARENT READING WORKSHOP
On Tuesday, September 24 from 6:00 to 7:00 p.m., the kindergarten teachers are hosting a reading workshop for parents of kindergarteners. Here, parents will learn strategies to support their child with reading and writing at home. Their hope is to demystify the reading process and teach some tricks and tools to make this year's reading journey for their child fun.
NEW FAMILIES COFFEE
Head of School Meshea Matthews invites all new families to share coffee and conversation about their mutual experiences as new members of the St. John's community. If you are new and did not receive an invitation to the event on Wednesday, September 25, at 8:00 a.m. in Parish Hall, please contact Lani Jones at 214-328-9131 ext. 108 or ljones@stjohnsschool.org.
HEARING AND VISION SCREENINGS
Students in grades Pre-k, Kinder, First, Third, Fifth, and Seventh along with new students will have their vision and hearing screened. Vision screening will take place on Thursday, September 26. If your child has corrected vision (glasses/contacts), please make sure he/she wears their correction for the screening. Hearing screenings will take place on Tuesday, September 24 and Friday, September 27. Please note that these are only screenings and do not determine if there is a vision or hearing problem, but rather a need for a closer look by a medical professional. You will be notified of results only if further evaluation is needed. Contact the school nurse, Amy Johns, with questions.
 
EPISCOPAL SCHOOLS SUNDAY
Join us in the church for this annual celebration Sunday, September 29, at 10:30 a.m. Hear from teachers who advance the spiritual and educational mission of the school, along with student readers and the second through fourth grade choir under the direction of Megan Nasser. (See below in Student News if your child is in second through fourth grade.) A reception will follow in Parish Hall.
 
NEW DATE FOR EXECUTIVE FUNCTIONING SPEAKER
Save the new date for our first Parent Education Speaker Series of 2019-20 on Friday, October 11 from 8:15 to 9:00 a.m. Guest speaker, Emily Visinsky, will speak on the importance of executive functioning. This session will briefly cover the definition of Executive Function and provide practical applications to develop and encourage its growth in a student. Everyone is welcome to attend, but the topic will best apply to families with children in third through eighth grade.
CBS CHANNEL 11 VISITS ST. JOHN'S
On Wednesday, CBS Channel 11 came to interview a second-grade student and engaged the entire second-grade class to promote helping kids with cancer. All of our second graders were excellent ambassadors of St. John's and our values. Various clips from the recording appeared Thursday and Friday throughout the day. 
STUCO HURRICANE DORIAN FUNDRAISING
Over the last two years, the St. John's community has raised thousands of dollars to assist with hurricane relief efforts in Houston and North Carolina. Beginning Monday, September 16, we will be raising funds for those whose lives have been impacted by Hurricane Dorian. Cash and checks – payable to St. John's Episcopal School – will be collected by Student Council at morning carpool and in the cafeteria throughout the week. StuCo will be matching the total raised by our community up to $1,000, and all funds raised will go to Episcopal Relief & Development.
SIXTH GRADE TRIP TO BONTON FARMS
Sixth grade students made their first field trip of the year to Bonton Farms. Students toured the farm and learned about the crops and animals from manager Danny George. Beginning tomorrow, September 14, groups of volunteer students will be working at the farm's Service Saturdays throughout the year.
RECRUITING STUDENTS FOR EPISCOPAL SCHOOLS SUNDAY
Upcoming choral singing opportunity for all second, third, and fourth grade students! Episcopal Schools Sunday at St. John's Church happens Sunday, September 29. We will meet in the LS Music Room for warm-up at 10:00 a.m., and sing an anthem we've learned in music class during the 10:30 a.m. worship service in the Church. Please mark your calendars for this special once-a-year Sunday! Please RSVP to Megan Nasser.
FALL CHORAL OPPORTUNITY
St. John's second - fourth grade students are invited to be a part of the "Voices of St. John's Episcopal" after school choir.  We will meet on Mondays from 3:45-4:30 p.m., beginning Monday, September 30.  We will share God's love through music with a concert tour on Friday, December 6, visiting local senior care facilities and schools.  Please sign up through the After School Program and Mrs. Lani Jones.  For your convenience, follow these links to forms for registering and more information:  ASP contract and ASP class descriptions.  The sign-ups are first-come, first-serve.
MODEL UN
Sixth grade social studies teacher Clay Buckley invites students in fourth through seventh grades to participate in a Model United Nations group. Model UN is an educational program that simulates the work of United Nations ambassadors and offers students the opportunity to practice diplomatic, critical thinking, research, writing, public speaking, teamwork and leadership skills. The groups are parent-sponsored and are in need of two parent volunteers to support the fourth grade program this year. If you are interested in being an advisor for the fourth grade Model UN, or if your child would like to participate, please contact Clay Buckley.
RED HOT PEPPERS
Tryouts for the Red Hot Peppers are on Wednesday, October 16, 4:30 - 5:00 p.m. in Owen Gym.  To qualify for Red Hot Peppers, a student must be in first grade or older and be able to jump 10 "basic bounces" in a row without missing. A "basic bounce" is a two-foot jump of the rope with no extra bounces between.  New member practice will be held Wednesday, October 23, 4:30-4:45 p.m. in Owen Gym.
Returning Jumpers:  First practice will be Wednesday, October 30 4:30-5:30 in Owen Gym.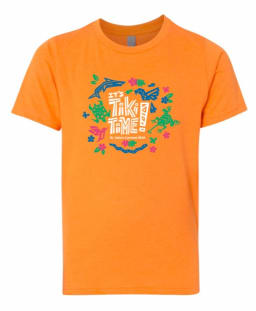 CARNIVAL 2019: IT'S TIKI TIME!
Say "Aloha" to the most anticipated event of the Fall! Save the date for Saturday, October 19 from 2:00 - 6:00 p.m. for a fun-filled day of games, activities, inflatables and prizes. The store is open to buy your wristbands now: a $35 gold band gives you full access to the midway, rides, a hamburger meal from Liberty Burger and more! Blue wristbands ($15) get you access to the event with pay-as-you-go ticket options for all entertainment. Don't forget to pre-order your t-shirt as well!
10th Annual Tailgate BBQ Competition
Who will be crowned the Big Kahuna at this year's tailgate? Are you a grill master, or ready to "pit" your skills against the best around? Entry is limited to 10 teams, so register early to guarantee your spot. Scroll down to "Tailgate Team Entry" or contact Bethany Jordan with questions.
Surf On In With a Sponsorship
Show your family's support for this year's Carnival! We offer multiple sponsorship levels, starting at just $50. Each level receives great benefits!
CARPOOL HELPERS NEEDED
The Parents Association is in need of a few more afternoon carpool helpers for the upcoming weeks. This is an easy volunteer opportunity that does not take up too much time. It's always fun to see the kiddos and a great way to meet other parents. On Mondays, Tuesdays, Thursdays and Fridays you will arrive at 2:50 p.m. and stay until about 3:45 p.m. (Wednesdays start at 2:20 p.m.) Please contact Katie Kelsey for more information or visit the SignUpGenius.
CONCERTS AT ST. JOHN'S PRESENTS: ENSEMBLE BELLA
This Sunday, September 15 at 3:00 p.m., Concerts at St. John's presents three acclaimed local performers in a concert of American music representing composers as Michael Cohen, Jay Unger, Deborah Henson-Conant, and a set of folk songs. James Higgins, adjunct professor of music at UTD, performs on cello, Sydney Howell has been a free-lance harpist for 45 years, Mary Shinn maintains an active flute studio and performs frequently with Flute Suite, and Laurel McConkey Allen, mezzo-soprano, is well known in DFW as a prolific singer and harpist. This concert is free and open to all. A reception will follow.
Learning to Pray with our Bodies
Coming into St. John's Chapel for the first time can be a daunting experience. Even for a new chaplain priest, the ways things have been done here over the years can be a confusing mess. When do we stand? When do we sit? What is the difference between kneeling and genuflecting? When we think of the gravity of religious training, these thoughts can seem trivial next to the content of a scripture reading or a sermon.
But all of these things are a part of the 'Law of Praying.' A common theme within Anglican worship is the principle that Lex Orandi Statuat Legem Credendi, or 'the Law of Praying establishes the Law of Believing.' When we move, by standing, sitting, or kneeling, we are declaring something about what we believe: that our bodies are important. For young people today, this can be very hard to understand. In a world where often-impossible ideals are presented to boys and girls about what their bodies should look like and be able to do, commercial culture encourages us to worship a model of athletic or aesthetic perfection. Of course, this often has the opposite effect of teaching us to despise the parts of our own bodies that don't meet these standards.
When we stand, sit, or kneel, we are presenting 'our selves, our souls, and our bodies' (BCP 336) to a God who loves us. The body is God's creation, and as St. Francis whimsically put it about Brother Donkey "is a useful, sturdy, lazy, obstinate, patient, lovable and infuriating beast; deserving now the stick and now a carrot; both pathetically and absurdly beautiful." We make it stand and be seen; we make it bow down before its creator, and we lift the voice up to make a joyful noise.
Our chapel program at St. John's encourages all these things in our oldest and youngest students. In all this, as an act of worship, we teach our children that our bodies are neither to be worshiped or despised, but loved and cherished as a gift, and returned daily in worship as a 'holy and living sacrifice.'
Faithfully,
Fr. Chris+
SJES REMINDERS AND FOLLOW-UP
AFTER SCHOOL PROGRAM (ASP)
Our optional after-school enrichment classes are underway, but there are select programs still accepting registrants. If you are interested in registering your child for one of the many fun fee-based classes, go to the After School Program page of our website. Please contact ASP director Lani Jones with questions (214-328-9131 x108).