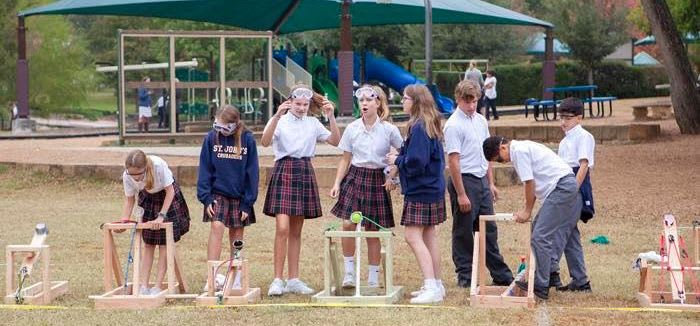 Seventh grade students prepare to test their catapults.
NEWS & NEXT WEEK'S EVENTS
BOOK FAIR THANK YOU
We offer special thanks for the hard work of Book Fair co-chairs, Dani Bowen and Shay Ometz, with support from assistant co-chairs Shea Davis and Erika Holland! We would also like to thank the team of volunteers who helped throughout the week and shoppers who purchased books. All sales are integral to supporting our fabulous library. The teachers are also very thankful for the fulfillment of their classroom book wish lists. Please tell your children who received Birthday Books in their honor to be on the lookout for their personalized book and birthday cake with Ms. Powers!
BLAZERS AND SWEATERS FOR EUCHARIST
Beginning Wednesday, November 13, students must wear their blazers or sweaters to Eucharist through the end of March.
TUITION ASSISTANCE DUE DECEMBER 6
The FACTS financial aid application portal for the 2020-2021 school year is open. For currently enrolled students, the deadline for application is Friday, December 6. Please contact Director of Finance & Financial Aid Linda Wilson or Finance Assistant Lani Jones with any questions regarding our financial assistance program.
EIGHTH GRADE MUSICAL
Performances of the eighth grade musical, Once Upon a Mattress, will be held November 7, 8, and 9 at 7:00 p.m., along with a matinee performance at 2:30 p.m. on Saturday, November 9, in the Clements Performance Hall.
VETERANS DAY
This year marks the 100th anniversary of the first Veterans Day. It was originally called Armistice Day to commemorate the end of World War I. On Monday, November 11, students will honor Veterans Day during chapel. Your child received a remembrance card depicting a red poppy. Please ask your child about this card and use it as an opportunity to discuss Veterans Day and the significance of the poppy. Help your child to record on the card the name of a veteran in or known by your family who has served or is currently serving our country. Your child may color the card if they choose. Father Chris will bless the cards during the chapel service on Monday, and students will receive a red poppy to wear during the day to remember those who have served. If your family does not have a friend or family member who has served, you may find names at NHD Silent Heroes or ABMC Fallen Heroes.
SCHOOL DIRECTORY
Directories were distributed this week in the backpack of your youngest St. John's student. One directory was supplied per household. If you did not receive one, please notify Chris Patterson.
This year, at the request of students looking for ways to help the School minimize our environmental footprint, we took extra time with our decision to publish a directory. After conversation and deliberation, we chose to provide only an electronic version to faculty and staff, and to not print the handbook portion. Beginning next year, we hope families will join us in choosing to access directory information through the RenWeb app or ParentsWeb School Resources. For those who continue to prefer a printed copy, we will offer a late-spring pre-order/pre-pay option.
ST. JOHN'S WEEK AT EL VECINO
In QUESO you wanted to know how you can help St. John's and eat delicious queso read below! Mark Monday, November 11 through Sunday, November 17 down on your calendar and plan to visit one of our favorite neighborhood Mexican food restaurants, El Vecino. During this week, for every queso ordered a portion of the profits will go to St. John's. Please mention St. John's if you stop by and purchase. THANK YOU, El Vecino!
PARENTS IN PRAYER
Come join a welcoming group of parents as we forge new relationships with each other while encouraging discussions of our faith, hardships, testimonies, and prayer requests. The upcoming meeting will be on FEAR and overcoming it with FAITH.  Please come, the doors are open and all are welcome. We look forward to worship and roundtable discussion. We will meet in the Chapel of Our Savior, accessible through the courtyard between Parish Hall and the church, on Tuesday, November 12, at 8:00 a.m. Please contact Emily Evans or Ashley Martin with questions.
PARENT EDUCATION SPEAKER SERIES: RETHINKING RESILIENCE
Most people think resilience is something that happens AFTER an unfortunate experience. How do you bounce back? How do you pick up the pieces and keep moving forward? These are the usual questions about resilience, but Dr.  Kelly Jameson will explain that resilience is something that is instilled long before the disappointments. Have you prepared your child in advance? Is there still time to instill resilience in your child or teen? Do you even know where to begin? Come find out! Join us Tuesday, November 12, at noon in Clements Hall. RSVP now to reserve your seat.
MIDDLE SCHOOL ADMISSION COFFEE
St. John's will host our Middle School (grades 5-8) Admission Coffee on Wednesday, November 13, from 9:30 to 11:00 a.m. in Clements Hall. Middle School at St. John's is a valuable experience for students preparing for high school that is filled with dynamic learning as well as athletics, fine arts, and servant-leadership opportunities. Please share this event with friends exploring options for the 2020-2021 school year. More information about the admission process is available here.
NEW ADMISSION EVENT NEXT SATURDAY - TELL YOUR FRIENDS
For our 2020-21 admission season, St. John's will host a Saturday Open House for prospective students and their parents to gain a deeper understanding of our school's dynamic learning environment and welcoming community. This fun and informative event will give prospective families many wonderful ways to get to know us as they engage with our faculty, leadership group, students, current parents and alumni. Our campus will be open from 9:30 a.m. to noon. We encourage you to share this information with anyone who is interested in our school or already going through the admission process.
EIGHTH GRADE 100% PARTICIPATION
Congratulations to the eighth grade for being the first class to reach 100% participation in the 2019-20 St. John's Fund! In celebration, the students and teachers will enjoy a free dress day soon. Thank you, parents, for helping us provide the best resources for your children's education! 
CRUSADER CLUB CARPOOL DUTY + COAT DRIVE
Dads are invited to assist with morning carpool Monday, November 18 through Friday, November 22, 7:15 - 8:00 a.m. This is a fun, quick way to support the school by helping the little ones out of the cars. Choose a shift. In conjunction with this effort, the Crusader Club is once again hosting a coat drive. Please drop off new or gently used coats (infant through adult sizes) with one of the dads. A collection box will also be placed in the front reception area.
EARLY CHILDHOOD ADMISSION COFFEE
St. John's will host an Early Childhood (pre-k and k) Admission Coffee on Wednesday, November 20, from 9:30 to 11:00 a.m. If you have friends or family who are exploring options for young children for the 2020-2021 school year, we would be eager to welcome them to join us for this informative event! 
GRANDPARENTS AND GRANDEST FRIENDS DAY
We look forward to seeing our students' grandparents and friends on the morning of Friday, November 22. Parents, please help us welcome our guests on this special day. View the sign-up to choose a shift.
Please note: Grandparents and Grandest Friends Day concludes at 10:30 a.m. for Lower School and 11:00 a.m. for Middle School. Students not leaving with their grandparents must be picked up by 11:30 a.m. There will be no after-school program or homework club. 
Also: Eucharist will be celebrated on Friday, November 22, instead of the preceding Wednesday. Correspondingly, full-dress uniforms will be required on Friday, but not on Wednesday.
THANKSGIVING BREAK
Thanksgiving break will begin Monday, November 25, and will continue through Friday, November 29. Classes will resume on Monday, December 2, at 8:00 a.m. Have a fun and safe Thanksgiving break!
INVITATION TO RETIREMENT RECEPTION FOR NANCY JACOBS
Please join us for a come-and-go reception honoring retiring Admission Director Nancy Jacobs Wednesday, December 4, 3:30 – 5:00 p.m. in Parish Hall. See the invitation and read Nancy's bio.
LOWER SCHOOL ADVENT & LESSONS AND CAROLS
Advent Carol services will be held in the chapel on Tuesday, December 10, for first through fourth grade students and their families. The first and second grade service will be held at 8:15 a.m. and the third and fourth grade service will be held at 9:15 a.m. Pre-k and kindergarten students will present their Lessons and Carols on Friday, December 13, from 2:15 p.m. to 2:35 p.m. in the chapel.
SPINAL SCREENINGS
We will be doing state-mandated spinal screenings for girls in fifth and seventh grades and boys in eighth grade on Tuesday, November 12.   Most screenings will be done in PE class, but students in those groups that do not have PE that day will be called from flex or community/elective time.
The purpose of the spinal screening is to detect the signs of abnormal curves of the spine at their earliest stages so that the need for treatment can be determined. Scoliosis, a common spinal abnormality found in adolescents, is a sideways twisting of the spine. It is usually detected in children between the ages of 10 and 14. We will also be checking for kyphosis, an exaggerated rounding of the upper back that is often confused with poor posture. Many cases of spinal curvature are mild and require only ongoing observation by a doctor. Some can worsen as the child grows and may require bracing or surgery. Early treatment can prevent the development of a severe deformity, which can affect a child's appearance and health.

Nurses will look at your child's back while they stand and then while bending forward. Boys and girls will be seen separately and privately. It will be necessary for students to remove their shirts for the screening, so please be sure your child wears appropriate undergarments if this will make them feel more comfortable.

Parents will be notified of screening results only if a referral for physician follow-up is necessary. Please contact nurse Amy Johns if you have questions.
THIRD GRADE WATER SHOW
As third graders learned of the amazing and fundamental properties of water, they also learned of the astounding reality that not everyone has access to clean water. They felt motivated to help, and learn more about something that will make a difference in the lives of others. In this activity, our students looked beyond our small community and strengthened their understanding of the place we have in the larger world. If you would like to contribute, please visit our fundraising site.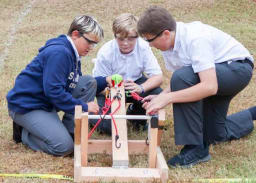 SEVENTH GRADE CATAPULTS
Weeks of studying the properties of tension and torsion, drawing up blueprints, budgeting for their materials, and carefully building their catapults finally paid off for excited seventh graders. The eager students launched tennis balls from their catapults at targets 10 and 15 meters away. Multiple teams of engineers capped their projects off with bull's-eye hits on the target. Many thanks to all of the volunteers who helped our students with catapult construction.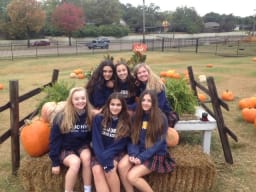 NJHS HALLOWEEN BUDDY DAY
Thanks to a group of students, Halloween at St. John's was focused on the comradery between lower and middle school students. Weeks prior to Halloween, members of NJHS proposed to the Heads of Lower and Middle School a new plan for Halloween at St. John's. They wanted Halloween to be a day where the whole school could come together to celebrate. Using funds the they raised themselves, they searched online for materials, negotiated reduced pricing on pumpkins from the St. James's Pumpkin Patch , conferred with several different teachers and administrators, created plans for different grade levels, acquired the volunteers (over 30!) from eighth grade to arrive at school an hour early, set up the rooms, wrote instructions for teachers, and facilitated a new Halloween buddy day activity. Later in the day, they organized the participation of middle school students in the traditional costume parade. The older buddies cheered on, the lower school students as they rounded the doughnut, expanding the parade and uniting the school in a heartwarming moment. They will reflect on their achievements, struggles, and possible improvements to expand the new tradition in the coming years.
MAL FLAG FOOTBALL CHAMPIONS
The St. John's Flag Football team completed a perfect season on Tuesday by defeating Akiba 25-7 for the MAL championship. Coach Clay Buckley shared, "They were a great team to coach and their perfect record shows how good they are. I appreciate their effort and excellent attitude."
BOX TOPS WINNERS
Congratulations to Mrs. Minton's third grade class on another Box Tops win! Their class collected 86 box tops this month and have earned a free dress day. Our next collection will be on Wednesday, December 4.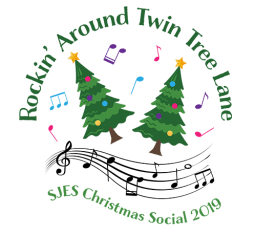 ROCKIN' AROUND TWIN TREE LANE - CHRISTMAS SOCIAL
Come "Rock Around Twin Tree Lane" as our annual popular Christmas family social moves to a new street this year. On Friday, December 6, from 6:00 - 9:00 p.m. enjoy the holiday lights while stopping at several houses for many treats, which include festive drinks and snacks, an outdoor movie, pictures with Santa and more. Generously hosted by the Anderson, Barry, Watts Betasso, Brinkley, Brown, Butler, Davis, Dunkin, Parkey, Sieg, Skarbek, Srinivasan, Sze, McCord, Halverson, Hamilton, Matthews, Wedeberg, and Williamson families. Tickets are $40 per person and go on sale starting at 6:00 a.m. on Wednesday, November 13.
AUCTION 2020: I WANT MY ST. JOHN'S
Join the Parents Association for I WANT MY ST. JOHN'S 2020 AUCTION, a totally awesome 80's themed party, presented by Comerica and RBMM. This rad party will take place on Saturday, March 7, at Gilley's South Side Ballroom. Dress as your favorite 80's movie, musician, music video or TV show and relive this fun decade. Pull on your leg warmers, tease up your hair and get ready for a rad party!
WHAT PART OF THIS STORY...?
Each week our youngest community members gather in the Undercroft (fancy Episcopalian word for basement!) to learn from the stories of Godly Play. It's a great way for them to encounter the stories of God's people at their own level, and to learn some of the ways good storytelling works. At the end of every story, we ask them what we call 'Wondering Questions.'
·         I wonder, what part of this story do you like the best?
·         I wonder, what part of this story is the most important?
·         I wonder, what part of this story can we take away, and still have all the story we need?
·         I wonder, what part of this story is especially about YOU?
Today we're finishing a chapter of our story of this school year at St. John's. I asked the bigger kids in chapel this morning to think about the stories they have heard this year. From Creation through Moses; on through David and the kings, and even this week when we hear the stories of Josiah finding the lost scroll of the Torah, there is a lot of story for them to take in about the people of God.
 But they have also made their own stories so far this year. Each of them, from pre-k through eighth grade is contributing something to this story. It is part of the story we cannot take away and still have all the story we need. I asked them to think about the good times and hard times they had this year, and how they make up some of the most important parts of our story so far.
But most of all, I asked them to think about how in some way each of them was 'the most important part' of the story of the first trimester. The stories we tell about this community are what make this a special place, because in some way, that story is especially about each one of us.
Faithfully,
Fr. Chris Steele+
SJES REMINDERS AND FOLLOW-UP
MILLS UNIFORM SALE
Mills Uniform is holding its Fall Sale through Saturday, November 16. Take 15% all purchases and 25% or more off of select clearance items. See the flyer for more details.
iPadOS UPDATE ALL CLEAR
We have completed testing of iOS 13.2 and are comfortable moving forward with the 'All Clear' for students to update over the weekend.