Fourth grade students give a presentation to the PA about soil erosion.
NEWS & NEXT WEEK'S EVENTS
ASP – ENRICHMENT CLASSES START NEXT WEEK
As part of the After School Program, we offer a variety of optional after-school classes for an additional fee. Spring classes will begin the week of January 27 unless otherwise noted. Students may attend ASP before or after their optional classes at no additional charge. For class descriptions, dates/times and instructor information, view the ASP page. To enroll your child in the ASP and/or optional classes, print, complete and return the contract to school. Payments can be made by check (made payable to SJES) or through ParentsWeb.
The Book Cooks and Minecraft Mondays classes are full. Contact ASP director Lani Jones with questions. 
KINDNESS WEEK
Our sixth annual Kindness Week will take place January 27-31. Students will participate in activities promoting kindness (i.e., kind notes to buddies, team clean, community thank you notes). Your children will be part of a powerful and positive initiative that we hope will lead to more kindness, unity and respect. Please help us promote kindness by asking your children about the activities and extending the discussion to home and participating with the attached GKC Family Edition Checklist. Learn more about the Great Kindness Challenge here.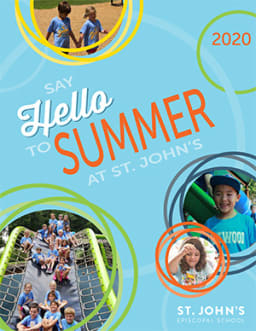 GET READY FOR SUMMER!
The 2020 Summer at St. John's camp brochure is ready for your viewing. Grab your friends to sign up for our great new and old favorite camps. Mark your calendar for the St. John's early registration opening at 8:00 a.m. on Wednesday, February 5. Don't miss out on the fun! Note: If you liked Commune with your Community camp – try Serve Our City camp. It is a new, improved community service camp for middle school students.
COMMUNITY MAKE! DAY
On Saturday, February 1, from 9:00 a.m. to noon, St. John's will host a free MAKE! workshop for children in the local community. This event is for non-St. John's students. If you have friends with children who are currently enrolled in pre-k 4 through sixth grade, please encourage them to sign-up and attend this interactive learning experience. For more information about this fun, free morning of Community MAKE!, please visit stjohnsschool.org/make.
MAKE! Day for St. John's students will be the following week on Friday, February 7.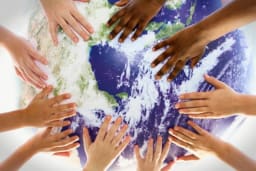 CULTURE FEST 2020 TABLE HOSTS
St. John's invites the school community to share your cultural heritage with the students by hosting a table at Culture Fest 2020 on Friday, February 28, from noon to 3:30 p.m. Demonstrate a craft, discuss traditional dress, distribute small samples of food, or display any other aspect of culture that is important to your family. With your involvement, students will have the opportunity to explore and discover a diverse array of cultural heritage. If you have any questions about Culture Fest, please contact Monica Breeding or Morgan Martinez.
FEBRUARY BIRTHDAY AND AUGUST HALF-BIRTHDAY BLESSINGS + LUNCH MENU
The birthday blessing schedule for pre-k through eighth grade February birthdays and first through eighth grade August half-birthdays is posted on ParentsWeb (School / Resources). You will also find the monthly lunch menu in ParentsWeb (School / Resources), as well as under the Current Families page of the website. See the February menu.
TIP OF THE WEEK
Culture: What's the Meaning of Memes?

If you use any kind of social media, you've seen a meme. Basically, they're images taken out of context with funny captions that spread around the internet with people riffing on them as they travel. So, in general, parents have seen memes and probably laughed at them, but then why are kids' memes so confusing? Ultimately, like any other piece of content from the internet, we need to stay involved and help kids make sense of the stuff they don't understand—or think they do, but don't.
WHAT WOULD JESUS BREW?
Father Houk will host a discussion for St. John's dads on Thursday, February 6, in the Parish Hall from 8:00 to 10:00 p.m. Beer will be served.
CRUSADER CLUB DAD AND KIDS BREAKFAST
Start your day with the Crusader Club and enjoy some extra time with your child. Kids love this event so make plans to attend. Join us in Parish Hall, Friday, February 7, 7:15 to 8:00 a.m. for the annual Dads & Kids Breakfast. Students of all ages are welcome to attend with a parent. Dad not available? No worries -- feel free to send Mom or a special friend. 
SPIRIT DAY
On Friday, February 7, show school pride and join faculty and staff in Spirit Day! Students may wear any St. John's top with their uniform bottoms and school shoes. They also have the option to wear their regular uniform.
FRENCH PROGRAM PEN PALS
St. John's French teacher Isabelle Boccara and Joumana Arraj, a French teacher at the Episcopal School of Dallas, have co-developed a French-language pen pal program for their eighth grade French classes. Since the beginning of the year, students have exchanged letters on various topics to practice their grammar and vocabulary. Additionally, they have forged new relationships as they get to know more about one another. The two groups of students even had the chance to meet and practice their French in person in November. We hope that these bilingual friendships will continue into high school.
FOURTH GRADE SOIL CONSERVATION
Last fall, fourth grade students learned about soil erosion and conservation. During their study, they identified soil erosion issues on the hill just outside the recess doors. In a meeting with Head of School Meshea Matthews, the students shared their concerns and potential solutions using visual aids, multimedia presentations, and 3D models. Afterward, Mrs. Matthews worked behind the scenes with various members from the St. John's community to discuss implementation strategies for the fourth grade's recommendations. During this week's PA meeting, Mrs. Matthews and the PA were delighted to announce that the fourth grader's plans would come to life! View a short clip of Meshea thanking the students for their hard work.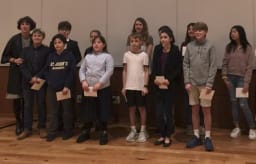 ST. JOHN'S STUDENTS EARN PRIVATE SCHOOL ARTS INVITATIONAL AWARDS
The closing reception and awards ceremony for the Private School Arts Invitational took place yesterday. Artwork by Sabastian Salas came in second place in the fifth-grade division, and Eli Aldridge's artwork won Best in Show. The following students represented St. John's with their artwork: Eli Aldridge, Mia Bela, Matney Burns, Caroline Ellis, Ava Field, Edward Hofland, Allison Lamont, Eva Lickteig, Phoebe Martin, Malia Mitchell, Sabastian Salas, and Mary Silliman. We are so proud of our talented students!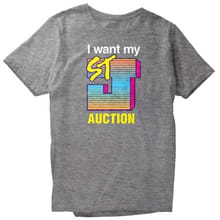 AUCTION 2020: I WANT MY ST. JOHN'S
PURCHASE T-SHIRT AND TICKETS
Don't you forget about me…. or buying your I WANT MY ST. JOHN'S AUCTION tickets and t-shirts! They're available here like, now! Get yourself a totally rad t-shirt featuring our most righteous auction logo to show off your awesome school spirit. Whoa! Don't let this opportunity pass you by. We will be closing t-shirt sales at midnight on Sunday, February 23, so we can deliver them via Kidmail in time for Auction Spirit Day on Friday, March 6. There are still great company and family sponsorships still available to purchase here! Get your tickets before prices increase at midnight on Sunday, February 23!
CHECK YOUR CHILD'S BACKPACK TODAY
BE SURE TO CHECK your kid's Trapper Keeper or Jansport backpack TODAY FOR YOUR PERSONAL INVITE to this schweet event! Let's Hear it For SJES, and remember…..be kind and rewind!
WARM YOUR HEART LUNCHEON
Please sign up to provide a soup or dessert item for the PA's annual Warm Your Heart Luncheon on Wednesday, February 12. For additional information or to sign up, please visit the Sign-Up Genius. This is a favorite event for our teachers! Items may be dropped off in morning carpool. 
TASTY WINE + UGLY ART
Get creative and join St. John's Episcopal Church for Tasty Wine + Ugly Art on Saturday, January 25, from 6:30-8:30 p.m. in the Parish Hall. Follow along with our guest artist or do your own thing. Bring a bottle and/or an appetizer to share with friends. Materials will be provided. $10 to paint, $5 for coloring and drawing (kids). You must RSVP to reserve your space. RSVP to Jim Stacy.