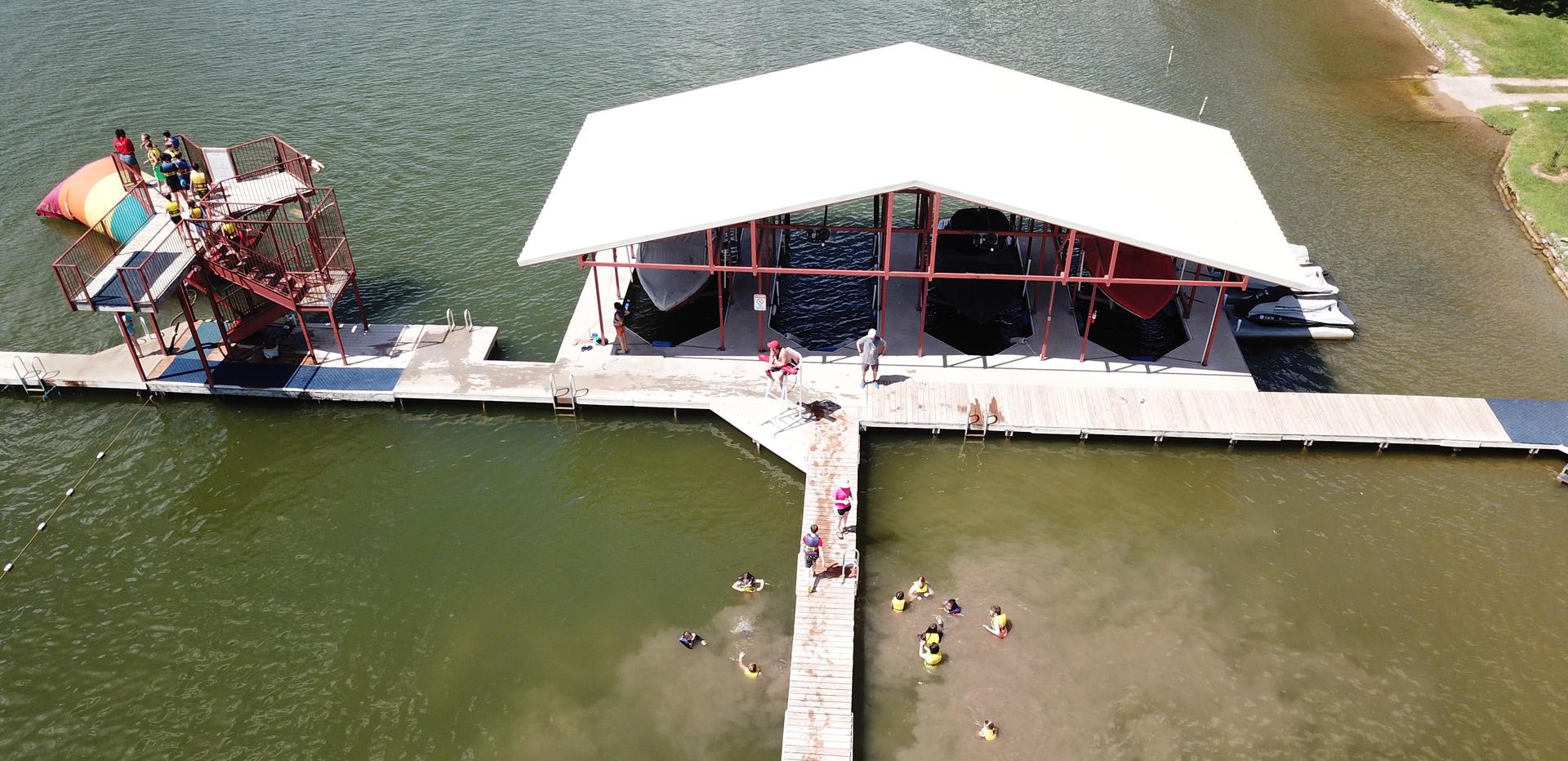 Sixth grade students swim in the lake and line up for the blob at Camp Champions.
NEWS & NEXT WEEK'S EVENTS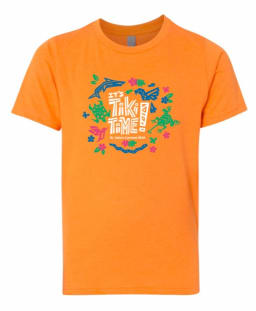 CARNIVAL 2019: T-SHIRT SALE ENDS MONDAY
Purchase this year's Carnival T-shirt and show your school spirit on Thursday, October 17. Students may wear this year's official T-Shirt (or any other St. John's shirt) with jeans, athletic pants or shorts and tennis shoes. Please note that T-shirts are pre-order only! Sales close this Monday, September 23, so order yours today.
STUDENT SINGERS NEEDED FOR EPISCOPAL SCHOOLS SUNDAY
Upcoming choral singing opportunity for all second, third, and fourth grade students! Episcopal Schools Sunday at St. John's Church happens Sunday, September 29. We will meet in the LS Music Room for warm-up at 10:00 a.m., and sing an anthem we've learned in music class during the 10:30 a.m. worship service in the Church. Please mark your calendars for this special once-a-year Sunday! Please RSVP to Megan Nasser.
KINDERGARTEN PARENT READING WORKSHOP
On Tuesday, September 24 from 6:00 to 7:00 p.m., the kindergarten teachers are hosting a reading workshop for parents of kindergarteners. Here, parents will learn strategies to support their child with reading and writing at home. Their hope is to demystify the reading process and teach some tricks and tools to make this year's reading journey for their child fun.
NEW FAMILIES COFFEE
Head of School Meshea Matthews invites all new families to share coffee and conversation about their mutual experiences as new members of the St. John's community. If you are new and did not receive an invitation to the event on Wednesday, September 25, at 8:00 a.m. in Parish Hall, please contact Lani Jones at 214-328-9131 ext. 108 or ljones@stjohnsschool.org.
HEARING AND VISION SCREENINGS
Students in grades Pre-k, Kinder, First, Third, Fifth, and Seventh along with new students will have their vision and hearing screened. Vision screening will take place on Thursday, September 26. If your child has corrected vision (glasses/contacts), please make sure he/she wears their glasses or contacts for the screening. Hearing screenings will take place on Tuesday, September 24 and Friday, September 27. Please note that these are only screenings and do not determine if there is a vision or hearing problem, but rather a need for a closer look by a medical professional. You will be notified of results only if further evaluation is needed. Contact the school nurse, Amy Johns, with questions.
ROCK CLIMBING CLUB STARTING SOON
The before-school rock-climbing club returns to St. John's starting Monday, September 30. The rock wall in the Lower School gym will be open to third and fourth grade students on Mondays from 7:30 to 7:50. The wall will be open to first and second grade students on Tuesdays from 7:30 to 7:50. However, if the students arrive after 7:35 they will have to stay in carpool. There is no signup, just show up before 7:35 and come climb!
OCTOBER BIRTHDAY BLESSINGS AND MENU
The birthday blessing schedule is posted on ParentsWeb (School / Resources). You will also find the monthly lunch menu in ParentsWeb (School / Resources), as well as under the Current Families page of the website. See the October menu.
INSPECTION NOTIFICATION
St. John's has recently undergone a re-inspection for asbestos-containing material of the school and church. The school is required to make the results public. Please view the letter from Director of Operations Sue Trumbo.  
EPISCOPAL SCHOOLS SUNDAY
Join us in the church for this annual celebration Sunday, September 29, at 10:30 a.m. Hear from teachers who advance the spiritual and educational mission of the school, along with student readers and the second through fourth grade choir under the direction of Megan Nasser. A reception will follow in Parish Hall.
PARENT EDUCATION SPEAKER SERIES
On Friday, October 11, from 8:15 to 9:00 a.m., our first Parent Education Speaker Series will feature Emily Visinsky, who will speak on the topic of executive functions. In the next few weekly newsletters, we will highlight some key EF skills and some strategies for how you can help your child strengthen them. Register for the event.
What are executive functions? EFs are skills that allow individuals to execute tasks and manage oneself in order to achieve a goal. We will highlight a selected executive function each week leading up to our first event.
Monitoring
Monitoring is the ability to self-evaluate, track actions, behaviors, and thoughts as they occur. Children who struggle with self-monitoring frequently: make careless mistakes, leave work incomplete, and produce untidy work. Socially, they may have difficulty identifying how their behavior influences reactions in others. Read more about monitoring as an executive function.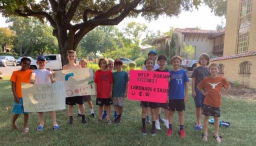 FOURTH GRADE STUDENTS HELP WITH HURRICANE RELIEF
Last Sunday, a group of fourth grade students worked together to raise money for Hurricane Dorian victims. They sold lemonade and cookies and raised over $300 in one hour through their energetic persistence! All proceeds will be given to Student Council's fundraiser for those whose lives have been impacted by Hurricane Dorian.
FIFTH GRADE OVERNIGHT TRIP
Last week, fifth grade students enjoyed a great middle school bonding experience during their trip to Camp JOLT at Lake Texoma. Students fished, canoed, swam, practiced archery, learned survival skills, and engaged in low ropes challenges during the day and took a night hike to a bonfire and s'mores. This overnight experience helps fifth graders to bond as our newest middle school students, while building relationships with teachers and their peers.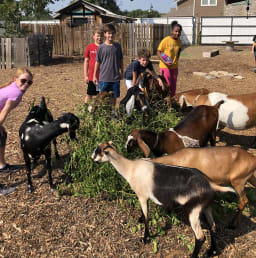 SIXTH GRADE SERVICE SATURDAY
Last Saturday, sixth grade students participated in their first Service Saturday at Bonton Farms. The largest volunteer group to ever attend this event, nearly 20 students, siblings and parents braved the heat to pitch in. The group took the goats on a walk in the Great Trinity Forest, cleaned the chicken coop, and helped harvest and plant vegetables. The next Service Saturday takes place at the farm on October 12.
FALL CHORAL BEGINNING NEXT MONDAY
St. John's second - fourth grade students are invited to be a part of the "Voices of St. John's Episcopal" after school choir.  We will meet on Mondays from 3:45-4:30 p.m., beginning Monday, September 30.  We will share God's love through music with a concert tour on Friday, December 6, visiting local senior care facilities and schools.  Please sign up through the After School Program and Mrs. Lani Jones.  For your convenience, follow these links to forms for registering and more information:  ASP contract and ASP class descriptions.  The sign-ups are first-come, first-serve.
RED HOT PEPPERS
Tryouts for the Red Hot Peppers are on Wednesday, October 16, 4:30 - 5:00 p.m. in Owen Gym. To qualify for Red Hot Peppers, a student must be in first grade or older and be able to jump 10 "basic bounces" in a row without missing. A "basic bounce" is a two-foot jump of the rope with no extra bounces between. New member practice will be held Wednesday, October 23, 4:30-4:45 p.m. in Owen Gym.
Returning Jumpers:  First practice will be Wednesday, October 30 4:30-5:30 in Owen Gym.
NEIMAN MARCUS SOCIAL
The PA is excited to announce the Neiman Marcus Social will be held this year on Wednesday, November 20. We are asking for 20 hosts to help with their time logistically and support financially to underwrite some of the cost of the event. Please email Sarah Donahue by Friday, September 27 if you would like your name to be placed in a drawing to be selected as one of the hosts. There will be an announcement in a few weeks on when tickets will go on sale.
PA MEETING TUESDAY
Join the Parents Association Tuesday, October 1, at Noon in Parish Hall for our second meeting of the year. Come and enjoy a light lunch, and learn all the details of the upcoming It's Tiki Time Carnival!
BOX TOP WINNERS
Congratulations to Mrs. Minton's third grade class for bringing in one of our biggest collections to date: 856 Box Tops! They have earned a Free Dress Day. Thank you to all of the classrooms who participated! Be on the lookout for an email coming soon that outlines all of the changes to the Box Tops program for this school year, as well as reminders for how to sign up for AmazonSmile and grocery card rewards.
 
CARNIVAL 2019: IT'S TIKI TIME!
Say "Aloha" to the most anticipated event of the Fall! Save the date for Saturday, October 19 from 2:00 - 6:00 p.m. for a fun-filled day of games, activities, inflatables and prizes. Grab your ukulele and flip flops, and help make this luau an unforgettable experience! 
Catch a Wave
A $35 wristband is all-inclusive, giving you full access to games, rides, entertainment, and sliders from neighborhood favorite Liberty Burger! Blue wristbands for $15 get you in the door with pay-as-you-go access to all activities and events. Online ticket sales will close Friday, October 11! After that prices will increase $5 per wristband.

Surf On In With a Sponsorship
Show your family's or business' support for It's Tiki Time! We offer multiple sponsorship levels, starting at just $50, with each level receiving great benefits!
Hang Loose and Volunteer
You can be an island hero by working a shift at your class-assigned booth or event during the carnival. We need everyone to pitch in! Volunteers are also needed to lend a hand with setup before the luau and cleanup after the party ends. Sign up today!   

Coconut or Chocolate?
Whatever your taste buds crave, sign up for the Bake Sale! Share your favorite nut-free, homemade or purchased treats. Baked goods may be dropped off in Parish Hall between the hours of 8:00 a.m. and 1:00 p.m. on conference day, Friday, October 18.
Hawaiian Feast
Who will be named the Big Kahuna at 10th Annual Tailgate BBQ Competition? Entry is limited to 10 teams, so register early to ensure your spot. On the registration form, scroll down to "Tailgate Team Entry" or contact Bethany Jordan with questions.
BLESSING OF THE ANIMALS
Celebrate your furry friends at St. John's Church's annual Blessing of the Animals on Saturday, October 5 at Noon. This short service is open to all. Snacks and refreshments will be available for everyone and their pets.
What a fantastic celebration we had last Saturday as we installed Mrs. Matthews as our new Head of School! As Fr. Houk pointed out in our Eucharistic gathering just prior to the event, we were celebrating this momentous occasion on the Feast of the Holy Cross. It marks the date of the completion of the Church of the Holy Sepulchre in Jerusalem where, according to our tradition, St. Helena, mother of the Emperor Constantine, discovered the true cross of Christ along with His empty tomb. In some traditions this day is known as the Triumph of the Cross. And it is fitting that we celebrated Servant Leadership on that day.
After the big celebration, the way we identify with the cross was brought closely home to me. On Sunday morning as we were going through our regular parish schedule, I noticed that our school cross was out of place, propped in a corner. Now it wasn't carelessly left. It was clear that with everything going on it had been placed out of the way until someone could come and restore it to its rightful place in front of the prayer wall. I took the cross and walked it back near my office. At first I was as annoyed as we all can be when we find something out of place.
Then I noticed for the first time how light that small cross was for me on that day and suddenly I felt very small next to it. I realized how heavy it might be for some of our students who are carrying it for the first time. It made me notice with fresh eyes how excited and nervous our crucifers are on those days when they lead the whole of our community into the church for Morning Prayers.
On any given day, we are asked to take up a cross. Sometimes that cross does not belong to us, but it is no less important that we carry it with dignity. Sometimes that cross is very light for us. Other days we may find that we are unable to take up someone else's cross no matter how much we'd like to. On days when our own cross is too heavy, let's not be afraid to let others help. Above all, let's remember that when we take up a cross, there is only one direction to go: toward Calvary, the Holy Sepulchre, and finally to the Triumph of the Cross.
Faithfully,
Fr. Chris+
SJES REMINDERS AND FOLLOW-UP
AFTER SCHOOL PROGRAM (ASP)
Our optional after-school enrichment classes are underway, but there are select programs still accepting registrants. If you are interested in registering your child for one of the many fun fee-based classes, go to the After School Program page of our website. Please contact ASP director Lani Jones with questions (214-328-9131 x108).