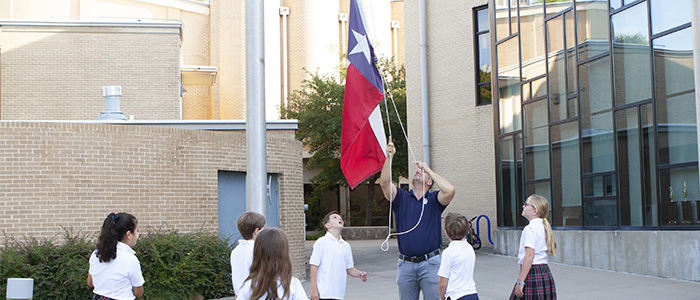 Mr. Telzrow's 4th grade class learns how to raise and lower the flags.
NEWS & NEXT WEEK'S EVENTS
RESERVED SEATING FOR CHAPEL GUESTS
To enhance the chapel experience for students, parents, and other guests, we have dedicated the front pew on both sides of chapel for our visitors. We consider the families of our students as our honored guests as they receive birthday blessings, act as the crucifer or reader, accept awards, and celebrate other special chapel moments. We look forward to seeing you in chapel. Please note the chairs in the back are now for students, faculty, and staff.
INSTALLATION AND BLESSING OF OUR NEW HEAD OF SCHOOL
The Board of Trustees invites all St. John's families to celebrate our fifth Head of School, Meshea Matthews, on Saturday, September 14, at 5:30p.m. Students in first through eighth grade will be asked to take part in the processional during the ceremony and Pre-k and Kindergarten will lead a hymn for this all-school celebration. Please RSVP by Friday, September 6, to help us better plan for this joyous occasion. The Installation will take place in the Main Gym with a reception immediately following in Parish Hall. Please look for an email next week with important details regarding student meeting location, parking, the reception and more. 
We would love your help! Please view under the Parent Association section on ways to volunteer.
LABOR DAY SCHOOL CLOSED
Enjoy your three-day weekend! Classes resume at 8:00 a.m. on Tuesday, September 3.
EMERGENCY NOTIFICATION TEST
We use RenWeb's ParentAlert as our emergency notification system. Wednesday, September 4, you will receive a TEST ALERT; please do not contact the school. If you would like to change the manner in which you receive alerts, log into ParentsWeb from a desktop/laptop or iPad, select School / Web Forms. Select the Family Demographic Form and click or tap the button titled, "Custodial Parent Form." Scroll to the bottom of the page for Parent Alert settings. Save after making changes.
BOX TOP COLLECTION
Save those Box Tops! Our next Box Tops Collection will be Wednesday, September 4. Or, if you prefer, Download the Box Tops app from the App Store today. You'll be able to use it to scan your grocery receipt, instantly identify Box Tops products and automatically add cash to your school's earnings online.
OPEN YOUR TRUNK / TAKE A YARD SIGN
We are St. John's and we have St. John's Pride! On Thursday, September 5, faculty/staff members will be at the Lower School and Middle School donuts during afternoon carpool with yard signs for our families. Simply open your trunk to receive yard sign! If you can't get a sign at Thursday's afternoon carpool, please pick one up from the receptionist's desk at your convenience until Friday, September 13.
EIGHTH-GRADE HIGH SCHOOL MEETING
Join us for the eighth-grade high school meeting on Thursday, September 5 from 6:30 to 7:30 p.m. in Clements Hall. This event is a transition meeting for eighth grade parents. The purpose is to preview the high school application process.
CRUSADER CLUB KICK-OFF BREAKFAST
Join us next Friday, September 6 at 7:30 a.m. in Parish Hall for the first Crusader Club meeting of the year. The group brings dads together to sponsor social, fundraising and parent/child events. Come meet other dads, learn more about St. John's and the impact that the school has on your child, and hear about the fun activities coming up. Breakfast from Barbec's will be provided.
ST. JOHN'S SPIRIT DAY
On the first Friday of each month, beginning this next Friday, September 6, we invite students to join the faculty and staff in showing school spirit. Students may wear a St. John's T-shirt with a uniform bottom (skirt, pants, shorts, skort) and uniform shoes. If they do not want to participate, students must wear regular school uniforms.
PRE-K/K PARENT SOCIAL
Pre-k and kindergarten parents are invited to a come-and-go social (adults only) on Friday, September 6 from 7:00 to 10:00 p.m. Mix and mingle at Times Ten Too. There will be a cash bar; appetizers will be provided.
ST. JOHN'S HOODIES/SWEATSHIRTS
Now available through our Spirit Shop are the uniform-approved navy spirit wear. Both hoodies and sweatshirts are available in youth and adult sizes. Orders will be delivered through kid-mail in mid-September.
TIP OF THE WEEK
Add diverse voices and fresh content to your media-stream with these free, high-quality podcasts.
If you haven't thought about listening to podcasts, take note: A 2019 study found that over 50% of people in the U.S. age 12 and up have listened to a podcast. Podcasts can be incredibly engaging. You can find podcasts on nearly every topic, from science questions to lesser-known history, and in nearly every genre, from short fiction to in-depth journalism. And, as the popularity of podcasts continues to grow, more creators are focusing on content for young people. So why not give podcasts a try this school year? To help you get started, Common Sense Media and Dr. Delaney Rushton, creator of Screenagers, put together a list of their favorite educational podcasts.
NORTH TEXAS GIVING DAY
You don't have to wait until North Texas Giving Day to receive bonus dollars for your St. John's Fund donation. Schedule your online donation to the St. John's Fund beginning Monday, September 9. All scheduled donations will receive bonus dollars from the Communities Foundation of Texas on September 19 during NTGD. Last year, more than half of our families made donations, resulting in bonus funds of more than $4,500 to support teaching and learning.
SCOUTING OPPORTUNITIES
Cub Scouts and Girl Scouts representatives, Michael Hall and Emily Krizan-Lopez, will be on campus Tuesday, September 10, to talk with first grade students about scouting opportunities. Parent information sessions will be Wednesday, September 11, at 6:30 p.m.; Boys Scouts in the cafeteria and Girl Scouts in the library. All St. John's parents are welcome to attend to learn more. View the Pack 55 website or the Girl Scouts of Northeast Texas website for more information.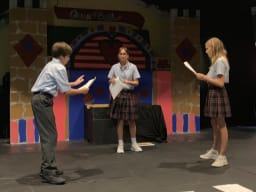 MUSICAL AUDITIONS
Auditions for the eighth-grade musical, Once Upon a Mattress, were completed this week and rehearsals will begin on Tuesday, September 3! Mr. Minton, Ms. Haynes, and Ms. Knox wish to congratulate all of the performers on their wonderful auditions this week, and on the supportive atmosphere that they created for each other through the audition process.
ALUMNI ART EXHIBITION
The St. John's Alumni Visual Arts Series XIV welcomed alumnae Ollantay Avila, Sunny Courtwright, Greer Leonard and Olivia Martin back to campus for an exhibition of their artwork. The exhibition includes examples of their painting, sculpture and collage that explore themes of identity, culture, and self-expression. Come see the work of these up-and-coming artists in Judd Hall; the exhibition has been extended to run through Wednesday, October 23.

GROUP DYNAMIX
The eighth-grade took a trip to Group Dynamix to participate in team-building games that required collaboration to solve problems. These games encouraged students to think about their own leadership and communication styles. During the second half of the day, head of School Meshea Matthews joined in and played games of giant foosball and glow-in-the-dark dodgeball with the class of 2020. Meanwhile, Mr. Loveland and Mr. Minton joined the students high in the air on the ropes course. At the end of the day of puzzle-solving and fear-facing, Mr. Minton remarked, "I hope that they have grown in their respect and admiration for each other."
VOLUNTEERS NEEDED: HEAD OF SCHOOL INSTALLATION CELEBRATION
A very special day in our St. John's community is swiftly approaching - the installation of Meshea Matthews as our Head of School! Due to the expected number of attendees, volunteers are needed to help coordinate the event's success. Please pick a shift and join in the celebration on Saturday, September 14 at 5:30 p.m. Help make the occasion extra sweet by volunteering to bake nut-free cookies for the reception. Cookies can be delivered to the receptionist desk during the day on Friday, September 13, or to Parish Hall on Saturday, September 14 from 3:00 - 5:00 p.m.
CARPOOL HELPERS NEEDED
The Parents Association coordinates afternoon carpool helpers and is in need of additional volunteers, especially during these first few weeks of school. This is an easy volunteer opportunity that does not take up too much time. It's always fun to see the kiddos and a great way to meet other parents. You may sign up to help every week or only once a month. Every little bit helps! On Mondays, Tuesdays, Thursdays and Fridays you will arrive at 2:50 p.m. and stay until about 3:45 p.m. (Wednesdays start at 2:20 p.m.) Please contact Katie Kelsey for more information or visit the SignUpGenius.
PARENTS IN PRAYER
Come join the Parents Association as we pray for the students and faculty of St. John's. We will meet in the Chapel of Our Savior, accessible through the courtyard between Parish Hall and the church, on Tuesday, September 10 at 8:00 a.m. Please contact Emily Evans with questions. 
NEW PROCESS FOR SUNSHINE REQUESTS
This school year, the Sunshine Committee will be accepting requests for support via the Sunshine Link on the "Current Families" page of our website. As a reminder, this team reaches out to our family and faculty community with a little something thoughtful in times of celebration and in times of need, from sending cards to delivering meals to baking a batch of cookies. If you would like to volunteer with the Sunshine Committee, please contact Elizabeth Butler or Kelsey McCord.
SIGN UP TO RECOGNIZE ST. JOHN'S FACULTY AND STAFF BIRTHDAYS
Our sign-up list is filling quickly to help make the birthdays of our beloved St. John's teachers and staff special! Please review the list and see where you can help brighten someone's day. Note: you'll receive a reminder three days in advance of the celebration date to assist with planning. 
Isaiah 55:6
Seek the Lord while he wills to be found; call upon him when he draws near.
This has been a great week for me at St. John's. Apart from all the excitement about the start of a new school year, we also started our daily chapels on Monday. As a priest, worship gives me energy, of course, but I couldn't be prepared for the amount of energy that came my way as our students got into that groove and we added some new twists to beloved tradition. On Wednesday, we celebrated Eucharist together for the first time. We heard about mysteries.
In our Eucharistic Prayer, mostly said by the priest celebrant, there is, in the middle, an exclamation from all the people in which we 'proclaim the mystery of faith: Christ has died; Christ has risen; Christ will come again.' We talked a bit about what a mystery is to us. In our culture, in an Age of Information, a mystery is something to be solved. And once solved, we can discard mysteries, or file the solution away to come back to later. But when we gather for worship, we come to a different kind of mystery: one with an answer that means something more and different to each of us every time we speak it. We want to unmask some truth.
But God is not wearing a mask. He is not lurking in shadows trying not to be found. God calls us to speak the mysteries of our lives: his love for us; our love for Him; our love for each other. God wants to be found and he is making himself known to us each day as we gather. God is present in his love for us, and when we show each other how much we can love.
Faithfully,
Fr. Chris+
I'm a new Text block ready for your content.
L.S. SPECIALIST INFORMATION
AFTER SCHOOL PROGRAM (ASP)
The After School Program (ASP) began on the first day of school and we look forward to the start of our optional after-school enrichment classes for our St. John's students. Most classes will begin next week, the week of September 3. If you are interested in registering your child for one of the many fun fee-based classes, go to the After School Program page of our website. Please note that the Book Cooks enrichment class is full and many of our classes have limited spaces. Please contact ASP director Lani Jones with questions or to be added to the wait list (214-328-9131 x108).
MIDDLE SCHOOL HOMEWORK CLUB
Middle School Homework Club is free and open to fifth through eighth graders. It meets for 45 minutes immediately after school most school days, with dismissal at 4:30 p.m. M, T, Th, F and 4:00 p.m. Wednesdays. If you are more than 15 minutes late picking up your child from Homework Club, he or she will be checked into the After School Program, and you will be charged the ASP drop-in fee.