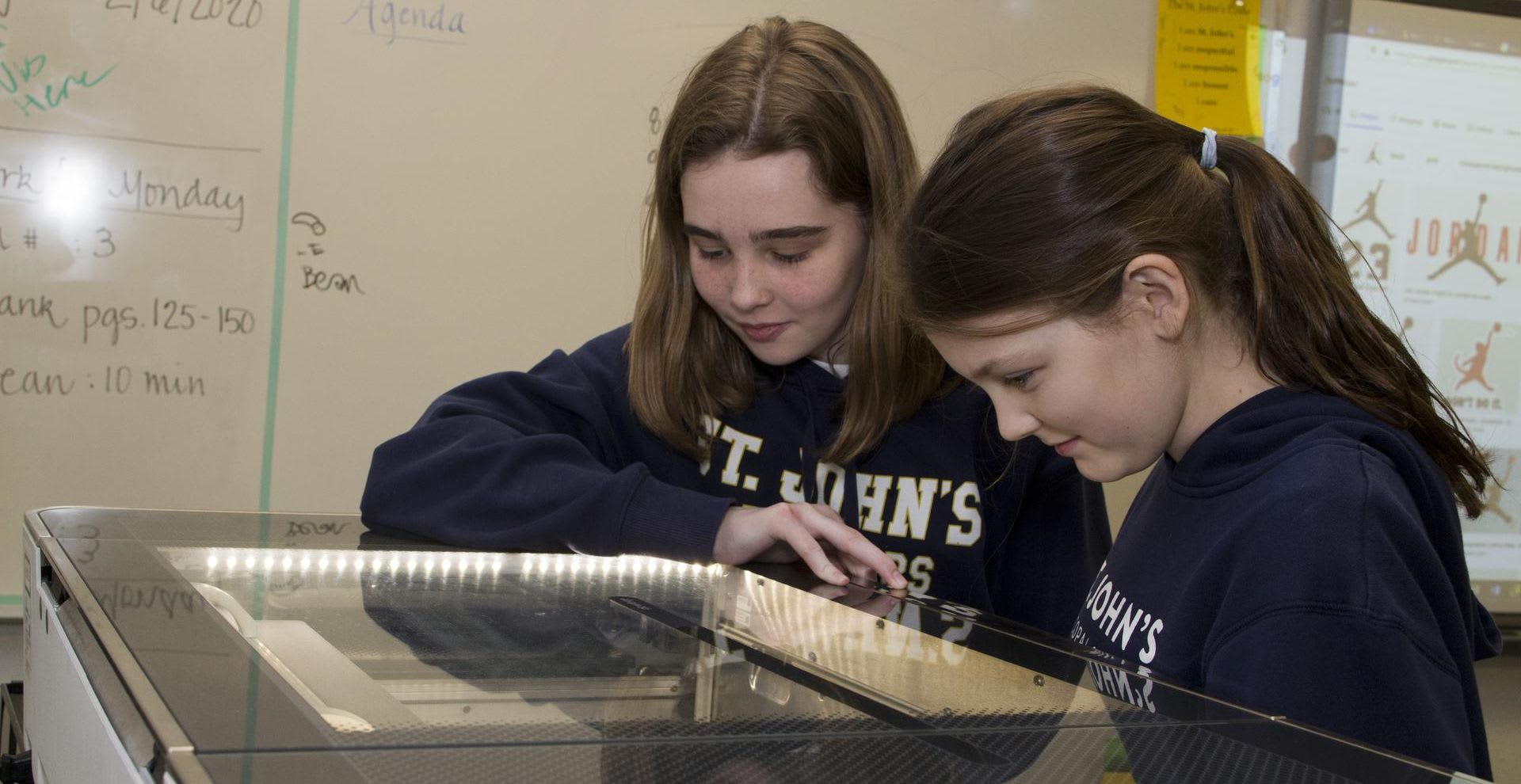 Middle School students use the laser engraver on MAKE! Day.
NEWS & NEXT WEEK'S EVENTS
CURRENT STUDENT RE-ENROLLMENT CLOSES TOMORROW
Re-enrollment for current students for the 2020-2021 school year opened February 1. The re-enrollment window will be open through Saturday, February 15 (Please note that this is during Winter Break). You should have received an email on February 1 with re-enrollment information. To begin the re-enrollment process, visit the FACTS Family Portal. Please contact Lani Jones with any questions.
THANK YOU, PARENTS ASSOCIATION!
The faculty sends a heartfelt thanks to the Parents Association for the Warm Your Heart luncheon. This annual February tradition is a day that faculty eagerly anticipates each year. Special thanks to the parents who shared their delicious soups and desserts!
WINTER BREAK
Classes will resume at 8:00 a.m. on Tuesday, February 18. Enjoy your Break!
MUSICAL
Performances of the seventh grade musical, Frozen, will be held on February 20, 21, and 22 at 7:00 p.m. along with a matinee performance at 2:30 p.m. on Saturday, February 22 in the Clements Performance Hall. Tickets are on sale now!
2018-19 YEARBOOK
We appreciate your patience with the 2018-19 yearbooks and are pleased to share that yearbooks were distributed to students this week.
RED HOT PEPPERS SMU TICKETS
The St. John's jump rope team has been selected to present the half-time performance at the SMU Men's Basketball game against Wichita State University on Sunday, March 1, at 3:00 p.m. The St. John's community has been provided discount tickets to watch our jumpers wow the crowd at Moody Coliseum on the SMU campus in the last conference game of the season. 
If you wish to join us cheering on St. John's at the SMU game, please contact Lynn Granello for tickets. $9 discount tickets must be ordered through Lynn by February 21. Come cheer on our Red Hot Peppers and the SMU Mustangs!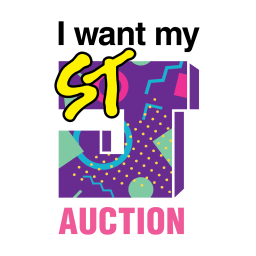 AUCTION 2020: I WANT MY ST. JOHN'S AUCTION
Invitations have been sent out, so you ALL know that this rad party celebrating the coolest decade, ever: The '80s, is right around the corner. We need you and your gnarly 80's inspired outfits there!  Get your I WANT MY ST. JOHN'S auction tickets now. Prices increase at midnight February 23. You won't want to miss out on this fun night. 
ASH WEDNESDAY
Dress uniforms are required for all students Wednesday, February 26, in celebration of Eucharist. First- through eighth-grade students will receive the imposition of ashes. Your preference for whether your child will receive ashes or a blessing during the service is part of our annual online enrollment process. Your child's homeroom teacher/advisor will have that information.
CRUSADER CLUB CARES
All St. John's families are invited to join the Crusader Club Saturday, February 29, for the eleventh annual Crusader Club Cares Day. Pre-k through fourth grade volunteers and their parents will gather in the Lower School commons area by 8:45 a.m. for coffee, snacks and a prayer. Fifth through eighth grade participants will go directly to the We Over Me Farm that morning. Groups will divide for individual, age-appropriate projects, all of which will be completed by noon. This year, participants will help three local agencies: SoupMobile, Buckner International, and the We Over Me Farm. Register here to secure your spot.
FLU SEASON
Flu activity is currently high both nationally and statewide, with both Flu A and Flu B viruses circulating. Getting a flu shot is the best way to protect you and your children from the flu. It is not too late to get immunized if you haven't already! 
More information on the flu: Flu Guide for Parents
                                              Flu Complications and Emergency Signs
You can help fight the flu in our community by monitoring your children for symptoms of the flu:
Fever or feeling feverish/chills
Dry cough
Sore throat
Runny nose
Muscle or body aches
Headache
Fatigue
Nausea, vomiting and diarrhea (more common in young children than in adults)
Keep children with symptoms of the flu at home until they no longer have fever (temperature of 100 or greater) for at least 24 hours without the use of fever-reducing medications.
Remind your family to wash their hands thoroughly with soap and water, or use hand sanitizer regularly.
Reinforce respiratory etiquette (cough and sneeze into Kleenex or if not available, cover cough with elbow and avoid touching your mouth, nose and eyes).
Have all household members vaccinated for the flu.
Please adhere to these guidelines to protect both students and our staff. Thank you for your cooperation!
THIRD GRADE BIOGRAPHY PROJECTS
Third-grade students presented their biography projects on a wide variety of American historical figures, including Benjamin Franklin and Amelia Earhart. But the students did not merely give their presentations about their subjects. Instead, they gave their presentations as their subjects.
MAKE! DAY
Last Friday, St. John's students from all grades participated in Make! Day, a hands-on learning experience designed to encourage students to invent, create, and build. Workshops included rocketry, circuitry design, marble maze madness, reclaimed wood design, coding and robot programming. Plans are already in the works for MAKE! 2020. Check our Facebook page for more pictures from MAKE!
VALENTINES DAY PARTIES
Lower school students had a great time celebrating Valentine's Day. Special thanks to all of the parents who volunteered to help with class parties.
CRUSADER CLUB IS INTERESTED IN YOU
The Crusader Club showcases our students' talents, connects parents through fun events, ties our school to its' Episcopal identity, and gives back to the school and greater community through volunteer service activities and annual fundraising events.
We need your help to continue the success!  We are actively soliciting volunteers for Crusader Club leadership next year. Volunteer positions take into consideration family, career obligations, and require a modest investment of time. We have four opportunities: President, Social Chair (Cornhole), Service Chair (Crusader Club Cares Day), and Sports Chair (Golf Tourney). What better place to share your talents than for your child's school!
Please submit your suggestions here by February 28. Questions? Crusader Club President Byron Johnson or PA Liaison Sarah Donahue are happy to help.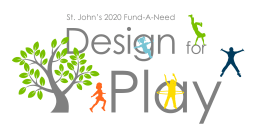 FUND-A-NEED: DESIGN FOR PLAY
Backed unanimously by the St. John's faculty, the Parents Association is thrilled to announce the 2020 Fund-A-Need, Design For Play, an initiative to optimize the playground area to create additional play spaces while further beautifying our campus.
Along with a focus on environmental conservation efforts to protect our campus, Bare Roots Landscape Solutions is incorporating our student's research and solutions and putting their science into action. Visual renderings will showcase the ideas around terracing, additional seating, artificial turf for additional play spaces, safety and ramp accessibility, and new landscaping, to list a few.
Stay tuned in the coming weeks for details around our fundraising goal and naming rights opportunities!  Questions? Don't hesitate to contact Shannon DeVilbiss for additional information.
AUCTION WINE AND WHISKEY PARTY: THANK YOU!
Thank you to everyone who attended and donated to our auction Wine and Whiskey Pull social. Over 100 bottles were contributed at this event. Special thank you to Emily and Jason Cassady for hosting this event at your home! Thank you to the Bare, Berg, Campbell, Dabdoub, Davis, Donahue, Doran, Fisher, Halverson, Hardin, Johnson, Martin, Olson, Peale, and Zavala families for their help with hosting this event. 
FINAL 2020 PA MEETING and STATE OF THE UNION
Mark your calendars for Tuesday, March 3, at noon in Parish Hall, as the Parents Association hosts its final general meeting of the school year. Attendees will hear about the state of the union from Head of School Meshea Matthews, Head of Lower School Jayme Johnson and Head of Middle School Pam Jordan. We will announce, vote, and approve the PA Council for 2020-2021. Also, attendees will have a chance to preview the beautiful art that our students have created to be featured at auction. All parents are invited, and a light lunch will be served.
AUCTION ART PREVIEW
In addition to saving the date for our most righteous auction to date, Saturday, March 7, at Gilley's South Side Ballroom, please mark your calendar for Tuesday, March 3, to preview I WANT MY ST. JOHN'S grade level art projects. From 10:00 a.m. - 5:00 p.m., drop into Parish Hall to view these visual stunners. You can also preview these pieces of art at the last PA meeting Tuesday, March 3, from noon - 1:00 p.m.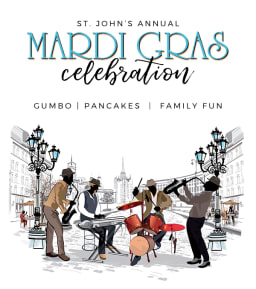 ST. JOHN'S MARDI GRAS
Join us Tuesday evening, February 25, for a New Orleans-style party. Fill up on tasty gumbo or pancakes (or both). Friends of all ages are invited to compete in pancake races for cool prizes. Everyone is invited to decorate Mardi Gras masks in the Parish Hall classroom while rocking to some great music. Come and go as you please. Purchase your individual or family tickets on Sundays between or after services, online, or at the door.
Individual Tickets $5, Family Tickets $15
ALL YOU NEED IS...
This week we began the chapel theme "God is love," the famous claim of 1 John 4:9.
Love is "a commitment to the well being of others without condition." Most of us think, "God loves me when I'm good but he doesn't love me when I'm bad." But God is always for us, always wanting to bless and take care of us, even when we are running the other way.
That's why, as we heard on Wednesday, Jesus tells his disciples to love their enemies and to do good to people who may treat us badly. God is doing that kind of stuff all day long. Particularly in Jesus' willingness to die for the world's sins, we see the kind of love that can rescue us from all our hate and actually change the world. God, it seems, gets rid of his enemies by making them his friends.
Speaking of love, I hope you all love your extended weekend and Winter Break.
Peace,
Fr. David Houk, Rector
SJES REMINDERS AND FOLLOW-UP