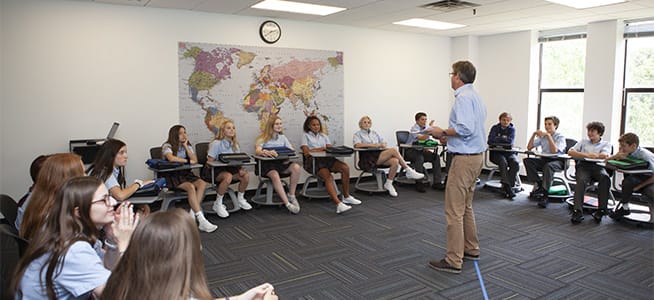 Eighth grade students on the first day of the school year.
FIRST TWO WEEKS OF SUMMER AT ST. JOHN'S CANCELLED
Summer at St. John's must cancel our first two camp sessions, from June 1 - June 12, in order to plan for evolving governmental requirements and safety protocols. 
While we are hopeful that we will be able to run seven weeks of on-campus camps, we are also re-evaluating our options for providing summer opportunities for fun, enrichment, academic preparation and support. 
We also want to provide options for St. John's families to receive full refunds for any camps that are cancelled. 
Please follow the link to receive refund options and express interest in potential new camp offerings.
VIRTUAL GAMES DAYS!
This year, St. John's will be conducting multiple virtual games days. We will announce challenges and activities on four different dates:
Monday, May 4
Thursday, May 7
Monday, May 11
Thursday, May 14
Each day we will share a series of fun and exciting challenges. On Mondays and Thursdays students will receive new challenges, along with the results of the previous challenges.
Monday's challenges are due on Wednesday night, and Thursday challenges are due on Sunday night. Get ready to show your school spirit and compete for blue or gold!
SHEEPFOLD
There will be an in-person (faculty), in-car (students and families), outdoor Sheepfold on Sunday, May 17, at 1:30 p.m. to wave good-bye, shout out congratulations, and show members of the Class of 2020 that they will always be a special part of the St. John's fold. We will line the carpool path with faculty, staff and administrators; with entertainment along the way; and Fr. Houk will offer a Sheepfold blessing to each car as it enters the Middle School donut, while Mrs. Matthews extends an Alpha Omega medal for blessing in preparation for in-person distribution at an August graduation. This special event is exclusively for the Class of 2020 and their families.
GARDEN UPDATE FROM MR. ADLER
The St. John's garden is going strong! Summer crops are thriving in this beautiful spring weather. Tomatoes, squash and zucchini are just a couple of weeks away from the first harvest, with cucumbers, okra, peppers and more right behind. The big project for this summer is learning to grow single stem tomatoes by tying them to 8" stakes and training them vertically. We look forward to our continued support of the food pantry at Network of Community Ministries later this month!
VIRTUAL TEACHER TALENT SHOW
We have a special surprise for the St. Johns community - the first-ever Virtual Teacher Talent Show! Stay tuned for a Middle School Talent Show coming in the near future.
See Part 1 here and Part 2 here.
GATEWAY OF GRACE
Thank you to everyone who has donated electronic devices to Gateway of Grace. It is not too late to donate devices, simply drop off them off anytime at 6640 Lakewood Boulevard, and Don Carroll will deliver them to Gateway of Grace. All devices will have their data wiped.
HUMAN RIGHTS INITIATIVE - THANK YOU
Thank you to everyone who donated supplies to The Human Rights Initiative. HRI is a St. John's community partner that provides legal and social services for local asylees and refugees. Your donations make a difference to people in need in our community.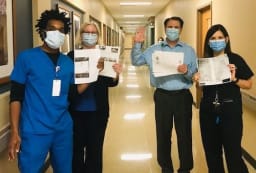 THANK YOU LETTERS DELIVERED TO PARKLAND
Thank you to everyone who emailed cards, drawings, and letters of thanks to healthcare workers. Lynn Granello partnered with Parkland Hospital to ensure that all of the messages from the St. John's community made it to the doctors, nurses, and other healthcare workers. If you missed out - it's not too late. Email your messages to Lynn Granello and she will send them over with the next batch of letters.
Special thanks to St. John's parent Joanna Brown, the Director of Physical Medicine and Rehabilitation at Parkland Hospital, who helped with letter distribution. Mrs. Brown is pictured at the far right, next to Dr. Brett Moran, another St. John's parent. 
COMMUNITY BUSINESSES
St. John's would like to help your locally owned business during this difficult time. if you would like St. John's to add your business to our webpage as a resource for others, please complete this form.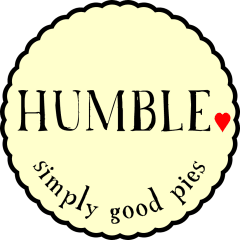 RESTAURANT OF THE WEEK
Humble: Simply Good Pies at 9014 Garland Rd. is the featured Restaurant of the Week for the week of May 5-9. They offer a rotating selection of delicious pies that are listed on their website (www.humble-pies.com) and Facebook page (https://www.facebook.com/humblepiesdallas) each week. They also offer savory pies for pre-order up to the day before on the following schedule: Quiche - 3 flavors every day, Chicken Pot Pies - Tuesday and Thursday, Shepard's Pie – Wednesday, and Mac & Cheese Pot Pies - Friday. They offer curbside pick-up or the shop is open for takeout only. They are open 11 a.m. – 8 p.m. Tuesday – Thursday and 11 a.m. – 9 p.m. on Friday and Saturday. Call them at 214-458-9039 to place your order!
PRAYER FROM SHANNON NEWSOM, SEVENTH GRADE RELIGION TEACHER
On this "May Day," we praise you, God, as the Creator of all that is Holy and Good. 
We thank you for showing us (in powerful and beautiful ways) that, even in this time of uncertainty and wondering if our lives will ever be "normal" again, beauty is not gone. The earth continues to "put forth:  plants yielding seed of every kind, and trees bearing fruit…"
God, when You created the Earth, you said, "It is good."  
It is good.  And, we are good.
Thank you, God, that your Son, the resurrected Jesus walks this road with us.  We have each other and we have the beauty of Your creation.  
You have given us days of sunshine so we can be outside to rest our souls and drink in Your beauty and warmth.
We praise You for these good gifts, and we pray that we may safeguard them.   May we continue to grow in our gratitude for You and Your abundant creation.
To the honor and glory of your Name, now and forever. 
Amen.
ST. JOHN'S EPISCOPAL SCHOOL | STJOHNSSCHOOL.ORG | 214-328-9131