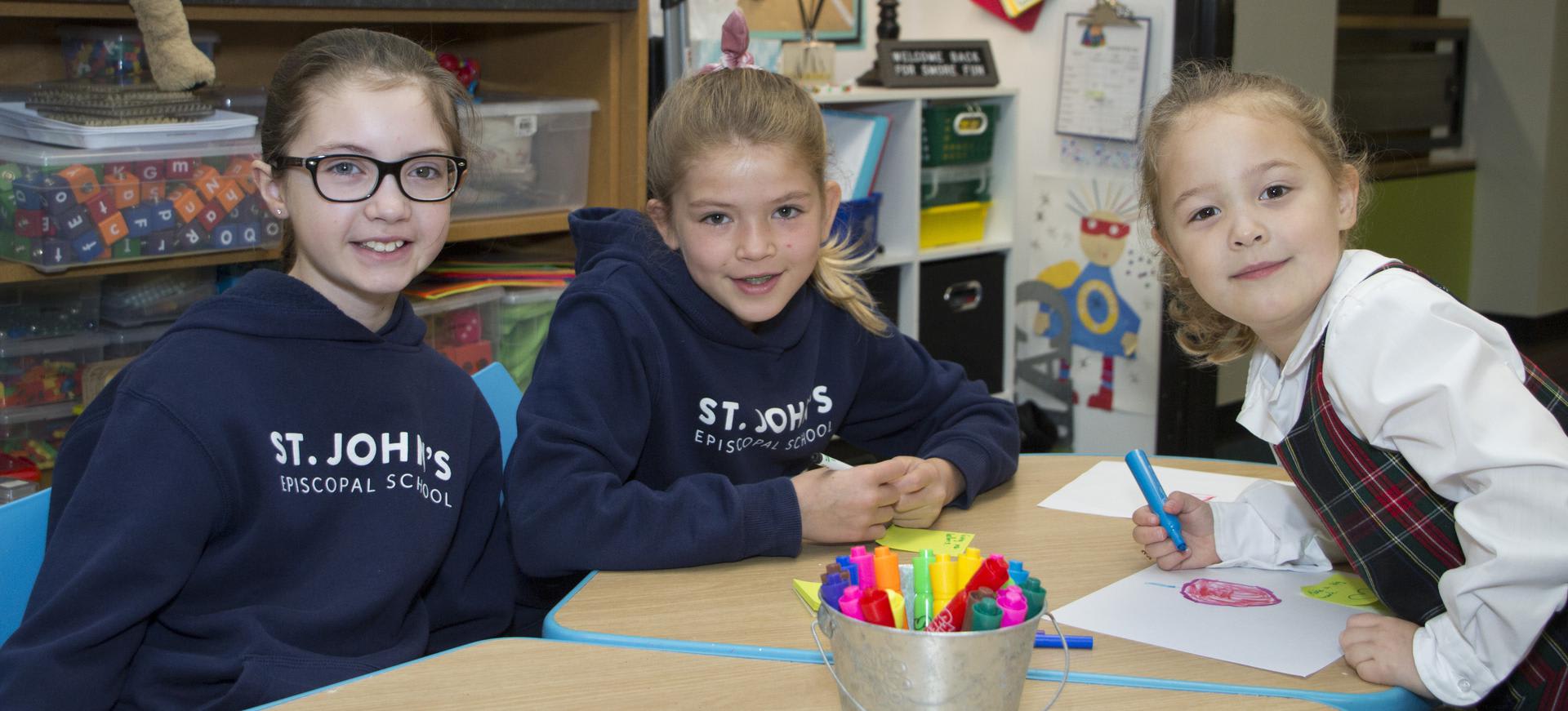 Fourth grade students came to visit their buddies in pre-k during yesterday's buddy day activities.
NEWS & NEXT WEEK'S EVENTS
MARTIN LUTHER KING JR. DAY
The school will be closed Monday, January 20, in observance of MLK Jr. Day. Additionally, winter break will be Friday, February 14, through Monday, February 17, and there will be no classes.
PA MEETING
We look forward to seeing you at our upcoming PA meeting on Tuesday, January 21, at noon. All parents are invited to attend and enjoy a light lunch at noon in Parish Hall. We are excited to reveal this year's Fund-A-Need!  Please make note of our last meeting of the year, which will be on Tuesday, March 3. 
AFTER SCHOOL PROGRAM – NEW OPTIONAL CLASSES START JANUARY
As part of the After School Program, we offer a variety of optional after-school classes for an additional fee. Spring classes will begin the week of January 27 unless otherwise noted. Students may attend ASP before or after their optional classes at no additional charge. For class descriptions, dates/times and instructor information, view the ASP page. To enroll your child in the ASP and/or optional classes, print, complete and return the contract to school. Payments can be made by check (made payable to SJES) or through ParentsWeb.
The Book Cooks and Minecraft Mondays classes are full. Contact ASP director Lani Jones with questions. 
TIP OF THE WEEK
Online Performance Platforms: What You Need to Know
If you've seen your kid dancing around your living room in front of their phone, they might be making a TikTok video. Have you witnessed your kid pretending to put on makeup while talking to the mirror? They're dreaming of being a YouTube star. In the age of online performance, many kids have shifted their dreams from basketball pro and movie star to esports competitor and influencer. Being creative is wonderful and to be encouraged, but when the focus is only on success, the magic of the process gets lost. So focus on safety—and fun.
PRIVATE SCHOOL ARTS INVITATIONAL CLOSING RECEPTION
The closing reception and awards ceremony for the Private School Arts Invitational will take place on the final day of the exhibition, Thursday, January 23, from 5:30 – 7:00 p.m. at The Hockaday School at the Ann Bower '67 Gallery. The following students are representing St. John's with their artwork: Eli Aldridge, Mia Bela, Matney Burns, Caroline Ellis, Ava Field, Edward Hofland, Allison Lamont, Eva Lickteig, Phoebe Martin, Malia Mitchell, Sabastian Salas, and Mary Silliman.
FLU SEASON
Flu activity is currently high both nationally and statewide, with both Flu A and Flu B viruses circulating. Though there have not yet been many flu-like illness in the clinic, flu viruses are highly contagious and can spread rapidly. Getting a flu shot is the best way to protect you and your children from the flu. It is not too late to get immunized if you haven't already! 
More information on the flu : Flu Guide for Parents
                                               Flu Complications and Emergency Signs
You can help fight the flu in our community by monitoring your children for symptoms of the flu:
Fever or feeling feverish/chills
Dry cough
Sore throat
Runny nose
Muscle or body aches
Headache
Fatigue
Nausea, vomiting and diarrhea (more common in young children than in adults)
Keep children with symptoms of the flu at home until they no longer have fever (temperature of 100 or greater) for at least 24 hours without the use of fever-reducing medications.
Remind your family to wash their hands thoroughly with soap and water, or use hand sanitizer regularly.
Reinforce respiratory etiquette (cough and sneeze into Kleenex or if not available, cover cough with elbow and avoid touching your mouth, nose and eyes).
Have all household members vaccinated for the flu.
Please adhere to these guidelines to protect both students and our staff. Thank you for your cooperation!
PRE-K CELEBRATES THE SNOW
After coming to the IDEA Lab to read the book, Snowmen at Night, pre-k students were eager to build a sled for a Peeps snowman. Using materials such as craft sticks, painters tape, pipe cleaners, and straws, the students put their construction skills to use to build their first sled prototypes. During construction, the sled engineers carefully considered what they have learned about friction in order to maximize the speeds of their sleds. They then brought their sled to our own snowy hill (painted wax paper on a cookie sheet) for testing. If the sled did not slide down the hill, it was back to the tables to make some adjustments. After successfully creating a workable sled, students added their snowman. Some built safety belts for their snowman and others added handles. At the end of the day, the snowmen and their sleds slid on home with the pre-k students.
ST. JOHN'S STUDENT LEADERSHIP AND SERVICE
Congratulations to the 13 members of the new Student Leadership and Service Group (SLS). The group will work to plan, organize and stage service opportunities available to Middle School students. Members are motivated to develop leadership skills; they have a passion for serving the community; and they strive to be role models for fellow students. The inaugural group comprises Cameron Bare, Persia Brown, Peyton Brown, Roman Childress (not pictured), Sydney Fallen, Mary Isabel Hall, Jett Kipness, Luke Laczkowski, Jordan Malone, Sydney Robinson, Henry Roden, Aidan Vo and Larkin Wigley.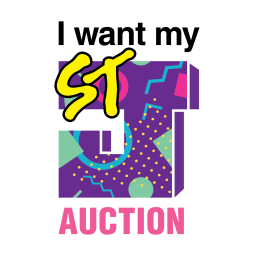 AUCTION 2020: I WANT MY ST. JOHN'S
Mark your calendar for the most cool beans Auction to date! 
On Saturday, March 7, 2020 at 6:30 pm, the St. John's Parent's Association will host I WANT MY ST. JOHN'S AUCTION at Gilley's South Side Ballroom. Join us for an evening of totally bodacious bites, rad cocktails, a mega-awesome band playing your '80s favorite jams, and an '80s photo booth with some, like, way fun props. We pity the fool that would miss an evening of reliving their favorite '80s memories in their most wicked blast from the past '80s threads. All proceeds from this amazing night will directly benefit our St. John's kids, so don't be a total dweeb and miss out on the opportunity to get your mullets and perms right and party hardy! Ticket prices increase at midnight on February 23, so get them quick, and remember - life moves pretty fast. If you don't stop and look around once in a while, you could miss it.
WARM YOUR HEART LUNCHEON
Please consider signing up to provide a soup or dessert item for the PA Warm Your Heart Luncheon on Wednesday, February 12. For additional information or to sign up, please visit the Sign-Up Genius.
BOX TOPS WINNERS
Congratulations to Mrs Burkhead's Kindergarten class for collecting 95 Box Tops and earning a free dress day!  Also, congratulations to the entire third grade for collecting the largest number of Box Tops this fall - 1,213!  You all have also earned a free dress day! 
TASTY WINE + UGLY ART
Get creative and join St. John's Episcopal Church for Tasty Wine + Ugly Art on Saturday, January 25, from 6:30-8:30 p.m. in the Parish Hall. Follow along with our guest artist or do your own thing. Bring a bottle and/or an appetizer to share with friends. Materials will be provided. $10 to paint, $5 for coloring and drawing (kids). You must RSVP to reserve your space. RSVP to Jim Stacy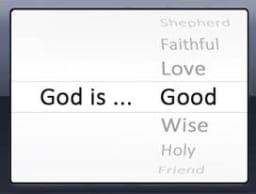 GOD IS...
GOOD! It's on this note that we are kicking off a series of chapel themes that will run throughout the spring.
This week and next, Mr. Porcheddu and I are talking about how God is good. That's how he revealed himself to Moses in Exodus 34:6. And then when Jesus came along, in the most amazing way he referred to God as "Father." In my chapel talk on Wednesday, I described how we are more likely to think of God as a cosmic police officer or monarch. But Jesus says God is the one who loves us like a parent: tenaciously, unconditionally, with absolutely goodness.
As we roll into February, we will talk about how God is wise, God is love. As we enter Lent, we will remember that God is holy and God is gracious.
As always, you are invited to worship with us in chapel. Ask your kids about what they're learning. And I'm always all ears to hear from you about how we can speak faith to where our children are living.
Yours,
Fr. David Houk, Rector
SJES REMINDERS AND FOLLOW-UP
2020-21 CALENDAR
View the preliminary calendar for the 2020-21 school year. The preliminary calendar includes major holidays and the beginning and end of the school year.