Third grade celebrating upcoming Carnival on Spirit Day!
NEWS & NEXT WEEK'S EVENTS
CARNIVAL 2019: IT'S TIKI TIME!
TOMORROW - Saturday, October 19, 2:00 - 6:00 p.m.
Catch a Wave - Enjoy games, entertainment, sliders from Liberty Burger, and more! Be sure to hula over to the Tailgate area and sample tasty BBQ from our very own SJES dads. Bring cash for tipping our Bartenders who will be hard at work and our Pit Masters (their proceeds will go back to the school). And don't forget to indulge in something sweet at the Bake Sale (credit cards accepted).
Pre-ordered T-shirts, wristbands and tickets were delivered to your child's locker or backpack on Tuesday.  Didn't have a chance to buy your wristbands or tickets? No problem – you will still be able to purchase both at the door! 
We need all hands on deck so sign up to volunteer for a shift to set up, work a booth or help with clean up. Childcare and pizza will be provided for those who set up on Friday.  Learn about all of the ways you can help here. We appreciate our parent volunteers!  You are critical to the success of our Carnival.
EARLY CHILDHOOD ADMISSION COFFEE
St. John's will host our Early Childhood (pre-k and kindergarten) Admission Coffee on Wednesday, October 23 from 9:30 to 11:00 a.m. in the library. We would love to have your friends who are evaluating options for the 2020-2021 school year join us for this informative event! They can read more about the admission process and RSVP at stjohnsschool.org/openhouse.
DIRECTORY UPDATE
Thank you for your patience while we finalized updates to the 2019-20 Directory. We hope to have delivery from the printer by November 1. Each household will receive one printed copy, to be distributed at that time in the backpack of your youngest St. John's student. In the meantime, we invite you to access a pdf version of the directory in the secure Parents Web under Resources.
iPadOS DO NOT UPDATE
We are still testing some necessary apps for the newly released iPadOS. Please remind your child NOT to upgrade his or her iPad until you receive an all-clear email from the school. Upgrading before we test frequently used apps may mean your child will be unable to access apps or complete assignments for school.
PICTURE RETAKES
School photo retakes will take place on Tuesday, October 29 from 7:30 - 9:30 a.m. in the Lower School Commons. If you wish to have your child's photo retaken, please return the photo packet that you received to your child's teacher before October 29.  All students who wish to have their photos taken must wear full dress uniforms including sweaters/blazers.
LOWER SCHOOL HALLOWEEN GUIDELINES
This year, Lower School students may wear Halloween costumes all day. On Thursday, October 31 the Lower School will celebrate Halloween with a parade, sing-along, and classroom parties at the end of the school day. Students who would like to wear a costume should come dressed to morning drop-off, as students will not be changing into their costumes at school. If a student opts to not wear a costume, they must wear their normal school uniform. Dismissal for kindergarten through fourth grade is 3:00 p.m. Please review the Lower School Halloween Guidelines. Please keep in mind that all costumes must comply with our free dress guidelines.
MIDDLE SCHOOL HALLOWEEN GUIDELINES
Student Council and National Junior Honor Society have planned a Middle School Halloween costume day for Thursday, October 31. Middle School students may wear their costumes to school that day. Costumes must follow free-dress guidelines and may not include masks, makeup, weapons, inflatables or elements considered inappropriate for Lower School students. School uniforms are required for those who choose not to participate.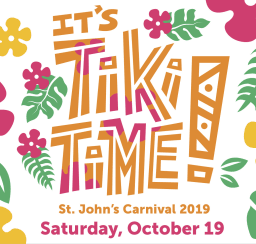 MIDDLE SCHOOL ADMISSION COFFEE
St. John's will host our Middle School (grades 5-8) Admission Coffee on Wednesday, November 13 from 9:30 to 11:00 a.m. in the library. Middle School at St. John's is a valuable experience for students preparing for high school that is filled with dynamic learning as well as athletics, fine arts, and servant-leadership opportunities. Please share this event with friends exploring options for the 2020-2021 school year. More information about the admission process is available at stjohnsschool.org/openhouse.
SAVE THE DATE FOR GRANDPARENTS AND GRANDEST FRIENDS DAY
St. John's will celebrate Grandparents and Grandest Friends Day on Friday, November 22. Invitations will be mailed this month. To ensure that your child's special guests receive an invitation, please fill out the form here if the information you provided during enrollment has changed.
ANNOUNCING THE RETIREMENT OF A DEAR COLLEAGUE AND FRIEND
EXPLORING COMMUNISM
Fifth grade English students are having an extraordinary experience with their current reading unit featuring the short novel, Breaking Stalin's Nose, by Eugene Yelchin. Students recently arrived for class to find Mr. Herrin's room had been transformed into a stark classroom setting from the book, complete with a door covered in red paper with a sign 'Enter only if you are a good Communist." You can imagine students' eager anticipation of the day! Using costumes, music, and role-playing, the lesson quickly became one that enhanced deeper understanding of the suspicious world in which people lived in post-World War II Russia and the powerful need for deception to protect oneself. Students were encouraged to consider the idea of reality versus perception and the importance of discernment; the differences in freedom and authoritarianism; and the question "What happens when your responsibilities are contradictory/in conflict with the situation in which you find yourself?"
PRE-K VISITS THE DMA
Last week, Pre-k took a field trip to the DMA to take part in a program regarding the five senses. During their visit, the students learned how to use their senses to evaluate and appreciate various forms of art. They also viewed and discussed the different design elements used to create African masks. As part of the exercise, they watched a video where masks were used during a tribal dance and afterwards they created their own masks. 
BOOK FAIR
St. John's Book Fair is around the corner! Save the date and support our library Monday, November 4 - Thursday, November 7. Inspire your child's love of reading with new books and knock your Christmas shopping out early with something for everyone on your list! Come to the library and help your pre-k through fourth grade student create their book wish lists by signing up here. Want to volunteer in the library during book fair week? Sign up here to pick a shift.
PASTRIES WITH PARENTS
Mark your calendars for a St. John's favorite! Pastries with Parents will take place Wednesday, November 6 from 7:00 – 8:00 a.m. for all pre-k through first grade students.
SPIRIT SHOP
We've Got Spirit, Yes We Do! We've Got Spirit, Now You Can Too! 
Monthly Spirit Days give our kids the opportunity to show their SJES pride more often! The SJES Spirit line has expanded to include new styles and items; lots of dri-fit fabric and fun colors. Consider this a "couture" line. Items will be produced based on our actual orders, and there will not be excess items available once our order has been placed. Orders will be accepted through Monday, November 4. Items will arrive via kidmail approximately two weeks after order close date. Please place orders here.  
CHILI COOK-OFF AND TRUNK OR TREAT
St. John's Annual Chili Cook-Off and Trunk or Treat is Saturday, October 26 at noon in the Parish Hall. Dust off those family recipes and compete for this year's title. Get your fill of tasty chili, then get the kids into their costumes and head outside for trick or treating in our parking lot. If you would like to enter your chili or decorate your trunk, please email Michelle Reed.
WHAT DOES IT MEAN TO CALL GOD OUR 'FATHER'?
The end of the day on Friday is a special time around any school. As I walk through the hallways around the school I can feel the excitement building as the week winds down and students are getting ready for all the great things they are planning for the weekend. But for me Friday afternoon is a climax of excitement because that's one of two times in the week I get to have all our Early Childhood students in chapel. It's very special to be a part of teaching these guys about how to pray in the 'Big Church': how to stand and sit, to fold our hands, and especially how to pray the 'Big Kid' Prayers.
But that doesn't mean that sometimes it isn't hard to understand. Most of our students know the Lord's Prayer, and those who did not at the beginning of the year are catching on pretty quickly. But teaching it really brings home how special that prayer is and how hard it can be to wrap our head around. The other day, we talked about what it means to call God our 'Father.' Does it mean that God is like our moms and dads? Certainly. But like so many things we learn from the Lord Jesus, it means so much more. In fact, it's not that we understand God by understanding our parents, but rather that we understand the love our parents have for us most fully when we understand how much God loves us. As 'Grown-Ups' in the faith (if there is such a thing!), our children look to us to see the ways we find to love God and to love each other. We become their older brothers and sisters when we bring them to prayer with us and reach out to them, we help them look up and see God reaching out to them. When we tell them we love them, we can be the voice of God saying the same thing.
Faithfully,
Fr. Chris Steele+
Chaplain
SJES REMINDERS AND FOLLOW-UP
IMPORTANT SAFETY GUIDELINES
We need your help to protect students during carpool as we are continuing to experience non-compliance of carpool guidelines. Parking on the Harter greenbelt adjacent to the outdoor classroom is strictly prohibited during carpool. It creates a hazardous situation by reducing visibility and interfering with the flow of vehicles exiting the school property. Additionally, parking against traffic is illegal and unattended vehicles will receive a parking ticket. We ask that everyone respect these regulations for the safety of all of our students. Please do your part by following the carpool procedures listed on your hangtag and dropping off and picking up your child at the designated school entrances for both Lower and Middle School. If you have any questions, please contact Sue Trumbo at x107.
SIBLING ADMISSION FOR 2020-2021
In order to facilitate planning for the 2020-21 school year, please contact the Admission Office if your child has a sibling for whom you will be applying for admission.
LABEL ALL BELONGINGS
We would like to remind parents to label ALL items that are sent to school – including lunchboxes, water bottles, ties, uniform items, non-uniform items, and outerwear. There are already a number of items in our Lost and Found, and labeling your child's items ensures that we can return them to you if they are misplaced.