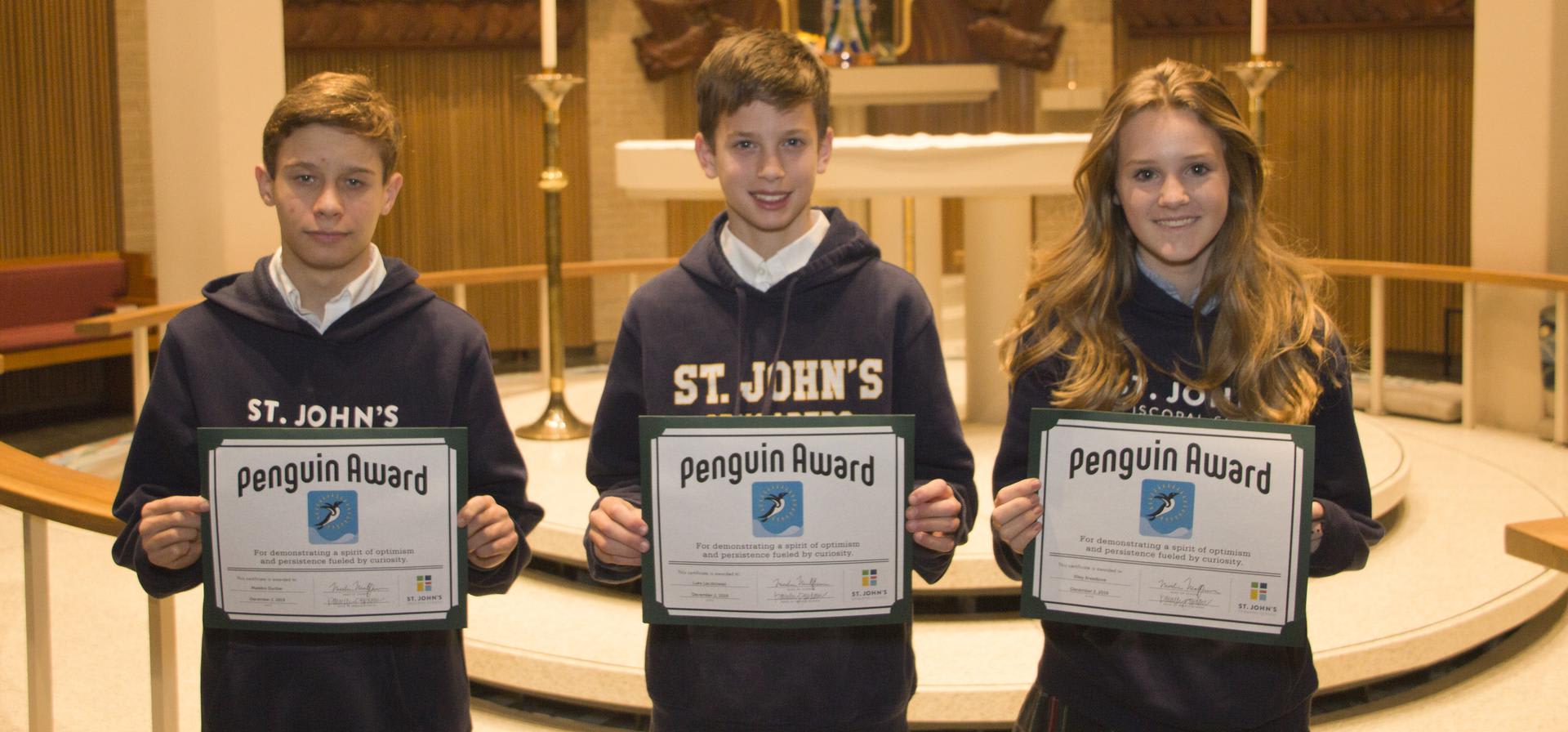 Congratulations to the seventh and eighth grade penguin award winners!
NEWS & NEXT WEEK'S EVENTS
TUITION ASSISTANCE DUE DECEMBER 6
The FACTS financial aid application portal for the 2020-2021 school year is open. For currently enrolled students, the deadline for application is Friday, December 6 at midnight. Please contact Director of Finance & Financial Aid Linda Wilson or Finance Assistant Lani Jones with any questions regarding our financial assistance program.
ST. JOHN'S HOLIDAY APPRECIATION FUND
Considering a holiday gift for your child's teacher? In lieu of a personal gift, the Parents Association encourages you to contribute to the St. John's Holiday Appreciation Fund, which is now open. Donations are neither required nor expected, but always appreciated. The fund serves as an inclusive, easy way for parents to show their appreciation and for all faculty to feel parents' gratitude. Donations, which have no monetary limit, received by Friday, December 13, will be divided and hand-delivered before Christmas. You may use the link above or drop a check off at the front desk. When you contribute to the fund, you will receive a printable certificate to include in a Holiday card to your teachers, letting them know about the donation.
SPIRIT DAY & PACK THE GYM MONDAY
Let's show our St. John's pride on Monday, December 9!  Students are invited to wear head-to-toe Spirit gear all day. Free dress guidelines apply, located on page 43 in the school handbook, which can be found on ParentsWeb under Resources/Documents. Also, come support the basketball teams at 4:30 and 5:30 p.m. There will be a special guest coach for a portion of the 5:30 game – Head of School Meshea Matthews! Pom-poms and headbands will be ready as you walk in the gym. After the game, head over to the Chick-fil-a on Garland Road for dinner as they are offering complimentary "ice dream" cones from 6:30-7:30 p.m. if you mention St. John's.
LOWER SCHOOL ADVENT & LESSONS AND CAROLS
Advent concerts will be held in the chapel on Tuesday, December 10, for first through fourth grade students and their families. The first and second grade service will be held at 8:15 a.m. and the third and fourth grade service will be held at 9:15 a.m. Pre-k and kindergarten students will present their Early Childhood Lessons and Carols on Friday, December 13, from 2:15 p.m. to 2:35 p.m. in the chapel. All performances will be recorded and links to the footage will be made available afterward.
BOX TOP COLLECTION
Our next Box Tops collection will take place on Wednesday, December 11. The class or advisory that collects the most Box Tops will win a free dress day. Visit Box Tops for Education to become Box Top savvy and get tips on ways to boost your collections. Good Luck!
BAKE SALE FRIDAY, DECEMBER 13
On Friday, December 13, the fifth grade Baking Club will be holding a bake sale at middle school lunch in the cafeteria. Proceeds from the sale will go to a toy drive for Community Partners of Dallas, which buys gifts for children who might not otherwise get anything for Christmas. Each individual treat will sell for $2, so students who want sweet treats for a good cause should plan on bringing their money!
POINSETTIA DELIVERY
NJHS poinsettias will arrive next week! NJHS students will help deliver plants to cars during carpool, or to cubbies/lockers if students are staying for ASP. Please contact Eric Telzrow with any questions or concerns.
DECEMBER BIRTHDAY AND JUNE HALF-BIRTHDAY BLESSINGS + LUNCH MENU
The birthday blessing schedule for pre-k through eighth grade December birthdays and first through eighth grade June half-birthdays is posted on ParentsWeb (School / Resources). You will also find the monthly lunch menu in ParentsWeb (School / Resources), as well as under the Current Families page of the website. See the December menu.
EARLY DISMISSAL DECEMBER 20
There will be early dismissal on Friday, December 20 for all students. Lower School will dismiss at 11:30 a.m. and Middle School will follow at 12:00 p.m. 
Families who utilize our After School Program are invited to reserve spaces for programming from 12:00 p.m. through our regularly scheduled dismissal of 4:00 p.m. Please complete the required RSVP form for any student participating in the After School Program. All students staying at school for the afternoon must bring a sack lunch; there will be no cafeteria service.
MIDDLE SCHOOL SPELLING BEE RESULTS
After almost two months of practice, twenty-four dedicated middle school students participated in the St. John's Episcopal School annual spelling bee on December 3. Congratulations go to this year's winner, seventh grader Roman Childress. Roman won after 15 rounds by spelling the word "vowel" after battling it out for four rounds with runner-up Kelsey Montgomery (sixth grade). Henry Muns, Emmy Potter, and Mary Kate Dillon finished in the top five.
Roman will progress to the Dallas County Private School Spelling Bee at Good Shepherd Episcopal School on Tuesday, February 18. Two winners from that competition will advance to the Dallas Regional Spelling Bee in March.
PENGUIN AWARD WINNERS
At St. John's, we guide students to discover a passion for learning and for life, teaching compassion, creativity, exploration and collaboration. We are dedicated to supporting the growth of our students throughout their time with us, which is often the result of trying something new, giving extraordinary effort, and acting with an attitude of discovery. To recognize these traits, we present the Penguin Award to students from each Middle School grade each trimester. The recipients have shown they are willing to plunge into a new project, topic, subject, assignment or area of study. Through their actions, they have been an inspiration to others, and they have demonstrated qualities we value in our graduates, such as tenacity, resiliency, optimism and genuine curiosity. We congratulate the seventh and eighth grade Penguin Awards winners: Riley Breedlove, Maddox Dunbar, and Luke Laczkowski.
FIRST GRADE PAJAMA PROGRAM
First grade students collected 66 sets of pajamas for the Pajama Program, which partners with Scholastic Books to provide a set of pajamas and a book to children in need for the holidays. 
CRUSADER CLUB BASKETBALL CLINIC
Join the coaches from Blade Basketball for a skills clinic over the break! Registration is open now. This clinic will meet Thursday and Friday, January 2 and 3, in the main gym from 9:00 a.m. - noon. The skills clinic is open to grades 2-8 and participants do not need to be St. John's students. Coaches will break out students by grade and skill level for individualized instruction. Email Sarah Donahue with any questions.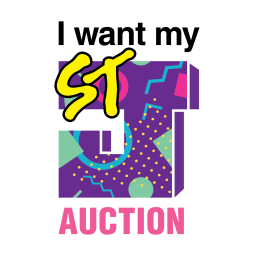 AUCTION 2020: I WANT MY ST. JOHN'S
Have you heard it through the grapevine that our auction website went LIVE? Please join the Parent's Association's 2020 Auction, I WANT MY ST. JOHN'S AUCTION as we party hardy all night long (all night!) on Saturday, March 7 at Gilley's South Side Ballroom to celebrate the most excellent decade ever- the 80's!
You can help us make I WANT MY ST. JOHN'S AUCTION a totally, like, huge success by considering an opportunity for your company or your family to support the event at one of our rad sponsorship levels. Each level is offering GNARLY perks! Sweet dreams are made of nights like these, and we couldn't do it without your support! So please plan to celebrate your glory days with us on March 7. Purchase your tickets and t-shirts now and stay up on all of the latest news on the auction website. 
JANUARY MOVIE SOCIAL
Come join your St. John's friends on Monday, January 6 at 11:30 a.m. (doors open at 11 a.m.) for a private St. John's screening of Toy Story 4. Tickets will go on sale at 6:00 a.m. on Wednesday, December 11 in the St. John's Spirit Shop. The movie will be shown at the Lake Highlands Alamo Drafthouse and your ticket price includes admission and popcorn. A full menu will be available for lunch.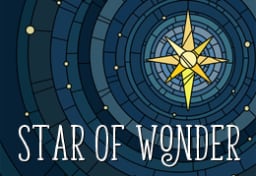 STAR OF WONDER: CHILDREN'S CHRISTMAS PAGEANT & LESSONS AND CAROLS
Celebrate the Christmas Season with St. John's Church. On the morning of Sunday, December 15 at 9:15 a.m., you are invited to our annual Children's Christmas Pageant and Singalong. That afternoon at 5:00 p.m. is the Festival of Nine Lessons and Carols. St. John's Cantate Deo adult choir, supplemented by various instrumentalists and a children's choir, will lead the congregation in the hymns and carols of the season. A preservice recital will begin at 4.30 p.m. featuring Naoko Nakamura, Principal Harpist with the Dallas Winds, performing music of Advent and Christmas. A reception will follow in the Parish Hall.
SANTA IN THE BRANCH
St John's families are invited to attend Comerica's 6th annual 'Santa in the Branch' community event! This will be held Saturday, December 14, 9:00 a.m. to 1:00 p.m. at Comerica Bank: 6260 E. Mockingbird Lane, Dallas, Texas 75214. Children will share their Christmas wishes with Santa, make ornaments, and enjoy hot chocolate and cookies with Mrs. Claus.  Everyone attending will receive a free picture with the guy in red, and parents are welcome to shop the new holiday market featuring local vendors. A portion of the proceeds will benefit the charity Mommies in Need.