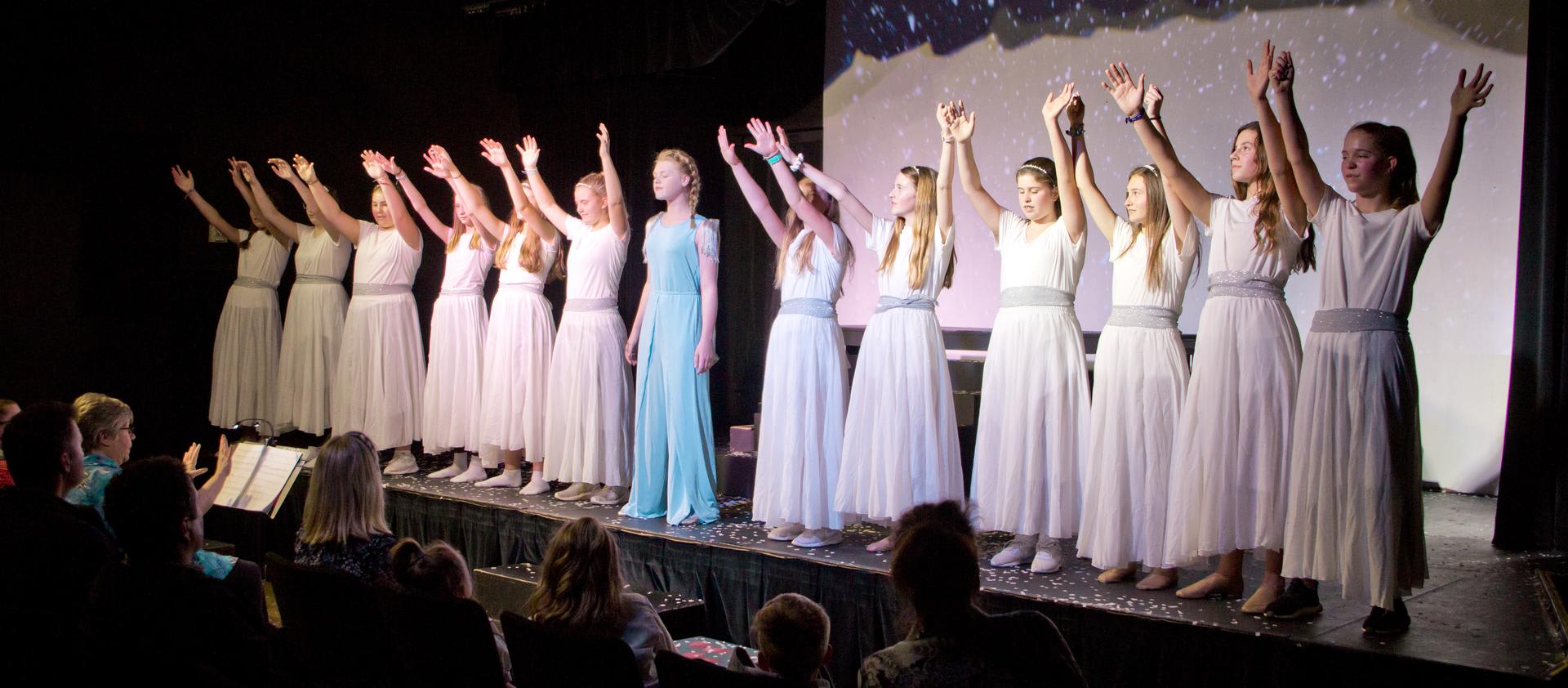 The seventh grade musical, Frozen, played to sold-out audiences for every performance.
NEWS & NEXT WEEK'S EVENTS
CELEBRATE READING WEEK
The week of March 2, our Lower School will celebrate READING with fun activities and dress-up days.
Thursday, March 5, from 8:00 until 8:30 a.m., Lower School will observe D.E.A.R. (Drop Everything and Read). Third and fourth graders should bring non-school-related reading material with them (book, magazine, comic, etc.). Pre-k through second graders will be read to or will read to themselves during that time.
Throughout the week, we'll celebrate reading with fun dress-up days:
Monday, March 2: OH, THE PLACES YOU'LL GO (Wear jeans/athletic pants/shorts/leggings (if the shirt is long enough to cover bottom) and a vacation shirt that has the name of a place on it.
Tuesday, March 3: READING ROUNDUP (Wear western-themed (bandana, cowboy hat (no boots), etc.) free dress and "round up" your favorite books.)
Wednesday, March 4: KIDS IN SOCKS (Wear crazy socks with your uniform.)
Thursday, March 5: INSPIRED BY READING (Wear a book or book character-themed shirt (homemade or store-bought) OR dress up as your favorite book character.)
Friday, March 6: HOORAY FOR ST. JOHN'S (Wear a St. John's T-shirt with jeans/athletic pants/shorts and tennis shoes today.)
If a child chooses not to participate in any of the dress-up day activities, he or she must wear a regular school uniform. Please contact librarian Jennifer Powers with questions.
FINAL 2020 PA MEETING and STATE OF THE UNION - TUESDAY
Come this Tuesday, March 3, at noon in Parish Hall, as the Parents Association hosts its final general meeting of the school year. Attendees will hear about the state of the union from Head of School Meshea Matthews, Head of Lower School Jayme Johnson and Head of Middle School Pam Jordan. We will announce, vote and approve the PA Council for 2020-2021. All parents are invited, and a light lunch will be served.
AUCTION ART PREVIEW
You're invited to preview the I WANT MY ST. JOHN'S grade-level art projects Tuesday, March 3, from 10:00 a.m. - 5:00 p.m. in Parish Hall. These beautiful, student-created pieces will be on display during the PA meeting which starts at noon. 
PRE-K ACHIEVES 100% ST. JOHN'S FUND PARTICIPATION
Thank you, St. John's families! We are so close to completing this year's campaign for the St. John's Fund. With your generous support, yet another grade has achieved 100% participation this week. Our deepest gratitude to our pre-kindergarten families for reaching this milestone! There is still time to lend your support. Each grade achieving 100% participation will receive a free dress day. Please contact Carol Graham if you have any questions.
"LIKE" THE MOVIE
We hope that you will join us for a special screening of LIKE, the movie. LIKE is a documentary that explores the impact of social media on our lives. Technology is a tool. It's here to stay and social platforms are a place to connect, share, and care, but what's really happening? Are we addicted? How do we stop? Where do we start? What do we need to know? By understanding the effects of technology and social media on the brain, on our lives, and on our civilization, we can learn how to navigate it more safely together. Please join us from 6:30-8:00 p.m. on Wednesday, March 4, in Clements Hall for the film screening and discussion moderated by Dr. Ryan Smith. The event is free, but we request that you RSVP to reserve your space.
BOX TOPS COLLECTION
Our next Box Tops collection will take place Wednesday, March 4. The class or advisory that collects the highest number of Box Tops will win a free dress day. Don't forget the scans from your Box Tops app count, too! Good luck!

TEACH FOR AMERICA LEADERSHIP CONVERSATION
St. John's is pleased to collaborate with Teach for America DFW to offer a special opportunity for independent school thought leaders, respected community influencers and TFA alumni to enjoy an in-depth conversation about cultivating young leaders. Kimberly Betts, Managing Director in Deloitte Consulting's Human Capital Retail and Consumer Products practice, and Danielle Robinson, Business Analyst at Deloitte Consulting, will share their expertise in Investing in Your Gen Z Leader, an invitation-only event at St. John's on Thursday, March 5. Our own Sarah Minton taught second grade with the Chicago corps and is a member of the host committee. This unique engagement provides an opportunity for open dialogue on the best strategies to invest in Gen Z as they prepare to tackle society's greatest challenges. St. John's looks forward to cultivating our relationship with Teach for America DFW in this first partnership of its kind with independent schools.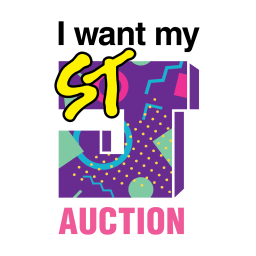 AUCTION 2020: I WANT MY ST. JOHN'S AUCTION IS SATURDAY, MARCH 7!
Tickets
Don't get left behind and miss the biggest St. John's fundraiser and like, totally awesome party of the year on Saturday, March 7! Tickets are on sale for $175 - purchase them now. Don't forget...Silent Auction, St. John's After Dark and our Big Board will open online Wednesday, March 4, so be ready to bid!
T-shirt Delivery
Your Auction T-shirts will be delivered next week via Kidmail in time for Auction Spirit Day, Friday, March 6.
Tuition Raffle
Don't forget to purchase your tuition raffle tickets: You're halfway there... 1/2 price tuition for TWO WINNERS this year! Get your raffle ticket for $125 for one or a five-pack for $500. There is a limited quantity available for purchase, so don't miss out.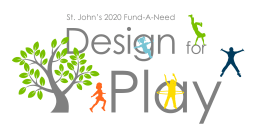 FUND-A-NEED: DESIGN FOR PLAY
The Parent's Association is thrilled to announce the 2020 Fund-A-Need, Design For Play, an initiative to optimize the playground area to create additional play spaces while further beautifying our campus, a project that is backed unanimously by the St. John's faculty.
Along with a focus on environmental conservation efforts to protect our campus, Bare Roots Landscape Solutions is incorporating our student's research and solutions and putting their science into action. Visual renderings will showcase the ideas around terracing, additional seating, artificial turf for additional play spaces, safety and ramp accessibility, and new landscaping, to list a few.
Stay tuned in the coming weeks for details around our fundraising goal and naming rights opportunities!  Questions? Don't hesitate to contact Shannon DeVilbiss for additional information.
YEARBOOK SIGNING PARTY
The yearbook signing party for the Class of 2019 will take place on Thursday, March 12, from 4:30-6:00 p.m. in the IDEA Lab. This is the perfect chance to catch up with classmates, pick up a graduation photo, and collect your yearbook. Members of the Class of 2019 should RSVP to Carol Graham.
SPRING BREAK
Spring Break is the week of March 16-20. Classes will resume at 8:00 a.m. on Monday, March 23. Have a safe and fun Spring Break!
SEVENTH GRADE MUSICAL CONGRATULATIONS
The seventh-grade musical, Frozen, played to sold-out crowds. Congratulations to the cast and crew for a successful, magical show! Under the expert direction of Jake Minton, music direction of Jean Haynes and set design of Donna Knox, Clements Hall was transformed into the magical kingdom of Arendelle. Many thanks to the special parents and volunteers who brought snacks, decorated the lobby, designed and donated the playbill, coordinated, supported and attended!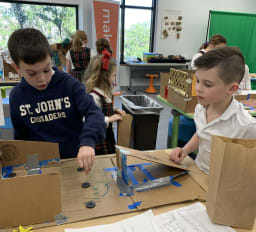 THIRD GRADE MAGNET ARCADE
Using their newfound knowledge of how magnets and motion work, third-grade students paired up and created unique versions of some of their favorite arcade games. Inspired by the Caine's Arcade cardboard box challenge, they used creativity, joy and science to share their "Magnet/Motion Arcade Museum" with students in other grades.
EIGHTH GRADE SERVICE LEARNING FIELD TRIP
On February 24, eighth graders opened their Service Learning elective with a field trip to Trusted World, where they worked hard sorting clothing for client organizations. Next Monday students will split into their groups and make their first visits to their partner organizations.
In the final trimester of the year, St. John's will participate in golf, track, tennis, and baseball. Please view the upcoming sports schedule for the week.
CONCERT AT ST. JOHN'S CHURCH
St. John's Church invites you to a baroque trumpet and harpsichord concert on Sunday, March 8, at 3 p.m. Adam Gordon is Senior Lecturer of Trumpet at the University of North Texas in Denton. The San Francisco Chronicle writes that "Adam Gordon is a superb trumpet soloist, producing a crisp golden tone and negotiating the treacherously high lines without the slightest sign of strain." Mr. Gordon will perform the music of Purcell, Gabrielli, Shore, Mudge, Stradella, and Torelli. Benjamin Kolodziej will accompany on the harpsichord. A reception will immediately follow in the Parish Hall.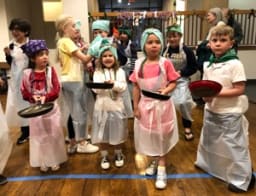 IT'S LENT...
The competition was fierce at the pancake races on Tuesday. Thanks to all the school families who came out to the church's Mardi Gras bash. It was an immensely fun evening.
And now, all of a sudden, it's Lent! Our theme this week, appropriately enough, is "God is Holy." Another way to sum up this idea, as we journey through the previous themes of the year, is that God is perfectly Good, and Wise, and Loving. And we are not. That's why we need days like Ash Wednesday—times in our lives to reflect, take stock, and say we are sorry for the ways in which we are less than loving, wise, and good.
Here's a conversation starter: what does the word "holy" mean to you? Does it have positive or negative connotations? When you think of a "holy person," are you more inclined to think of Mother Theresa or "The Church Lady" from SNL?
Yours,
Fr. David Houk
SJES REMINDERS AND FOLLOW-UP
MARCH BIRTHDAY + LUNCH MENU
The birthday blessing schedule for pre-k through eighth grade March birthdays is posted on ParentsWeb (School / Resources). You will also find the monthly lunch menu in ParentsWeb (School / Resources), as well as under the Current Families page of the website. See the March menu.
LOST AND FOUND
The St. John's lost and found contains a couple of valuable items that we suspect may belong to members of the St. John's community, including a set of Nissan car keys and a woman's ring. Please contact Karla Wigley if you are missing any such items.
WINSTON LECTURE SERIES
You are invited to attend a Winston Lecture Series event hosted by the Grant Halliburton Foundation on Wednesday, March 11, at 6:30 p.m. at The Winston School. Vanita Halliburton will give her Bounce Back presentation, which explores how adults can help children navigate stress, challenge, tragedy, trauma, or adversity. Please register to reserve your seat.