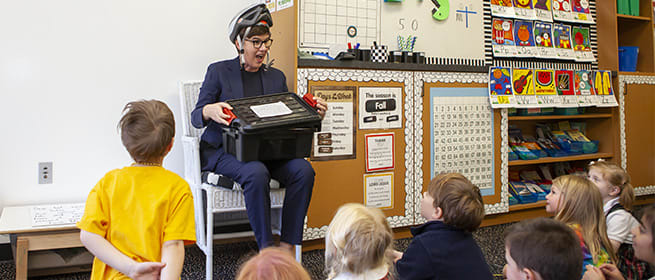 Meshea Matthews gave clues to Ms. Burkhead's kindergarten class about the content of the share box.
NEWS & NEXT WEEK'S EVENTS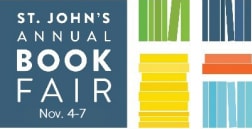 BOOK FAIR OPENS MONDAY!
Support the St. John's library and get started on your holiday shopping! Visit the Book Fair Monday, November 4, through Thursday, November 7, from 8:00 a.m. to 5:00 p.m. daily, (with extended hours until 6:00 p.m. on Thursday).
Volunteers - Please consider coming out to help. See our SignUpGenius to choose a two-hour shift.
Pastries with Parents - On Wednesday, November 6, from 7:00 - 8:00 a.m., pre-k through first grade dads, moms, or special friends are invited to our annual Pastries with Parents (formerly known as Donuts with Dads)! Enjoy breakfast with your little one while browsing our amazing selection of books.
We'll see you there!
PARENTS ASSOCIATION MEETING
The PA will hold its next meeting on Tuesday, November 5, at noon in Parish Hall. Please join us for a light lunch as we recap Carnival and reveal the Auction theme!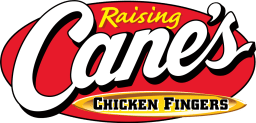 ST. JOHN'S NIGHT AT RAISING CANE'S
Join one of our Community Partners, Raising Cane's, in raising money for St. John's. Plan to get dinner at Raising Cane's Gaston and Garland location on Tuesday, November 5. Dine in, pick up or drive through between 4:00 and 8:00 p.m., and 15% of sales will be donated to the school. (Please mention St. John's when you place your order.)
BOX TOPS COLLECTION
Our next Box Tops collection will take place on Wednesday, November 6. The class or advisory that collects the most Box Tops will win a free dress day. Visit Box Tops for Education to become Box Top savvy and get tips on ways to boost your collections. Good Luck!
EIGHTH GRADE MUSICAL
Performances of the eighth grade musical, Once Upon a Mattress, will be held November 7, 8, and 9 at 7:00 p.m.along with a matinee performance at 2:30 p.m. on Saturday, November 9 in the Clements Performance Hall. Please stay tuned for details about purchasing tickets.
CRUSADER CLUB BREAKFAST
The next Crusader Club breakfast will feature food from Barbec's and will be held on Friday, November 8, in Parish Hall at 7:30 a.m.
iPadOS UPDATE ALL CLEAR
We have completed testing of iOS 13.2 and are comfortable moving forward with the 'All Clear' for students to update over the weekend.
TORNADO RELIEF DRIVE
Through Friday, November 8, Student Council will be sponsoring a drive aimed at helping our neighbors whose lives have been upended by the October 20 tornado. There are three avenues to provide support.
1) We are collecting school supplies for the DISD schools that are currently rebuilding. These can be left at donation stations at the front desk, inside the doors at Lower School carpool, and inside the doors at Middle School carpool.
2) The second option is to provide financial assistance to the Mass Care Task Force Fund at the Communities Foundation of Texas. A donation box for cash and checks will be at morning Lower School carpool throughout the fundraiser, as well as in the cafeteria throughout the day. You can also submit a donation online here.
3) The third option is to donate Target or Walmart gift cards in the amount of $25, which will be distributed by the Communities Foundation of Texas. These can be left in the same donation box as the cash and checks at morning Lower School carpool and in the cafeteria.
Students will all receive a free dress day if our total donations exceed $1,000. When Hurricane Harvey hit Houston, our community rallied to raise over $12,000. Let's share the power of community to help our neighbors in need.
TIP OF THE WEEK
Is the Amount of Screen Time My Kid Gets Normal?

As parents in the digital age, we have a lot to manage, and our kids' time on screens is not the least of it. It's easy to get anxious and wonder if we're doing it right, or, at least, if what we're doing is "normal." But since there's no exact number of minutes around how much is too much for each age, how can we know if our child is in the Goldilocks zone of "just right"?
ST. JOHN'S WEEK AT EL VECINO
In QUESO you wanted to know how you can help St. John's and eat delicious queso read below! Mark November 11-17 down on your calendar and plan to visit one of our favorite neighborhood Mexican food restaurants El Vecino. During this week, for every queso ordered a portion of the profits will go to St. John's. Please mention St. John's if you stop by and purchase. THANK YOU, El Vecino!
PARENTS IN PRAYER
Come join a welcoming group of parents as we forge new relationships with each other while encouraging discussions of our faith, hardships, testimonies, and prayer requests. The upcoming meeting will be on FEAR and overcoming it with FAITH.  Please come, the doors are open and all are welcome. We look forward to worship and roundtable discussion. We will meet in the Chapel of Our Savior, accessible through the courtyard between Parish Hall and the church, on Tuesday, November 12 at 8:00 a.m. Please contact Emily Evans or Ashley Martin with questions.
PARENT EDUCATION SPEAKER SERIES: RETHINKING RESILIENCE
Most people think resilience is something that happens AFTER an unfortunate experience. How do you bounce back? How do you pick up the pieces and keep moving forward? These are the usual questions about resilience, but Dr.  Kelly Jameson will explain that resilience is something that is instilled long before the disappointments. Have you prepared your child in advance? Is there still time to instill resilience in your child or teen? Do you even know where to begin? Come find out! Join us Tuesday, November 12 at noon in Clements Hall. RSVP now to reserve your seat.
MIDDLE SCHOOL ADMISSION COFFEE
St. John's will host our Middle School (grades 5-8) Admission Coffee on Wednesday, November 13 from 9:30 to 11:00 a.m. in Clements Hall. Middle School at St. John's is a valuable experience for students preparing for high school that is filled with dynamic learning as well as athletics, fine arts, and servant-leadership opportunities. Please share this event with friends exploring options for the 2020-2021 school year. More information about the admission process is available at stjohnsschool.org/openhouse.
ADMISSION OPEN HOUSE
St. John's will host a pre-k through eighth grade Open House on Saturday, November 16 from 9:30 a.m. to noon. We would love to have your friends who are evaluating options for the 2020-2021 school year join us for this informative event! Read more about the admission process and RSVP here.
EARLY CHILDHOOD ADMISSION COFFEE
St. John's will host an Early Childhood (pre-k and k) Admission Coffee on Wednesday, November 20 from 9:30 to 11:00 a.m. If you have friends or family who are exploring options for young children for the 2020-2021 school year, we would be eager to welcome them to join us for this informative event! 
GRANDPARENTS AND GRANDEST FRIENDS DAY
We look forward to seeing our students' grandparents and friends on the morning of Friday, November 22. Parents, please help us welcome our guests on this special day. View the sign-up to choose a shift.
Please note: Grandparents and Grandest Friends Day concludes at 10:30 a.m. for Lower School and 11:00 a.m. for Middle School. Students not leaving with their grandparents must be picked up by 11:30 a.m. There will be no after-school program or homework club. 
 
SPINAL SCREENINGS
We will be doing state-mandated spinal screenings for girls in fifth and seventh grades and boys in eighth grade on Tuesday, November 12.   Most screenings will be done in PE class, but students in those groups that do not have PE that day will be called from flex or community/elective time.
The purpose of the spinal screening is to detect the signs of abnormal curves of the spine at their earliest stages so that the need for treatment can be determined. Scoliosis, a common spinal abnormality found in adolescents, is a sideways twisting of the spine. It is usually detected in children between the ages of 10 and 14. We will also be checking for kyphosis, an exaggerated rounding of the upper back that is often confused with poor posture. Many cases of spinal curvature are mild and require only ongoing observation by a doctor. Some can worsen as the child grows and may require bracing or surgery. Early treatment can prevent the development of a severe deformity, which can affect a child's appearance and health.

Nurses will look at your child's back while they stand and then while bending forward. Boys and girls will be seen separately and privately. It will be necessary for students to remove their shirts for the screening, so please be sure your child wears appropriate undergarments if this will make them feel more comfortable.

Parents will be notified of screening results only if a referral for physician follow-up is necessary. Please contact nurse Amy Johns if you have questions.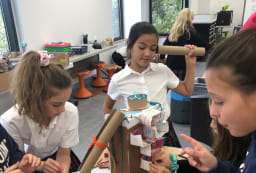 FOURTH GRADE TREE HOUSES
Fourth grade students have been busy making their own master tree houses. Houses were made out of graph paper so that the area and perimeter of all the furniture and interior items could be calculated. The amenities included refrigerators, large flat screen tvs and sound systems, original artwork, trap doors, and modern 3-D furnishings. Once the individual houses were completed, some students combined their houses to make multi-story units. Others attached zip-lines, cargo nets, and slides to make travel throughout this upscale tree-top neighborhood easy and quick. The process included constructing prototypes, assembling their final houses, and writing a detailed reflection. One child wrote, "If you work together you'll be better! Working hard and having a laugh is what succeeds."
OZOBOTS IN THE IDEA LAB
The Ozobots are one of our new robotic systems in the IDEA Lab. Currently, second and third graders are progressing through the Ozobot curriculum learning to code by colored codes and later using the Ozobot app. Recently, the second grade programmed "Ozzie" to stroll through a neighborhood game board collecting candy cards from the houses. But beware, some are out of candy and you only have 30 seconds to collect as much candy as you can! Watch the video to see one of the robots go.
SPIRIT SHOP
We've Got Spirit, Yes We Do! We've Got Spirit, Now You Can Too! 
Monthly Spirit Days give our kids the opportunity to show their SJES pride more often! The SJES Spirit line has expanded to include new styles and items; lots of dri-fit fabric and fun colors. Consider this a "couture" line. Items will be produced based on our actual orders, and there will not be additional inventory available once our order has been placed. Orders will be accepted through Monday, November 4. Items will arrive via kidmail in mid-December. Please place orders here.  
CRUSADER CLUB CARPOOL DUTY + COAT DRIVE
Dads are invited to assist with morning carpool November 18-22, 7:15 - 8:00 a.m. This is a fun, quick way to support the school by helping the little ones out of the cars. Choose a shift. In conjunction with this, the Crusader Club is once again hosting a coat drive. Please drop off new or gently used coats (infant through adult sizes) with one of the dads. A collection box will also be placed in the front reception area.
FOR ALL THE SAINTS
Today we are celebrating All Saints Day. There are two ways of looking at this day from the point of view of the Church. On the one hand, we can treat today like the Great Heavenly All-Star Game, and think of the great heroes of the faith like Patrick, Augustine, Teresa, and Hildegard. Their examples and exploits are the stuff of legend, and they serve us well as inspirations. Even though they have their feasts, it is good to remember them on this day as well.
But there is another, perhaps more important reason to observe All Saints, and that is for the saints whose names we do not know: the ones who lived quiet lives of faith and by their mercy and tenderness drew others closer to God. C. S. Lewis writes a scene like this in his classic The Great Divorce. As he is taken on his imaginary tour of heaven, he encounters a heavenly procession before a woman clothed as though in light, with angels and heavenly creatures, and what looked like the spirits of animals dancing at her feet. Surely, Lewis' narrator thought, this must be one of the Greats whose name graces cathedrals and whose image is on many icons. But no, it turns out the lady is someone no one but those who knew her had ever heard of: Sarah Smith from Golders Green. He says everyone who met her 'became more themselves. And now the abundance of life she has in Christ from the Father flows over into them.'
To be a saint means to give the life we have for others. 'Greater love hath no man than this.'
Faithfully,
Fr. Chris+
SJES REMINDERS AND FOLLOW-UP
MILLS UNIFORM SALE
Mills Uniform is holding its Fall Sale from November 2-16. Take 15% all purchases and 25% or more off of select clearance items. See the flyer for more details.
SIBLING ADMISSION FOR 2020-2021
In order to facilitate planning for the 2020-21 school year, please contact the Admission Office if your child has a sibling for whom you will be applying for admission.
NOVEMBER BIRTHDAY BLESSINGS + LUNCH MENU
The birthday blessing schedule is posted on ParentsWeb (School / Resources). You will also find the November lunch menu in ParentsWeb (School / Resources), as well as under the Current Families page of the website.
As families of our students are our honored guests for birthday blessings, the front pews on both sides of the chapel are reserved for you on these special occasions.
SAVE THE DATE ADVENT CAROL SERVICES
Advent Carol services will be held in the chapel on Tuesday, December 10 for first through fourth grade students and their families. The first and second grade service will be held at 8:15 a.m. and the third and fourth grade service will be held at 9:15 a.m.