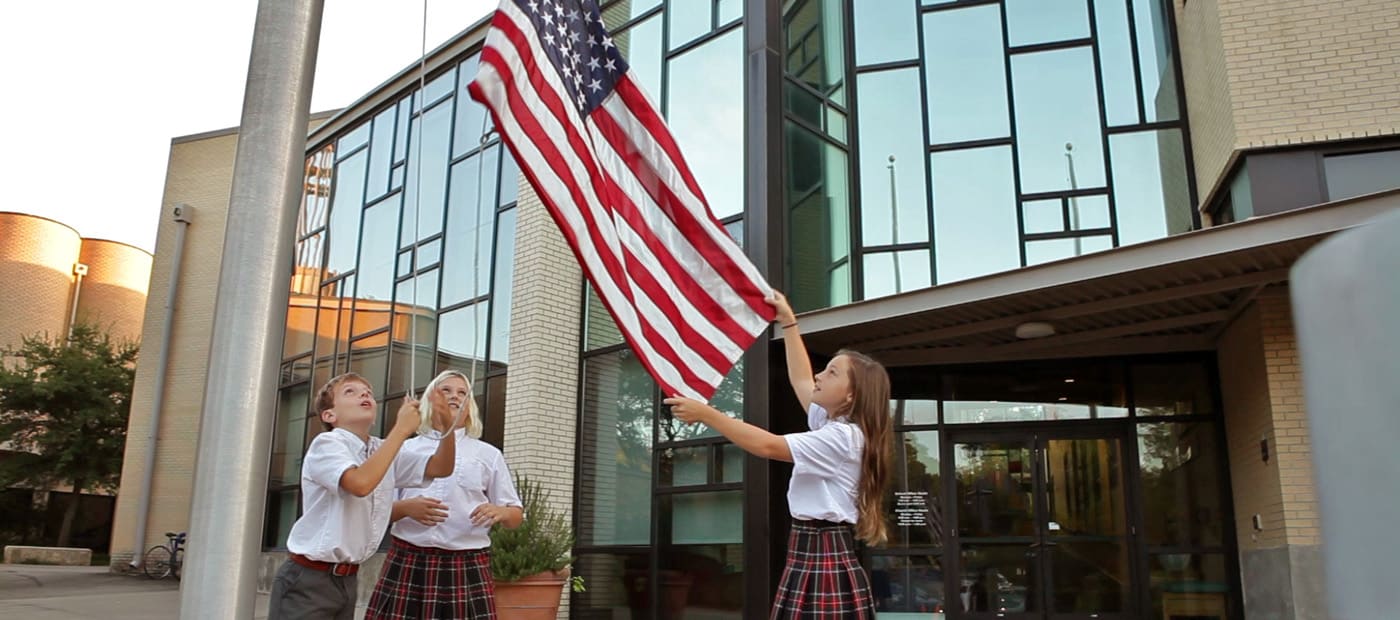 Some of our graduating eight grade students on flag duty in fourth grade in 2015.
UPDATE FROM HEAD OF SCHOOL
Dear St. John's Parents,
No one could have imagined how different our world would be today when we gathered for Meet the Teacher at the beginning of the school year. With the first announcement of the Safer-at-Home order in March from Dallas County Judge Clay Jenkins, our administration and faculty immediately began preparing our virtual curriculum; the technology staff scheduled and led trainings; our teachers and staff moved their classrooms and offices into their homes; and we closed the St. John's physical campus. 
As the campus closed and faculty moved to virtual instruction, we began running a school within a school. The facilities team members, as "essential employees," work daily on much-needed repairs and annual maintenance items. Water, electricity and other utilities remain on to operate our technology servers, water our fields, and protect our campus. Administrative staff roles have been repurposed to support the student experience, organize support and pastoral care, provide back-up assistance for faculty, and continue preparations for the start of the 2020-21 school year. All of this would be impossible without your tuition dollars, as almost 72% of our operating budget comprises faculty salary and benefits. 
The recent announcement from Governor Abbott that schools would complete the school year with their virtual learning curriculum left us all grieving the loss of what makes our school such a special place – the people of St. John's. We miss our students, our colleagues and so many of the special moments that cannot be replicated in a virtual environment. Now we choose to replace our grief with gratitude for the "secret sauce" ingredients of St. John's, for hope for our future, for the joyful celebration of your stories of the strengthening of your families, for our service to the most vulnerable, and for fervent prayers for the health and safety of each member of our St. John's family.
Thank you for your continued partnership with us and for the can-do perspective that greatly influences the spirit of St. John's. We are navigating this time together. Your survey responses have been most helpful and have given us tremendous insight into your questions and into how virtual learning has felt in your homes. While our response to COVID-19 is in a continuous state of adaptation, I hope the attached FAQs will be a helpful resource.
Warmest regards,
Meshea Matthews
Head of School
SJES PA ACTIVE VIRTUALLY
Parents in Prayer will have its next meeting on Tuesday, May 12, via Zoom. The exact time and a Zoom link to the meeting will be distributed in the future.
VIRTUAL GAMES DAY!
Fear not! Games Day will look a little different this year, but it will not be cancelled. Who will win this year? Blue or Gold? Stay tuned for more information in upcoming communications.
CLASS OF 2020 - WE CELEBRATE YOU!
St. John's has begun its season of celebration for the Class of 2020. Today, faculty and staff distributed yard signs to our eighth grade students, and we are exploring ways to conduct our baccalaureate and graduation ceremonies.St. John's has begun its season of celebration for the Class of 2020. Today, faculty and staff distributed yard signs to our eighth grade students. We will share more details soon on their baccalaureate and graduation ceremonies. Forty-eight St. John's eighth grade students will be attending eleven different high schools starting in the fall. Our graduates will begin their high school careers at Bishop Lynch High School, Booker T. Washington School for the Performing and Visual Arts, The Episcopal School of Dallas, Greenhill School, The Hockaday School, Jesuit College Preparatory School, Judge Barefoot Sanders Law Magnet, the Garland Independent School District Magnet Program, Parish Episcopal School, Ursuline Academy of Dallas, and the Woodrow Wilson International Baccalaureate Program.
OUR LIONS GO LIVE
Thanks to the ingenuity of our student council, the premiere episode of Lions Live launched this week! We look forward to weekly updates from our middle schoolers as they interview teachers and students about virtual learning.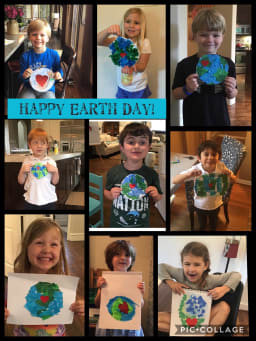 PRE-K CELEBRATES EARTH DAY
Ms. Breeding's Pre-k students celebrated Earth Day with depictions of our world. We love seeing their creativity and smiling faces! Thank you for reminding us of the beauty of our Earth and the reasons that we have to take care of it.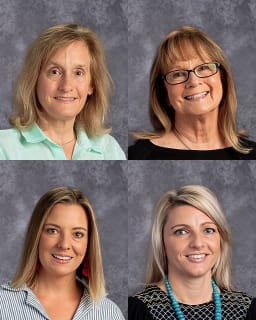 ALPHA AND OMEGA AWARDS
As the oldest Episcopal school in Dallas, St. John's Episcopal School has a number of enduring traditions. The Alpha and Omega medal, given to every student who graduates from our school, is one such deeply honored tradition. However, the medallion is not only given to students upon their graduation. A silver medallion is also awarded to faculty and staff members as a part of the Alpha and Omega Award, given upon the completion of ten years of service at St. John's, and a gold medallion is given to faculty and staff after 25 years of service.
This year, Tracey Gonzalez, Donna Knox, Morgan Martinez, and Andrea Tierney will receive the silver medallion for 10 years of service.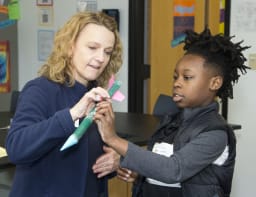 SCIENCE TEACHER SELECTED BY NASA
Didi Coker, fifth and sixth grade science instructor and sixth grade advisor, has been selected by NASA's Texas Space Grant Consortium to participate in LiftOff 2020: Moon to Mars. This aerospace workshop is a weeklong summer professional development program specifically designed for Middle and Upper School science teachers that emphasizes science, technology, engineering and mathematics learning experiences. LiftOff incorporates space science themes supported by NASA's missions that are pushing the boundaries of human exploration including a permanent human presence on the Moon as well as scientific discoveries that will lay the groundwork for private companies to build a lunar economy. Congratulations, Mrs. Coker! We can't wait to see this science in action at St. John's!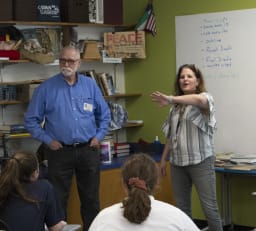 ST. JOHN'S INNOVATIVE LEADER IN SOCIAL STUDIES CURRICULUM
Seventh grade social studies teacher and advisor Kathy Carroll is passionate about sharing her love for history not only with St. John's students, but also with students across the globe. Her recent accomplishments include the publication of a digital exhibit she wrote for the Smithsonian Anacostia Community Museum that is being shared with Washington, D.C. public schools to provide the accompanying curriculum to D.C. 12th graders. This month, in addition to her full-time teaching load for St. John's, Mrs. Carroll was the featured storyteller on the StoryMaps Live webinar. She shared her expertise and process for creating StoryMaps in the classroom and how she has adapted that platform to guide St. John's students in creative and engaging explorations of social studies.
GATEWAY OF GRACE
Many of the refugee families that Gateway of Grace serves have multiple children in DISD or RISD. All of them are attempting to do distance learning, but many refugee families do not have enough internet-access devices in order for all the kids to participate in Zoom calls or other online activities. All devices will have their data wiped. Drop off electronics anytime at 6640 Lakewood Boulevard, and Don Carroll will deliver them to Gateway of Grace.
HUMAN RIGHTS INITIATIVE
The Human Rights Initiative is a St. John's community partner that provides legal and social services for local asylees and refugees. Like so many non-profits, HRI has seen its clients' lives further upended by the impact of COVID-19. St. John's plans to support their clients by contributing to their ongoing toiletry drive. Donation boxes will be stationed under the lower school carpool canopy from Monday at 8:00 a.m. and will remain there until Friday at 5:00 p.m., when Mr. Adler will deliver them to the HRI. Please see the list of requested items, and help us support this wonderful organization and their clients.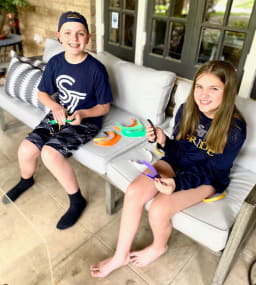 SJES CARES FOR OUR HEALTHCARE HEROES
St. John's technology staff 3D printed visors, St. John's parent Debbie Gilmore created acetate face shields, and Lynn Granello taught St. John's students Jack, Scarlett and Adeline to complete final assembly of the headband parts for delivery to Baylor Center for Rehabilitation tomorrow. Baylor Center for Rehabilitation serves a key role in the recovery of COVID-19 patients.
COMMUNITY BUSINESSES
St. John's would like to help your locally owned business during this difficult time. if you would like St. John's to add your business to our webpage as a resource for others, please complete this form.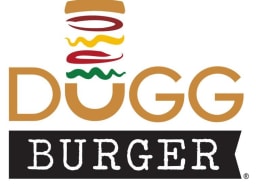 RESTAURANT OF THE WEEK
Our Restaurant of the Week for next week is Dugg Burger! Dugg Burger is open 11:00 a.m. – 8 p.m. Sunday – Thursday, and 11:00 a.m. – 9 p.m. Friday and Saturday. They are offering a full menu and orders can be placed by calling them at 214-584-6261 or placing an order online at www.duggburger.com. They are offering takeout only of their full menu for curbside delivery.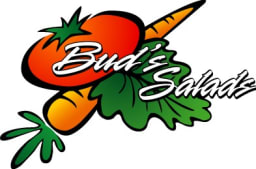 BUD'S SALADS
Thanks to Bud's Salads for providing fresh fruits and veggies to St. John's faculty and for helping us care for our neighbors! View the flyer for information on how to place your order online for pickup on Saturday, May 2, on the green belt at St. John's.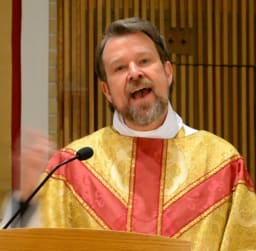 THINKING OF YOU
David Porcheddu and I really miss being with your kids in chapel. It's strange talking to a camera—and much less exciting for us than it is interacting with students—but we're grateful for the appreciation parents and teachers have expressed for Wednesday's chapel on-line.
What more can we be doing for you? Please, please get in touch if you'd like me to pray, or listen, or commiserate—I'm the parent of an online student, too, you know! Just shoot me an email.
Life in this world is a bit of Good Friday and a bit of Easter Sunday. In a sermon a few weeks back, I talked about how kids (as well as adults) have questions about why we have to go through times of suffering. I invite you to listen to the sermon if you want to know how I might answer. It's not a simple answer, but love is never so simple.
And God, I believe, is love. Even in quarantine.
Yours,
Fr. David Houk
PRAYER FROM SHANNON NEWSOM, SEVENTH GRADE RELIGION TEACHER
Lord God, we pray that as we walk through this time together, we will remember that Easter is not just a day; it's a season. 
And, in this time, the Risen Christ is on the move – on the road to Emmaus, in the Upper Room and on the beach serving breakfast.
He's within our St. John's community and in your heart and mine. 
Lord God, we know you are beckoning us to walk into new ways of being human and being in community.  The old has passed; the new has come.   
Give us strength and patience to persevere – TOGETHER.   
Let us go in peace and love to serve the world!  Allelujah!
Amen.
WEDNESDAY, APRIL 22 CHAPEL
Thank you so much to Father Houk and Mr. Porcheddu for their hard work and dedication to creating virtual chapel services for our students. Watch the most recent Wednesday chapel service. 
St. John's Episcopal School | 848 Harter Road, Dallas, TX 75218