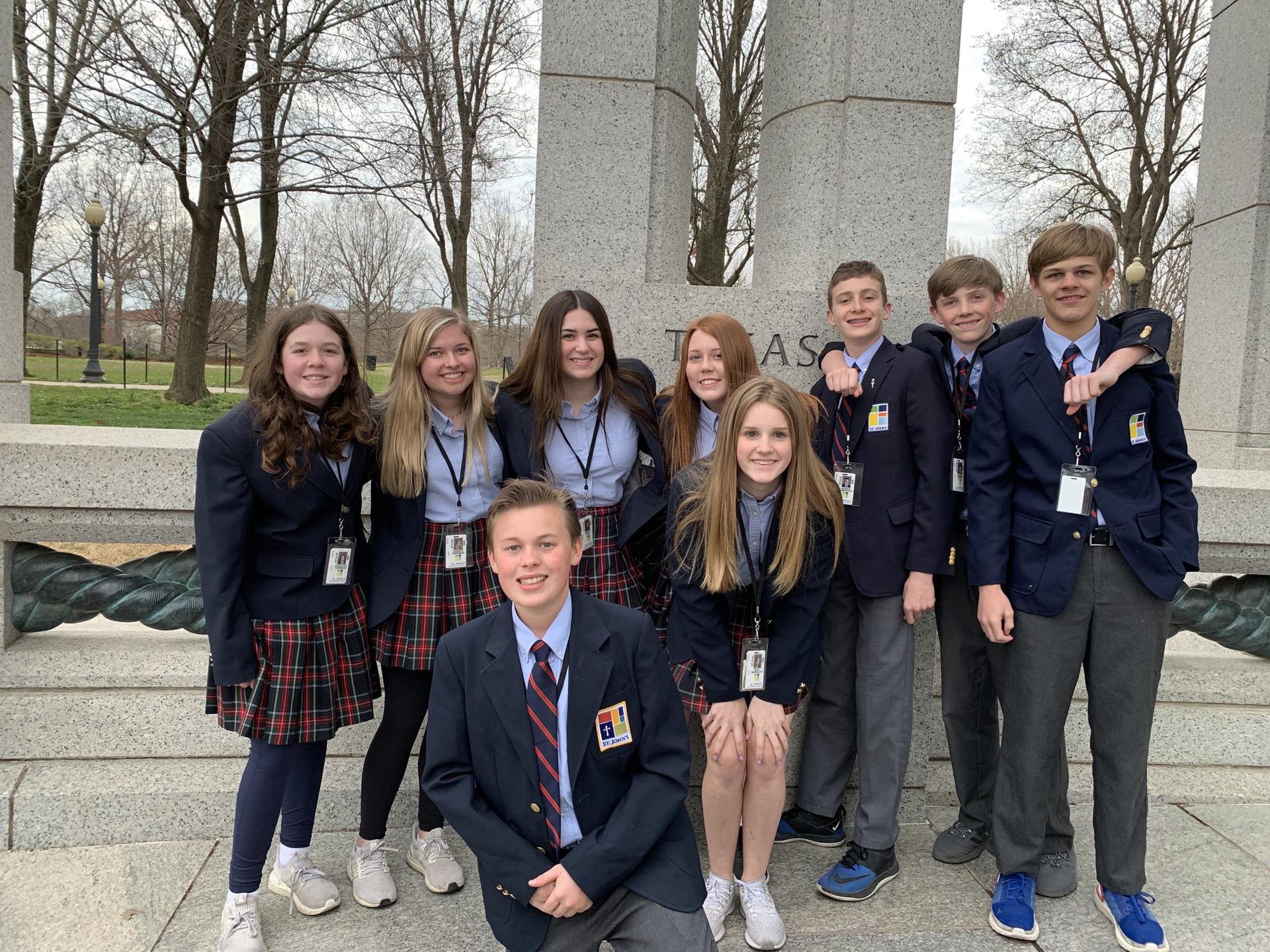 Members of the Class of 2020 at the World World II Memorial
NEWS & NEXT SCHOOL WEEK'S EVENTS
2020-21 CALENDAR
View the preliminary calendar for the 2020-21 school year. The preliminary calendar includes major holidays and the beginning and end of the school year.

Please note that that we will not have early release on Wednesdays next year. Instead, full days of in-service are being instituted throughout the year to allow for schedule continuity and greater concentrated time for faculty/staff professional development.
AUCTION FIRE SALE
We have a few items and experiences left on flash sale so consider picking up some steals from auction night right here.
SPIRIT SHOP
The St. John's spirit shop Spring pre-order is open! New and classic designs of shirts, jackets, hats, visors, and more are available for pre-order through Sunday, March 29. Place your pre-orders today.
LS LIBRARY CHECK-OUT
The Lower School will be checking out books from the library on Monday, March 23, instead of Thursday due to Middle School testing. Lower School students may bring their library books back the morning of the 23rd and then will check out that same day. Happy reading!
MIDDLE SCHOOL CTP TESTING
Middle School CTP testing will take place Tuesday, March 24 through Thursday, March 26. Student testing is scheduled between the hours of 8:00 a.m. and noon each day. It is important that students arrive on time and are well nourished and well rested for these evaluations. Please refer to Amy Fulmer's March 9 e-mail for more information.
CONFERENCE DAY
Conference Day will be Friday, March 27. Please note that fourth through eighth grade students attend the conference with their parents. There will be no classes on Conference Day; however, After School Program staff will provide childcare for children four years old through fourth grade in Owen Gym for the duration of your child's conference. Drop-in childcare is available between 7:30 a.m. and 4:30 p.m. All students must be picked up by 4:30 p.m. This year, the service is free of charge. Students may not bring iPads or other electronic devices.
TIP OF THE WEEK
 Another Day, Another Online Challenge

You may have heard about the latest online challenge: the skull breaker. The typical life cycle of online challenges like these is: they pop up and go viral, but as soon as they rise to the attention of adults, they fade away. Ultimately, it's important to talk to kids about how the lure of likes can make us do stupid things, and that pausing to stop and think is one of the most important online challenge there is.
PRESIDENT'S PARTY
All donors who have contributed a cumulative total of $1,500 or more to St. John's this year should have received a Save the Date card. The wonderful evening this year is scheduled for Friday, April 17 at the home of Meg and Ed Berg. The night will include a buffet dinner and entertainment. It's not too late to be included; increase your gift or make a pledge to the St. John's Fund. Contact Carol Graham via email or 214-328-9131 x124 for additional details.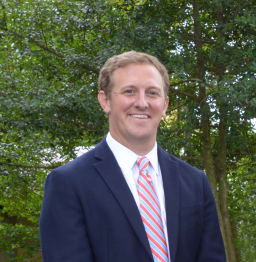 DIRECTOR OF ENROLLMENT MANAGEMENT
Head of School Meshea Matthews is pleased to announce that Michael Via has been appointed our Director of Enrollment Management. Michael has extensive independent school experience at St. Alban's School, St. Stephens and St. Agnes School, Norfolk Academy and The Potomac School. He has served in admission and as a teacher, coach, and advisor.
Michael holds a bachelor's degree in history from Hampden-Sydney College and a Master of Education in Independent School Leadership from Vanderbilt University's Peabody College. He currently serves as an admission associate, upper school history teacher, and director and head varsity coach for the boys' lacrosse team at The Potomac School in McLean, Virginia. Michael and his wife Sarah, a Dallas-native and educator, have a toddler son named Reid. Michael will officially join St. John's on July 1.
The Search Committee was struck by Michael's enthusiasm for St. John's. In accepting the position, he shared, "To me, community is at the heart of an independent school, and my family and I are thrilled to be joining such a terrific one in St. John's. I was struck immediately by the warmth and camaraderie of everyone I met during this process and I cannot wait to be a part of the exciting directions we continue to take as a school." 
We are grateful to Rob Kowalski for his dedication and commitment as Interim Director of Admissions. Rob will continue in this role through the end of the school year.
Please join us in welcoming Michael, Sarah and Reid to the St. John's family.
PENGUIN AWARD WINNERS
At St. John's, we guide students to discover a passion for learning and for life, teaching compassion, creativity, exploration and collaboration. We are dedicated to supporting the growth of our students throughout their time with us, which is often the result of trying something new, giving extraordinary effort, and acting with an attitude of discovery. To recognize these traits, we present the Penguin Award to students from each Middle School grade each trimester. The recipients have shown they are willing to plunge into a new project, topic, subject, assignment or area of study. Through their actions, they have been an inspiration to others, and they have demonstrated qualities we value in our graduates, such as tenacity, resiliency, optimism and genuine curiosity. We congratulate the fifth and sixth grade Penguin Awards winners: Mary Silliman, Elliott Brown, Conor Stubbings, and Truett Robinson.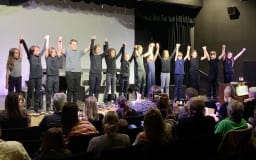 FOURTH GRADE NUMBER THE STARS
The fourth grade completed its reflection on Lois Lowry's Newbery Medal-winning book Number the Stars, a beautiful story of friendship, courage, and heroism told from the point of view of a 10-year-old girl. This powerful, cross-curricular project combined reading, creative writing, history and artistic interpretation. One of St. John's most cherished projects, students grew their empathy and emotional intelligence as they created a persona of a Jewish child fleeing Nazi-occupied Denmark. This project required extensive research, developing individual monologues, producing two songs and refining their public speaking skills. After two months of hard work, the unit culminated with a student-written and performed musical production and individual monologues that examine the experience of Jewish children living under the Nazi regime.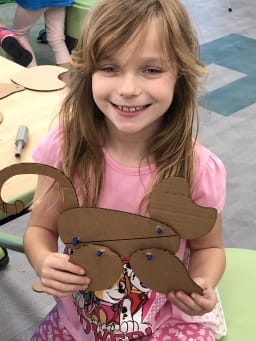 FIRST GRADE IDEA LAB
This week, first grade students took organic and geometric cardboard shapes, made on our Glow Forge laser cutter, and created original and creative pieces of art. They used Make Do tools and screws (made on our 3D printer) to connect the shapes however they wanted. The kids were quietly reciting "Righty-Tighty, Lefty-Loosey" as many of them used a screwdriver for the first time. New experiences is just one of the things that the IDEA Lab provides our children.
SECOND GRADE PLAY WITH YOUR FOOD
The second-grade Play with Your Food project began with each child sketching a fictional character to use as the main character in an original short story. Students then created a character profile and a story map to guide their plot development. After creating fully-developed stories through the writing process, they presented them to their classmates and parents. Meanwhile, the students eagerly took the opportunity to bring their main character to life by creating it out of real fruits and vegetables.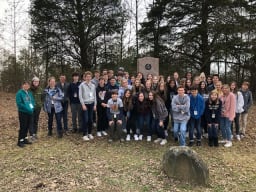 EIGHTH GRADE TRIP
Our eighth grade students experienced a wonderful trip to Washington, D.C., and surrounding areas this week. On Tuesday, they spent the day at Gettysburg where they enjoyed a tour led by a talented guide and spent time exploring as well. Of course, the Texas monument was one of their stops. Thank you, Mrs. Jordan, Mr. Buckley, Ms. Jaqua, Mr. Loveland, Mrs. Potter, and Mrs. Torrey for making this a memorable trip for our students! Special thanks also to alumni parents Mr. Breidenbach and Mr. Edwards for keeping our students healthy and for coordinating the trip.
There are no athletic events scheduled over spring break.
EASTER AT ST. JOHN'S EPISCOPAL CHURCH
You and your family are invited to celebrate Easter at St. John's on Sunday, April 12. The Church offers three services, beginning at 8:00 a.m. with a said Eucharist. The 9:00 a.m. service is geared towards families with a children's sermon and a familiar Rite II liturgy. Immediately following the service, enjoy the annual Easter Egg Hunt, then grab a bite to eat and say hi to friends in the Parish Hall. The solemn high Eucharist is at 11:00 a.m. with choirs and sung Eucharist.
SJES REMINDERS AND FOLLOW-UP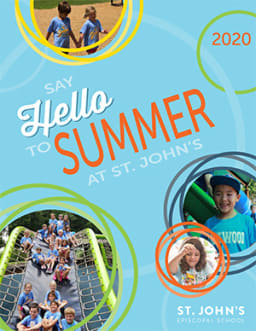 SUMMER CAMP REGISTRATION - DON'T MISS OUT
Spring Break is a great time to plan for your next vacation - Summer! Join us at Summer at St. John's.
Don't miss out on all of our terrific camps for your children. Browse our summer brochure and register for camps now!