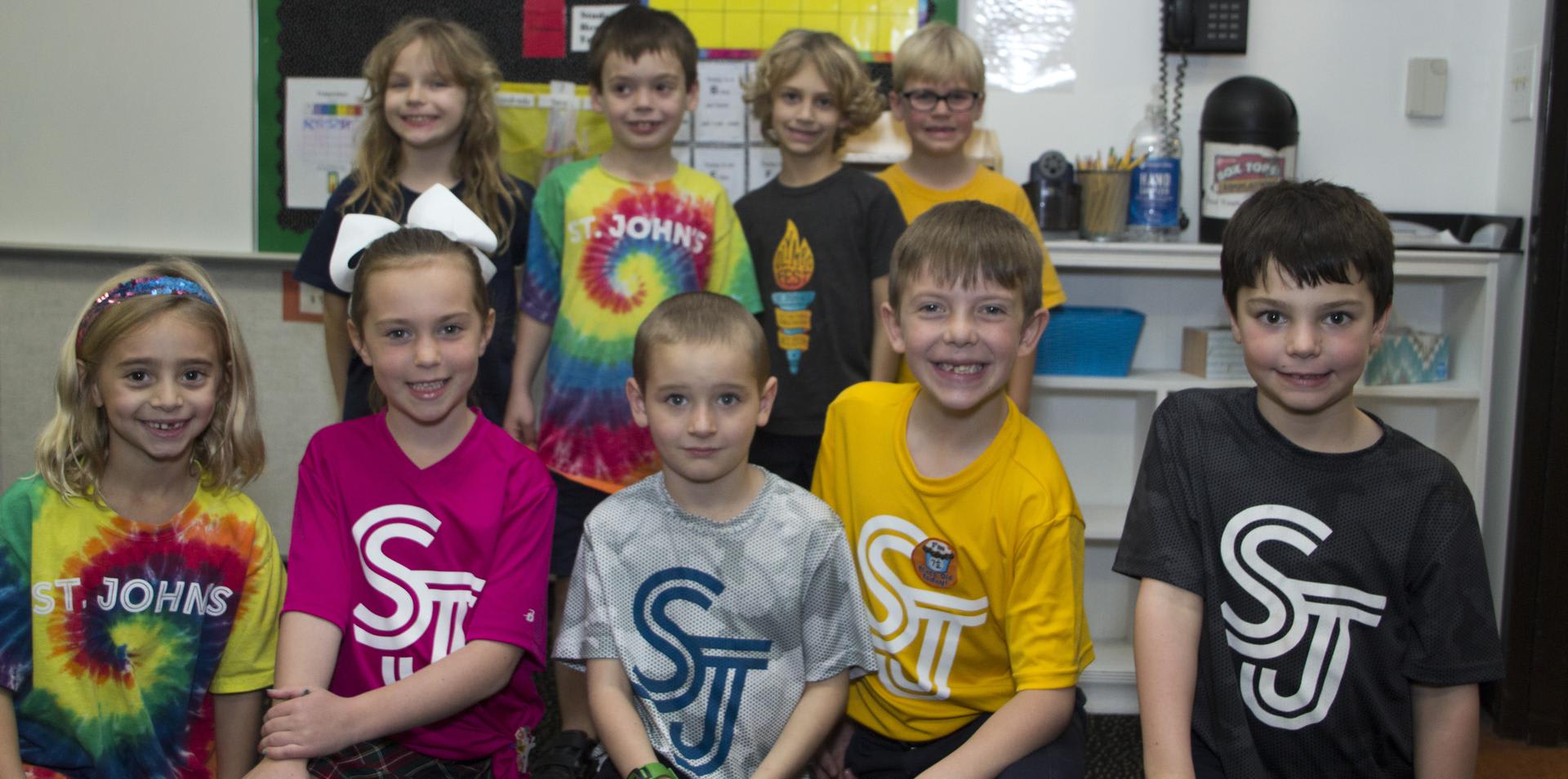 First-grade students in Mrs. Boyd's class show off their spirit wear.
NEWS & NEXT WEEK'S EVENTS
PARENTS IN PRAYER
Come join a welcoming group of parents on Tuesday, January 14, as we forge new relationships with each other while encouraging discussions of our faith, hardships, testimonies, and prayer requests. The meetings will be theme-based. Please come, the doors are open, all are welcome and we look forward to worship and round table discussion. We will meet in the Chapel of Our Savior, accessible through the courtyard between Parish Hall and the church at 8:00 a.m. Please contact Emily Evans or Ashley Martin with questions.
GEOGRAPHY BEE
The Middle School Geography Bee will take place on Tuesday, January 14, from 8-9:30 a.m in the main gym. Good luck to all of the participants!
BOX TOPS COLLECTION
Our next Box Tops collection will take place on Wednesday, January 15.  The class or advisory that collects the highest number of Box Tops will earn a free dress day.  Please remember to use your Box Tops App to scan your grocery receipts.  When you list your teacher's name in the credit section your class will earn credit for those Box Tops, too!
JANUARY BIRTHDAY AND JULY HALF-BIRTHDAY BLESSINGS + LUNCH MENU
The birthday blessing schedule for pre-k through eighth grade January birthdays and first through eighth grade July half-birthdays is posted on ParentsWeb (School / Resources). You will also find the monthly lunch menu in ParentsWeb (School / Resources), as well as under the Current Families page of the website. See the January menu.
AFTER SCHOOL PROGRAM – NEW OPTIONAL CLASSES START JANUARY
As part of the After School Program, we offer a variety of optional after-school classes for an additional fee. Spring classes will begin the week of January 27 unless otherwise noted. Students may attend ASP before or after their optional classes at no additional charge. For class descriptions, dates/times and instructor information, view the ASP page. To enroll your child in the ASP and/or optional classes, print, complete and return the contract to school. Payments can be made by check (checks made payable to SJES) or through ParentsWeb. Contact ASP director Lani Jones with questions.
TIP OF THE WEEK
Online Negativity and Vulnerable Kids: Let Some Sunshine In
As parents, we're familiar with cyberbullying, and while that certainly happens, we also need to think about the power of online words between people who have—or have had—a relationship. While not technically cyberbullying, it can be incredibly damaging, especially if the people involved are in pain and vulnerable. These online words can come from text messages, TikTok, Instagram, bloggers, or chats within games, to name a few. What can happen when there's a steady flow of online communication reinforcing already depressed or anxious thoughts?
MARTIN LUTHER KING JR. DAY
The school will be closed Monday, January 20, in honor of MLK Jr. Day. Additionally, winter break will be Friday, February 14, through Monday, February 17, and there will be no classes.
PA MEETING
We look forward to seeing you at our upcoming PA meeting on Tuesday, January 21, at noon. All parents are invited to attend and enjoy a light lunch at noon in Parish Hall. We are excited to reveal this year's Fund-A-Need!  Please make note of our last meeting of the year, which will be on Tuesday, March 3.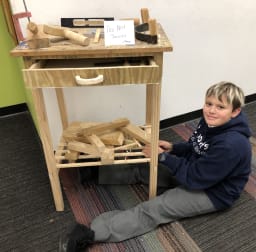 PRIVATE SCHOOL ARTS INVITATIONAL
The following St. John's students have been invited to present their work at the Private School Arts Invitational: Eli Aldridge, Mia Bela, Matney Burns, Caroline Ellis, Ava Field, Edward Hofland, Allison Lamont, Eva Lickteig, Phoebe Martin, Malia Mitchell, Sabastian Salas, and Mary Silliman.
The art show will be held from January 13 through January 23 in the Ann Bower '67 Gallery at The Hockaday School. Located at 11600 Welch Road, the exhibition will be open to the public 8:00 a.m. – 4:00 p.m. Monday – Thursday, and additionally from 8:00 a.m. – 3:00 p.m. on Friday, January 17.
The closing reception and awards ceremony for the Private School Arts Invitational will take place on the final day of the exhibition, Thursday, January 23, from 5:30 – 7:00 p.m. at The Hockaday School. St. John's will be represented by 12 middle-school students (see below).
MOVIE SOCIAL THANK YOU
Thank you to all who attended the PA Movie Social outing to see Toy Story 4 earlier this week.  Thank you to the Campbell, Davis, Doran, Gonzalez, Gorbatenko, Griffin, Hardin, Henry, Schulz, and Wittneben families for their generously hosting this event.
AUCTION WINE PULL
Join the Parents Association on Saturday, February 8, from 7:00-10:00 pm for the totally rad Auction Wine & Whiskey Pull Social, located at the most excellent home of Emily and Jason Cassady. The price of admission PER PERSON is one bottle of wine valued at $30 or more or one bottle of whiskey valued at $40 or more. Be sure to also bring a bottle of wine (or two-ish) to enjoy at the party along with your bottles to donate. Appetizers will be provided by our host families. Space is limited to the first 75 guests, so please RSVP to save your spot. An email with the link to reserve your spot will be sent out at 6 a.m. on Wednesday, January 15. Party on, Wayne! Party on, Garth!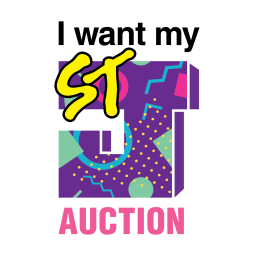 AUCTION 2020: I WANT MY ST. JOHN'S
Have you heard it through the grapevine that our auction website went LIVE? Please join the Parents Association's 2020 Auction, I WANT MY ST. JOHN'S AUCTION as we party hardy all night long (all night!) on Saturday, March 7, at Gilley's South Side Ballroom to celebrate the most excellent decade ever- the '80s!
You can help us make I WANT MY ST. JOHN'S AUCTION a totally, like, huge success by considering an opportunity for your company or your family to support the event at one of our rad sponsorship levels. Each level is offering GNARLY perks! Sweet dreams are made of nights like these, and we couldn't do it without your support! So please plan to celebrate your glory days with us on March 7. Purchase your tickets and T-shirts now and stay up on all of the latest news on the auction website. 
CHAPEL UPDATE
David Porcheddu and Father Houk will be leading St. John's chapel services while we undertake the search for St. John's next full-time chaplain. Many of you will remember Mr. Porcheddu for his role as St. John's engaging contemporary music leader. He is a talented musician and worship leader and we are grateful for his willingness to be a part of this transition.
As the School advances in the search process, progress will be shared here in the Chaplain's Corner.
SJES REMINDERS AND FOLLOW-UP
2020-21 CALENDAR
View the preliminary calendar for the 2020-21 school year. The preliminary calendar includes major holidays and the beginning and end of the school year.