WEEKLY NEWSLETTER                                                  OCTOBER 22, 2018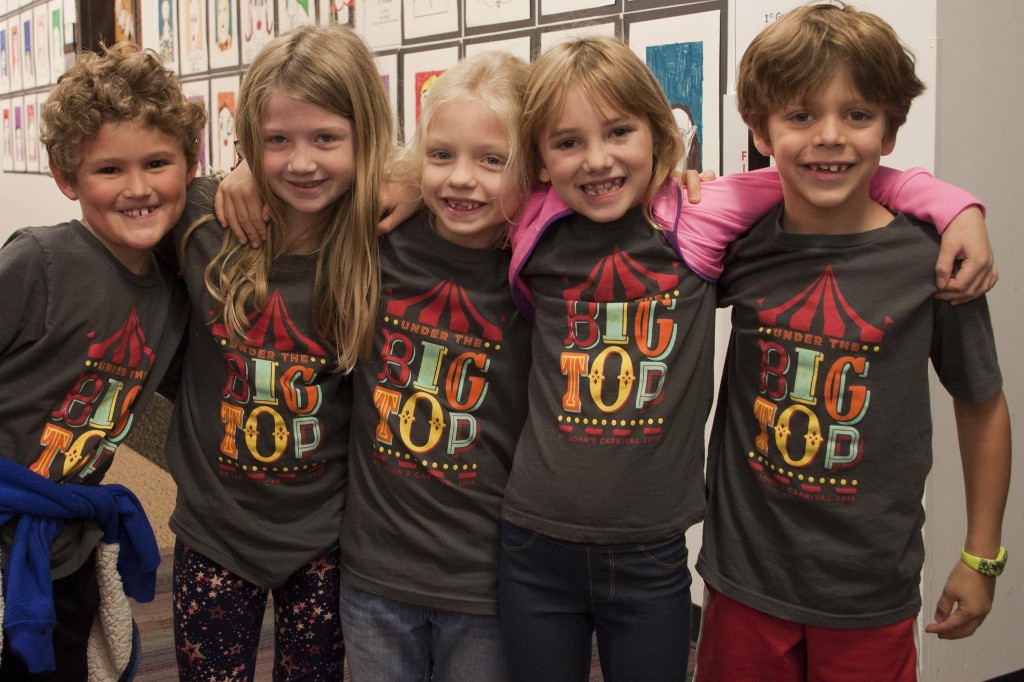 First graders show off their carnival t-shirts on Spirit Day.
THIS WEEK'S NEWS AND EVENTS
iOS 12: PLEASE DO NOT UPDATE
Please do not allow your child to upgrade his or her iPad until you receive an all-clear email from the school. We are still waiting for app developers to adapt their software to changes in the operating system, and we want to be certain that all students will have fully functioning apps.
BOOK FAIR THANK YOU
We offer special thanks for the hard work of Book Fair co-chairs, Tammy Buck and Elizabeth McCoin, with support from assistant co-chairs Dani Bowen and Shay Ometz! We would also like to thank the team of volunteers who helped throughout the week and shoppers who purchased books. All sales are integral to supporting our fabulous library. The teachers are also very thankful for the fulfillment of their classroom book wish lists. Please tell your children who received Birthday Books in their honor to be on the lookout for their personalized book and birthday cake with Ms. Powers.
CARNIVAL THANK YOU - AND MARK YOUR CALENDARS FOR APRIL 6, 2019
While we know everyone was disappointed that the 2018 Carnival, Under the Big Top, was postponed due to the rain, we still have so many hard-working volunteers to thank! A huge THANK YOU to Carnival Co-Chairs, Shannon Cahalan and Blair Wittneben, with support from PA President Meagan Skarbek. Special recognition goes to our amazing committee members as well: Elizabeth Butler, Kelly Mathews, Kelsey McCord, Elizabeth Sieg, Holly Watkins, Donna Haglin, Kerri Johnson, Alli Parkey, Emily Evans, Kathy Row and Melissa Eakes.
And BIG THANKS to all of you who signed up to volunteer for a carnival shift! (We'll see you in the spring!) And as always, we couldn't make these events happen without our amazing Community Partners and the family sponsors! Thank you all!
RED RIBBON WEEK
Middle School will participate in Red Ribbon Week, an initiative to educate MS students in alcohol, tobacco, and drug prevention beginning Tuesday, October 23 to Wednesday, October 31. Student Council has organized the following events:
Thursday, October 25 - students may wear red socks with their uniforms and will hear from Dr. Michelle Chesnut about the dangers of smoking and vaping.
Wednesday, October 31 - Advisory Red Ribbon week posters are due. The winning poster will be announced at the end of the day.
PARENT EDUCATION: MINDFUL PARENTING
There is still time to register for our first Parent Education speaker of the year with licensed professional counselor and registered play therapist, Kristin Bemis on Wednesday, October 24 at 8:15 a.m. We are thrilled to have Kristin back due to popular demand. She will discuss adaptive brain-based strategies for managing your child's emotions through communication, limit-setting and choice-giving, along with esteem-building techniques, and tips for parents to carve out some time for reflection and mindfulness. You won't want to miss this valuable presentation! Please R.S.V.P.
EARLY CHILDHOOD OPEN HOUSE
St. John's is excited to host another open house for early childhood Wednesday, October 24, 9:30 to 11:00 a.m. Please invite your friends who are interested in pre-k and kindergarten for their child next fall at St. John's. See open house details and R.S.V.P.
FIFTH GRADE BIKE-FOR-KIDS ACTIVITY
Fifth graders and their teachers may wear St. John's T-shirts with jeans, shorts or athletic pants Friday, October 26. Students and advisors will bike around the lake in their 10th Annual Bike for the Kids event. In addition, students are collecting new and gently used books for Mi Escuelita Preschool students. Bikers will leave campus at 1:45 p.m., and they'll have a popsicle party after the ride. Parents will pick up students at the Bath House at about 4:00 p.m. Refer to the email from Ms. Granello for more information.
SIXTH THROUGH EIGHTH GRADE DANCE
The first middle school school dance of the year will be held for sixth through eighth graders on Friday, October 26 from 7:00 to 9:00 p.m. in Owen Gym. Refer to p. 45 of the handbook for specific guidelines regarding dance attire and behavior. 
ST. JOHN'S CHURCH ANNUAL CHILI COOK-OFF AND TRUNK OR TREAT
Family, friends and neighbors are invited to St. John's Church Annual Chili Cook-Off on Saturday, October 27 at noon in Parish Hall. Taste delicious chili from classic Texas Red to vegetarian varieties and cast your vote for People's Choice. For the kids, this is a great opportunity to get another use out of their Halloween costume and score some candy at our Trunk or Treat. To enter your prize-winning chili or to volunteer to decorate a trunk please contact Michelle Reed.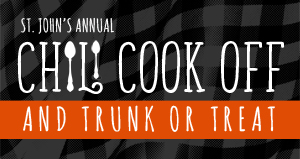 HEAD OF SCHOOL SEARCH UPDATE
This is a reminder that the Q&A for Head of School candidate Gray Smith has been cancelled for Tuesday, October 23 from 8:15-9:15 a.m. Dr. Smith has accepted a Head of School position with a school in Florida. We wish Gray and his family the very best. The Q&A sessions with the remaining finalist will remain as scheduled:
Dr. Edwin Gordon: Tuesday, October 30, 8:15-9:15 a.m. 
Mrs. Meshea Matthews: Tuesday, November 6, 8:15-9:15 a.m.
MARQUEE
The school marquee has been temporarily shut down due to hardware issues. We are working to get the marquee back up and running as quickly as possible.
NOVEMBER BIRTHDAY BLESSINGS + LUNCH MENU
The birthday blessing schedule is posted on ParentsWeb (School / Resources). You will also find the monthly lunch menu in ParentsWeb (School / Resources), as well as under the Current Families page of the website. See the November menu.
TIP OF THE WEEK
We all want a little more control, especially over the 24/7 world of digital media our kids can access. But how should we do it, and what's the right balance? Check out this week's tip that addresses the question: Should you use parental controls?
ANNUAL FUND PARTICIPATION
Thank you, parents, for helping us provide the best resources for your children's education! View the participation of each grade in the chart below. There will be a phone-a-thon on Tuesday, October 30. Each grade will receive a free dress day when their participation reaches 100%.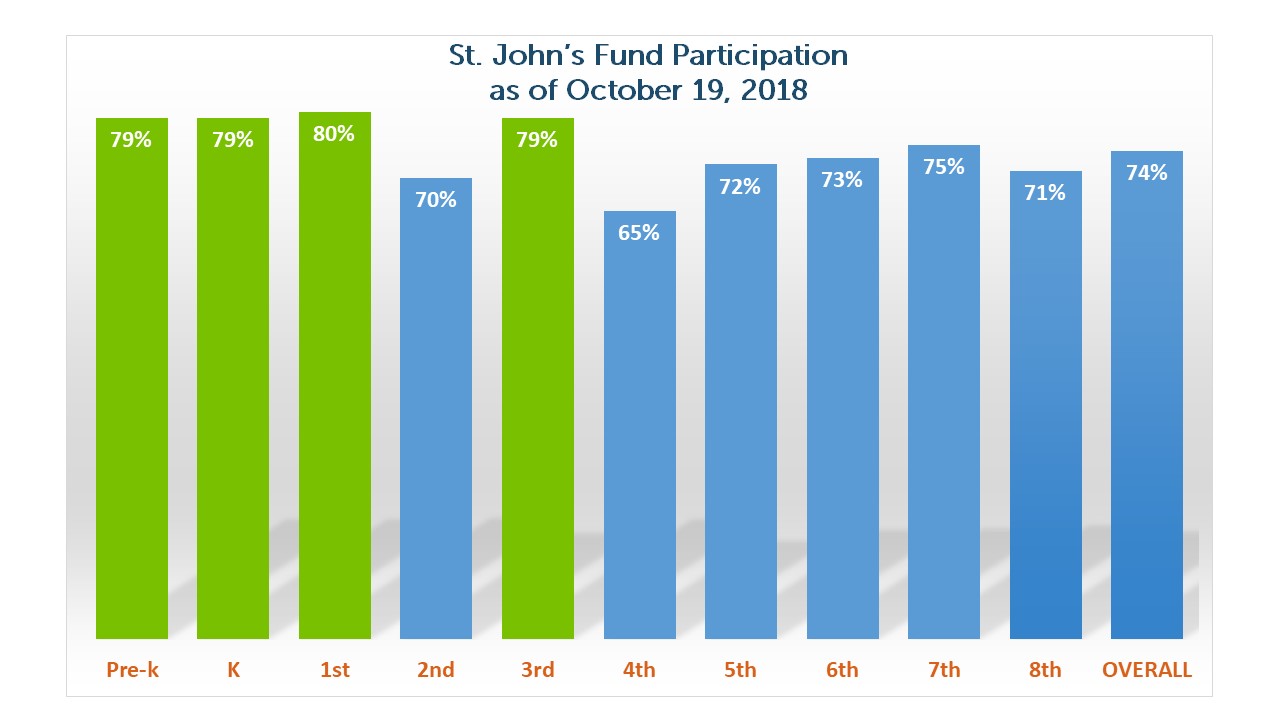 THERAPY DALLAS FALL 2018 PARENTING SERIES
Join Therapy Dallas for a series of coordinated presentations offering insight and strategies for thoughtfully navigating your child's experience during ages 5-12. The remaining two sessions will be held Tuesday, October 30, and Tuesday, November 13. Presentations in this series will be hosted by St. Monica School in Dallas and given by Kristen M. Ohlenforst, Ph.D. Seating is limited; registration is per individual. See the registration details.
LOWER SCHOOL HALLOWEEN GUIDELINES
This year's Halloween celebrations will take place Wednesday, October 31. We invite parents to gather outside in the Lower School carpool area shortly before 1:00 p.m. if they would like to view the parade. Because of space limitations, only the designated Halloween party volunteers will be present for the classroom parties. Get all the Halloween details for Lower School.
MIDDLE SCHOOL HALLOWEEN GUIDELINES
Student Council is sponsoring a Middle School Halloween costume fundraiser. StuCo reps will sell wristbands for $5 during Middle School lunches the week before Halloween. Middle School students who purchase a wristband may wear a Halloween costume to classes Wednesday, October 31. Costumes must follow free-dress guidelines on page 43 of the school handbook. Also, no masks, makeup, weapons, inflatable costumes, or costumes considered inappropriate for Lower School students to see.
SOCIAL MEDIA DOCUMENTARY SCREENING
The documentary film Like will be shown on Thursday, November 1 from 6:30 to 8:00 p.m. at Preston Hollow Presbyterian Church. Like features experts such as Dr. Cora Breuner, an Adolescent Medicine Specialist at Seattle Children's Hospital and Max Stossel with The Center for Humane Technology. The film is 45 minutes in length and will be followed by a brief panel discussion. Please register.
ADDAMS FAMILY
Eighth grade musical students will perform Addams Family Thursday, November 1 through Saturday, November 3. A limited number of tickets will be available for general admission. Purchase via a link in the Monday, October 29 weekly newsletter.

ZEBRA PHEST
The 12th Annual North Texas Zebra PHest will be on Saturday, November 10. Join Team Emma for the event, which includes a 5K race, 1-mile walk, a free 100-yard dash for kids, face painting, raffle, silent auction, vendor booths, music, pitching booth, photo booth and a picnic. You can even be a virtual runner in support of Emma! Zebra PHest supports the Pulmonary Hypertension ("PH") Association. PH is high blood pressure in the lungs, a serious, debilitating and progressive condition
RED HOT PEPPERS
Students Wishing to Join: We will host tryouts for the Red Hot Peppers on Wednesday, November 7, 4:30 - 5:00 p.m. in Owen Gym. Our Peppers will continue to be led by coaches Katie Specht and Morgan Martinez. To qualify for Red Hot Peppers, a student must be in first grade or older and be able to jump 10 "basic bounces" in a row without missing. (A basic bounce is a two-foot jump of the rope with no extra bounces between.)
Returning Jumpers: First practice will be Wednesday, November 14.
Housekeeping Items: Jumpers will need to bring his or her sneakers and jump rope each time. Ropes may be purchased at practice for $5. Practices will be in the Owen Gym Wednesdays from 4:30 - 5:30 p.m. Aftercare is available at a special rate of $10 for Peppers who attend Wednesday practices.
GRANDPARENTS AND SPECIAL FRIENDS DAYWe look forward to seeing our students' grandparents and friends on the morning of Friday, November 16. Invitations were mailed to them last week. If they didn't receive their invitation, please contact Andrea Tierney to confirm the address and we will ensure that they receive an invitation.
EPISCOPAL SCHOOL SUNDAY
Sunday, October 14 was a terrific celebration as the church and school communities came together in worship for Episcopal School Sunday. Listen to Jake Minton's and Elle Chavis's reflections on the service at the church's podcast page.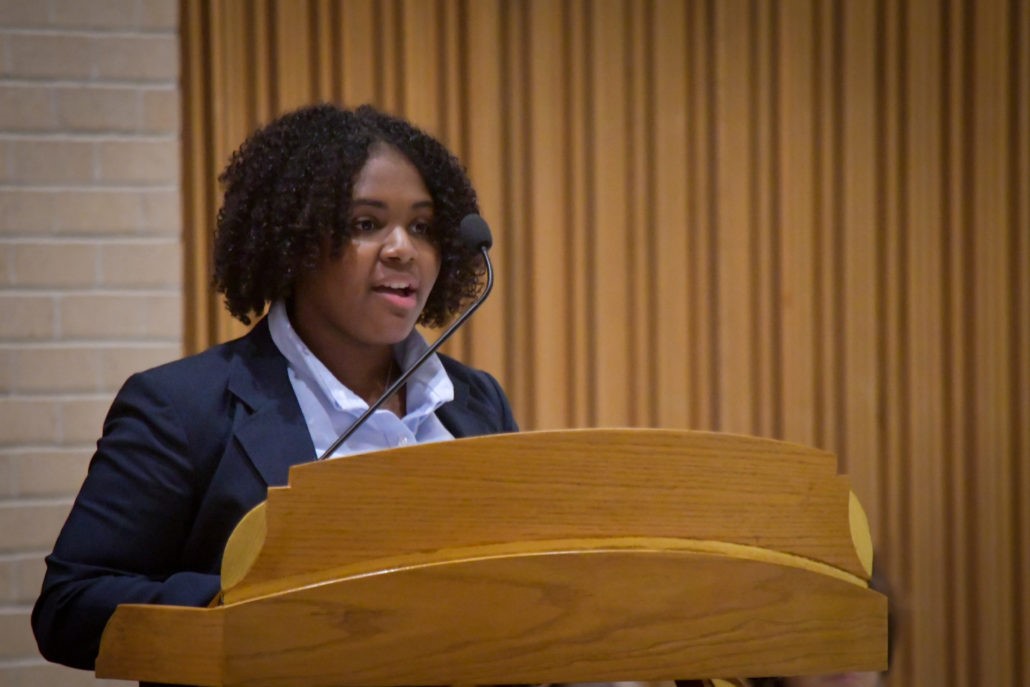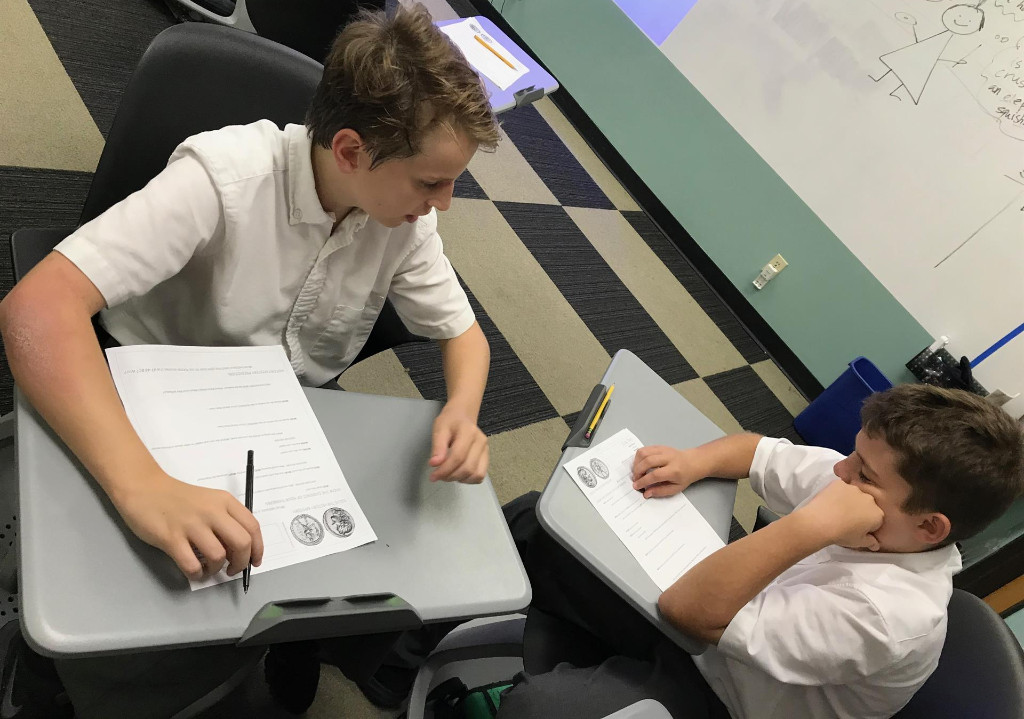 HISTORY CLASS STUDIES ROMAN COINS LENT FROM COLLECTION OF ALUMNI'S GREAT-GRANDFATHER
Students in Mrs. Carroll's seventh grade history class are uncovering history by digging into the stories found in Roman coins. By using their iPads to zoom in on small details, they are collecting evidence to trace the political divisions between the Roman Senate and increasingly powerful generals in the time leading up to the reign of Julius Caesar. Furthermore, they also had the rare opportunity to examine authentic Roman coins in person. St. John's alumni Henry and Jack Adams loan their great-grandfather's coin collection to Mrs. Carroll each year. Last week, students were able to hold history in their hands - a denarius minted to pay Caesar's army in North Africa just after he solidified power as the sole ruler of Rome. The stories that coin could tell!
FOURTH GRADE CANCER FUNDRAISER
Three fourth graders, Julia Jane Peale, Bennett Campbell, and Annika Schmitz wanted to begin a collection to donate to the families and victims of cancer and to research for finding cures. After completing and presenting a slide show to Student Council and receiving approval from the school, a free dress day will be granted to all students who donate to the cause. The campaign will begin on Thursday, November 8 and conclude on Wednesday, November 14. Students who donate five dollars may participate in the free dress day on Thursday, November 15. Student Council will match the dollar amount raised by the students. Money will be collected at lunch for Middle School. Homeroom teachers will collect for Lower School.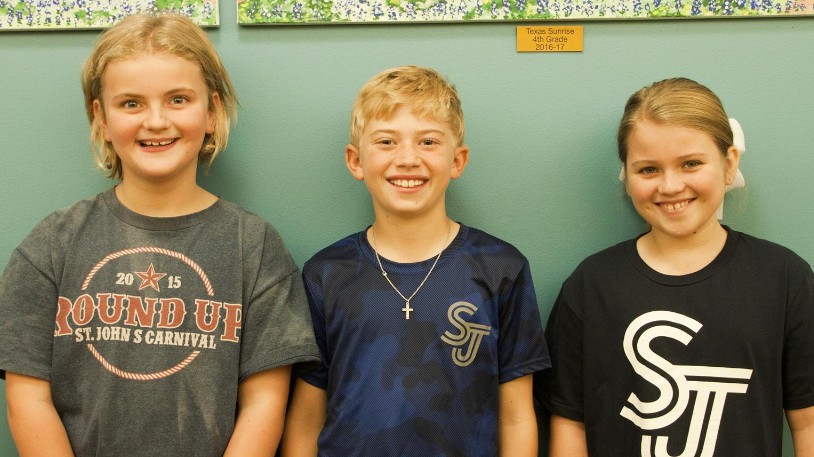 Neiman Marcus Social 
Please join us for the annual Neiman's social on Wednesday, November 28, from 6:00 to 8:00 p.m. at the Downtown Neiman Marcus. Enjoy a festive "Our Favorite Things" evening! Mix and mingle with friends and enjoy wine + bites, plus select buyers will share their favorite picks from around the store. From accessories, apparel, men's and beauty, you'll discover gifts for everyone in your home, including you! Tickets are $115 per person and each attendee will receive $25 gift card to use that night as well as a fabulous swag bag. Mark your calendar - you won't want to miss this fun night! Tickets sales go live this Wednesday, October 24 on Big Cartel.
Thank you to our hostesses: Lisa Andersson, Carolyn Coleman, Kelli Culpepper-Hall, Sarah Donahue, Julie Halverson, Deborah Hill, Lindsay Loughlin, Carrie Matthiesen, Sarah McCallum, Dena Robinson, Jennifer Robinson, Alison Silliman, Kelly St. John, Stephanie Taylor, Clair Parker Tompkins, and Donna Vaught.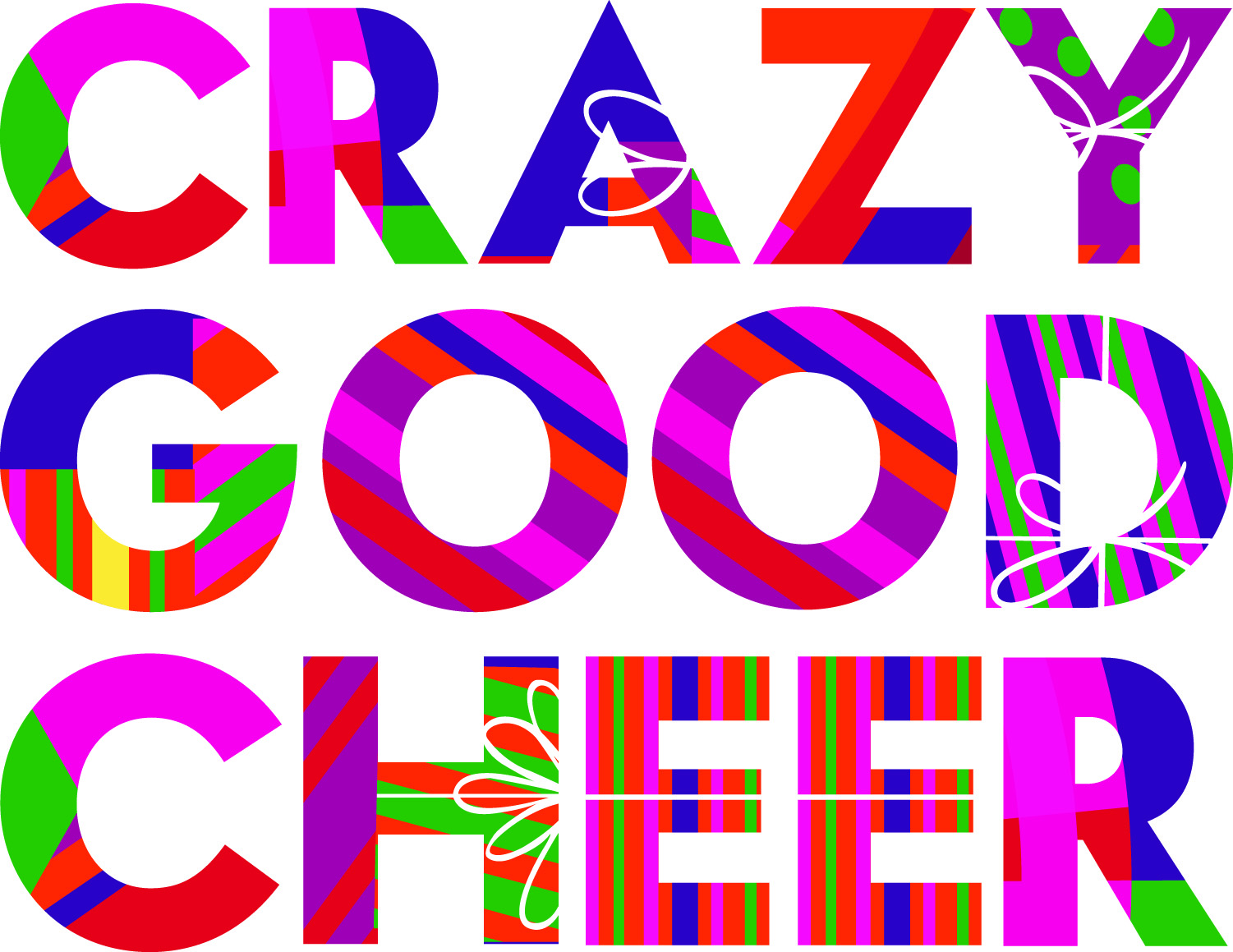 PA NOMINATIONS COMMITTEE
The Parents Association is starting the nominations process for the 2019-20 school year! We are currently forming the nominating committee, which is the committee that helps identify volunteers to serve on the PA Council each year. Consider nominating one fellow parent (or self-nominate) from Lower School and Middle School to serve on the nominations committee. (Nominees will be contacted to confirm they have time and would like to serve if elected.) Please e-mail Melissa Eakes with your nominees' names by Thursday, November 1. Voting for the nominations committee will take place at our next PA meeting on Tuesday, November 6.
CRUSADER CLUB BREAKFAST
The next Crusader Club breakfast will feature food from Barbec's and will be held on Friday, November 2, in Parish Hall at 7:30 a.m.
ST. JOHN'S NIGHT AT RAISING CANE'S
Join one of our Community Partners, Raising Cane's, in raising money for St. John's students. Plan to get dinner at Raising Cane's newest Gaston and Garland location Tuesday, November 6. Dine in, pick up or drive-thru between 4:00 and 8:00 p.m., and 15% of sales will be donated to the school (Please mention St. John's when you place your order.) Volunteers are needed to greet customers and remind them to mention St. John's when they order. Choose a shift and bring the kids!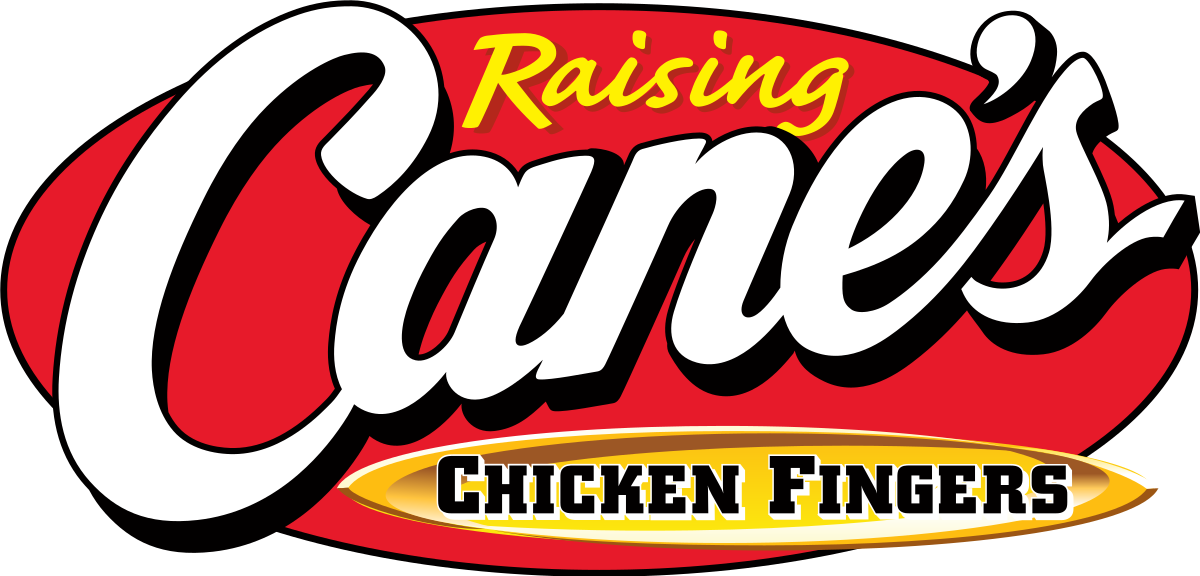 CHAPLAIN'S CORNER
When St. John's alumni come back to the school, one of the first things they say that they miss is the daily rhythm of chapel. It's just a great way to start the day. (Parents, by the way, are always welcome, even if you don't have a child involved in the service – chapel is for our whole St. John's community.) This week in chapel, we return to the stories of Daniel. And what we find him doing, even when he is threatened with being tossed into a den of hungry lions, is the same thing we do at St. John's: the steady, patient, daily rhythm of prayer. This divine drumbeat forms our lives, changes our minds and gives us the character of God even as we struggle with our daily tasks. Look at what it did for Daniel: when his enemies want a way to bring him down, they find that "He was faithful, always responsible, and completely trustworthy." (Daniel 6:4b) I hope you hear in this description an echo of our own St. John's Code:
I am St. John's:
• I am respectful.
• I am responsible.
• I am honest.
• I care.
The descriptions are similar because the methods are similar. Both Daniel's character and the character of our students are formed through the same method: the steady, patient, daily rhythm of prayer.

In Early Childhood Chapel this week, we will hear stories of the prophets Elijah and Elisha. These miracle stories revolve around food and generosity. Food is a great tool to teach moral lessons about wanting and sharing: even the youngest among us can understand what it means to share good food. Parents, this is a good week to talk with your children about how God takes care of his people. Whether it's Daniel in the lions' den, or Elisha the prophet, or us in our modern world: God knows how to take care of his own. See if your children can list some ways that God takes care of them.
St. John's Episcopal School is dedicated to a program of academic excellence designed to train
the mind, strengthen the character and enrich the spirit of each student in a Christian environment.
St. John's Episcopal School | 214-328-9131
stjohnsschool.org