WEEKLY NEWSLETTER                                                  OCTOBER 1, 2018

 The fifth and sixth grade flag football teams face off against each other.

THIS WEEK'S NEWS AND EVENTS
iOS 12: PLEASE DO NOT UPDATE
Please do not allow your child to upgrade his or her iPad until you receive an all-clear email from the school. We are still waiting for app developers to adapt their software to changes in the operating system, and we want to be certain that all students will have fully functioning apps.

PARENT ASSOCIATION MEETING
The PA will hold its next meeting tomorrow, October 2, at noon in Parish Hall. We will hear from the school's Director of Academic Design and Development Rob Kowalski on his student curriculum work this year. We will also review all the exciting details for our upcoming Under The Big Top carnival! A light lunch will be provided. 
BOX TOP COLLECTION
Our next Box Tops collection will take place tomorrow, October 2. The class or advisory that collects the highest number of Box Tops will win a free dress day. Visit Box Tops for Education to become Box Top savvy and get tips on ways to boost your collections. Good Luck!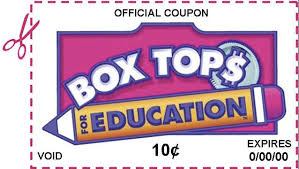 PICTURE DAY
Individual and group school photos will be taken on Wednesday, October 3. All students must be in full dress uniform (required sweaters/blazers with the new school patch). If your child did not receive his or her patch, please contact the receptionist, Ms. Darlene Williams. To purchase photos, visit MyLifetouch.com and use the St. John's code, TX038013Q0, before the end of the day Friday.
HURRICANE FLORENCE RELIEF EFFORT

Student Council has placed a change jar in the cafeteria to raise money for the relief efforts on the east coast. StuCo will match the total amount collected by Friday, October 5, and all funds will go to the Episcopal Relief & Development. Please help us make a difference!
BLESSING OF THE ANIMALS
The Church invites all to bring your furry, scaly or hairy friends to the annual Blessing of the Animals on Saturday, October 6 from noon to 1:30 p.m. at the new outdoor classroom area. Celebrate all creatures, great and small. Treats and water will be available for pets and their humans.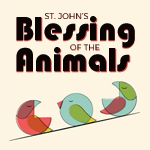 SIBLING ADMISSION FOR 2019-20
If your child has a sibling who will apply for admission to St. John's for the 2019-20 school year, please contact the admission office.
OCTOBER BIRTHDAY BLESSINGS + LUNCH MENU
The birthday blessing schedule is posted on ParentsWeb (School / Resources). You will also find the monthly lunch menu in ParentsWeb (School / Resources), as well as under the Current Families page of the website. See the October menu.
FALL BREAK
School will be closed for fall break on Monday, October 8. Enjoy the cooler weather (hopefully).

MIDDLE SCHOOL ADMISSION COFFEE
The first admission coffee event for prospective middle school families is on Wednesday, October 10 at 9:30 a.m. Please share with any families that are evaluating middle school options.
BUMP, SET, SPIKE... IT'S PIZZA NIGHT
Join the eighth grade class for a night of pizza and school spirit on Thursday, October 11. The MAL volleyball team will take on Calvary Lutheran School at 4:30 p.m., and the TAPS team will play Inspired Vision Academy at 5:30 p.m. Pizza and drinks will be for sale from 5:00 to 7:00 p.m. on the patio outside the gymnasium. All donations will go toward the eighth grade class gift. Please make sure children who are attending the games are accompanied by an adult.
SINGERS NEEDED
Choir director Megan Clowe-Nasser is seeking second, third, and fourth grade students to sing at Episcopal Schools Sunday on Sunday, October 14. The choir will meet in the LS Music Room for warm-up at 10:00 a.m., and the service will begin at 10:30 a.m. Please RSVP to Megan Clowe-Nasser. A reception will follow the service in Parish Hall.
PARENT EDUCATION: MINDFUL PARENTING
Please save the date for our first Parent Education speaker of the year with licensed professional counselor and registered play therapist, Kristin Bemis on Wednesday, October 24 at 8:15 a.m. We are thrilled to have Kristin back due to popular demand. She will discuss adaptive brain-based strategies for managing your child's emotions through communication, limit-setting and choice-giving, along with esteem-building techniques, and tips for parents to carve out some time for reflection and mindfulness. You won't want to miss this valuable presentation! Please R.S.V.P.

GRANDPARENTS AND SPECIAL FRIENDS DAY
St. John's will celebrate Grandparents and Special Friends Day on Friday, November 16. Invitations will be mailed mid-October.
FROM THE CLINIC
HEAD LICE
With Fall campouts and overnight field trips, remember that it is a time when students can pick up unwanted visitors- head lice!
The best intervention for lice is frequently checking your child's head, especially after sleepovers and campouts. In addition, please check your child's head once a month. Look for adult lice, which are greyish brown and newly hatched lice, which look like small, black cinders. Also look for very small sesame seed shaped eggs glued to the hair shaft around the nape of the neck and behind the ears. Lice are very small and are often hard to see with the naked eye. To check your child, wet the child's hair and put enough conditioner to saturate the entire head. This will slow the movement of the insects as it hinders their ability to crawl. Comb through the child's entire head from root to tip with a fine tooth lice comb. After each comb stroke, rinse the comb in a white bowl or plugged sink. When you are done combing, if lice are present, you will have very small dark insects visible in the white bowl. You can confirm your findings with a magnifying glass. If you find lice in the bowl--treat the child!
Prevention
• Encourage your children not to have head-to-head contact with peers
• Don't wash hair as frequently - lice like clean hair
• Have girls wear hair up or in a braid
• Use a lice-protective product in your child's hair (rosemary, tea tree)
• Don't share sports helmets, baseball caps, or hair accessories
• Check your children's hair before and after sleepovers and campouts
For more information, see the St. John's Lice Policy.
OCTOBER READING CHALLENGE

From Monday, October 1 to Friday, October 26, middle school students will have the opportunity to participate in a Student Council sponsored reading challenge. The advisory that averages the most pages read per student will win a pizza party paid for by StuCo. Students have been given a reading log and must have a parent or guardian sign for their pages.
PRE-K TRIP TO THE DMA
Along with line, shape, and color, the Pre-k art students are studying the artist Alexander Calder. Their field trip to the DMA gave the students the opportunity to see the sculptor's art in person, which gave them inspiration when creating their own mobiles.

FOURTH GRADE TRIP TO SKY RANCH
Fourth graders enjoyed a beautiful day at Sky Ranch in Van, Texas on Friday, September 28. Students experienced the ways of early Native Americans. They learned how Native Americans used local resources for food, housing and protection. The students also had first-hand experiences grinding corn, shooting arrows, identifying and differentiating between tools and weapons, and viewing housing structures of the Native American tribes of Texas. After lunch, students played games, jumped on the blob and enjoyed team building activities. It was a great way to end the school week!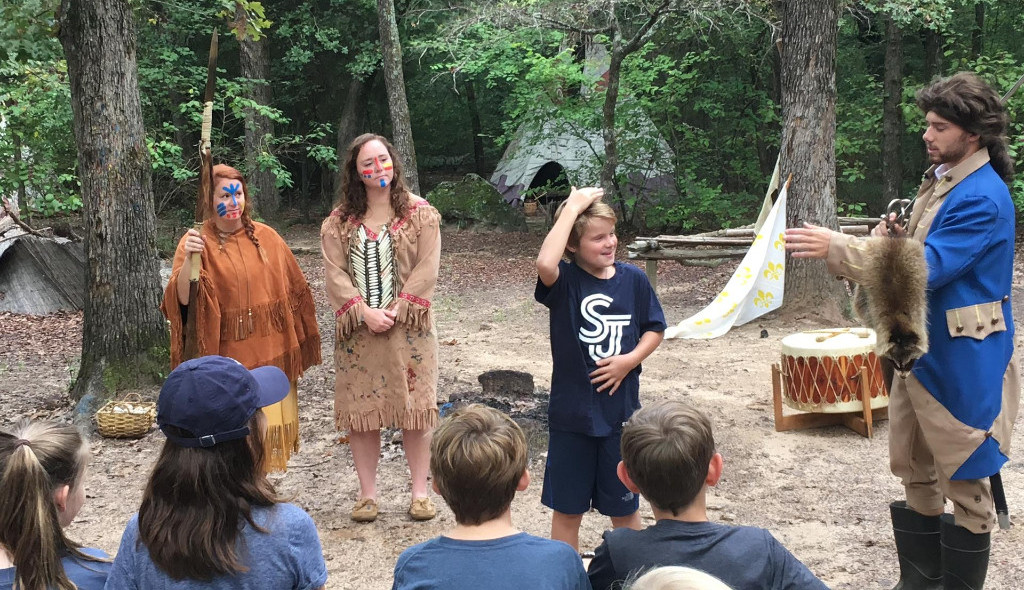 BOOK FAIR

St. John's Book Fair is around the corner! Please come support our library Monday, October 15 - Thursday, October 18 (Conference Day will be Wednesday, October 17). Inspire your kids' love of reading with new books, and knock your Christmas shopping out early with something for everyone on your list! Save the date and get all the times and details! Want to volunteer in the library? Visit the SignUpGenius and choose a time. Mark your calendars for Pastries with Parents on Tuesday, October 16 from 7:00 to 8:00 a.m. for all pre-k through first grade students. You can also come to the library to help your pre-k through fourth grade student create their book wish lists. Please see that SignUp here.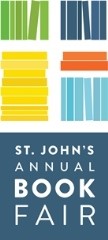 UNDER THE BIG TOP! 2018 CARNIVAL
Join us Under the Big Top on Saturday, October 20, 2:00 - 6:00 p.m. Purchase your wristbands and tickets now. We need all circus enthusiasts in the ring to make this the Greatest Show on Earth! Please volunteer to work a shift at your class-assigned booth during the carnival. Volunteers are also needed to lend a hand at setup on Friday night and cleanup afterward. See the SignUpGenius and choose a shift.
CHAPLAIN'S CORNER
When a disaster happens, one of the first questions people ask is, "Where is God in all this?" This is a natural question, and it also occurred to the people of Judah, in 576 BC, when their country was defeated, their country destroyed, and God's temple burned. It's understandable that they would question God's motivation and his power. But that's when they started hearing the stories of Daniel, just as we will hear them in chapel this week. By seeing what God did for Daniel and his friends, even in their captivity, God's people were reminded that God had not changed. Disaster doesn't mean God stops loving us or can't protect us. Even in a strange land, God proved his love and power to his chosen people. He still proves those things today.

In Early Childhood Chapel, we are hearing the stories of Moses and the Exodus, learning that God's love also makes rules for us to follow so that we know what is right and wrong. Friday, October 5 is our Birthday Blessing Day, so parents are welcome to join us at 2:15 p.m. in the church.

Parents, this might be a good week to talk to your children about something that seemed bad, but which turned out good. Children often need help looking beyond the immediate reality to see what's coming in the future, but you can help them develop an attitude of hope.
St. John's Episcopal School is dedicated to a program of academic excellence designed to train
the mind, strengthen the character and enrich the spirit of each student in a Christian environment.
St. John's Episcopal School | 214-328-9131
stjohnsschool.org