WEEKLY NEWSLETTER                                                  SEPTEMBER 24, 2018

Eighth grade building and testing solar cars.

THIS WEEK'S NEWS AND EVENTS
iOS 12: PLEASE DO NOT UPDATE
Last week Apple released iOS 12. Please do not allow your child to upgrade his or her iPad until you receive an all-clear email from the school. When major iOS updates are made available, it may take several weeks for some app developers to adapt their software to any changes. Upgrading before we test frequently used apps may mean your child will be unable to complete assignments. Please help us and remind your child not to update to iOS 12 until we notify you.
NORTH TEXAS GIVING DAY THANK YOU
Thank you for helping make this our most successful North Texas Giving Day event to date. Thanks to you, the school received 340 gifts for a total of $177,966 to benefit our students. We will also receive bonus dollars from the Communities Foundation of Texas because of your efforts.
CARNIVAL T-SHIRT SALE ENDS TONIGHT
Purchase this year's Carnival T-shirt and show your school spirit on Friday, October 19. Students may wear this year's official T-Shirt (or any other St. John's blue or gold shirt) with jeans, athletic pants or shorts and tennis shoes. Please note that T-shirts are pre-order only. Sales will close tonight, September 24, so order today.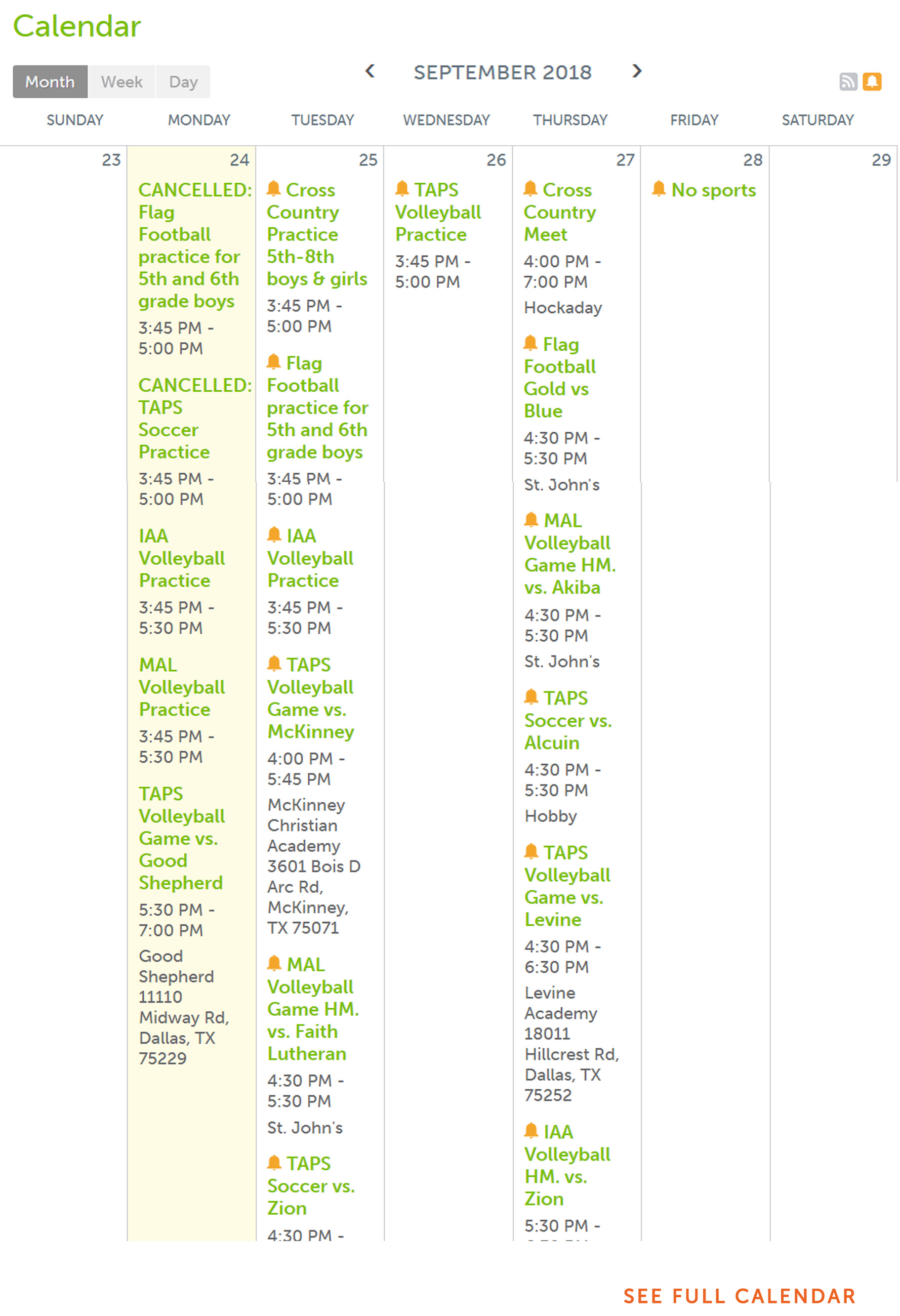 HURRICANE FLORENCE RELIEF EFFORT
Last year, our community raised over $10,000 to contribute to relief efforts following Hurricane Harvey. We now hope to make another significant donation to the relief efforts underway on the east coast.
Beginning today, September 24 to Friday, October 5, Student Council will have a change jar placed in the cafeteria to raise money for the relief efforts on the east coast. StuCo will match the total amount collected out of their budget, and all funds will go to the Episcopal Relief & Development. Please help us make a difference!
PARENTING WORKSHOP
Parenting expert and blogger, Audrey Monke, CEO of Sunshine Parenting is going to hold an interactive workshop that will include strategies for a more positive, connected family culture at home on Wednesday, September 26, 9:00 to 10:45 a.m. at the Jewish Community Center. It is a free event. For more information and to RSVP, please visit their website.
NEW UNIFORM PATCHES
Last week the new uniform patches were mailed to every student's primary address. Last year's patch with the yellow border must be replaced with the new one. Sweaters/blazers with the new patch are required for picture day on Wednesday, October 3. If your child did not receive his or her patch, please contact the receptionist, Ms. Darlene Williams. For additional patches, please to go to Mills Uniform Company.

PARENT CONFERENCE SIGN-UPS CLOSE

This year St. John's will be using pickAtime as our parent-teacher conference sign up tool, allowing parents to manage all conference sign-ups from one unified page. Online sign-ups will close on Friday, September 28 at noon.
SIBLING ADMISSION FOR 2019-20
If your child has a sibling who will apply for admission to St. John's for the 2019-20 school year, please contact the admission office.
OCTOBER BIRTHDAY BLESSINGS + LUNCH MENU
The birthday blessing schedule is posted on ParentsWeb (School / Resources). You will also find the monthly lunch menu in ParentsWeb (School / Resources), as well as under the Current Families page of the website. See the October menu.
PARENT ASSOCIATION MEETING
The PA will hold its next meeting on Tuesday, October 2 at noon in Parish Hall. Please join us for a light lunch and learn all the details of the upcoming Under the Big Top Carnival!
PICTURE DAY
Individual and group school photos will be taken on Wednesday, October 3. All students must be in full dress uniform (required sweaters/blazers with the new school patch). Photo retakes for individual photos only will be held on Tuesday, November 6. To purchase photos, visit MyLifetouch.com and use the St. John's code, TX038013Q0. 
BLESSING OF THE ANIMALS
The Church invites all to bring your furry, scaly or hairy friends to the annual Blessing of the Animals on Saturday, October 6 from noon to 1:30 p.m. at the new outdoor classroom area. Celebrate all creatures, great and small. Treats and water will be available for pets and their humans.
EPISCOPAL SCHOOLS SUNDAY 
Join us in the church for this annual celebration Sunday, October 14, 10:30 a.m. Hear from teachers who advance the spiritual and educational mission of the school, along with student readers and the second through fourth grade choir under the direction of Megan Clowe-Nasser. A reception will follow in Parish Hall.
BOOK FAIR
St. John's Book Fair is around the corner! Please support our library Monday, October 15 through Thursday, October 18 (Conference Day will be Wednesday, October 17). Inspire your kids' love of reading with new books, and knock your Christmas shopping out early with something for everyone on your list. (And toss something in the bag for yourself!) Get all the times and details.

SIXTH GRADE TRIP
Sixth grade students and advisors, led by John Walker, challenged themselves and encouraged their classmates during their three day trip to The Outdoor School at Camp Champions in Marble Falls, TX. Students navigated high ropes courses, conquered the climbing wall and zipped down the zip line back to earth. They flew through the air on the Screaming Eagle and cheerfully endured a day of periodic thunderstorms. Students and teachers alike marveled at the personal challenges that they were able to overcome.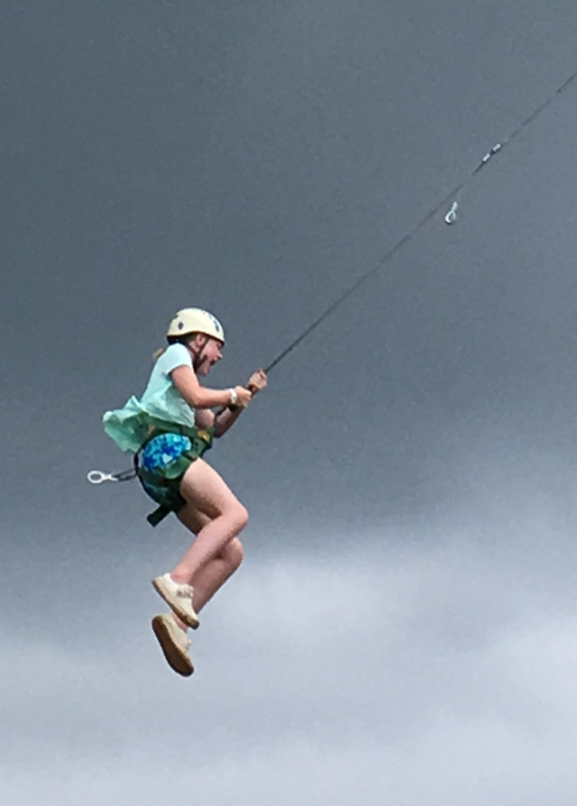 FIFTH GRADE TRIP
Fifth graders took to the road to spend October 13 and 14 at Camp JOLT on Lake Texoma. Students had the opportunity to canoe and swim in the lake. They also practiced archery and caught quite a few fish. Students and teachers learned survival skills and how to start a fire without using matches. They celebrated Thursday evening with a night hike and s'mores.
MODEL UN
Sixth grade social studies teacher Clay Buckley invites students in grades four through eight to participate in a Model United Nations group. Model UN is an educational program that simulates the work of United Nations ambassadors and offers students the opportunity to practice diplomatic, critical thinking, research, writing, public speaking, teamwork and leadership skills. The groups are parent-sponsored and the fourth grade program is in need of two parent volunteers this year. If you are interested in being an advisor for the 4th grade Model UN, or if your child would like to participate, please contact Clay Buckley.
FIFTH AND EIGHTH GRADE CONSTITUTION
Both fifth and eighth grade social studies classes focus on U.S. History for the year. In 8th grade, our first unit is on the Constitution. Each year on September 17, Constitution Day, the 8th graders and the 5th graders get together to celebrate. This year, 8th graders created games and scavenger hunts that taught 5th graders about various elements of the Constitution and the Bill of Rights.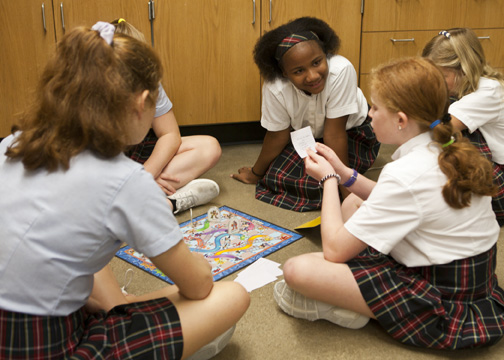 PARENT ORGANIZATIONS
BOX TOP COLLECTION
Our next Box Tops collection will take place Tuesday, October 2. The class or advisory that collects the highest number of Box Tops will win a free dress day. Visit Box Tops for Education to become Box Top savvy and get tips on ways to boost your collections. Good Luck!
TEACHER BIRTHDAY CELEBRATIONS
Looking for an easy way to brighten someone's day? Please sign up to bring lunch to a teacher, faculty or staff member on his or her birthday! Find all the details on the SignUp Genius and contact Sarah Donahue with questions.
CARNIVAL 2018: UNDER THE BIG TOP
Calling all circus enthusiasts! Save the date for Saturday, October 20 from 2:00 to 6:00 p.m. for a fun-filled day of games, inflatables, prizes and FUN! To get your tickets to the show, see the carnival tickets webpage.
Mark Your Calendars
Buy your wristbands online now. A $30 wristband is all-inclusive, giving you full access to games, rides, entertainment, and a hamburger meal. Blue wristbands for $10 get you in the door with pay-as-you-go access to all activities and events.
Volunteer Your Talents
Please volunteer to work a shift at your class-assigned booth or event during the carnival. We need everyone to pitch in. Volunteers are also needed to lend a hand with setup before the big show and clean up afterward.
9th Annual Tailgate BBQ Competition
Who will take the top honors in this year's tailgate? Are you a grill master ready to "pit" your skills against the best around? Entry is limited to 10 teams, so register early to ensure your spot. Scroll down to "Tailgate Team Entry" or contact Kathy Row with questions.
Bake, Buy and Sell
Do you love to bake? Then break out your best recipes for nut-free, homemade treats and sign up for the annual bake sale to show off your culinary skills. We also accept nut-free items purchased at bakeries or your local grocery store. Baked goods may be dropped off during morning and afternoon carpool on Friday, October 19. View the SignUp Genius for the baked goods needed and volunteer schedule.
Support the Show with a Sponsorship
Demonstrate your family's support for Under the Big Top. We offer multiple sponsorship levels, starting at just $50, with each level receiving great benefits! View the sponsorship page to learn more.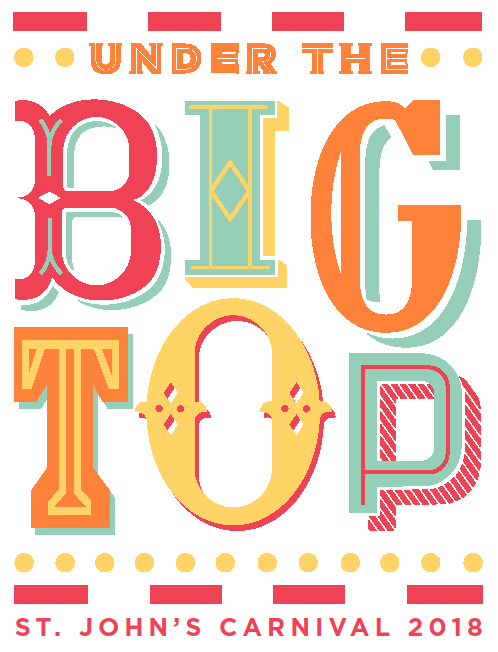 CHAPLAIN'S CORNER
With our Hymns of the Month and Saints of the Month this year, we are not forgetting to study the Bible itself in chapel. Our theme for this year is "Testify!" Saints and songs testify to God's power to change lives, but the Bible testifies to God's power in a way that no other witness can. This week we focus on God's ability to turn bad things into good things.
In Early Childhood Chapel, we're hearing stories about Moses and the Exodus. We will particularly hear how God turned all of the hardships of the desert into miraculous opportunities for grace.
In chapel, we began hearing stories of one of the most difficult periods for the Kingdom of Judah during the Old Testament. They had lost a war against a brutal and powerful enemy. In addition to the tragedy and pain that war always brings, many of the survivors were separated from their families and taken as captives to Babylon. Among these captives were some young people not too much different from the young people at St. John's. Their exile seemed as if it would be the end for them, but in this new and challenging environment far from home, they stuck more closely to God and to each other. And they found there was a place for them as God's people in that strange land. Daniel, Esther, Ezra, and Nehemiah are some of the young people for whom the tragic story of the exile actually became – because of God's ability to turn bad into good – the beginning of a new life full of promise and possibility.
Parents, take a moment this week with your student and look for other examples of how God can turn bad into good. They may not have the breadth of perspective to see the redemptive pattern in their daily lives, but you can help them see it; and seeing that pattern leads to a life filled with optimism, faith, and hope for the future.
St. John's Episcopal School is dedicated to a program of academic excellence designed to train
the mind, strengthen the character and enrich the spirit of each student in a Christian environment.
St. John's Episcopal School | 214-328-9131
stjohnsschool.org