WEEKLY NEWSLETTER                                                  SEPTEMBER 17, 2018

Fifth graders enjoying their field trip to Lake Texoma
THIS WEEK'S NEWS AND EVENTS
iOS 12: PLEASE DO NOT UPDATE
Today Apple released iOS 12. Please do not allow your child to upgrade his or her iPad until you receive an all-clear email from the school. When major iOS updates are made available, it may take several weeks for some app developers to adapt their software to any changes. Upgrading before we test frequently used apps may mean your child will be unable to complete assignments. Please help us and remind your child not to update to iOS 12 until we notify you.
NORTH TEXAS GIVING DAY
Once again, St. John's will participate in North Texas Giving Day. Gifts made toward the St. John's Fund on Thursday, September 20 between 6:00 a.m. and midnight will receive bonus dollars through the Communities Foundation of Texas. New this year, you may schedule your donations in advance at the North Texas Giving Day website. Thank you so much for your commitment to your children and St. John's, and for investing your tax-deductible donation to this year's St. John's Fund.
A message from Laurie and Keith Dunkin, 2018-19 St. John's Fund Chairs:
St. John's is a special place. We all know that, and hear it all the time…but what's really special? Is it the students, teachers, parents, academics, facilities, chapel, enrichment activities? We believe it's all those and so much more that culminate in one word…Experience.
The sole purpose of the St. John's Fund is to provide unique investments beyond the operating budget to continually enrich and enhance the St. John's experience…and isn't that what life is all about…people and experiences?

DEADLINE FOR SPIRIT GEAR EXTENDED
Spirit Shop Pre-Orders will closes today, Monday, September 17. Don't miss your chance to wear the latest and greatest St. John's gear! Orders will be delivered via kidmail by mid-October. Order now.
VISION AND HEARING
Students in grades PK, K, 1st ,3rd, 5th, 7th and students not in those grades who are new to St. John's will have vision and hearing screenings today, September 17 and tomorrow, September 18. Please note that these are only screenings and do not determine if there is a vision or hearing problem, but rather a need for a closer look by a medical professional. You will only be notified of results only if further evaluation is needed. Contact the school nurse, Amy Johns, with any questions.
FIFTH GRADE PARENT COFFEE
Fifth grade parents, come join us for coffee and conversation tomorrow, September 18, at 8:00 a.m. in the school cafeteria. We will have informal conversation and question/answers about your fifth graders and their transition to middle school. 
CRUSADER CLUB CORNHOLE TOURNAMENT 
Join the Crusader Club on Thursday, September 20 from 7:00 to 10:00 p.m. at the Oak Highlands Brewery, Tickets are $50 per person which includes dinner from Mi Cocina, tap beer, and entry to play in the cornhole tournament. You must purchase a ticket in advance to attend, buy your ticket before Thursday.
EARLY CARPOOL
All students dropped off before 7:30 a.m. must be dropped off at the cafeteria. Students may not be dropped off at the lower school carpool deck before 7:30 a.m., as there is no adult supervision. Climbing club begins at 7:30 a.m. on Tuesdays for third and fourth grade and Thursdays for first and second grade.
UNIFORM PATCHES IN THE MAIL
Patches have been mailed to each student's primary address. Please adhere them to your child's sweater/blazer before picture day on Wednesday, October 3. If you do not receive your patches by Friday, September 21 or have any questions, please contact Liz Hamilton.
PARENT CONFERENCE SIGN-UPS
This year St. John's will be using pickAtime as our parent-teacher conference sign up tool, allowing parents to manage all conference sign-ups from one unified page. Online sign-ups opened on September 12, and will close on Wednesday, September 28 at noon. Please see the email sent last week announcing the open sign-up.
PARENTING WORKSHOP
Parenting expert and blogger, Audrey Monke, CEO of Sunshine Parenting is going to hold an interactive workshop that will include strategies for a more positive, connected family culture at home on Wednesday, September 26, 9:00 to 10:45 a.m. at the Jewish Community Center. It is a free event. For more information and to RSVP, please visit their website.
PARENT ASSOCIATION MEETING
The PA will hold its next meeting on Tuesday, October 2 at noon in Parish Hall. Please join us for a light lunch and learn all the details of the upcoming Under the Big Top Carnival!
EPISCOPAL SCHOOLS SUNDAY 
Join us in the church for this annual celebration Sunday, October 14, 10:30 a.m. Hear from teachers who advance the spiritual and educational mission of the school, along with student readers and the second through fourth grade choir under the direction of Megan Clowe-Nasser. (See below in Student News if your child is in second through fourth grade.) A reception will follow in Parish Hall.
FOR THE LOVE OF THE LAKE
St. John's seventh grade participated in the Adopt-a-Shoreline program at White Rock Lake. This past weekend, during the Second Saturday Shoreline Spruce Up, a large group of students got together to clean up a section of the lakefront near the school.
COMMUNITY GARDEN
The new community garden is officially up and running. Kindergarten kicked off the fall planting season this week by planting cauliflower and broccoli in their bed. Students from all grades will have a hand in growing produce including carrots, radishes, peas, beans, spinach, assorted greens, beets, and herbs. Any crops not used in the classroom will be donated to the food pantries at White Rock Center of Hope and Network of Community Ministries.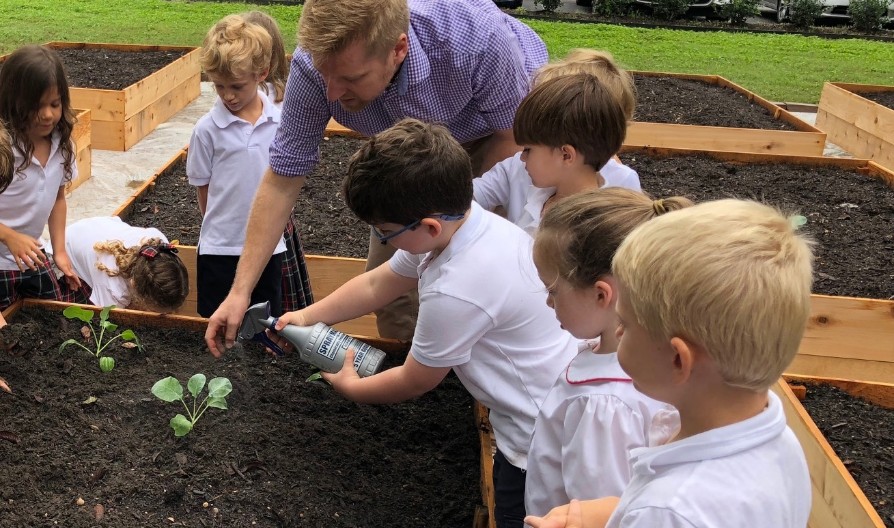 MODEL UN
Sixth grade social studies teacher Clay Buckley invites students in grades four through eight to participate in a Model United Nations group. Model UN is an educational program that simulates the work of United Nations ambassadors and offers students the opportunity to practice diplomatic, critical thinking, research, writing, public speaking, teamwork and leadership skills. The groups are parent-sponsored and is in need of two parent volunteers to support the fourth grade program this year. If you are interested in being an advisor for the 4th grade Model UN, or if your child would like to participate, please contact Clay Buckley
RECRUITING STUDENTS FOR EPISCOPAL SCHOOLS SUNDAY
Upcoming choral singing opportunity for all second, third, and fourth grade students! Episcopal Schools Sunday at St. John's Church happens Sunday, October 14. We will meet in the LS Music Room for warm-up at 10:00 a.m., and sing an anthem we've learned in music class during the 10:30 a.m. worship service in the Church. Please mark your calendars for this special once-a-year Sunday! Please RSVP to Megan Clowe-Nasser.
PARENT ORGANIZATIONS
CARNIVAL 2018: UNDER THE BIG TOP
Calling all circus enthusiasts! Save the date for Saturday, October 20 from 2:00 to 6:00 p.m. for a fun-filled day of games, inflatables, prizes and FUN! To get your tickets to the show, see the carnival tickets webpage.
Mark Your Calendars
Buy your wristbands online now. A $30 wristband is all-inclusive, giving you full access to games, rides, entertainment, and a hamburger meal. Blue wristbands for $10 get you in the door with pay-as-you-go access to all activities and events.
Volunteer Your Talents
Please volunteer to work a shift at your class-assigned booth or event during the carnival. We need everyone to pitch in. Volunteers are also needed to lend a hand with setup before the big show and cleanup afterward.
9th Annual Tailgate BBQ Competition
Who will take the top honors in this year's tailgate? Are you a grill master ready to "pit" your skills against the best around? Entry is limited to 10 teams, so register early to ensure your spot. Scroll down to "Tailgate Team Entry" or contact Kathy Row with questions.
Show Your School Spirit
Purchase this year's Carnival T-shirt and show your school spirit on Friday, October 19. Students may wear this year's official T-Shirt (or any other St. John's blue or gold shirt) with jeans, athletic pants or shorts and tennis shoes. Please note that T-shirts are pre-order only. Sales will close on Monday, September 24, so order soon.
Bake, Buy and Sell
Do you love to bake? Then break out your best recipes for nut-free, homemade treats and sign up for the annual bake sale to show off your culinary skills. We also accept nut-free items purchased at bakeries or your local grocery store. Baked goods may be dropped off during morning and afternoon carpool on Friday, October 19. Stay tuned for the bake sale sign up.
Support the Show with a Sponsorship
Demonstrate your family's support for Under the Big Top We offer multiple sponsorship levels, starting at just $50, with each level receiving great benefits!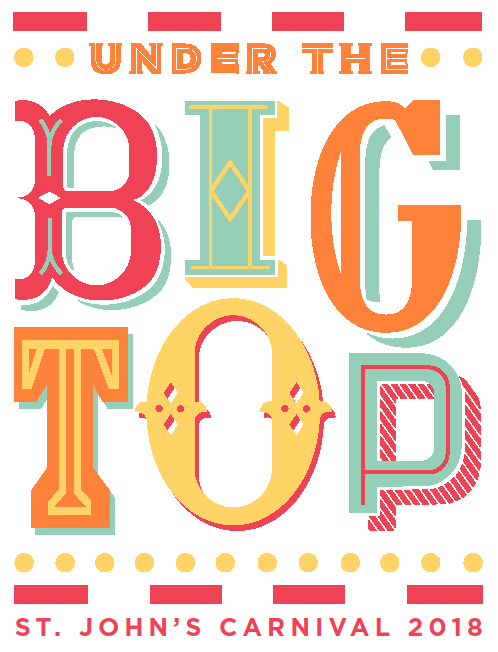 WEEK IN SPORTS
SPORTS SCORES AND STANDINGS
Fall sports teams are off to a great start. We are excited to see these athletes play and work hard throughout the season.
Volleyball
IAA 1 - 1 for the week with a victory over Zion
TAPS 1 - 1 with a victory over Shelton
Flag football
Fifth grade 1 - 0 beat Faith Lutheran 13 - 12
Sixth grade 1 - 0 beat Levine 32 - 6
CHAPLAIN'S CORNER
Have you ever traveled northwest from Dallas – not on the major highways, but on the smaller roads that lead up toward the panhandle, through towns like Paducah, Quanah, and Goodnight, Texas? The land there becomes very flat. The wind is strong, but the sun shines stronger. When I drove those roads this summer, it was 113 degrees in the shade! But once, about a hundred and fifty years ago, fierce bands of Cheyenne, Kiowa, and Comanche warriors ranged across those same trackless prairies. In the decades after the Civil War, federal military units clashed with the native peoples, and warfare and tragedy were all too common. But out of this deadly chaos, one of those very same Cheyenne warriors, a leader among his people, would become a saint commemorated by the Episcopal Church, David Pendelton Oakerhater. (See a short biography of his life.)
This week in Chapel we begin our Saint of the Month series. Our purpose is to spend a significant amount of time exploring the lives of the saints and learning lessons from their devotion to Christ. We will study some of the best-loved saints, like Francis of Assisi and Patrick of Ireland; but also some of the lesser-known saints whose stories are just as powerful and hopeful for us today. We will see that saints come in all shapes and sizes, from "all sorts and conditions" of women and men, and persevere through both joy and sorrow to "Testify!" to the grace of their Lord, Jesus Christ.
Oakerhater's life shows that people are always more than what they seem. Parents, this is a good week to explore with your students the idea that you can't judge a book by its cover, or a person by who they appear to be on the outside. What's inside is that which makes people who they really are. Find an example in your life of someone who turned out to be more than they seemed, and share it with your child.
St. John's Episcopal School is dedicated to a program of academic excellence designed to train
the mind, strengthen the character and enrich the spirit of each student in a Christian environment.
St. John's Episcopal School | 214-328-9131
stjohnsschool.org