WEEKLY NEWSLETTER                                                   SEPTEMBER 4, 2018

Students enjoying the climbing wall in the Owen Gym.
THIS WEEK'S NEWS AND EVENTS
FIRST THROUGH FOURTH GRADE OPEN HOUSE
Open house for first through fourth grades will be Thursday, September 6 from 6:00-8:00 p.m. First and second grade parents should report to your child's homeroom class at 6:00 p.m. Third grade parents will begin in Owen Gym and fourth grade parents will meet in the Lower School Spanish classroom at 6:00 p.m. Open House is a parent-only event. Please note that teachers will park in the green space, so pull around back for plenty of parking. Please view the schedule for the Open House.
BUDDY DAY
We will have our first Buddy Day, Thursday, September 6. Students third grade and younger will meet with older buddies, and students fourth grade and older will meet with younger buddies. During this first meeting, buddies will get to know one another and think about goals for the school year.

CRUSADER CLUB KICK OFF BREAKFAST
Join us on Friday, September 7, at 7:30 a.m. in Owen Gym. Come meet other dads, learn more about St. John's and the impact that the school has on your child, and hear about the fun activities coming up. Breakfast is free and delicious, and no donations will be requested! 
PARENT CONFERENCE SIGN-UPS
This year St. John's will be using pickAtime as our parent-teacher conference sign up tool, allowing parents to manage all conference sign-ups from one unified page. Online sign-ups will open on Wednesday, September 12 at 12:00 p.m. Specific instructions for using pickAtime will be sent home later this week.
ASP ENRICHMENT CLASSES
Fall ASP enrichment classes begin this week. Please view the enrichment class schedule. Limited spaces are available in selected classes.
Second Through Fourth Choir
Pre-k through third grade music teacher Megan Clowe-Nasser is offering a new after school program class called "Voices of St. John's Episcopal."  It is a choir comprised of 2nd, 3rd, and 4th graders, which will meet only on Tuesdays, 3:45-4:30pm, beginning Tuesday, October 2.  The class will culminate with an outreach/mission-minded field trip on the morning of Friday, December 14.
PICTURE DAY
Individual and group school photos will be taken on Wednesday, October 3. All students must be in full dress uniform. (sweaters or blazers with the new school patch) An update on the patch will be coming soon. Online order forms for photos will be distributed to parents approximately 10 days prior to the October 3rd photo day. Photo retakes for individual photos only will be held on Tuesday, November 6.
BIRTHDAY BLESSINGS AND LUNCH MENU
The birthday blessing schedule is posted on ParentsWeb (School / Resources). You will also find the September lunch menu on our website on the Current Families page or RenWeb.
COMING UP
SCOUTING OPPORTUNITIES
Cub Scouts and Girl Scouts representatives will be on campus next Tuesday, September 11, to talk with first grade students about scouting opportunities.Boy Scouts District Executive Giovanni Angon will meet with boys, and Girl Scouts recruiter Emily Krizan-Lopez will meet with girls. Parent information sessions will be Tuesday, September 11 at 6:30 p.m.; Boys Scouts in the cafeteria and Girl Scouts in Room 212. All St. John's parents are welcome to attend to learn more. View the View the Pack 55 website or the Girl Scouts of Northeast Texas website for more information.
GRANT HALLIBURTON FOUNDATION CONFERENCE
This educational conference for people who live or work with teens will address issues that impact young people's lives and what you can do to help. The schedule features four keynote speakers and three TED-style talks by leading mental health experts. It will be held Wednesday, September 12, 8:00 a.m. - 3:30 p.m. at the Plano Event Center.
ST. JOHN'S EPISCOPAL CHURCH CHILDREN'S CHOIR
The church's Jubilate choir will begin rehearsals starting Sunday, September 16 for any child in kindergarten through sixth grade who would like to participate. A 2009 survey by Chorus America found that children involved in choirs were more likely to excel academically, display greater self-confidence, and exhibit more developed social skills than those not participating in music. Contact organist-choirmaster Benjamin Kolodziej for more information.
CONFIRMATION
One Faith, My Faith – A confirmation preparation course is being offered this year for youth 6th grade and up. Students will be led through teaching and discussion to come to a personal understanding of the core elements of the Christian faith. Contact Fr. Andy Johnson (the primary instructor) to register. The class will begin Sunday, September 16 at 9:00 a.m.
NORTH TEXAS GIVING DAY
Once again, St. John's will participate in North Texas Giving Day. Annual Fund gifts made on Thursday, September 20 between 6:00 a.m. and midnight will receive bonus dollars through the Communities Foundation of Texas. New this year, families may schedule their donations in advance beginning on September 10. Please mark your calendar and stay tuned for details!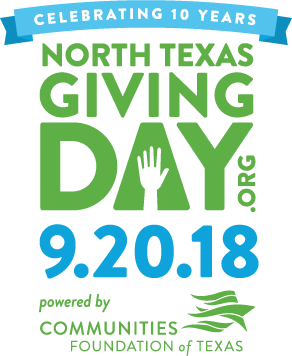 TEAMBUILDING
8th grade students traveled to Group Dynamix during their first week of school to bond as a class by practicing teambuilding and leadership skills. Students enjoyed a fun day of problem solving activities, high ropes challenges and fun group competitions. Our 8th graders are off to a great start of their year as student leaders at St. John's.
STUDENTS, LET'S PERFORM IN CHAPEL
We would like for student musicians and singers to participate in chapel. If your child has a musical skill and a desire to perform, have your child speak to Fr. Thorpe or to their teacher/advisor to arrange a day for them to help lead chapel music. Instrumentalists who play alongside Mr. Porcheddu are limited to 7th and 8th grade only, but Ms. Haynes, Ms. Nasser, Mr. Kolodziej (our organist) and Fr. Thorpe are happy to work with any student or group of students, of any age, who want to help beautify our worship by singing. 
UNEXPECTED RECRUITING OPPORTUNITY
The Anderson family took the opportunity to visit St. John's this summer after moving to the DFW area. They loved our school, but after speaking with their realtor, they reluctantly decided that the drive to St. John's from Las Colinas was too far. The family went on vacation where they happened to meet St. John's sixth-grader Harrison Carter out on the golf course. They were impressed by his ability to speak confidently and eloquently about his wonderful experiences at St. John's. The impression he made was so strong that the Andersons knew they needed to reconsider their decision. Thanks to this coincidental meeting with one of our own, we are fortunate to welcome a great new seventh grader, Alyssa Anderson, into St. John's for the 2018-2019 school year. Thank you, Harrison, for being Recruiter of the Year!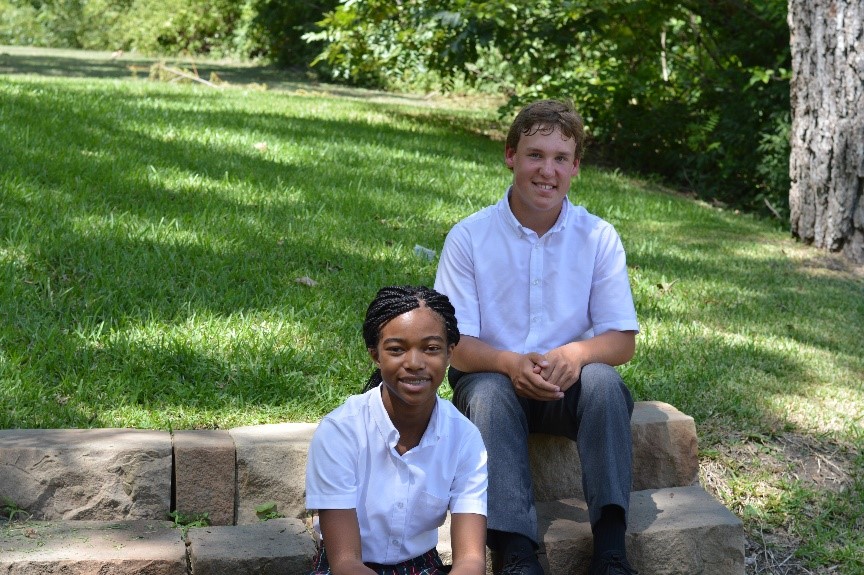 OUTDOOR CLASSROOM
St. John's is pleased to announce the official opening of its newest addition to the school's facilities. In order to promote a connection with the nature, teachers will be able to conduct class sessions at the outdoor classroom. Head of School Mark Crotty is excited for the possibilities the news space offers: "It can used for any sort of activity, from regular classes to special projects and small performances. The real value is that loads of research shows that being in beautiful, well-designed spaces inspires deeper learning." This area of our campus was specifically selected for its old-growth tree cover and the nearby creek, which offer an oasis of shade and tranquility. We would like to thank the Parents Association and everyone who contributed to the Fund-a-Need for the generous donation of this beautiful feature of our campus.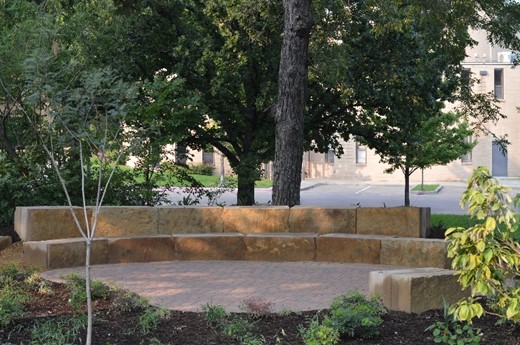 BOX TOPS COLLECTION
The first Box Tops collection of the year will take place Wednesday, September 5. The class or advisory that collects the highest number of Box Tops this month will win a free dress day. Visit Box Tops for Education to become Box Top savvy and get tips on ways to boost your collections. Good luck!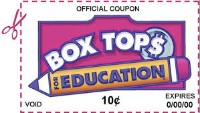 PRE-K/KINDER SOCIAL
Pre-k and kindergarten parents are invited to a come-and-go social (adults only). Mix and mingle at Times Ten Too on Friday, September 7, 6:00 – 7:30 p.m. Cash bar; appetizers will be provided.
NEW SPIRIT GEAR FOR LIMITED TIME
Your whole family can show their school spirit and support by wearing our new range of apparel, accessories and more. The last day for ordering will be Friday, September 14. Orders will be delivered via kidmail early October. Don't miss out - order now!        
CARPOOL HELPERS NEEDED!
The Parents Association coordinates afternoon carpool helpers and is in need of additional volunteers, especially on Thursdays and Fridays. This is an easy volunteer opportunity that does not take up too much time. It's always fun to see the kiddos and a great way to meet other parents. You may sign up to help every week or only once a month. Every little bit helps! On Mondays, Tuesdays, Thursdays, and Fridays you will arrive at 2:50 p.m. and stay until about 3:45 p.m. (Wednesdays start at 2:20 p.m.) Please contact Dena Robinson for more information or visit the SignUpGenius.
CHAPLAIN'S CORNER
When people first discover St. John's, they are often amazed at the sense of community about this school. Not only do our students, parents, teachers, and staff comprise a strong and caring community, but the school is clearly dedicated to service outside itself as well. Our combined school/church mission to Uganda this summer is a perfect example. This attitude of service is not an accident. It flows very naturally from the values we bring to education. These values find their roots in our devotional life. Chapel services give us the "why" behind our commitment to serving others. We give ourselves because Christ first gave himself for us. "Love one another," he said, "as I have loved you." 

In chapel last week we discussed why we go to chapel, how we use the building, why and how we engage in the individual acts of piety that make up our reverent approach to God. This week we get to expand that focus and see how our daily worship develops our inner devotional life, drives us outward into service, and lifts us upward to be aware of the great community of saints with whom we stand. In Early Childhood Chapel we'll also be using the new finger prayer we've learned (parents, ask your little one to pray it with you at home) and hearing how God made the world. 

Parents, this is a great week to chat with your students about the role of worship in their lives. How does chapel make them feel at the beginning of the day? Do they think their school day would be as focused without that chance to be centered on something bigger than ourselves?
St. John's Episcopal School is dedicated to a program of academic excellence designed to train
the mind, strengthen the character and enrich the spirit of each student in a Christian environment.
St. John's Episcopal School | 214-328-9131
stjohnsschool.org