WEEKLY NEWSLETTER                                                         AUGUST 27, 2018

Mrs. Torrey's 7th grade class jumping for joy on the first day of school.
UPCOMING EVENTS AND NEWS
MIDDLE SCHOOL HOMEWORK CLUB
Middle School Homework Club is free and open to fifth through eighth graders. It meets for 45 minutes immediately after school most school days, with dismissal at 4:30 p.m. M, T, Th, F and 4:00 p.m. Wednesdays. Today was the first day of Homework Club. If you are more than 15 minutes late picking up your child from Homework Club, he or she will be checked into the After School Program, and you will be charged the ASP drop-in fee.
PA MEETING TOMORROW
Join the Parents Association Tuesday, August 28 at noon for its first meeting of the year. Gather in Parish Hall, and enjoy reconnecting with fellow parents and begin planning for the new year. A light lunch will be provided.
ALUMNI ART EXHIBITION
You are invited to the reception for the St. John's Alumni Visual Arts Series XIII for Kathryn Ferguson and Isabelle Gonzales, both from the Class of 2015. The reception is Tuesday, August 28, from 4:30 to 6:00 p.m. in the lobby of the Clements Performance Hall.
SIXTH THROUGH EIGHTH OPEN HOUSE
Plan to attend our back-to-school Open House Thursday, August 30, from 6:30-8:30 p.m. to learn about the year ahead. Teachers will discuss classroom norms, expectations and other important information. Open House is a parent-only event. You'll receive an email this week that includes the evening's schedule and meeting locations.

LABOR DAY SCHOOL CLOSED
Enjoy your three-day weekend! Classes resume at 8:00 a.m. on Tuesday, September 4.
AFTER SCHOOL PROGRAM
The After School Program (ASP) and offers a fun and engaging environment for students from the end of the school day until 6:00 p.m. starting Tuesday, September 4. Several optional after-school classes are also available to all St. John's students. Find program details and FAQs, optional class descriptions, instructor bios, and the contract on the After School Program page of our website. Please contact ASP director Lani Jones with questions (214-328-9131 x108).
LOWER SCHOOL OPEN HOUSE
First through Fourth grade parents are invited to the Lower School Open House Thursday, September 6 6:00 - 8:00 p.m. This event provides parents an overview of the year ahead in each of their children's classes. (Students do not attend Open House.)
CRUSADER CLUB KICK-OFF BREAKFAST
Join us on Friday, September 7th at 7:30 a.m. in Owen Gym. Come meet other dads, learn more about St. John's and the impact that the school has on your child, and hear about the fun activities coming up. Breakfast is free and delicious, and no donations will be requested!
GRANT HALLIBURTON FOUNDATION CONFERENCE
This educational conference for people who live or work with teens will address issues that impact young people's lives and what you can do to help. The schedule features four keynote speakers and three TED-style talks by leading mental health experts. It will be held Wednesday, September 12, 8:00 a.m. - 3:30 p.m. at the Plano Event Center.
FROM THE CLINIC

If your child needs an inhaler for asthma or an epinephrine for a severe allergy, please get these important medications to the clinic ASAP.  Medications need to be accompanied by an Administration of Medication Request form and a corresponding action plan (asthma/allergy) from your doctor's office. These medications and forms may be sent to school with your child, but please email Amy Johns so she may verify with the student that all forms and medications have been submitted to her office.
BIRTHDAY BLESSINGS, EUCHARIST + LUNCH MENU
The birthday blessing schedule is posted on ParentsWeb (School / Resources). We will celebrate Eucharist on Wednesdays beginning August 29. Dress uniforms (without sweaters/blazers until November) are required for Eucharist for first through eighth grades. You will also find the monthly lunch menu in ParentsWeb (School / Resources), as well as under the Current Families page of the website. See the August - September menu.
DIRECTORIES AND SCHOOL HANDBOOK
Each household receives one complimentary printed directory/ handbook. Most were distributed during last week's Meet the Teacher event. If you were unable to attend, please check your youngest child's backpack for your copy. Please note that the most up-to-date source of contact information is the directory on ParentsWeb. Find an online copy of the handbook Here.
CAMPUS SAFETY
We would like to remind parents to drive carefully through the St. John's campus and carpool line. Children must remain buckled during carpool until they are dropped off. Please be sure that all children are safely buckled before leaving campus.

OPENING IN CHILD DEVELOPMENT CENTER
The St. John's Child Development Center has a full-time opening for a three year old child. Licensed by the state, accredited by ISAS, and located in the church building, our CDC provides age-appropriate early childhood care for infants through four-year-olds. It offers a small staff-to-child ratio in a nurturing learning environment. $900 per month. For additional information, please contact Olga Cervantes.
FIND IT!
Here's a summary of where to go for information, as well as a list of the regular emails you'll receive from St. John's. To ensure email delivery, please add the following domains to your safe-senders list: stjohnsschool.org, noreply@stjohnsschool.org.myenotice.com, renweb.com, and constantcontact.com. If you use a work email address, you may need to ask your IT department to whitelist enotify servers, renweb.com and constantcontact.com. 


PARENTSWEB
ParentsWeb is our one-stop shop for school and classroom news. Add the free RenWeb Home app to your iOS or Android device and get into the habit of checking ParentsWeb daily -- in the same way you check your email. In the School section of ParentsWeb, you'll find the school's master calendar, birthday blessings calendar, lunch menu, resource documents, newsletter archive and more. In the Student section, you can find daily homework assignments, class schedules, grades, etc.
PARENT RESOURCES
Bookmark the Current Families page of our website, where we maintain a repository of information to help you manage school life. Find details about uniforms, carpool, lunch accounts, lunch menu, iPad resources and more.
WEEKLY NEWSLETTER
The weekly newsletter (what you're reading now) is emailed after 4:30 p.m. on the first school day of the week. You'll find standard links (see bottom), this week's features, student news when applicable, and the week's chapel plans.   

PARENT ORGANIZATION EMAILS
The Parents Association and Crusader Club send periodic emails with information specific to Book Fair, Carnival, Auction, the Golf Tournament and other activities sponsored by these two important organizations. 
HEAD'S NOTES
Mark Crotty's emails to the entire parent body are sent as Head's Notes. When you see those telltale words in the email subject line, you'll know it's from Mark.
BOARD BRIEFS
Similarly, messages from Board of Trustees President Mike Androvett arrive with an email subject line of "Board Brief."
PARENT ORGANIZATIONS
UNIFORM RESALE GRATITUDE
The first Parents Association event of the year, Uniform Resale, raised money for the Dorothy Patterson Scholarship Fund. A big thanks to dedicated co-chairs Lauren Garrity and Melissa Martin, as well as all of the volunteers and shoppers who helped make the sale a success in support of our school.
NEW ATHLETIC LOGO SHIRTS

The new athletic logo shirts have arrived. If you ordered one it will be delivered through kidmail tomorrow, August 28. Please check your child's backpack.
CARPOOL HELPERS NEEDED!
The Parents Association coordinates afternoon carpool helpers and is in need of additional volunteers, especially on Thursdays and Fridays. This is an easy volunteer opportunity that does not take up too much time. It's always fun to see the kiddos and a great way to meet other parents. You may sign up to help every week or only once a month. Every little bit helps! On Mondays, Tuesdays, Thursdays, and Fridays you will arrive at 2:50 p.m. and stay until about 3:45 p.m. (Wednesdays start at 2:20 p.m.) Please contact Dena Robinson for more information or visit the SignUpGenius.
BOX TOPS COLLECTION
The first Box Tops collection of the year will take place Wednesday, September 5. The class or advisory that collects the highest number of Box Tops this month will win a free dress day. Visit Box Tops for Education to become Box Top savvy and get tips on ways to boost your collections. Good Luck!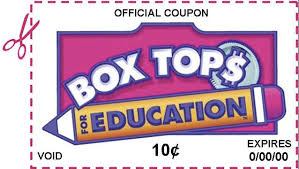 STUDENT NEWS
DUKE TIP GRAND RECOGNITION WINNER
Elle Chavis won Grand recognition in Duke TIP program last April for her performance on the ACT in the 7th Grade Talent Search program. Receiving Duke TIP Grand-level recognition as a seventh grader means that on at least one of the sub-tests, a student ranked in approximately the 90th percentile or better when compared to the national percentile rankings for high school juniors and seniors taking the ACT and SAT.
STUDENT FEATURED ON TECH BLOG
Kelsey Montgomery was interviewed as a Featured Maker by Tynker, a website specializing in coding and technology use in the classroom. In it, she discusses her love for computer science and the ways in which she uses coding projects to express her creativity. Read the full interview here.
SPORTS

SOCCER
Students trying out for soccer will need PE shorts, PE shirts, soccer cleats and shin guards. Tryouts will be held today, Tuesday, and Thursday of this week from 3:45 to 5:30 p.m. for fifth through eighth grade boys and girls. Beginning September 4, students may wear any shorts and T-shirt to practices.
VOLLEYBALL
Fifth through eighth grade girls will practice today and tomorrow from 3:45 to 5:30 p.m. Volleyball teams have been determined and the additional practice times for this week will be available tomorrow, August 28. 
FLAG FOOTBALL
Fifth and sixth grade boys will have practice today, Tuesday and Thursday of this week from 3:45 – 5:15 p.m. Students will need PE shorts, PE shirts and cleats. Receiver's gloves are optional. Beginning September 4, students may wear any shorts and T-shirt to practices.
Please see the practice/tryout times on the Athletic Calendar below: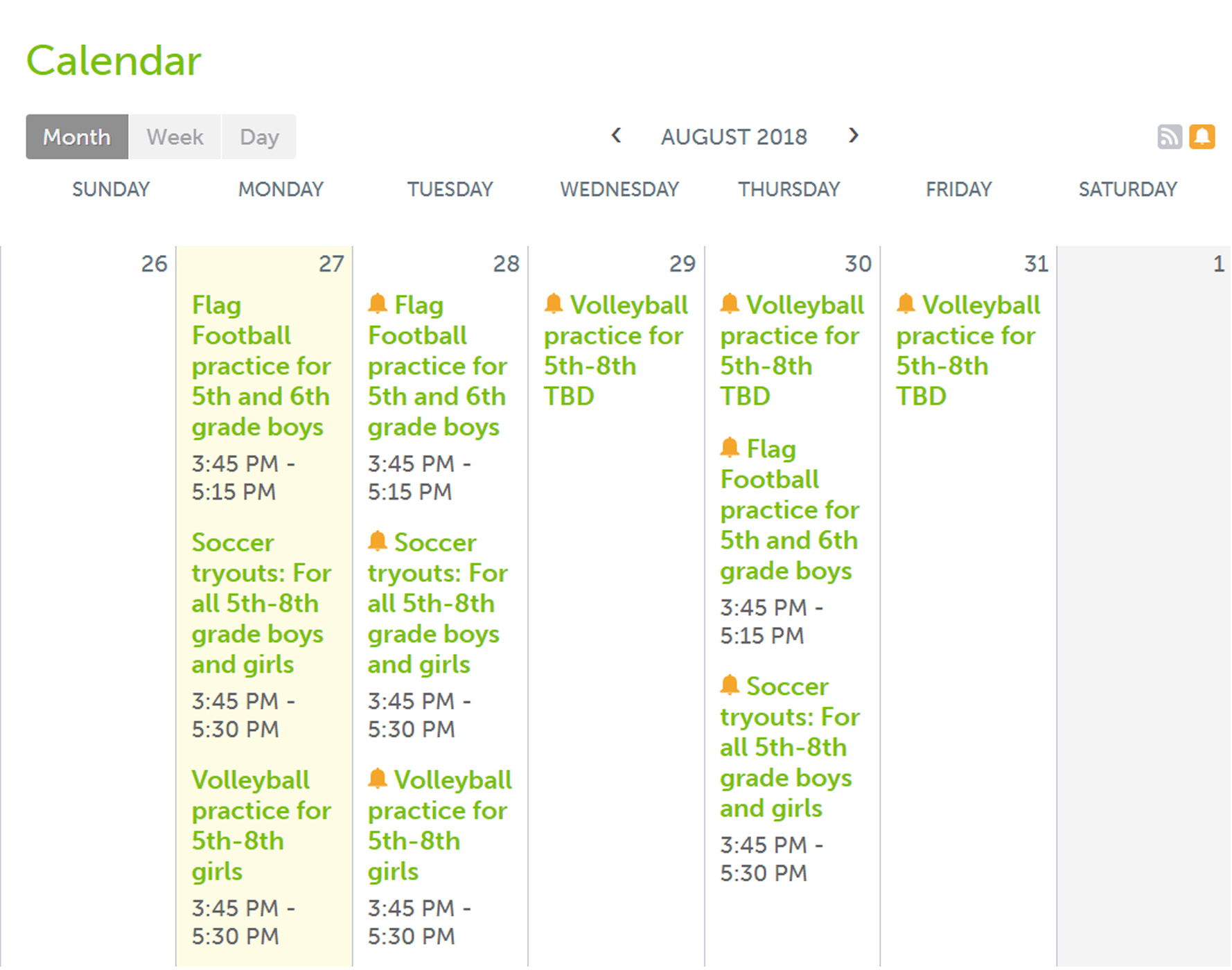 WELCOME BACK FROM ST. JOHN'S EPISCOPAL CHURCH
UGANDA
Many have asked about this summer's Ugandan mission. If a picture says a thousand words, this video says it all. If you are interested in a future mission, come to the Mission+Uganda presentation on Sunday, September 30, at 9:00 a.m. in the Parish Hall.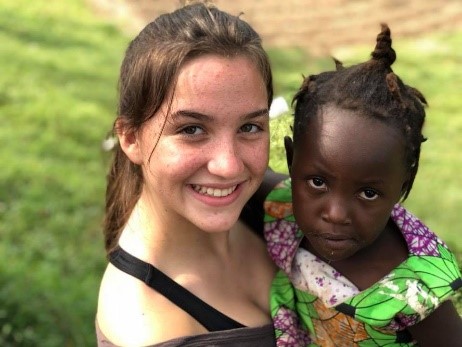 CHILDREN'S CHOIR
For kids kindergarten through sixth grade, the Jubilate choir resumes rehearsal on Sunday, September 16. A 2009 survey by Chorus America found that children involved in choirs were more likely to excel academically, display greater self-confidence, and exhibit more developed social skills than those not participating in music. Contact organist-choirmaster Benjamin Kolodziej for more information.
CONFIRMATION
Confirmation preparation is offered this year for kids sixth grade and above. Contact Fr. Andy Johnson to register.
LAUNCH
Our ministry preview takes place on Sunday, September 9, 9:00 a.m. in Parish Hall. Our fall program year takes off: small groups, adult and children's music programs, Sunday School, camping, and more. Come out to see what's happening.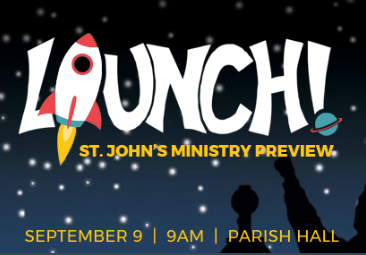 CHAPLAIN'S CORNER
Hooray! School is back! One of the things I love about St. John's is that students (teachers, too!) seem delighted and enthusiastic to return to school after summer vacation. It's not that school isn't hard sometimes – we all know it can be. Every student and teacher is a realist that way. And we know we're going to get stretched and pushed to do more than we've done before. But we still love to come back because we know St. John's is a good place that helps us become our best in the company of supportive friends and teachers.
Chapel is a part of that, and I love it. It's comfortable and routine, but it also challenges and gives scope for students to grow in leadership and in spirit. We start this week talking about worship – what it is, why we do it, how we do it, and what effect worship has on our lives. Our theme for Chapel this year is "Testify!": we'll hear stories and sings songs that testify to God's love through the ages. Each month there will be a hymn of the month, which we'll study in-depth and learn to sing well. Each month we will study a different saint, hearing how God has been faithful in all cultures and all places. And we will study the stories of the Judean Exile: Daniel, Esther, Nehemiah, and others whose experience of God have earned them the right to testify to His goodness. Their stories will inspire our own.
We're going to have a great time in chapel this year. Parents, as always, please feel free to come.  Of course it's good to be there for your student's birthday blessing, but feel free to come any other time, also.  You are a huge part of this school community and chapel is for you, too. Come and share our excitement!
Fr. Thorpe
St. John's Episcopal School is dedicated to a program of academic excellence designed to train
the mind, strengthen the character and enrich the spirit of each student in a Christian environment.
St. John's Episcopal School | 214-328-9131
stjohnsschool.org