WEEKLY NEWSLETTER                                                          MAY 20, 2019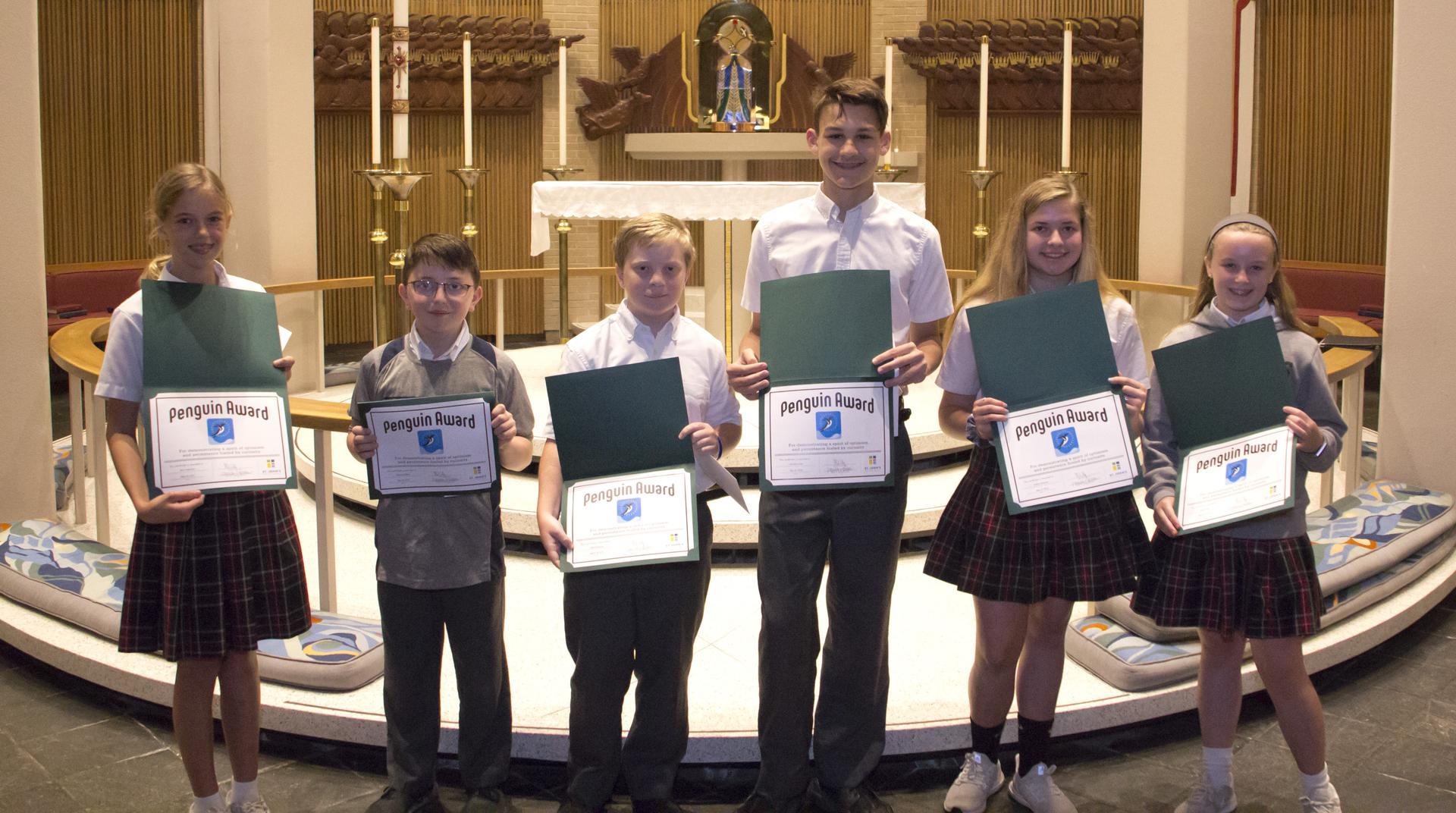 Congratulations to our Penguin Award winners for the final trimester of the school year!
AND THEY'RE OFF! 
For graduating eighth graders, Friday began with a fun prank focused on their next adventures; the day ended with the dedication of their class gift and a screening of their parent-created video. We bid Godspeed and congratulations to the Class of 2019. 
We are extremely proud of the 41 members of our graduating class. Our graduates embody a passion for learning and life and are well prepared to succeed in their high school careers. Collectively, our eighth graders received 90 acceptances from 11 excellent high schools, and they accepted offers at 9 of those schools. Members of the Class of 2019 will be attending:

Bishop Lynch High School
Booker T. Washington School for the Performing and Visual Arts
The Episcopal School of Dallas
Greenhill School
The Hockaday School
Jesuit College Preparatory School
Woodrow Wilson High School – The International Baccalaureate Program
Ursuline Academy of Dallas
Vines High School
EIGHTH GRADE GIFT OF GRATITUDE
As a part of their end-of-school activities, the St. John's eighth grade students presented the school with a donation of over $2,000 for the Class of 2019 Financial Aid Fund. We are grateful for the creation of this thoughtful gift to the St. John's community and its future students.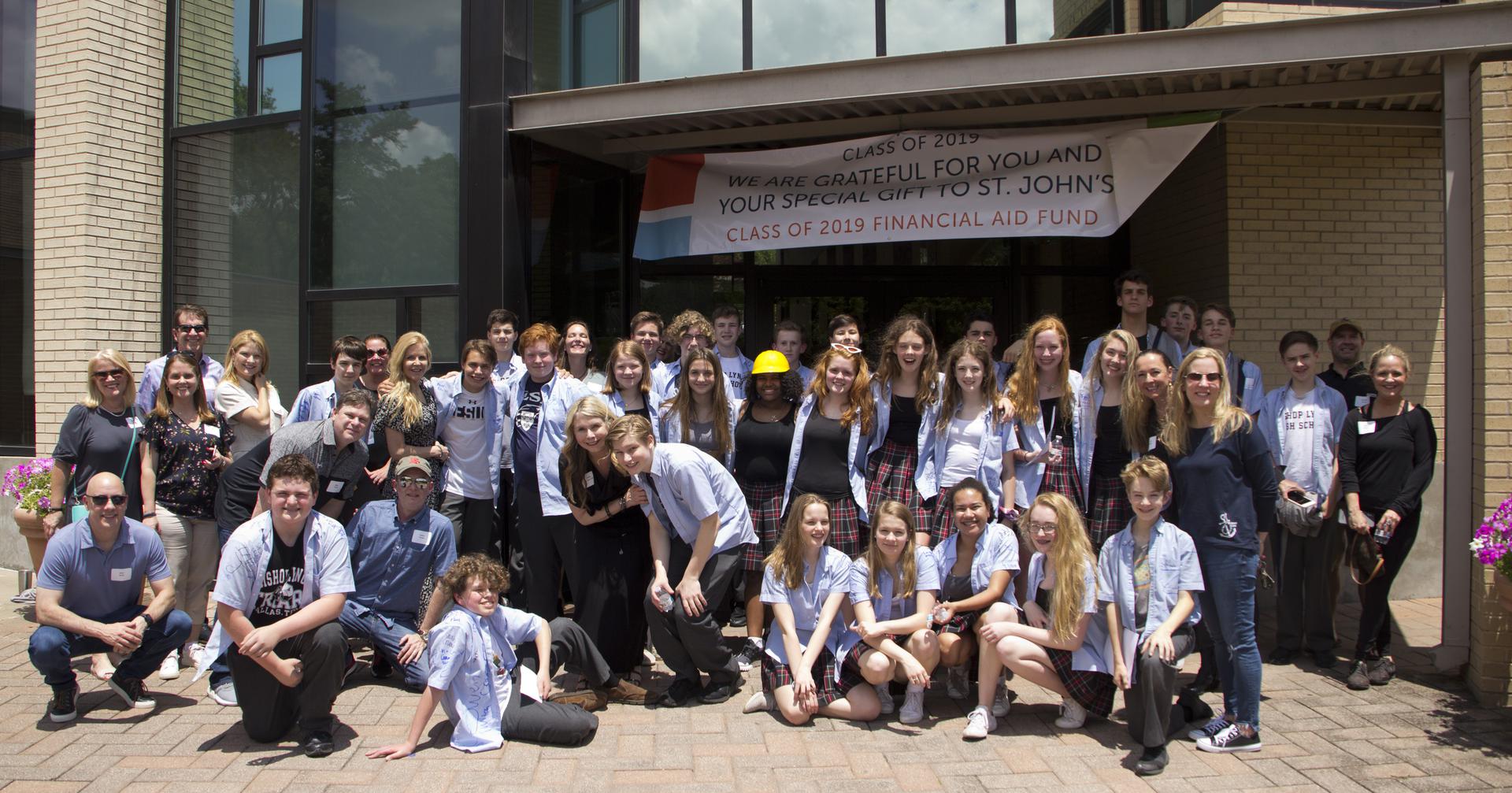 BACCALAUREATE
The Class of 2019, along with their parents, attended a special church service at the culmination of their time at St. John's. Students who began their St. John's career in kindergarten or earlier have attended more than 1,300 chapel services by the time they graduate. Baccalaureate brings the school and church together as one worshiping community, in appreciation of the school's mission. We offer thanks for the church for hosting this meaningful service.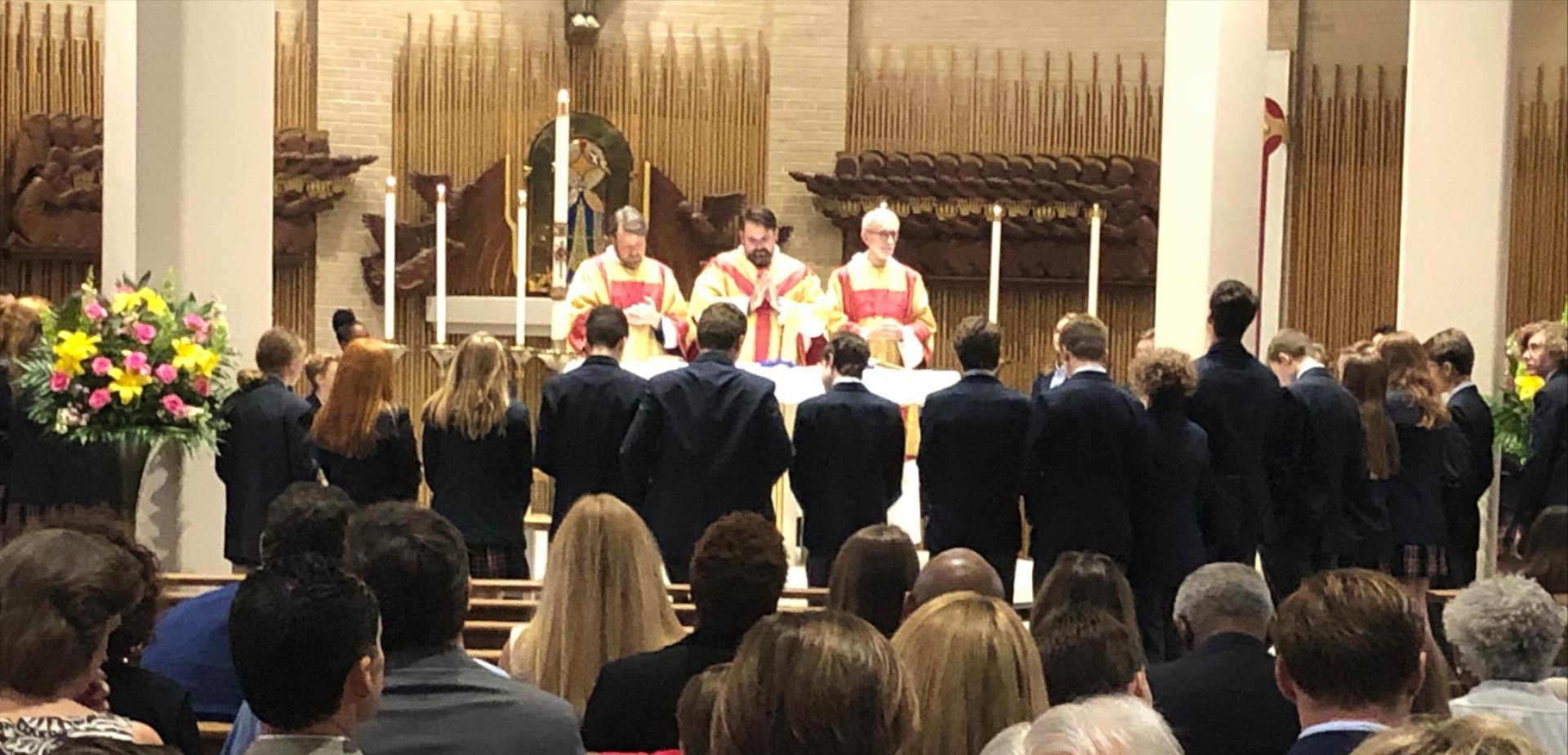 THIS WEEK'S NEWS AND EVENTS
BAKED GOODS NEEDED FOR GRADUATION
Calling all parent bakers! Help celebrate the Class of 2019 by providing cookies or bars for the graduation reception. Baked goods can be dropped off in morning or afternoon carpool tomorrow, May 21. Please remember that all items must be nut-free! Sign up now.
CARNIVAL VOLUNTEERS
Volunteers are needed for our Under the Big Top Carnival on the last day of school! Parent help is requested starting at 10 a.m. for set-up, through the end of our celebration at 3 p.m. Please choose a shift that works best for you, from rides to activities to manning the grill. Let's make the last day of school one to remember!
EIGHTH GRADE GRADUATION TOMORROW
The graduation ceremony for the Class of 2019 will take place tomorrow, May 21, at 7:00 p.m. in the church. Each student's family has received eight graduation invitations. Doors to the church will open at 6:00 p.m. A reception in Parish Hall will follow the ceremony.
STUDENT COUNCIL ELECTION
The representative elections for 2019-2020 Student Council are now complete. Representatives who have previously served on Student Council may choose to run for officer positions. These include president, vice-president, secretary, and treasurer. The officer election will take place tomorrow, May 21.
LAST DAY OF SCHOOL
The school year will conclude Friday, May 24, at regular grade level carpool times. There will be no ASP that afternoon or Homework Club. As a reminder, here are the regular dismissal times:
Pre-k 2 PM - 2:00 p.m.
Pre-k 3 PM - 3:00 p.m.
K through second - 3:00 p.m.
Third and fourth - 3:30 p.m.
Fifth through eighth - 3:45 p.m.
DENISE BROWN ART SHOW
Lower school art teacher Denise Brown's artwork is on display at the Craighead Green Gallery 2019 Annual Art Exhibition through June 14. The gallery is located at 1011 Dragon Street Dallas, TX 75207. See the website for more details.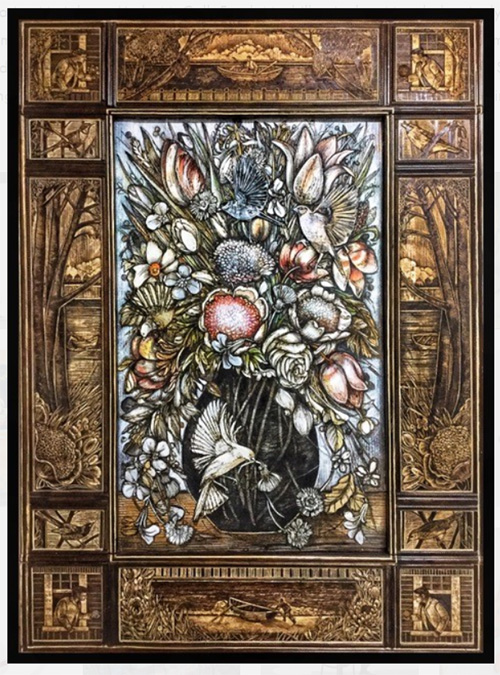 MASCOT UPDATE
Our mascot committee continues its work, reviewing a large and diverse number of mascot ideas submitted by members of the St. John's community. Thank you for your interest! Due to the large number of good ideas, the committee and school are taking a little extra time to complete its due diligence. The committee's top priority is to provide three strong mascot options that will generate engagement and excitement throughout our students, faculty, families and alumni. The committee appreciates everyone's participation and patience as they consider and prepare the top three finalists that best represent St. John's past, present, and future. An email will follow soon with dates and next steps as we work together in choosing a new mascot for St. John's.
MILLS UNIFORM SUMMER SALE COMING UP
The Mills Uniform Summer Sale will run from June 8 - June 22. Deals include 10% off everything / 25%+ and more off clearance items and $5 shipping on orders $100+ placed during the sale. Shop at millswear.com
TIP OF THE WEEK - How Much Is Too Much When It Comes to Sharing About Your Kids Online?
It seems only natural that we post pictures of our kids for our faraway relatives and friends, and social media makes it easy. But is it too easy? A 2010 study (and that's a long time ago, folks!)  found that 92% of toddlers in the United States had a digital footprint by the age of 2. We teach our children to think before they post and consider how other people might feel about the pictures they're sharing. So, is it wrong to post about our kids online? Though it might not be that simple, it's definitely worth weighing the pros and cons before you post.
ART OF GREEN
Art Integration Specialist Donna Knox facilitated an elective class for seventh and eighth graders, "The Art of Green." Students researched and studied the negative effect plastic has on the earth. During the trimester, they educated their classmates about the importance of ecologically-sound consumption, worked with the school to reduce the amount of trash it produced, and advocated for the adoption of environmentally-friendly packaging by the vendors who supplied the school. Their school-wide approach has won over teachers, administrators, and fellow students from every grade.
SERVICE LEARNING PRESENTATIONS
Last Monday, eighth grade students gave presentations describing the community service that they performed with non-profit organization around Dallas. By articulating what they have learned over the course of the year and outlining the importance of the organizations that they worked with, the soon-to-be graduates demonstrated both emotional intelligence and civic engagement.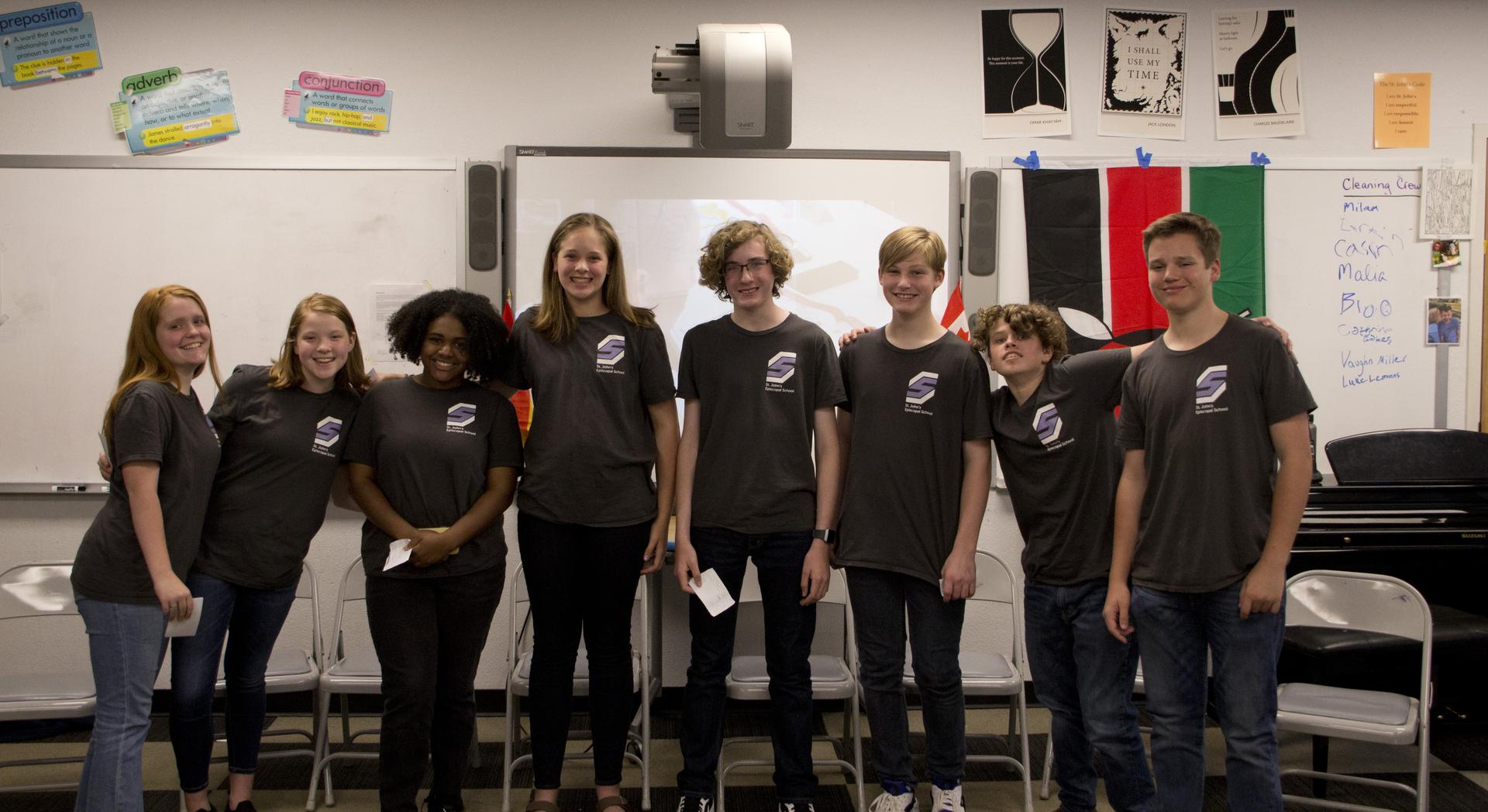 MODEL U.N.
Thirty-five Model UN members competed this weekend at the GEMUN event at Brookhaven College. They did an excellent job, presenting 35 resolutions and getting 31 passed. They all worked very hard throughout the year and it showed with how well they delivered and defended their resolutions. Will Moore was recognized in UNEP as an outstanding delegate. All these successes were made possible by the parents who volunteer to be sponsors.

CLASS OF 2015 REUNION
Last week, alumni from the Class of 2015 reunited to reminisce about their experiences at St. John's and to discuss plans for the future.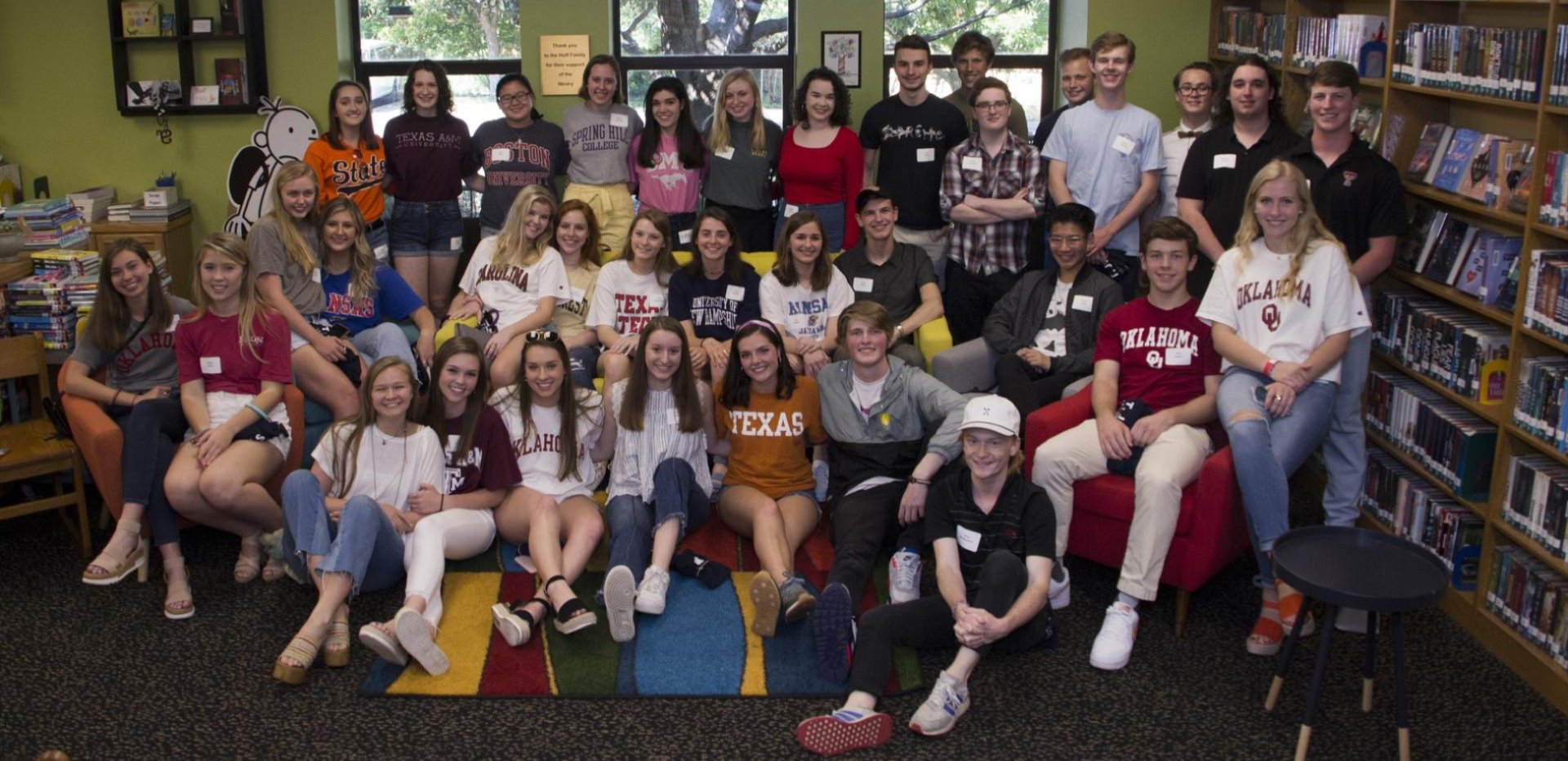 THANK YOU PARENT ORGANIZATIONS
We would like to extend special thanks to the PA and the Crusader Club for all of the hard work that they have put in this year. The dedication and sacrifice that you put into the auction, golf tournament, carnival (editions 1, 2, and 3) and other events this year filled the school with excitement and energy. We are so grateful for your time, generosity and tireless enthusiasm.
2019-20 PARENT VOLUNTEER REGISTRATION
The St. John's Parents Association organizes hundreds of volunteers and many wonderful community-building events throughout the year, touching virtually every part of the school. In addition, the Crusader Club gives dads a direct way to support the students and school. You are automatically a member of both organizations. To really share in the life of the school and enjoy one of St. John's greatest assets - its community spirit - we encourage you to sign up to volunteer during the upcoming school year. You should have received an email on May 16 (subject line "2019-2020 St. John's PA Volunteer Registration") containing your unique login information. If not, please contact Sarah Donahue.
ST. JOHN'S CHURCH VBS
From July 29 to August 2, blast off with the first VBS to land on the moon! Cokesbury's To Mars and Beyond helps children discover the wonders of God's universe. Children ages 4-10 become voyagers on a journey through space, exploring where God's power can take them. The adventure includes out-of-this-world fun, Bible stories that inspire, plus science experiments, awesome crafts, tasty snacks and stellar games. VBS runs from 9:00 a.m. to noon each day.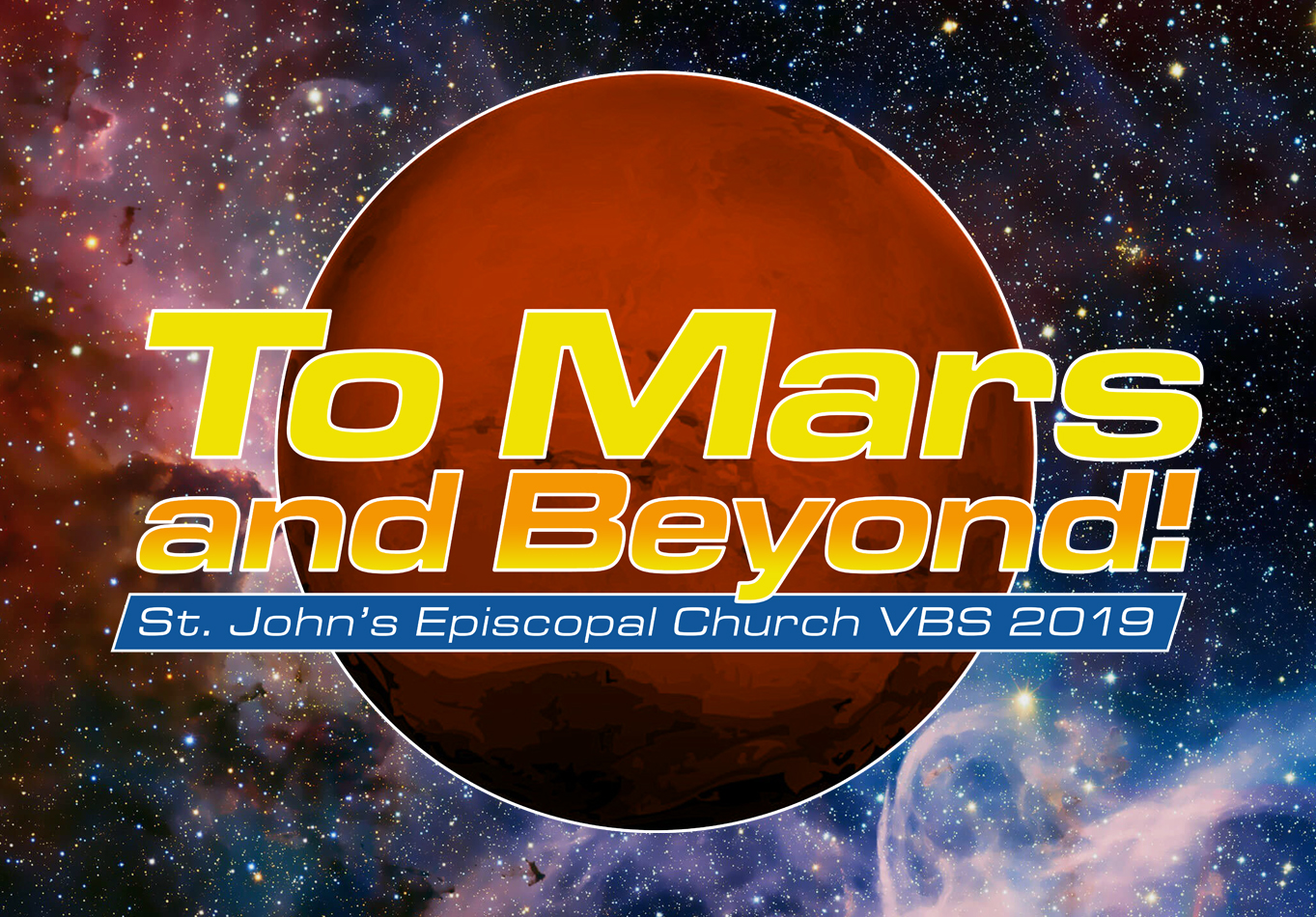 The registration fee is $20.00 per child, with a $50.00 family cap if you register before June 30, 2019. The fee increases to $30.00 per child, with a $65.00 family cap after June 30, 2019. If a parent/guardian volunteers, all fees are waived. Please fill out your registration form and mail or drop your check, made out to St. John's Episcopal Church, to the church office. For more information, please contact Jenee Echard.
We would like to give heartfelt thanks to Fr. Thorpe for all of the Chaplain's Corner features that he has written for us over the years. We wish him the best as he moves forward in his calling.
St. John's Episcopal School is dedicated to a program of academic excellence designed to train
the mind, strengthen the character and enrich the spirit of each student in a Christian environment.
St. John's Episcopal School | 214-328-9131
stjohnsschool.org