WEEKLY NEWSLETTER                                                          MAY 13, 2019

Eighth Grade students were physically and metaphorically brought into the sheepfold of St. John's.
THIS WEEK'S NEWS AND EVENTS
THANK YOU, CRUSADER CLUB
Special thanks to the Crusader Club for a very successful 18th annual golf tournament with the proceeds benefiting our students. Thank you to our wonderful sponsors, and to those who volunteered in the planning of the event. Special thanks to Byron Johnson, Sam Loughlin and Ben Eakes. We'd also like to thank the 110+ players who came out and supported the school. Congratulations to the tournament winners! First place gross: Zack Atkinson, Oliver Butler, Drew Mooney, Derek Prosser; First place net: Don Hill, Matt Ritter, Zach Rogers, Chris Whalen.
SERVICE LEARNING PRESENTATIONS TONIGHT
The Eighth Grade Class of 2019 invites you to attend the 9th annual Capstone Service Learning Project Presentations tonight, May 13, from 6:00-7:15 p.m. Presentations will begin with a video for our guests in Clements Hall Theatre at 6:00 p.m. After receiving a passing schedule, guests will proceed from Clements and rotate among Middle School classrooms where members of each team will present the highlights of their Service Learning experiences. Parents and guests who participate in the Service Learning Scavenger Hunt will be given the opportunity to enter their Service Learning Organization of choice into a drawing for two $200 donations from St. John's.
2019 LAST DAY CARNIVAL VOLUNTEERS
Volunteers are needed for our Under the Big Top Carnival on the last day of school! Parent help is requested starting at 10 a.m. for set-up, through the end of our celebration at 3 p.m. Please choose a shift that works best for you, from rides to activities to manning the grill. Let's make the last day of school one to remember!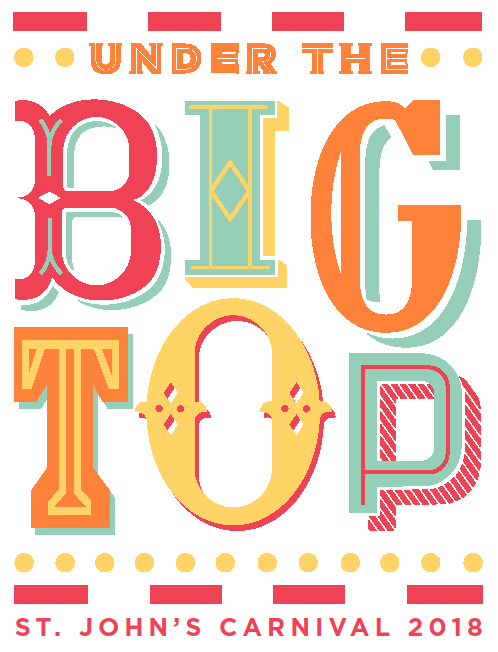 ST. JOHN'S FUND PARTICIPATION
Our St. John's Fund continues to grow thanks to our generous community. Congratulations to the 5th grade who reached 100% participation last week and earned a free dress day! All classes are at 90% participation or above. We're so close to reaching our goal of 100% participation in all grades. If you haven't had a chance to make your gift, please do so today. We are grateful to all of our families for supporting every student's education.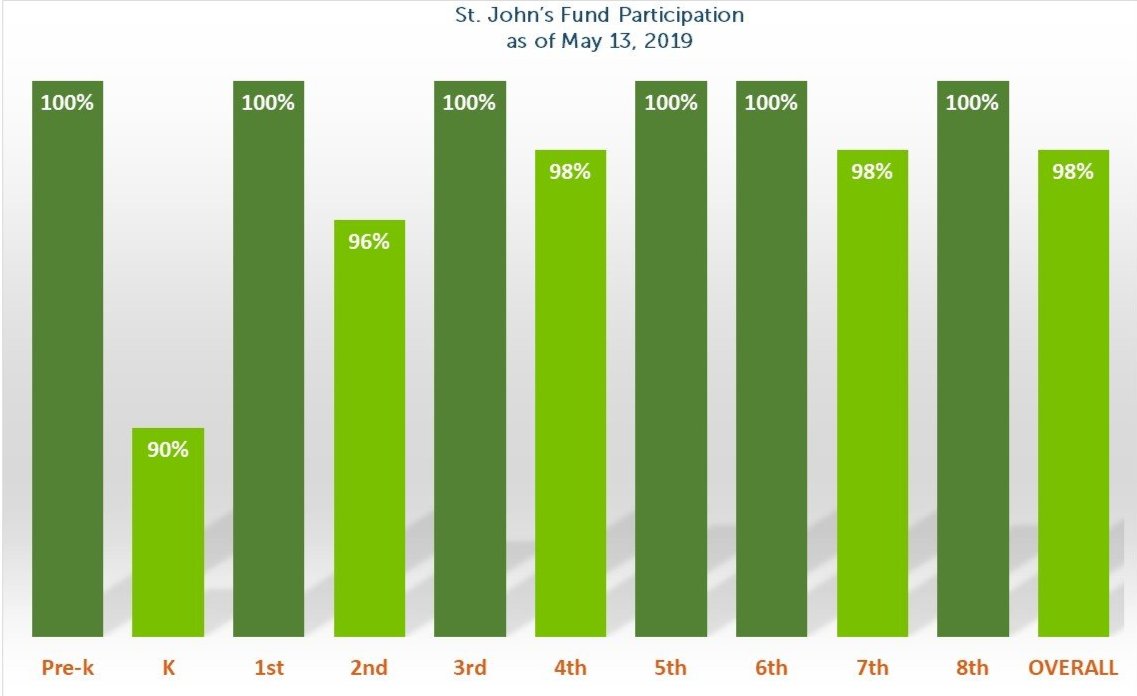 EIGHTH GRADE EXAMS
Tuesday, May 14 – Thursday, May 16. Please refer to the attached eighth grade May calendar for details, including early-dismissal times.
RECEPTION FOR MARK CROTTY, CINDY FIELDS & DORA STEELE
Please join us for a come-and-go reception honoring departing Head of School Mark Crotty and retiring employees Cindy Fields and Dora Steele Wednesday, May 15, 3:30 – 4:30 p.m. in Parish Hall. See the invitation and read their bios.
CLASS OF 2015 REUNION
Alumni from the class of 2015 are invited to a reunion on Wednesday, May 15, from 4:30 to 6:00 p.m. in the library. We look forward to seeing our alumni back at St. John's.
UPDATE CONTACT INFORMATION
Before we finish this school year, please take a moment to make sure your Family Information in your RenWeb account is up-to-date and accurate. The contact information will be used to send out the summer newsletter and for publishing a printed directory.

PICK UP MEDICATION FROM THE CLINIC
Student medications will be sent home with them on the last day of school, with the exception of controlled substances (ADD meds) which must be picked up by an adult. Medication cannot be stored over the summer for next year.
If your child has received shots recently or receives any immunizations over the summer, please send an updated shot record to Amy Johns. The school nurse will send email notifications mid-summer to parents of all students who have incomplete immunizations according to school records. In addition, be aware that all students entering the seventh grade will need their meningococcal immunization (MCV), second Varicella (chicken pox) and the diphtheria/tetanus booster (Tdap) before school starts. Make sure your rising seventh graders have received all of these shots before they return to school in August.
LIBRARY BOOKS DUE 
     -Lower School must return library books by Wednesday, May 15.
     -Middle School must return all books, including the 6th and 7th grade World History textbooks,
      by Friday, May 17.
     -The very last day to return library books is Friday, May 17.
TEACHER GIFTS
Many of you may be considering a year-end gift to your child's teacher. As you may know, due to potential conflicts of interest and issues of fairness and morale, St. John's employees are not permitted to accept gifts that are estimated to be worth in excess of $25. In the spirit of fairness, we ask that parents not pool resources to purchase a more expensive gift.
If you would like to recognize your child's teacher with a gift, please consider a donation to the Teacher Endowment Fund. Designed to provide ongoing funds to attract and retain the best faculty, the endowment supports the school's greatest asset -- our teachers. A gift to the fund shows your gratitude for the impact teachers have on our students' lives and continues a wonderful legacy of teaching. Your teacher will be notified by the school that a gift has been made in his or her honor.
TIP OF THE WEEK - ENDING BEDTIME MADNESS
In April, the World Health Organization (WHO) released guidelines around screen time. The WHO report is all about how we can address major problems related to sleep and physical activity deprivation in youth globally. WHO has come to the conclusion that in order to improve the overall health in all humans, physical activity and sleep are key, and that those habits and patterns are learned early in life ... and screen time is impacting these goals.
The struggle is real. At night, parents are tired and kids are wired. Getting kids and teens to bed is often a hard job, especially when you are trying to get them to turn off the screens. Dr. Delaney Ruston calls this Bedtime Madness— mainly referring to the mad feelings we have had as a parent when it comes to sleep time. In this Tech Talk Tip, she writes about four strategies you can use to try to put an end to bedtime madness.
BACCALAUREATE
We will celebrate a Baccalaureate service honoring the Class of 2019 Sunday, May 19, at 10:30 a.m. in the church. Hear from two graduating eighth graders as they reflect on their time at St. John's. All families are invited to attend the service.
BAKED GOODS NEEDED FOR GRADUATION
Calling all parent bakers! Help celebrate the Class of 2019 by providing cookies or bars for the graduation reception. Baked goods can be dropped off in morning or afternoon carpool on Tuesday, May 21. Please remember that all items must be nut-free! Sign up now.
GRADUATION
The graduation ceremony for the Class of 2019 will take place Tuesday, May 21, at 7:00 p.m. in the church. Each student's family has received seven graduation invitations. Doors to the church will open at 6:00 p.m. A reception in Parish Hall will follow the ceremony.
LAST DAY OF SCHOOL
The school year will conclude Friday, May 24, at regular grade level carpool times. There will be no ASP that afternoon or Homework Club.
NJHS INDUCTION
Twenty-eight students were inducted into the St. John's chapter of the National Junior Honor Society last week. Coordinated by Thor Herrin and Eric Telzrow this year, NJHS recognizes outstanding seventh and eighth grade students. More than just an honor roll, NJHS acknowledges students who have demonstrated excellence in the areas of scholarship, service, leadership, character and citizenship, and who successfully navigate the application process. Congratulations to seventh graders Sawyer Beck, Claire Blacker, Theo Carley, Wil Carroll, Ella Darlak, Mary Kate Dillon, Hayden Elliott, Susie Fagelman, Charity Foreman, Caitlin Gillespie, Meg Gilmore, Grayson James, Drew Lamberson, Eva Lickteig, Elliot McEachern, Hunter Perez, Aaron Reeves, Caden Robert, Charlotte Robinson, Isabelle Sethi, Lauren Sharpe, Owen Shiels, Avery Sims, Serena Trupiano, Claire Weber, Hazel Wells and Georgia Williamson, along with eighth grader Lauren McPhaul.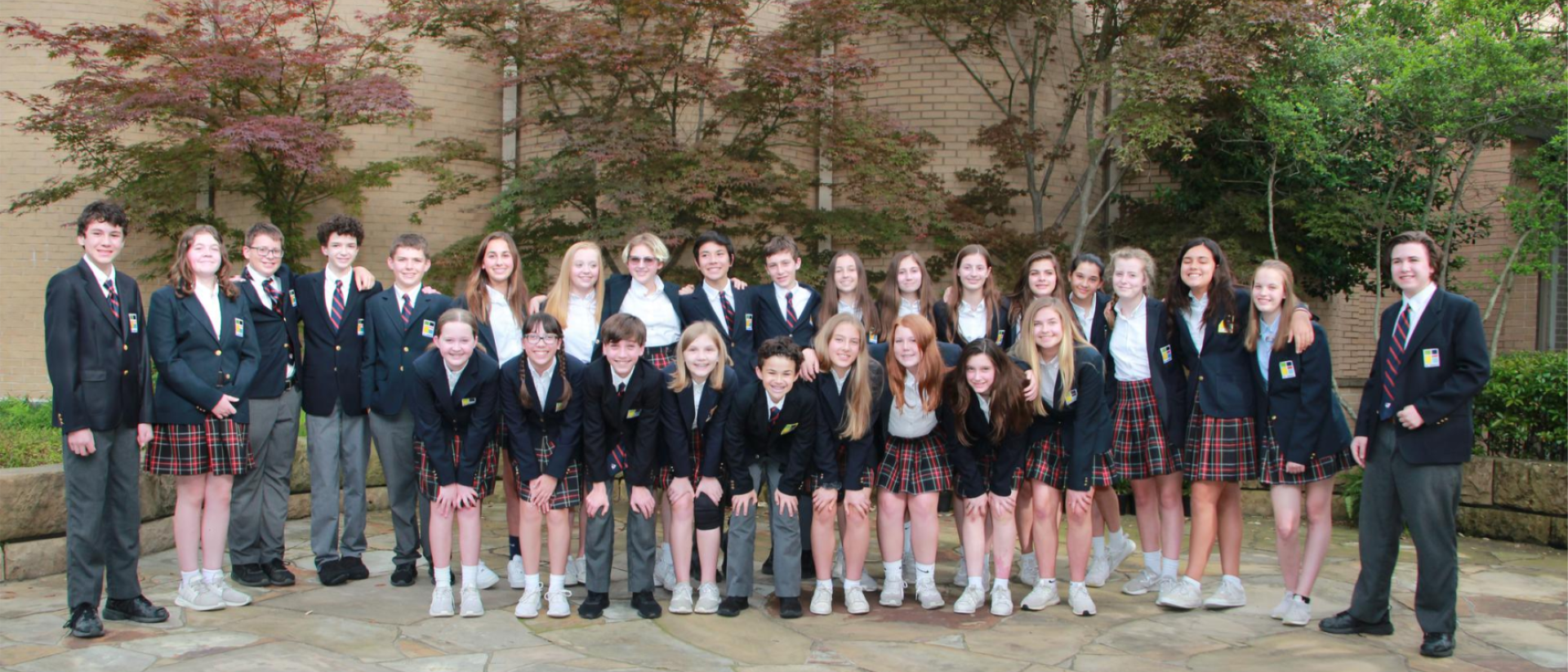 STUDENT COUNCIL ELECTION
The representative elections for 2019-2020 Student Council are now complete. Representatives who have previously served on Student Council may choose to run for officer positions. These include president, vice-president, secretary, and treasurer. The officer election will take place on Tuesday, May 21.
SECOND GRADE POETRY
This week, students in each second grade class held a music and poetry recital. The students performed large-group, small-group, and individual renditions of songs, haikus, couplets, and diamante poems.

FIRST AND THIRD GRADE FOLK DANCING
First and third grade students demonstrated their folk dancing skills to their parents last Wednesday, including reels, polka, and contradance styles. Thank you to all parents who came out to support our performers, and special thanks to all who joined in on the dancing themselves! Thanks also to coaches Darnell and Nevitt for their assistance with practice times and for the use of their gym.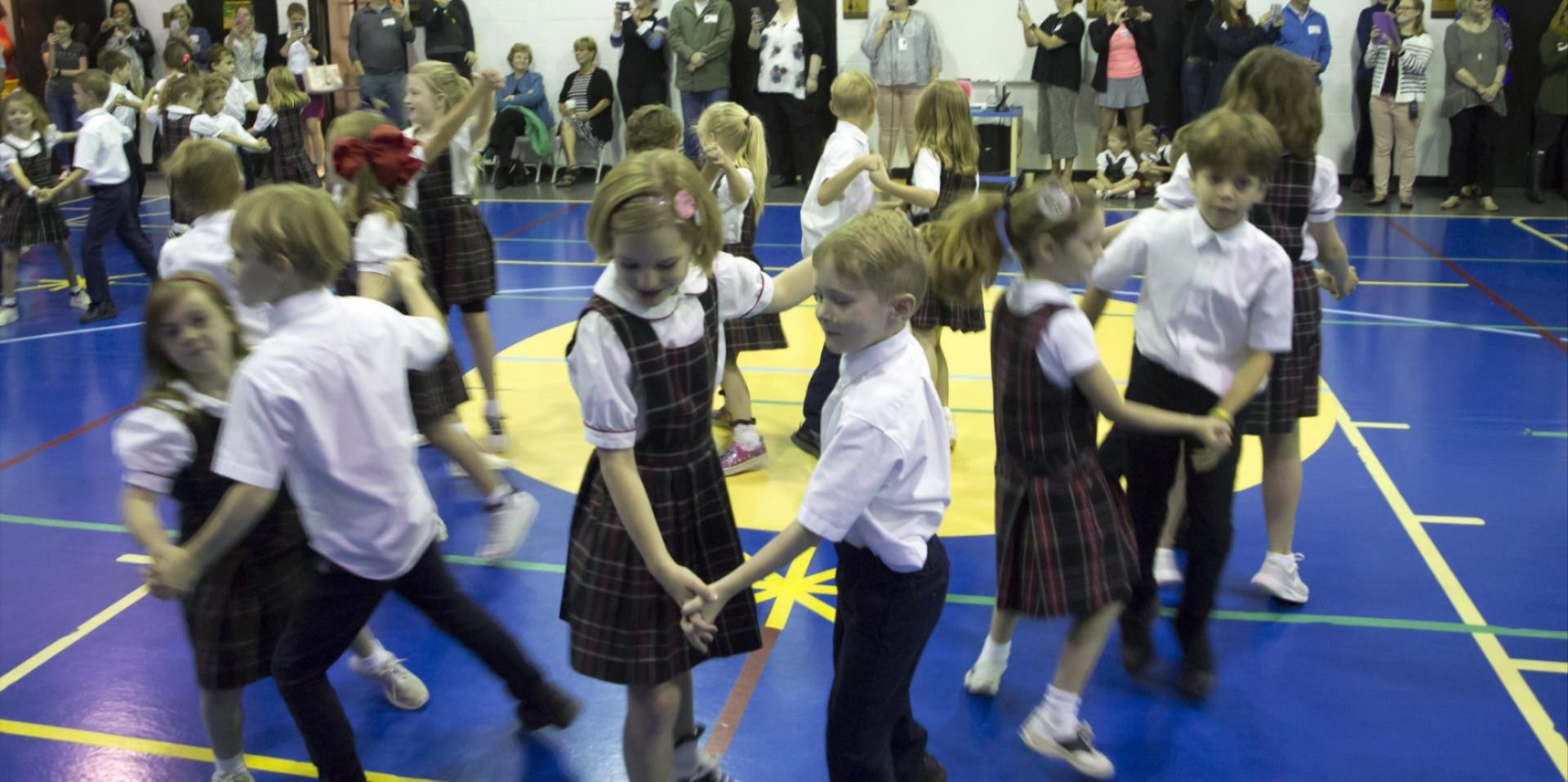 BOX TOP WINNERS
Mr. Laffiteau's 6th grade class wins the final collection tally for the year with 179 Box Tops, earning a free dress day! The May runner-up was Mrs. Crouse's 4th grade class with 66, who also wins the overall collection for the 2018-19 school year with an astounding 1,780 Box Tops. Mrs. Potter's 7th grade class is also awarded a free dress day as the Spring Trimester Winner with 1,000 Box Tops. Over the course of this year, we have raised over $850 for the school through Box Tops. Congratulations to all of this year's winners - and don't forget to build up your collections over the summer!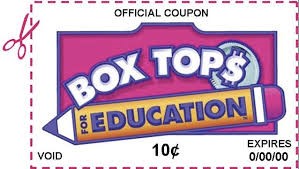 TRACK
On April 23, seventh and eighth grade students participated in the IAA Track Meet held at Parish Episcopal. The following athletes were awarded medals: Alyssa Anderson, Sawyer Beck, Salese Blow, Riley Breedlove, Wil Carroll, Susie Fagelman, Caitlin Gillespie, Jasmine Ikemba, Ian Johnston, Drew Lamberson, Ellie Sarpong, John Paul Savant, Owen Shiels and Emmy Zajicek.
On May 6, fifth and sixth grade students participated in the MAL Track Meet held at Hockaday. The following athletes were awarded medals/ribbons: Persia Brown, Caroline Ellis, Mary Isabel Hall, Jordan Malone, Kendall Perry, Wren Stephens, Paige Taylor and Kihanna Woods.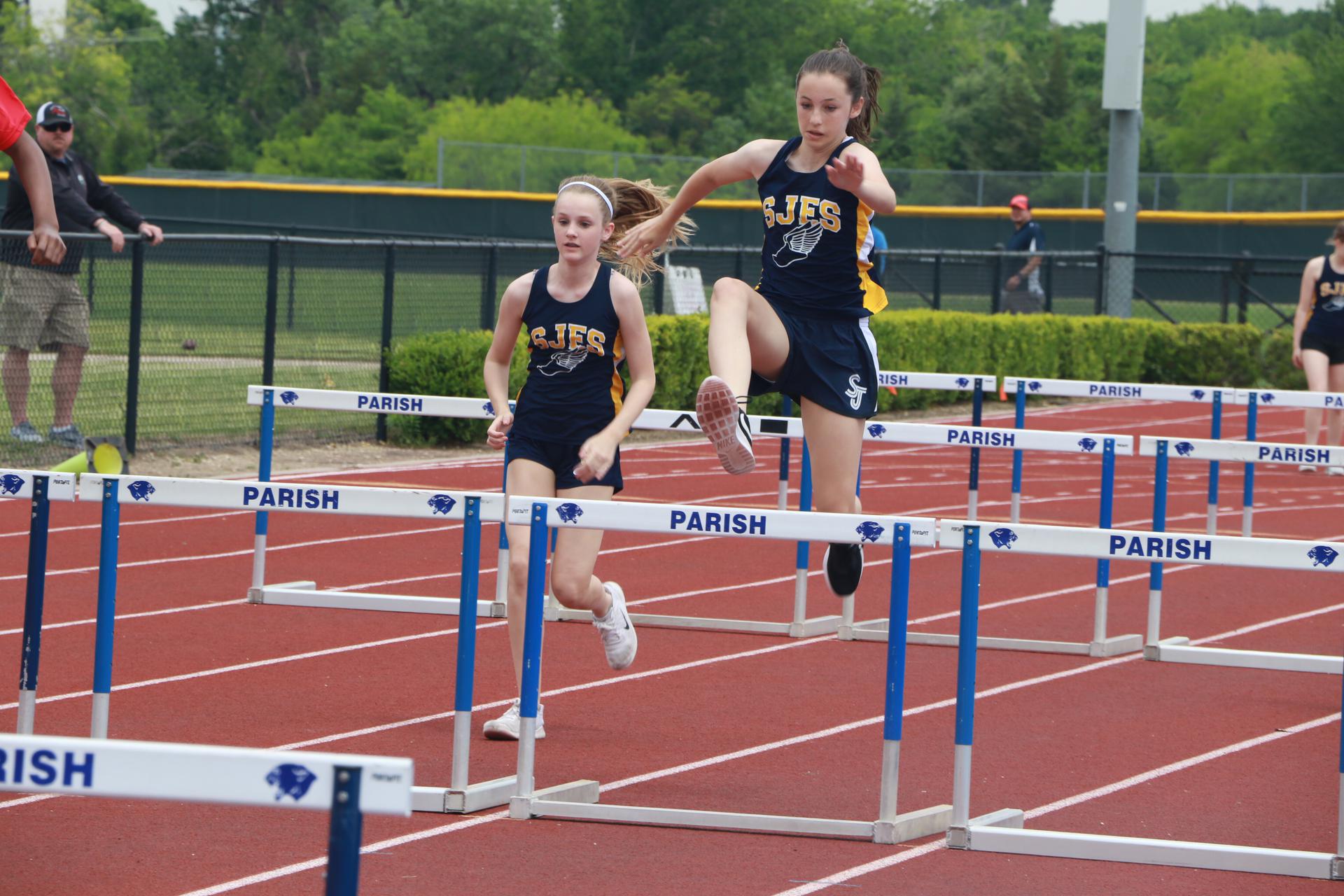 ST. JOHN'S CHURCH VBS
From July 29 to August 2, blast off with the first VBS to land on the moon! Cokesbury's To Mars and Beyond helps children discover the wonders of God's universe. Children ages 4-10 become voyagers on a journey through space, exploring where God's power can take them. The adventure includes out-of-this-world fun, Bible stories that inspire, plus science experiments, awesome crafts, tasty snacks and stellar games. VBS runs from 9:00 a.m. to noon each day.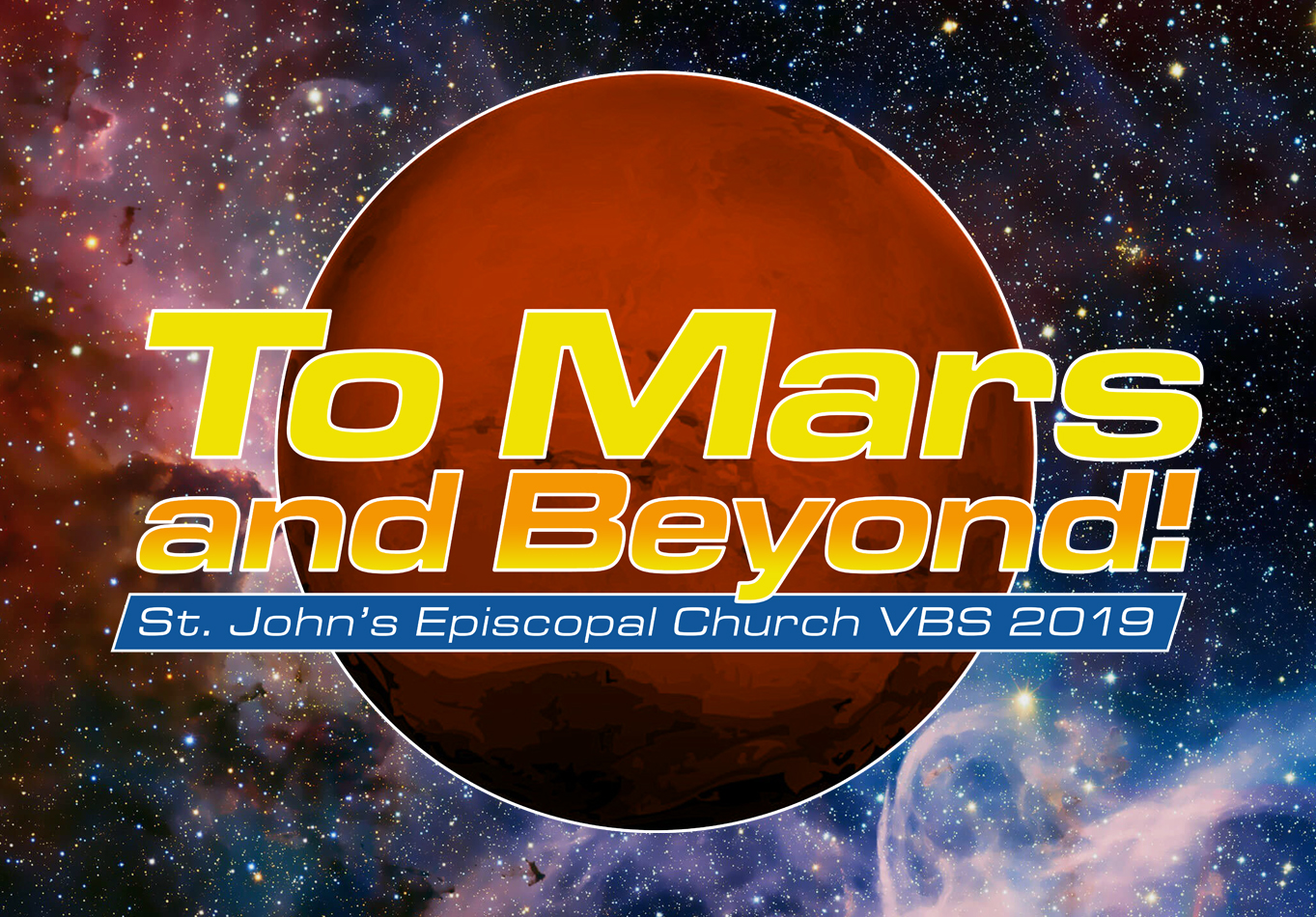 The registration fee is $20.00 per child, with a $50.00 family cap if you register before June 30, 2019. The fee increases to $30.00 per child, with a $65.00 family cap after June 30, 2019. If a parent/guardian volunteers, all fees are waived. Please fill out your registration form and mail or drop your check, made out to St. John's Episcopal Church, to the church office. For more information, please contact Jenee Echard.
Thirteen Hundred is a significant number. 1300 lbs. is about how much a prize steer weighs. Scoring a 1300 on the SAT puts you better than 88% of college-bound freshmen. 1300 is about the number of active artificial satellites orbiting the earth, and about the number of earths that can fit inside the planet Jupiter. 1300 miles is the distance between Dallas and Trenton, NJ (as the crow flies). And 1300 is about the number of chapel services that a St. John's student will attend if she comes in Pre-k and continues through eighth grade. That's the equivalent of more than 30 years of every-Sunday church attendance.
And this week the class of 2019 will complete their time at St. John's. We celebrate this in chapel through the Sheepfold Ceremony, which has been the beginning of our traditional good-bye to the eighth grade students since it was first begun by faculty member Trigger Butler in 1999. We will also sum up our hymns and saints of the month this week, bringing to an end (almost) the themes that we've talked about throughout this year. And on Friday, our head acolytes will hand over their duties to a new pair of faithful students to continue the tradition of chapel worship for future years.
In Early Childhood Chapel, we will hear stories of St. Paul, as he follows the risen Jesus into adventure after adventure. And we'll find that Jesus will be with us, too, through all our life's adventures.
St. John's Episcopal School is dedicated to a program of academic excellence designed to train
the mind, strengthen the character and enrich the spirit of each student in a Christian environment.
St. John's Episcopal School | 214-328-9131
stjohnsschool.org