WEEKLY NEWSLETTER                                                          MAY 6, 2019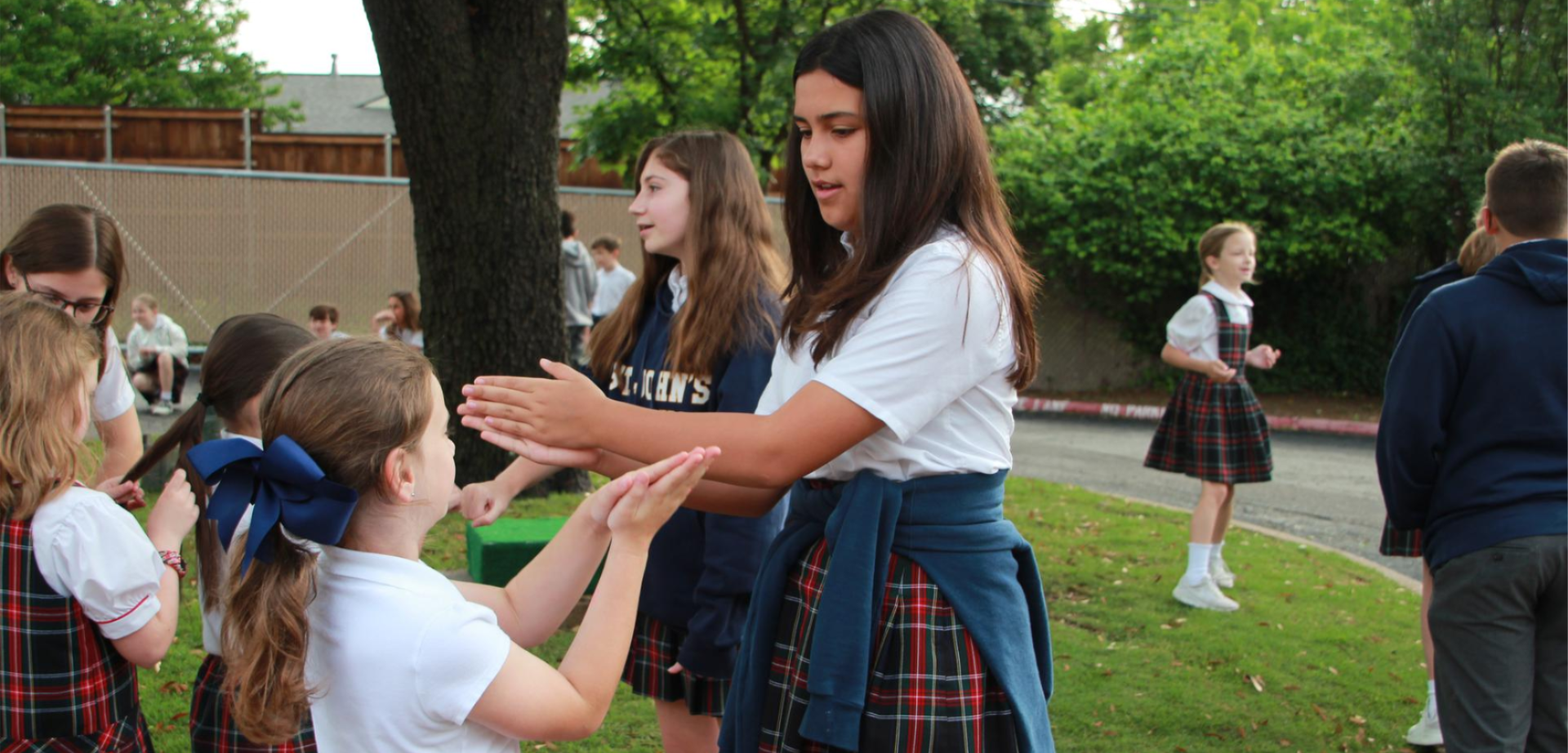 Students enjoy the last buddy day of the year.
THIS WEEK'S NEWS AND EVENTS
FACULTY APPRECIATION LUNCHEON
The St. John's faculty were treated to an exceptional luncheon last week, compliments of the Parents Association. This year's theme was EPIC ERAS. The event included elaborate table décor, delicious lunches, generous prizes, and fun for all in attendance.
Special thanks go to event chairs Erin Carter, Stephanie Howells and Amy Laczkowski; to the family donors, table hosts, and the team of volunteers who helped serve lunch and class-sit during the luncheon. The event is highly anticipated each year, and the teachers feel very appreciated. Planning is already underway for next year's event. The theme will be Game On, and anyone who is interested in serving as a table host or in another capacity may contact event co-chairs Joanna Brown and Becky Clarke.
MIDDLE SCHOOL LOST AND FOUND
Please encourage your Middle School children to visit the four tables of lost-and-found items outside Mrs. Jordan's office. All items remaining at the end of the week will be donated to Uniform Resale and White Rock Center of Hope.
NJHS INDUCTION
Qualifying seventh- and eighth-grade students will be inducted into the National Junior Honor Society today, May 6 at 6:30 p.m. The ceremony will take place in the Parish Hall, followed by a reception.
POETRY AND FOLK DANCE FESTIVAL
First- through third-grade parents are invited to enjoy a folk dance showcase. Second-grade classes will each perform on Tuesday, May 7 in Clements Hall. First- and third-grade classes will perform by grade level on Wednesday, May 8 In the LS Owens Gym. The schedule is as follows: 
Tuesday, May 7, Clements Hall
-- Second grade - Lisle: 8:15 a.m.
-- Second Grade - Fuqua: 12:45 p.m. 
-- Second Grade - May: 2:00 p.m.

Wednesday, May 8, LS Owens Gym
-- Combined first-grade classes: 9:15 a.m.
-- Combined third-grade classes: 9:45 a.m.


Also, on Wednesday, May 22, fourth-grade classes will present a ballad, dedicated to their beloved retiring teacher Mrs. Fields, during their Rite of Passage in the chapel at 1:30 p.m.
RISING FIFTH GRADE COFFEE AND Q&A
We invite rising fifth grade parents to join us tomorrow, May 7, at 9:15 a.m. in the library to learn about the transition to Middle School and the ways in which fifth grade fits into the four-year Middle School experience.
NEW PARENT SOCIAL
St. John's will welcome parents whose children will be new students next year. The event will take place Wednesday, May 8 5:30 - 7:30 p.m. at The LOT.
CRUSADER CLUB GOLF CLASSIC
Register today for the 18th annual golf tournament Friday, May 10. Please note that the location has changed to The Golf Club of Dallas. Plan to spend a morning on the links with friends in support of St. John's. Registration and breakfast will be from 8:30 to 10:00 a.m., and the tournament will commence with a shotgun start at 10:00 a.m. Prizes will be awarded to the first, second and third place net team and first place gross team; longest drive; and closest to the pin. 
"LOVE SJES" SOCIAL
Please join us on Friday, May 10, from 9:00 to 1:00 p.m. for the final St. John's social of the year, LOVE SJES. All guests will enjoy two hours of fun tennis play, beginning at 9:00 a.m., followed by lunch at Lakewood Country Club. All proceeds from the ticket sales benefit St. John's. Join us for a fun afternoon! This social event is graciously hosted by: Kristi Bare, Lauren Christensen, Becky Clarke, Melissa Eakes, Stephanie Howells, Kerri Johnson, Amy Laczkowski, Claudia McGee, Aimee McMillan, Allison Methvin, Nicole Motley, Lane Olson, Mae Reeves, Kathy Row and Blair Whittneben. Spaces are limited, so sign up today.
MAY BIRTHDAY BLESSINGS + LUNCH MENU
The birthday blessing schedule is posted on ParentsWeb (School / Resources). You will also find the monthly lunch menu in ParentsWeb (School / Resources), as well as under the Current Families page of the website. See the May menu.
TIP OF THE WEEK - Earth Day Is Over, but Media Can Help Kids Explore Their Environment Every Day

It's great to help kids connect to the natural world around them. And while it may seem strange to use media to encourage your kid's love of planet Earth, there's actually some great stuff online that can serve as a gateway to nature, whether you have a forest in your backyard or a park with a patch of grass down the street.
EIGHTH GRADE SHEEPFOLD
We will recognize our eighth graders with a special chapel ceremony on Monday, May 13 at 8:00 a.m. in the chapel. Parents are welcome to attend.
EIGHTH GRADE EXAMS
Tuesday, May 14 – Thursday, May 16. Please refer to the attached eighth grade May calendar for details, including early-dismissal times.
SERVICE LEARNING PROJECT PRESENTATIONS
The Eighth Grade Class of 2019 invites you to attend the 9th annual Capstone Service Learning Project Presentations on Monday, May 13, from 6:00-7:15 p.m. Presentations will begin with a video for our guests in Clements Hall Theatre at 6:00 p.m. After receiving a passing schedule, guests will proceed from Clements, and rotate among Middle School classrooms where members of each team will present the highlights of their Service Learning experiences. Parents and guests who participate in the Service Learning Scavenger Hunt will be given the opportunity to enter their Service Learning Organization of choice into a drawing for two $200 donations from St. John's.
INVITATION TO RECEPTION FOR MARK CROTTY, CINDY FIELDS & DORA STEELE
Please join us for a come-and-go reception honoring departing Head of School Mark Crotty and retiring employees Cindy Fields and Dora Steele Wednesday, May 15, 3:30 – 4:30 p.m. in Parish Hall. See the invitation and read their bios.
CLASS OF 2015 REUNION
Alumni from the class of 2015 are invited to a reunion on Wednesday, May 15, from 4:30 to 6:00 p.m. Come by to reminisce and catch up on your classmates' plans for the future!
MASCOT SELECTION UPDATE
The selection committee is currently deliberating the mascot submissions. Next week an announcement will be made with the 3 finalists.
COMMUNITY SERVICE AWARDS
The National Charity League presented eighth-grade student Emmy Zajicek with the Hourglass Award, which is given to students who volunteer 100 or more hours in the community. She worked the second highest number of hours in the Mockingbird Chapter. Her sister, Annie, an alumna from the class of 2016, contributed 176 philanthropy service hours, for which she received the Merci Award. Annie also received the 2018-2019 Modelette Award, which is awarded to the member "who best demonstrates the core values of NCL and a passion for serving both the community and the Chapter."
DUKE TIP
The Duke University Talent Identification Program (Duke TIP) identifies high-ability students and invites them to take college entrance exams during seventh grade. Earlier this year, 23 seventh graders qualified to take the ACT or SAT as part of Duke TIP. Of those, 15 students participated by the deadline, and the following seven students received recognition based on their test scores: 
State Recognition: Alyssa Anderson, Wil Carroll, Hayden Elliott, Drew Lamberson, Hunter Perez, Charlotte Robinson, Claire Weber
Grand Recognition: Charlotte Robinson
SPAMALOTThe seventh-grade musical, Monty Python's Spamalot Young@Part®, played to sold-out crowds. Congratulations to the cast and crew for a successful, absurd and hilarious show. Under the expert direction of Tom Parr, music direction of Jean Haynes and set design of Donna Knox, Clements Hall was transformed into England during the Middle Ages. Many thanks to the special parents and volunteers who brought snacks, decorated the lobby, designed and donated the playbill, coordinated, supported and attended!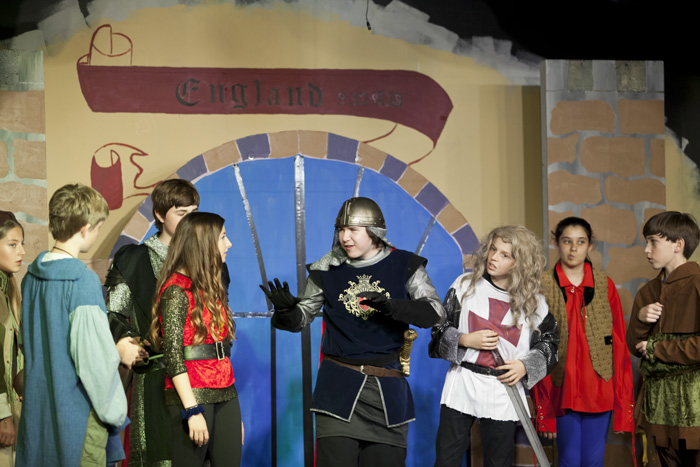 ST. JOHN'S CHURCH VBS
From July 29 to August 2, blast off with the first VBS to land on the moon! Cokesbury's To Mars and Beyond helps children discover the wonders of God's universe. Children ages 4-10 become voyagers on a journey through space, exploring where God's power can take them. The adventure includes out-of-this-world fun, Bible stories that inspire, plus science experiments, awesome crafts, tasty snacks and stellar games. VBS runs from 9:00 a.m. to noon each day.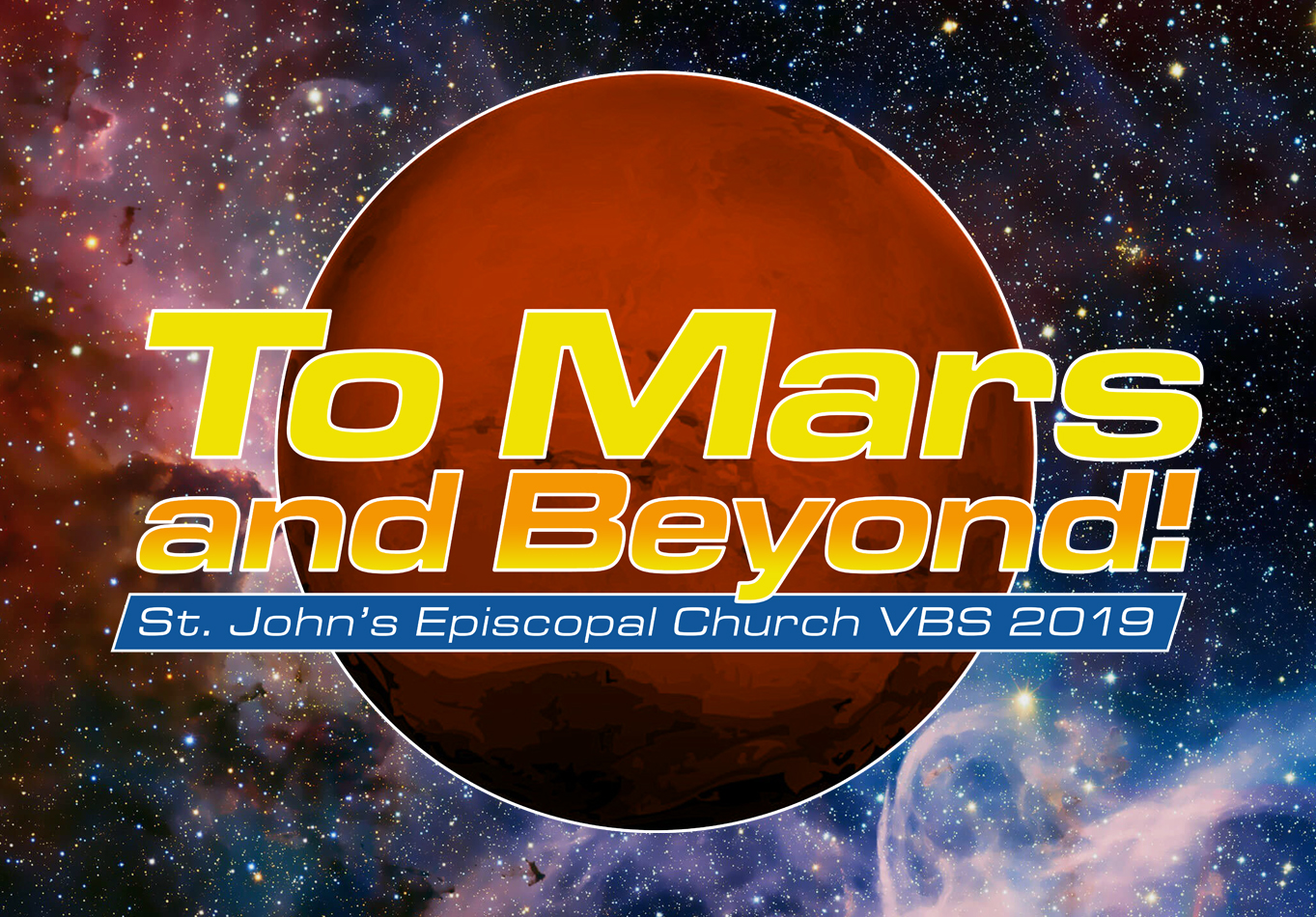 The registration fee is $20.00 per child, with a $50.00 family cap if you register before June 30, 2019. The fee increases to $30.00 per child, with a $65.00 family cap after June 30, 2019. If a parent/guardian volunteers, all fees are waived. Please fill out your registration form and mail or drop your check, made out to St. John's Episcopal Church, to the church office. For more information, please contact Jenee Echard.
Why do we give of our precious time and effort to serve others? It's not as easy a question to answer as you might think. From an anthropological viewpoint, humans are social animals: cooperation among early humans was probably instinctual and mutually beneficial for survival. We still help others because we expect them also to help us in some way. Throughout history, the impulse to look after our own interests and our loved ones has motivated much social progress -- and sometimes also social failure. In religion, social service can sometimes be motivated by promises of divine blessing or eternal reward.
But in chapel this week, we see an entirely different motive for serving others. The risen Jesus, himself now far beyond any concern for worldly gain or loss, sits down with his disciples and serves them breakfast. They can offer him nothing, nor can he be hurt; but he serves because he loves. God's nature is to love, even at his own expense, and Jesus enacts this divine humility by the Sea of Galilee. St. Paul also exhorts the early Christians to use the freedom Christ won for them, not for selfish ends, but "by love to serve one another." In the same way, at St. John's we serve others in order to imitate and express the servant-love of God. Service is a way to "Testify!"
This week in chapel, the rest of our Service Learning groups will present their projects to the student body. Each group embodies in itself the command "by love to serve one another," just as Jesus did. In Early Childhood Chapel, this week we see how the risen Jesus led Peter and Paul on exciting adventures so that they could tell others about God's love and serve them.
St. John's Episcopal School is dedicated to a program of academic excellence designed to train
the mind, strengthen the character and enrich the spirit of each student in a Christian environment.
St. John's Episcopal School | 214-328-9131
stjohnsschool.org