WEEKLY NEWSLETTER                                                          APRIL 29, 2019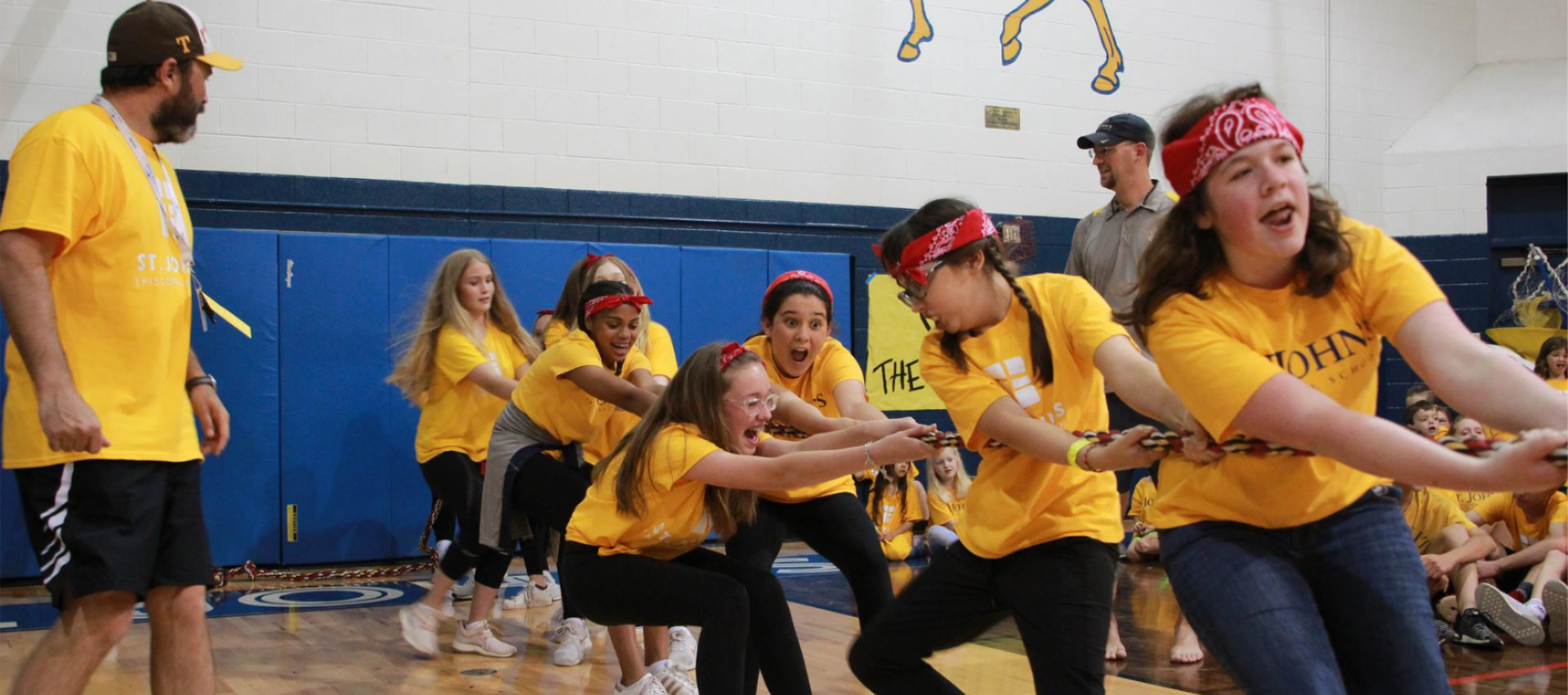 The seventh grade girls on the Gold Team compete in the Tug O' War.
THIS WEEK'S NEWS AND EVENTS
GAMES DAY THANK YOU
Thank you to all who volunteered to help at Games Day! In particular, we appreciate the efforts of the fabulous PA Games Day Chairs Julie Atwell and Shea Davis, Monica Keene for her setup support, the dads who spent the morning cooking hot dogs, school coordinator Devin Darnell, and the many volunteers who staffed game stations. Your help made the day a smashing success! See more pictures from this fun-packed event on our Facebook page and Instagram. We will be adding new photos throughout the week.
SEVENTH GRADE MUSICAL: SPAMALOT
This year, the seventh grade will perform Monty Python's Spamalot Young@Part®, an authorized edition of the Broadway musical for elementary and middle schools, and youth theatres. Tickets are available now. Performances will be held Thursday, May 2 from 7:00 p.m.- 9:00 p.m., Friday, May 3 from 7:00 p.m. - 9:00 p.m., and Saturday, May 4 from 1:00 p.m. - 3:00 p.m. and 7:00 p.m. - 9:00 p.m.
BOOKS FOR VISITING AUTHOR - Extended to Tuesday
If you own Jarrett J. Krosoczka books, your child has one more day to bring up to 2 books to school for Mr. Krosoczka to sign. Please bring books to Ms. Powers in the library by tomorrow, April 30. Each book must include a Post-It note inside with your child's name, teacher, and (if different) to whom you'd like the book autographed. If you purchased Mr. Krosoczka's books through the school-sponsored book order, Ms. Powers will have your books autographed and delivered to cubbies or lockers on Friday, May 3. Mr. Krosoczka is visiting Lower School on Thursday, May 2.
ALPHA AND OMEGA AWARDS
During chapel Tuesday, April 30, we will have our annual Alpha and Omega ceremony, which recognizes faculty members who have completed 10- and 25-year milestones in their service to the school. Congratulations to eighth grade history teacher LeAnne Wyatt, who is completing her 10th year, and to Dean of Students John Walker, who is completing his 25th year.
THEOLOGY ON TAP
Father Houk will host a discussion for St. John's dads on Thursday, May 2 in the Parish Hall from 7:00 to 9:00 p.m. Beer will be served.
BOX TOPS - FINAL COLLECTION FRIDAY
Please turn in Box Tops for our final collection of the school year to your homeroom class by Friday, May 3! The homeroom or advisory who collects the most will win a free dress day. In addition, we will award a free-dress day to the homeroom or advisory that has collected the most Box Tops for the entire year. Two chances to win!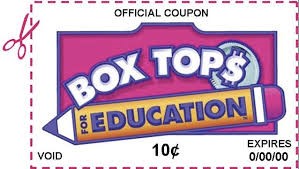 ST. JOHN'S CHURCH VBS
From July 29 to August 2, blast off with the first VBS to land on the moon! Cokesbury's To Mars and Beyond helps children discover the wonders of God's universe. Children ages 4-10 become voyagers on a journey through space, exploring where God's power can take them. The adventure includes out-of-this-world fun, Bible stories that inspire, plus science experiments, awesome crafts, tasty snacks and stellar games. VBS runs from 9:00 a.m. to noon each day.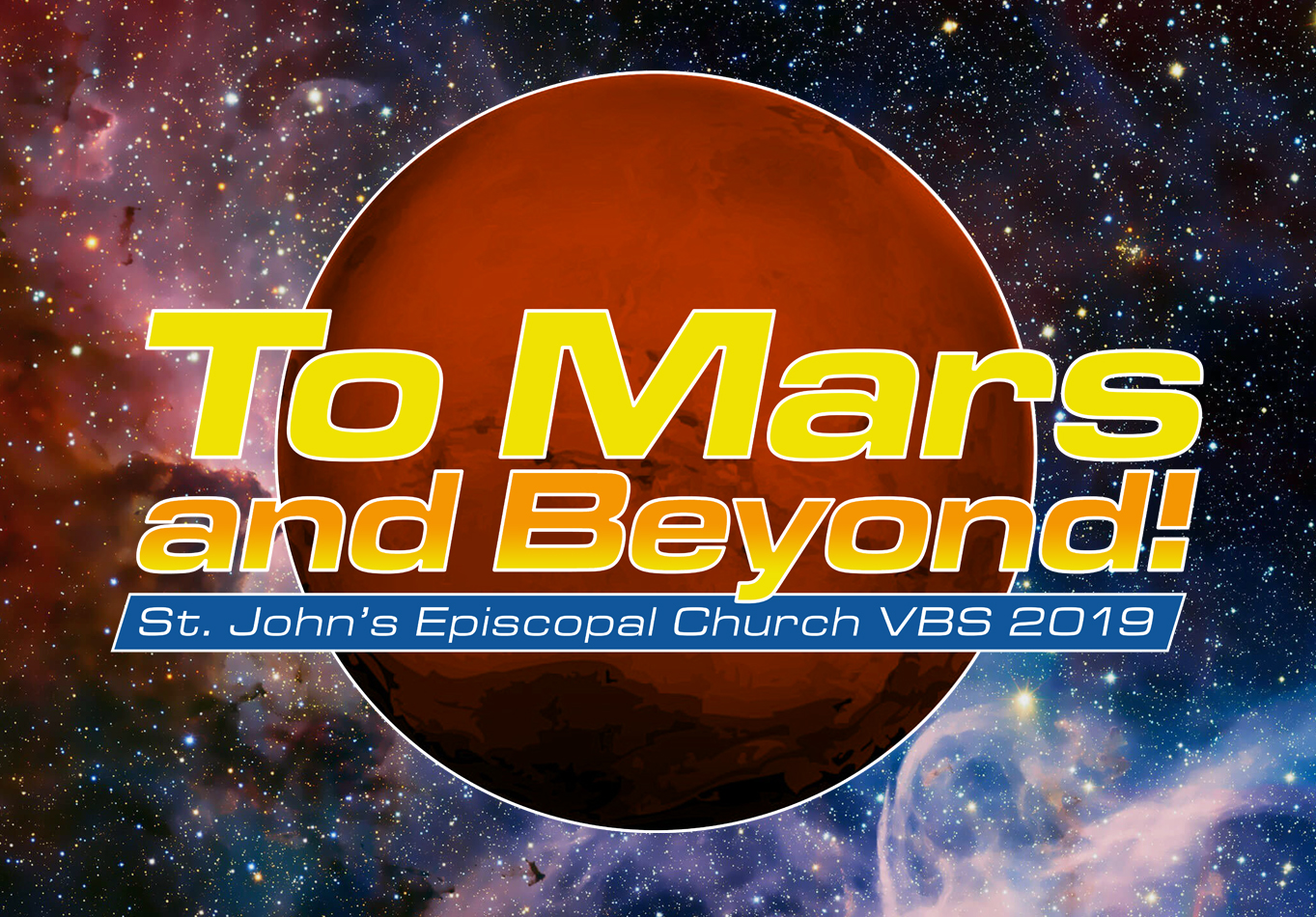 The registration fee is $20.00 per child, with a $50.00 family cap if you register before June 30, 2019. The fee increases to $30.00 per child, with a $65.00 family cap after June 30, 2019. If a parent/guardian volunteers, all fees are waived. Please fill out your registration form and mail or drop your check, made out to St. John's Episcopal Church, to the church office. For more information, please contact Jenee Echard.
NJHS INDUCTION
Qualifying seventh and eighth grade students will be inducted into the National Junior Honor Society on Monday, May 6 at 6:30 p.m. The ceremony will take place in the Parish Hall, followed by a reception.
NEW PARENT DINNER
St. John's will welcome parents whose children will be new students next year. The dinner will take place Wednesday, May 8 5:30 - 7:30 p.m. at The LOT.
EIGHTH GRADE SHEEPFOLD
We will recognize our eighth graders with a special chapel ceremony on Monday, May 13 at 8:00 a.m. in the chapel. Parents are welcome to attend.
CRUSADER CLUB GOLF CLASSIC
Register today for the 18th annual golf tournament Friday, May 10 at Stevens Park Golf Club. Plan to spend a morning on the links with friends in support of St. John's. Registration and breakfast will be from 8:30 to 10:00 a.m., and the tournament will commence with a shotgun start at 10:00 a.m. Prizes will be awarded to the first-place net/gross men's and gross women's teams; longest drive; and closest to the pin.
"LOVE SJES" SOCIAL
Please join us on Friday, May 10, from 9:00 to 1:00 p.m. for the final St. John's social of the year, LOVE SJES. All guests will enjoy two hours of fun tennis play, beginning at 9:00 a.m., followed by lunch at Lakewood Country Club. All proceeds from the ticket sales benefit St. John's. Join us for a fun afternoon! This social event is graciously hosted by: Kristi Bare, Lauren Christensen, Becky Clarke, Melissa Eakes, Stephanie Howells, Kerri Johnson, Amy Laczkowski, Claudia McGee, Aimee McMillan, Allison Methvin, Nicole Motley, Lane Olson, Mae Reeves, Kathy Row and Blair Whittneben. Spaces are limited, so sign up today.
SECOND GRADE TRIP TO PEROT
Second grade students took a field trip to the Perot Museum of Nature and Science to attend a class on insects. This hands-on experience enriched their insect life cycles unit in science. Students learned more about insects and were able to see many insects up close. Touching the exoskeleton of the African Hissing Cockroach, and seeing the stick bug use its natural camouflage to blend into the environment were highlights of their experience. 
COMMUNITY GARDEN
Students from all grades have been helping to get the spring summer garden planted and growing. Pre-k just released their ladybugs into a bed full of cucumbers and peppers, kindergarten is growing zucchini and eggplant, and the herb garden planted in the fall by 3rd grade is still going strong. Mrs. Martinez's salsa garden is looking great, and 5th grade even made a curricular connection to their early American studies by planting a riff on a traditional "3 sisters" bed with squash, corn and carrots. The first harvest is only weeks away!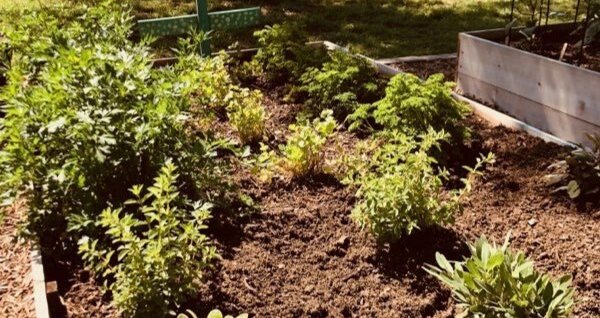 St. John's website proclaims that our students learn "The love of knowledge. The courage to use it." This week in chapel, we see how our community takes those goals seriously. On Tuesday we will award two Alpha-Omega medals to dedicated faculty who have reached milestones of service in their St. John's careers, who for decades have used their knowledge to inspire a courageous love of learning in students. On Monday and Friday, two of our Service Learning groups will teach us about the projects they have been working on. Each group of students turns the knowledge they have gained in the classroom into a unique service project that improves our wider community. Service at St. John's is not a punishment or a drudgery – it is a life-giving path on which we follow our Lord Jesus Christ, who came "not to be served but to serve others, and to give his life as a ransom for many." (Matthew 20:28)
In Early Childhood Chapel, we have heard the story of Jesus' resurrection – now we will see the results of that miraculous morning in the lives of Jesus' friends.
St. John's Episcopal School is dedicated to a program of academic excellence designed to train
the mind, strengthen the character and enrich the spirit of each student in a Christian environment.
St. John's Episcopal School | 214-328-9131
stjohnsschool.org