WEEKLY NEWSLETTER                                                          MARCH 18, 2019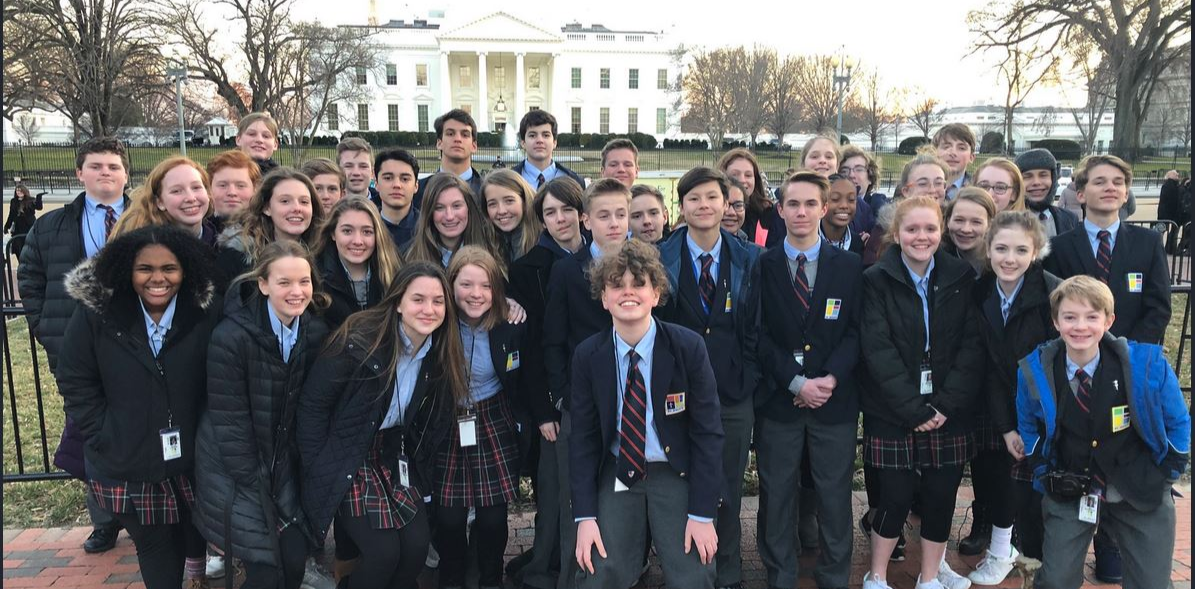 Eighth-grade students snap a photo at the White House.
THIS WEEK'S NEWS AND EVENTS
PARENT EDUCATION SPEAKER SERIES: THE BIRDS & BEES
Tomorrow, March 19 from 8:30-9:30 a.m., Megan Michelson will speak with parents of pre-k through fourth grade about the birds and bees. There is still time to register and reserve your seat. Megan will encourage and equip parents to have age-appropriate conversations with their young children about sex when they are faced with questions such as, "Where do babies come from?" or "How is that baby going to get out of there?"
MARTIN DELABANO SHARES MOVING STORY ABOUT MEMORIAL TO HIS FATHER
St. John's art teacher of 30 years, Martin Delabano, wrote a touching personal blog post on February 11 that made such an impact that it was picked up by the Dallas Morning News. In it, he describes a moment of inspiration that moved him to include a Café Vienna tin containing the remains of his father in one of his works of art. The one problem was that he had already sold – and delivered – the sculpture to the Dallas Museum of Art a week prior. In the rest of his blog, he describes the dogged determination with which he persuaded curator Eleanor Harvey to let him make one final addition to his sculpture.
Read Martin's blog post in its entirety.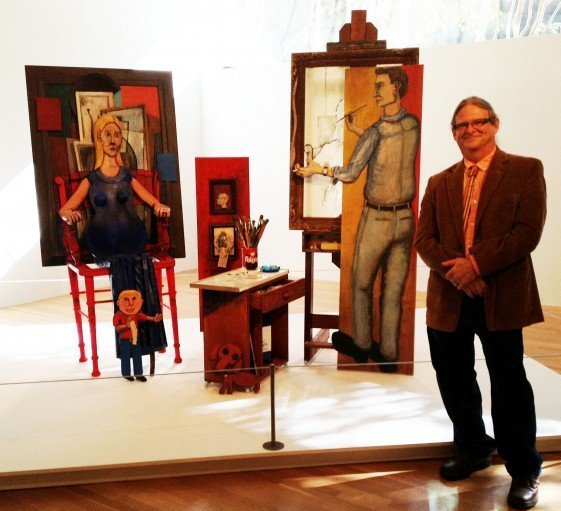 TABLE HOSTS NEEDED FOR CULTURE FEST 2019 
St. John's is recruiting families to share their heritage with the school community. Host a table at Culture Fest 2019 on Friday, April 12, 12:00 p.m. to 3:30 p.m. Your involvement is critical to the success of Culture Fest! The kids are always excited to see what parents and teachers share at the event. Be creative--with food samples, photos, artifacts and crafts, you can offer a glimpse into another country or culture. Please visit the Sign-Up Genius to learn ways you can be involved. If you have any questions about Culture Fest, please contact Ms. Breeding. We will be sorry to miss the seventh grade during Culture Fest, but we know that they will have a great time on their overnight trip.
SUMMER CAMPS
Summer is right around the corner, so register your child for Summer at St. John's. We will offer over 160 half- and full-day camps from June 3 to July 26 for children enrolled in pre-k through eighth grade. Enrollment is open to all children four years and older by September 1, 2019. Please register for camps according to the grade your child will enter in the fall of 2019. Before and after-care is available for all camps from 7:30 a.m. until 6:00 p.m.
NEWS FROM THE CLINIC
While cases of flu have been waning, our Lower School has recently had quite a few cases of conjunctivitis or "pink eye". Conjunctivitis can be caused by bacteria, viruses, allergens and irritants. Symptoms include red or pink color in the whites of the eyes, painful itchy eyes, yellow or greenish discharge from eyes and crusting of the eyelashes. If your child has these symptoms please do not send them to school. This is a contagious condition and students will be sent home for treatment. In most cases, it is easily treated by your pediatrician with prescription eye drops. Students may return to school after treatment is initiated and at least 3 doses of drops have been given. It is important to talk about good hand hygiene with your kids and emphasize that putting their fingers in their eyes can cause infection. If your child has a case of pink eye, please email nurse Amy Johns so she can track the illnesses circulating within our school.
CARUTH RECEPTION
Each spring, Dallas philanthropist W. W. Caruth, III visits St. John's, bringing exotic photographs and tales of his extensive travels. From a camel fair in India to Carnivale in Venice, he charms students with his stories, pictures and presence. You are invited to the artist's reception for this year's exhibition on Tuesday, March 26 from 4:00 to 5:30 p.m.
PARENT-TEACHER CONFERENCE DAY
Conference Day will be Wednesday, March 27. Please note that fourth through eighth grade students attend the conference with their parents. There will be no classes on Conference Day; however, After School Program staff will provide childcare for children four years old through fourth grade in Owen Gym for the duration of your child's conference. Childcare is available between 7:30 a.m. and 4:30 p.m. The cost is $5 per child and can be paid by check or cash, or it may be billed to your ParentsWeb account. Students may not bring iPads or other electronic devices to the childcare.
PRESIDENT'S PARTY
All donors who have contributed a cumulative total of $1,000 or more to St. John's this year should have received an invitation to join us for a wonderful evening Friday, March 29 at the home of Kerri and Byron Johnson. Festivities include buffet dinner and entertainment provided by Alpha Dogs, featuring alumni parent Jack Reed. It's not too late to be included; increase your gift or make a pledge to the St. John's Fund. Contact Carol Graham via email or 214-328-9131 x124 for additional details.
ST. JOHN'S SECURITY AUDIT
On Wednesday and Thursday, April 17 and 18, Arcadia Cognerati, leading experts in threat prevention, will be on campus to conduct a security audit on our emergency management procedures and provide training sessions in the area of Situational Awareness and Pre-event Indicators. Their expertise in human behavior pattern recognition and analysis will provide our school important tools and strategies to help prevent and mitigate potential threats to our campus. During their visit, a parent session will take place for our families to learn more about our security policies and gain insight into ways in which you can proactively contribute to the safety of our campus. An update will be made with specific information regarding the parent session as we finalize the schedule with Arcadia Cognerati.
EIGHTH GRADE D.C. TRIP

The week before spring break, eighth-grade students and their teachers enjoyed a five-day, jam-packed trip to Washington, D.C. that tied to their study of American history. Throughout the week, they walked more than 30 miles while visiting notable sites like Mount Vernon, touring extraordinary museums, attending the Ash Wednesday service at the National Cathedral, and laying a wreath at the Tomb of the Unknown Soldier at Arlington Cemetery. A day trip to Gettysburg completed their study of the Civil War. Prior to the trip, students studied pre-assigned topics, then presented their research to their classmates at the memorials.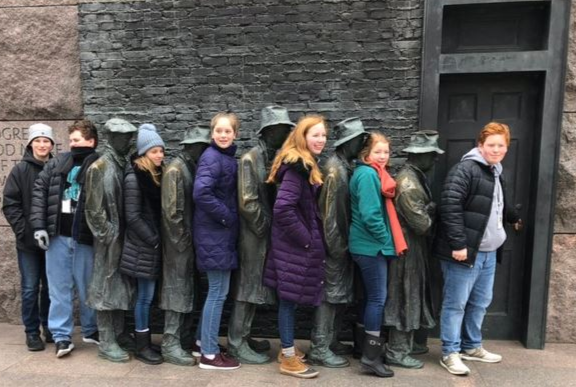 SECOND GRADE PLAY WITH YOUR FOOD
The second-grade Play with Your Food project began with each child sketching a fictional character to use as the main character in an original short story. Students then created a character profile and a story map to guide their plot development. After creating fully-developed stories through the writing process, they presented them to their classmates and parents. Meanwhile, the students eagerly took the opportunity to bring their main character to life by creating it out of real fruits and vegetables.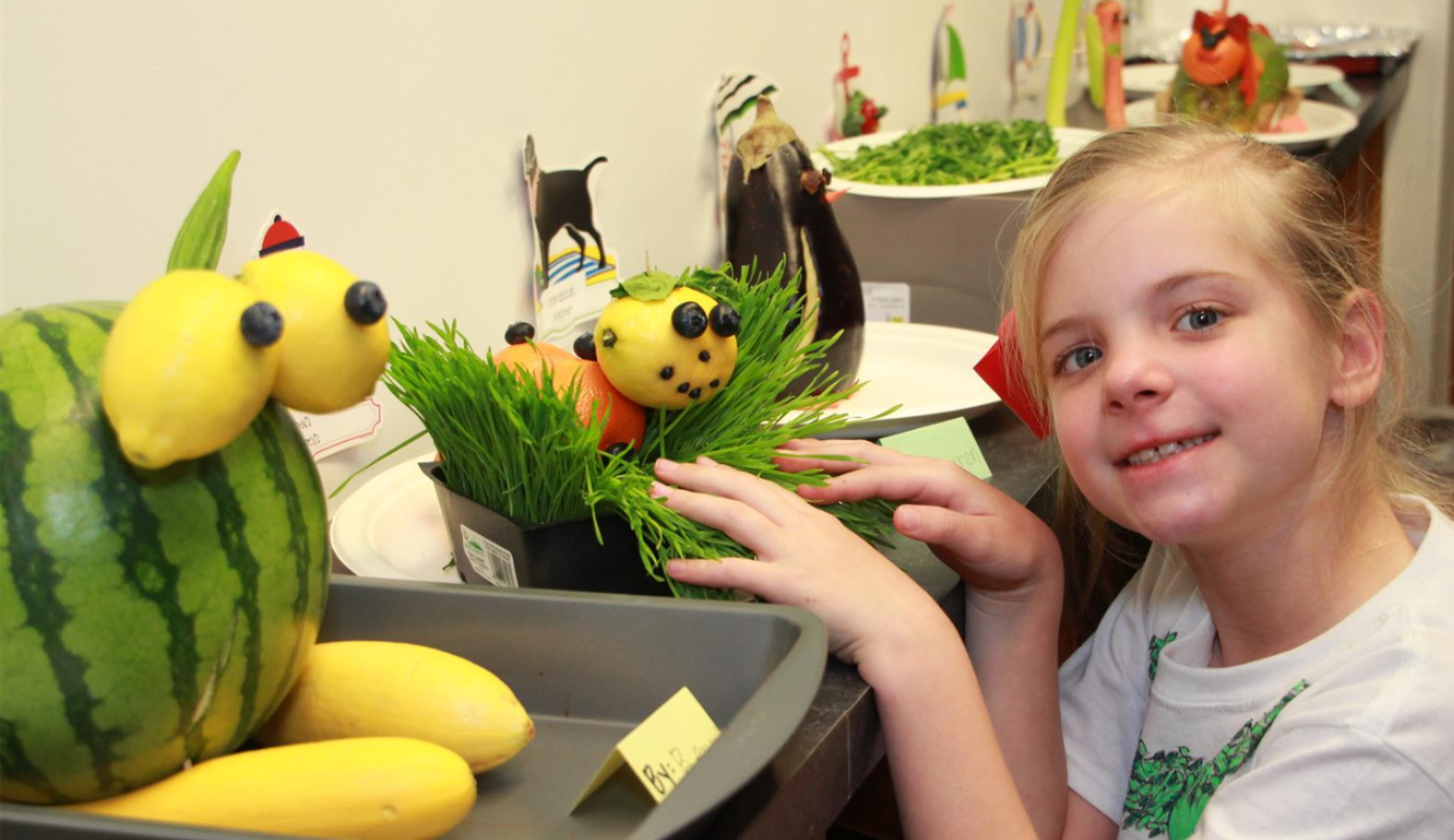 THIRD GRADE MAGNET ARCADE 
Using their newfound knowledge of how magnets and motion work, third-grade students paired up and created unique versions of some of their favorite arcade games. Inspired by the Caine's Arcade cardboard box challenge, they used creativity, joy and science to share their "Magnet/Motion Arcade Museum" with students in other grades.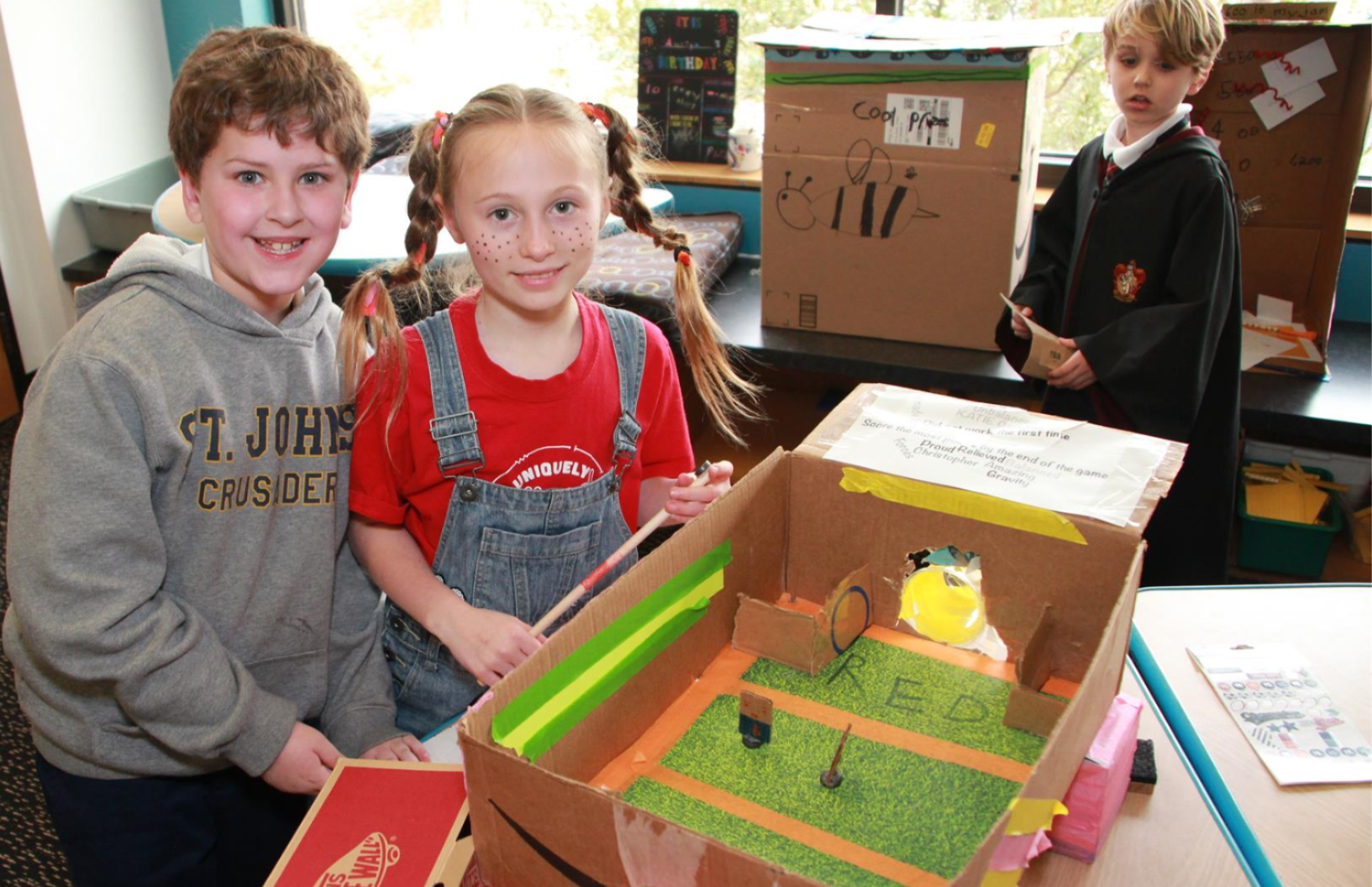 FOURTH GRADE NUMBER THE STARS
The fourth grade completed its reflection on Lois Lowry's Newbery Medal-winning book Number the Stars, a beautiful story of friendship, courage, and heroism told from the point of view of a 10-year-old girl. This powerful, cross-curricular project combined reading, creative writing, history and artistic interpretation. One of St. John's most cherished projects, students grew their empathy and emotional intelligence as they created a persona of a Jewish child fleeing Nazi-occupied Denmark. This project required extensive research, developing individual monologues, producing two songs and refining their public speaking skills. After two months of hard work, the unit culminated with a student-written and performed musical production and individual monologues that examine the experience of Jewish children living under the Nazi regime.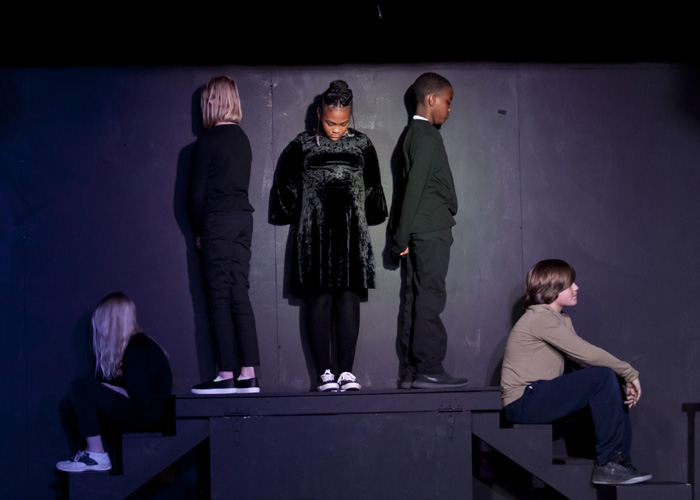 BOX TOP COLLECTION
Our next  Box Tops collection will be Friday, March 22. Visit the Box Tops website for tips on how to boost your collections. Remember, your Box Tops benefit our school.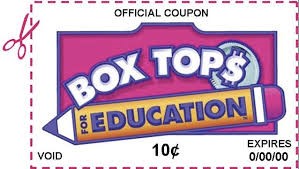 CARNIVAL SAVE THE DATE
Come one, come all! St. John's annual carnival will take place on Saturday, April 6 from 2:00 - 6:00 p.m., and will be a day of family, food, fun and entertainment! We need YOU to step right up! Please view the Sign-Up Genius and select a carnival volunteer shift.
CRUSADER CLUB BREAKFAST
Start your day with the Crusader Club and enjoy some extra time with your child. Kids love this event so make plans to attend. Join us in Parish Hall, Friday, April 5, 7:30 to 8:00 a.m. for the annual Dads & Kids Breakfast. Students of all ages are welcome to attend with a parent. Is Dad not available? No worries -- feel free to send Mom or a special friend.
View the athletics schedule for the week of March 18 - March 22.

Monday, March 18
Tuesday, March 19
Golf practice at Tenison golf course 3:45 – 5:30
Track practice 3:45 – 5:00
Tennis practice at Fair Oaks 3:45 – 5:30
Baseball practice 3:45 – 5:30
Wednesday, March 20
Thursday, March 21
Golf practice at Tenison golf course 3:45 – 5:30
Track practice 3:45 – 5:00
Tennis practice at Fair Oaks 3:45 – 5:30
Baseball vs. Good Shepherd at McInnish Park at 4:30
Friday, March 22
Locations
Fair Oaks Tennis Center – 7501 Merriman Pkwy. Dallas, TX 75231
Tenison Golf course – 3501 Samuell Blvd. Dallas, TX 75223
McInnish Park & Sports Complex – 2340 Sandy Lake Road (McInnish Park and Ball Park Way) Carrollton, TX 75006
THEOLOGY ON TAP 
Father Houk will host a discussion for St. John's dads on Thursday, April 4 in the Parish Hall from 7:00 to 9:00 p.m. Beer will be served.
TIDYING UP IN LENT
Spring cleaning. Downsizing. These are great ways to think about the season of Lent—40 days of decluttering our lives to reclaim a little more space for love and joy and God. Join us every Friday during Lent for fellowship, food and a guest speaker.
6:30 p.m. Dinner prepared by a different ministry team each week.
7:30 p.m. Stations of the Cross followed by our Tidying Up guest speakers. Children ages 4-11 meet in the undercroft for their own Tidying Up lessons, along with Bible stories and crafts.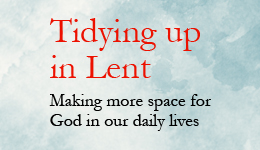 Corned beef and cabbage, shamrocks and Celtic crosses, green beverages and even green rivers – the unique imagery and color of St. Patrick's day makes it one of the most recognizable holidays in our culture. But the life of the saint himself is often much less understood. In chapel this week, our saint of the month is Saint Patrick of Ireland. We will learn about his adventurous life as a youngster, his call to follow God, his mission to the Irish with the miracles God did through him, and his death and legacy for the Church today. Along the way, we'll sing the great poem Patrick wrote, called "St. Patrick's Breastplate," which is set to a good Irish melody in our hymnal.


As with all of our Saints of the Month, we will find that the saints don't always lead charmed lives. Most undergo profound suffering as the price for following Jesus closely. But the courage that was shown by Christians like St. Patrick inspires us, especially during the season of Lent, to deny ourselves, take up our crosses, and follow Christ.


Buddy Day is also coming up this Thursday. Buddies will work together to learn about taking care of God's good creation and combating plastics pollution, in preparation for Earth Day.


In Early Childhood Chapel, Kindergarten students will begin learning the Apostles' Creed, and the entire group will hear some of Jesus' best-loved parables.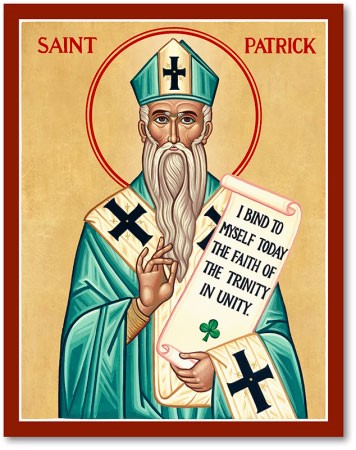 St. John's Episcopal School is dedicated to a program of academic excellence designed to train
the mind, strengthen the character and enrich the spirit of each student in a Christian environment.
St. John's Episcopal School | 214-328-9131
stjohnsschool.org