WEEKLY NEWSLETTER                                                  FEBRUARY 25, 2019

Design generously donated by RBMM.
THIS WEEK'S NEWS AND EVENTS
THE GAME IS ON - CLUE! MORE THAN JUST A GAME IS SATURDAY, MARCH 2 AT 6:30
   
Tickets    
Tickets are on sale for $150. Buy your ticket today.

Raffle Tickets
There's still a chance to win free tuition for a year. Individual tickets are $125 or buy five tickets for $500. The raffle will be drawn following Live Auction. Buy your tickets today.

Auction T-Shirts
Check backpacks tomorrow for your pre-ordered Auction t-shirts. Friday, March 1, will be Auction Spirit Day! Students may wear this year's official Auction t-shirt (or any St. John's blue or gold t-shirt). Free dress guidelines apply.

Silent Auction, Fund-a-Need, and St. John's After Dark all open TODAY!!

Grab your magnifying glass and sleuth through the many items Silent Auction has to offer.
Want to see what The Cook is offering? Get together with friends to enjoy the tasting menu at Shinsei. 

Theatre tickets? Hamilt-DONE.
Sporting events? It's a slam dunk!
This year at Auction we are offering several different opportunities for our guests.
Join us for Heads or Tails. Only one winner for this event, but it could be you! 
Live Surprise is full of intrigue. Will you be the winner of what is inside the confidential envelope?
And don't forget the Wine Pull. With one hundred bottles available, try your hand.
All participants of the wine pull will take home one bottle per pull and be entered into a lottery. One lucky winner will receive a 2006 bottle of Dom Perignon!
You can't win if you don't play, so join in on the fun!


Finally, bring a briefcase full of cash because you'll definitely love what Live Auction is bringing to the table.
Aerosmith LIVE in concert with a Steven Tyler meet and greet - in Las Vegas
Mavericks Suite for 18 friends
Dinner for ten at Knife with four-time James Beard nominated Chef John Tesar
A Progressive Dinner experience with Kent and Tracy Rathbun
Ellen tickets in LA
And the Ultimate Uptown Girl: two tickets to see Billy Joel in Madison Square Garden PLUS join the audience of Kelly and Ryan for a taping of their show in NYC
Don't miss out on these once in a lifetime experiences!
Visit the auction website for everything you need to know and we'll see you Saturday at the Hall on Dragon! 
2019 FUND-A-NEED
Are you ready to take our St. John's students' learning experience to the next level? The Parents Association is thrilled to announce our 2019 Fund-A-Need initiative! Our goal this year is to fully fund the creation of our very own Makerspace to enhance the school's strong STEAM curriculum. We can't wait to see this engaging space come to life with your support! Questions? Contact Meagan Skarbek for more information and make your donation today!
LAST PA MEETING OF THE YEAR
Make plans to join the PA next Tuesday, February 26 at noon for the final general Parents Association meeting of the school year, during which the 2019-20 PA Council will be announced. Attendees will also have an opportunity to preview the beautiful student art projects that will be featured at auction. All parents are invited to Parish Hall to enjoy a light lunch and an art show which will continue for the duration of the afternoon.
AUCTION ART SHOW
You are invited to preview the Clue grade-level art projects on Tuesday, February 26, 10:00 a.m. - 5:00 p.m. in Parish Hall. These beautiful, student-created pieces will be on display during the PA meeting, which starts at noon, or bring your child for a punch and cookies reception during afternoon carpool.

KIDS HEART CHALLENGE
All packets and donations are due this Friday, March 1. This year's jumping has been wildly successful and we look forward to one last week of participation. Students will attend a rally on Friday, March 8, during which all members of the fundraising "Scare Squad" Students who raised money will be recognized for their participation. The Red Hot Peppers jump rope team will perform to get everyone in the mood to celebrate another successful Kids Heart Challenge. Questions may be directed to Devin Darnell.
MARCH BIRTHDAY BLESSINGS + LUNCH MENU
The birthday blessing schedule is posted on ParentsWeb (School / Resources). You will also find the monthly lunch menu in ParentsWeb (School / Resources), as well as under the Current Families page of the website. See the March menu.
READING WEEK
March 4-8 is Reading Week, and Lower School will celebrate reading with fun dress-up days:
Monday, March 4, OH, THE PLACES YOU'LL GO: Wear jeans/athletic pants/shorts/leggings (if shirt is long enough to cover bottom) and a vacation shirt that has the name of a place on it.
Tuesday, March 5, "RED' A GOOD BOOK LATELY?": Wear something red with your uniform.
Wednesday, March 6, ASH WEDNESDAY / KIDS IN SOCKS: Wear crazy socks with your full-dress uniform.
Thursday, March 7, INSPIRED BY READING: Wear a book or book character themed shirt (homemade or store-bought OR dress up as your favorite book character.
Friday, March 8, READING ROUNDUP: Wear western-themed accessories such as a bandanna, cowboy boots, cowboy hat, etc. along with free dress to round out our reading week.


Thursday, March 7, from 8:00 until 8:30 am, Lower School will observe D.E.A.R. (Drop Everything and Read). Third and fourth graders should bring non-school-related reading material with them (book, magazine, comic, etc.). Pre-k through second graders will be read to or will read themselves during that time.
If a child chooses not to participate in any of the dress-up day activities, he or she must wear a regular school uniform. Please contact librarian Jennifer Powers with questions.

THEOLOGY ON TAP FOR ST. JOHN'S DADS
Father Houk will host a discussion for St. John's dads on Thursday, March 7 in the Parish Hall from 7:00 to 9:00 p.m. Beer will be served.
PARENT EDUCATION SPEAKER SERIES: THE BIRDS & BEES
Register for Tuesday, March 19 from 8:30-9:30 a.m. for Megan Michelson to speak with parents of pre-k through fourth grade about the birds and bees. Megan will encourage and equip parents to have age-appropriate conversations with their young children about sex when they are faced with questions such as, "Where do babies come from?" or "How is that baby going to get out of there?"


CULTURE FEST 2019 TABLE HOSTS
St. John's is recruiting families to share their heritage with the school community. Host a table at Culture Fest 2019 on Friday, April 12, 12:00 p.m. to 3:30 p.m. Students will have the opportunity to explore and discover Culture Fest with their grade level. Please visit the Sign-Up Genius to learn ways you can be involved. If you have any questions about Culture Fest, please contact Ms. Breeding. We will be sorry to miss the seventh grade during Culture Fest, but we know that they will have a great time on their overnight trip.
PRE-K VISITS THE DMA
All pre-k students visited the Dallas Museum of Art last week to become more familiar with the artist Pablo Picasso. Prior to the trip the students studied the artist and created self-portraits done in the style of Picasso's contour drawings. The pre-k students had the opportunity to further expand their knowledge at the museum with an activity of creating portraits in the cubism style.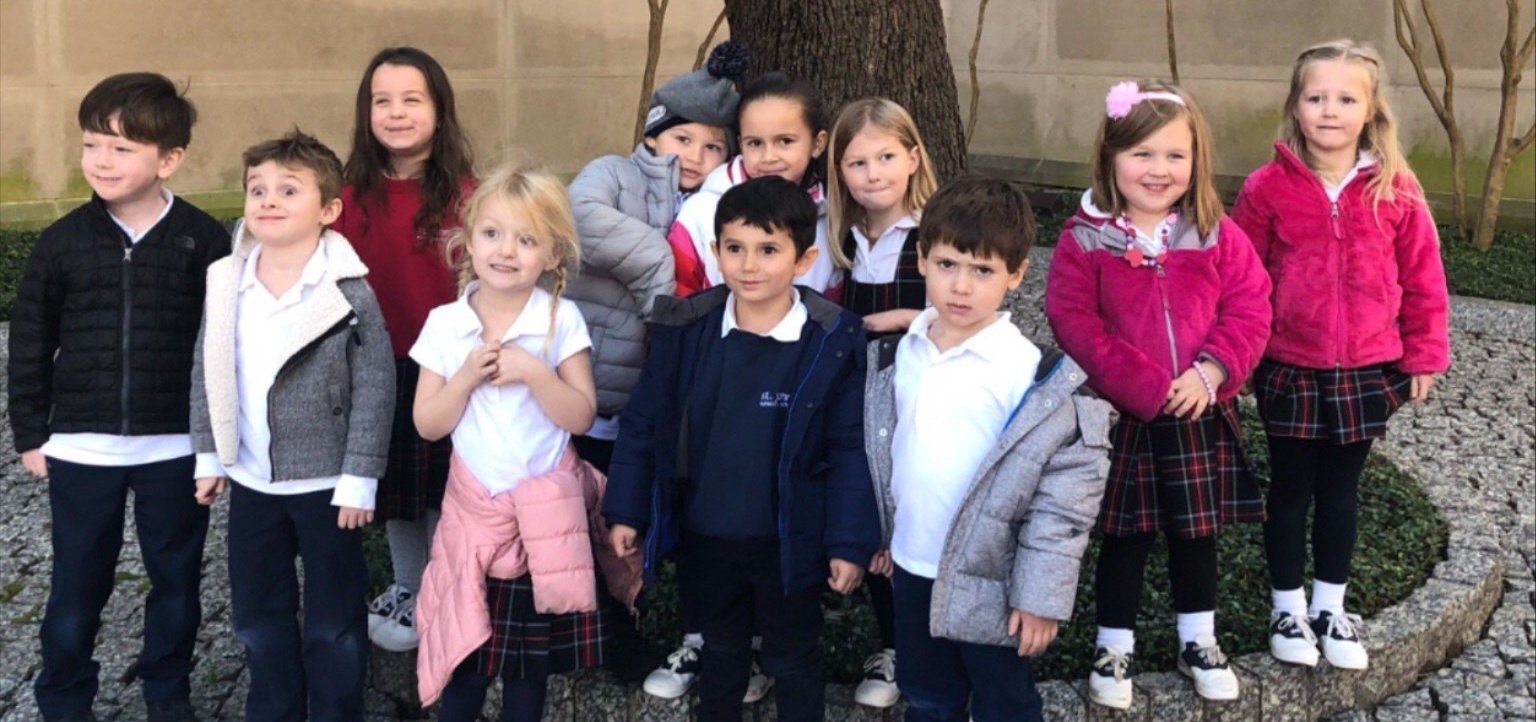 MAL BOYS BLUE AND MAL BOYS GOLD FACE OFF IN FINALS
In an all-St. John's championship game hosted at Dallas Lutheran last Thursday, the MAL Boys Blue team edged out the Gold team in a very close game. Congratulations to both teams for spectacular seasons!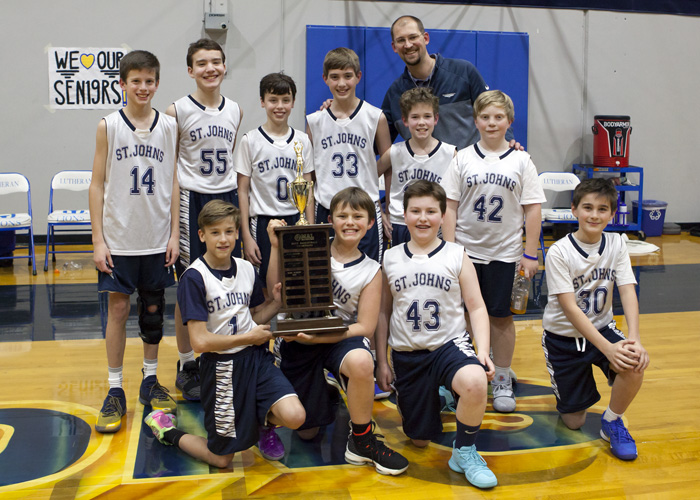 SIXTH GRADE GIRLS BASKETBALL CHAMPIONS
The St. John's sixth-grade girls basketball team won their championship against Akiba last Thursday at Dallas Lutheran. Congratulations on your championship victory!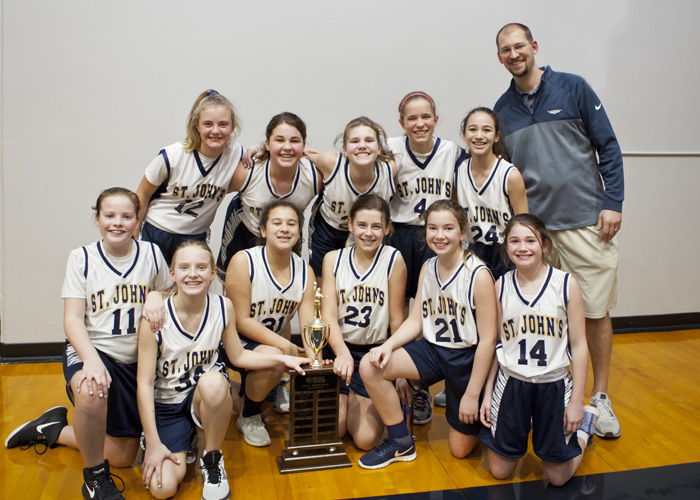 CRUSADER CLUB CARPOOL DUTY
Dads are invited to assist with morning carpool March 4-8, 7:15 - 8:00 a.m. This is a fun, quick way to support the school by helping the little ones out of the cars. Choose a shift.

Concerts at St John's invites you to the next concert in the series on Sunday, March 3, at 3:00 p.m. Acclaimed local woodwind quintet, "All About Five," will perform music of Piazzolla, Klughardt, Rossini, Rodgers and Hammerstein, and a number of traditional works as well. Comprised of Mark Trimble on flute, Sally Bohls on oboe, Mark Bohls on French horn, Dan Ebie, clarinet, and Anna May Ghaly playing bassoon, this concert is suitable for all ages, and the performers will talk about their instruments afterward. The concert is free, and a reception, sponsored by St John's Cantate Deo choir, will be offered in the parish hall following. Contact Benjamin Kolodziej, Organist and Choirmaster for more details.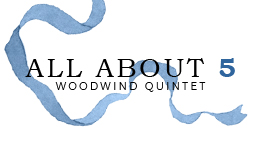 MARDI GRAS AND PANCAKE SUPPER
Join us for our annual Mardi Gras celebration and pancake supper on Tuesday, March 5 at 6:00 p.m. in the Parish Hall. Enjoy gumbo and rice and/or breakfast for dinner plus crafts and activities for the kids. The price for individuals is $5 and $15 for families.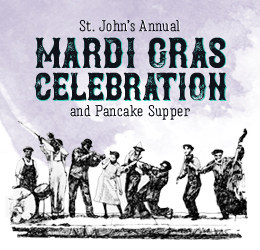 TIDYING UP IN LENT
Spring cleaning. Downsizing. These are great ways to think about the season of Lent—40 days of decluttering our lives to reclaim a little more space for love and joy and God. Join us every Friday during Lent for fellowship, food, and a guest speaker.
6:30 p.m. Dinner prepared by a different ministry team each week.
7:30 p.m. Stations of the Cross followed by our Tidying Up guest speakers. Children ages 4—11 meet in the undercroft for their own Tidying Up lessons, along with Bible stories and crafts.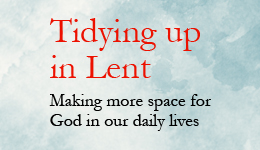 Chapel this week began with Buddy Chapel today. Older and younger buddies sat together for chapel, and our Early Childhood group shared some of their songs and prayers.
All week we will continue to hear stories of the miracles and teachings of Jesus, and we will imagine ourselves into those stories, pretending we are hearing those teachings for the first time. What must have it been like to sit with Jesus and hear the words of the Sermon on the Mount? - "Love your enemies. Bless those who curse you. Pray for those who hurt you." Those words are still hard to practice. What did it feel like to realize you were in the middle of a food miracle, where more than 5,000 people were being fed? How would you feel if you were the child whom Jesus set before his disciples, when he said, "Whoever welcomes a child like this welcomes me"? Perhaps by using our emotional imagination, our empathy, we can see these old teachings with new eyes and learn their wisdom.
Lent is coming! Our school's observance of Ash Wednesday on March 6 will include the optional imposition of ashes on the forehead of any student who desires them. The ashes symbolize our common mortality and sorrow for wrongs we have done, so although our reflections in chapel will center on Jesus, the ashes are available to all who desire them regardless of faith tradition or baptism status. Parents, this would be a good week to take a moment and explore in advance the themes of Ash Wednesday with your student, so the symbol can be meaningful when it comes.
St. John's Episcopal School is dedicated to a program of academic excellence designed to train
the mind, strengthen the character and enrich the spirit of each student in a Christian environment.
St. John's Episcopal School | 214-328-9131
stjohnsschool.org