WEEKLY NEWSLETTER                                                  FEBRUARY 4, 2019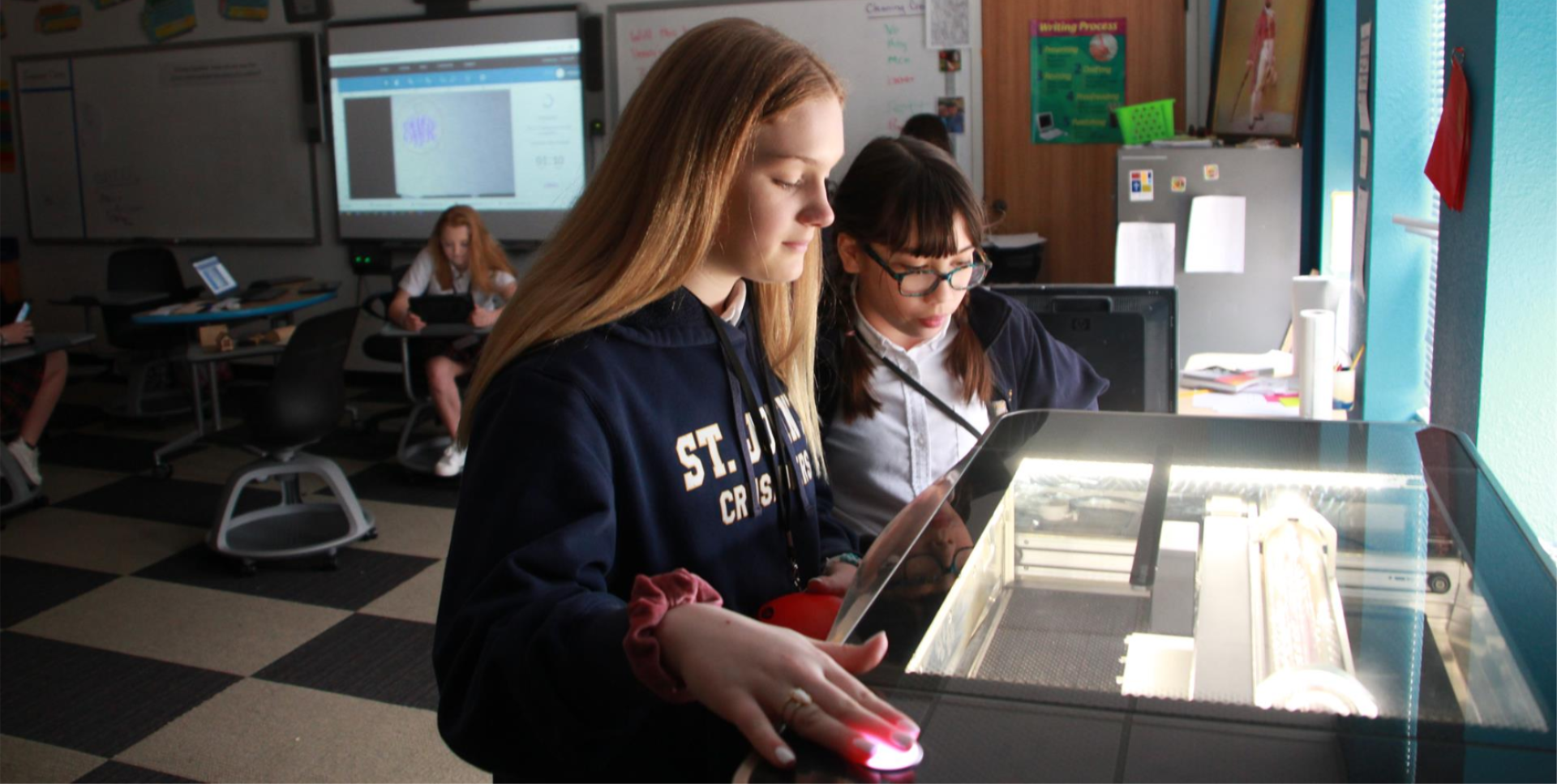 Students use the laser engraver to etch their designs into wood.
THIS WEEK'S NEWS AND EVENTS
TAPS BOYS BLUE BASKETBALL TEAM MAKES FINALS
Come cheer for the Crusaders as they go for the Championship tomorrow, February 5 at 6:00 at Parish. Wear navy and come ready to cheer!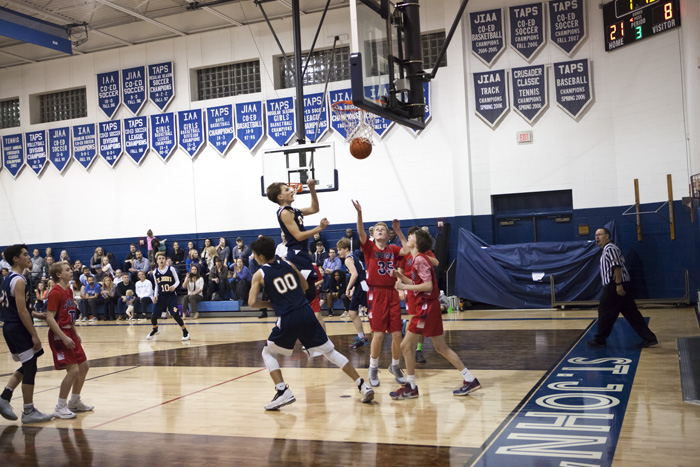 PLEASE NOTE: DATE CHANGES TO 2019-20 KEY DATES
An adjustment has been made to the 2020 dates for the last day of school and the eighth grade graduation schedule. The new date aligns our schedule with the other ISAS schools. Please view the updated 2019-2020 Key Dates. 

THEOLOGY ON TAP FOR ST. JOHN'S DADS
Father Houk will host a discussion for St. John's dads on Thursday, February 7 in the Parish Hall from 7:00 to 9:00 p.m. Beer will be served.
CRUSADER CLUB DAD AND KIDS BREAKFAST
Start your day with the Crusader Club and enjoy some extra time with your child. Kids love this event so make plans to attend. Join us in Parish Hall, Friday, February 8, 7:15 to 8:00 a.m. for the annual Dads & Kids Breakfast. Students of all ages are welcome to attend with a parent. Dad not available? No worries -- feel free to send Mom or a special friend.


FEBRUARY BIRTHDAY BLESSINGS + LUNCH MENU
The birthday blessing schedule is posted on ParentsWeb (School / Resources). You will also find the monthly lunch menu in ParentsWeb (School / Resources), as well as under the Current Families page of the website. See the February menu.
PARENTS IN PRAYER
Have a prayer need? Come join the Parents Association in the bride's room in the Chapel on Tuesday, February 12 from 9:30 a.m. to 10:30 a.m. We will be praying for our students and facility. Please contact Emily Evans with questions.

VALENTINES DAY SCHEDULE
Valentine's Day parties will take place Thursday, February 14, on the following schedule. Please be sure any Valentine's treats sent to school meet our nut-sensitive guidelines.
12:00 - 1:00 p.m. – Pre-k parties (no regular pre-k lunch that day; lunch will be provided)
2:00 - 3:00 p.m. – Kindergarten through Second grade parties
2:30 - 3:15 p.m. – Third and Fourth grade parties
ALL parties will end in time for carpool to begin at regular dismissal times.
2019-2020 RE-ENROLLMENT DEADLINE
St. John's 2019-20 re-enrollment for current students is now in ParentsWeb. All contracts will be due Friday, February 15.

WINTER BREAK
Winter break will be Friday, February 15 through Monday, February 18. Classes will resume at 8:00 a.m. on Tuesday, February 19.


CULTURE FEST 2019 TABLE HOSTS
St. John's is recruiting families to share their heritage with the school community. Host a table at Culture Fest 2019 on Friday, April 12, 12:00 p.m. to 3:30 p.m. Students will have the opportunity to explore and discover Culture Fest with their grade level. Please visit the Sign-Up Genius to learn ways you can be involved. If you have any questions about Culture Fest, please contact Ms. Breeding. We will be sorry to miss the seventh grade during Culture Fest, but we know that they will have a great time on their overnight trip. 

MATHCOUNTS COMPETITION
St John's sent ten talented math students from seventh and eighth grade to compete at the 2019 MathCounts Competition held at the Kay Bailey Hutchison Convention Center. The students competed in three different rounds, from individual performances all the way to the team competitions. They brought hard work and enthusiasm to every round, and are confident about the prospects of this year's scores in the Sprint Round, as well as the Target Round. Way to go St. John's Mathletes!
MAKE DAY
Last Friday, St. John's students from all grades participated in Make! Day, a hands-on learning experience designed to encourage students to invent, create, and build. Workshops included rocketry, circuitry design, marble maze madness, reclaimed wood design, coding and robot programming. Plans are already in the works for MAKE! 2020. Check our Facebook page for more pictures from MAKE!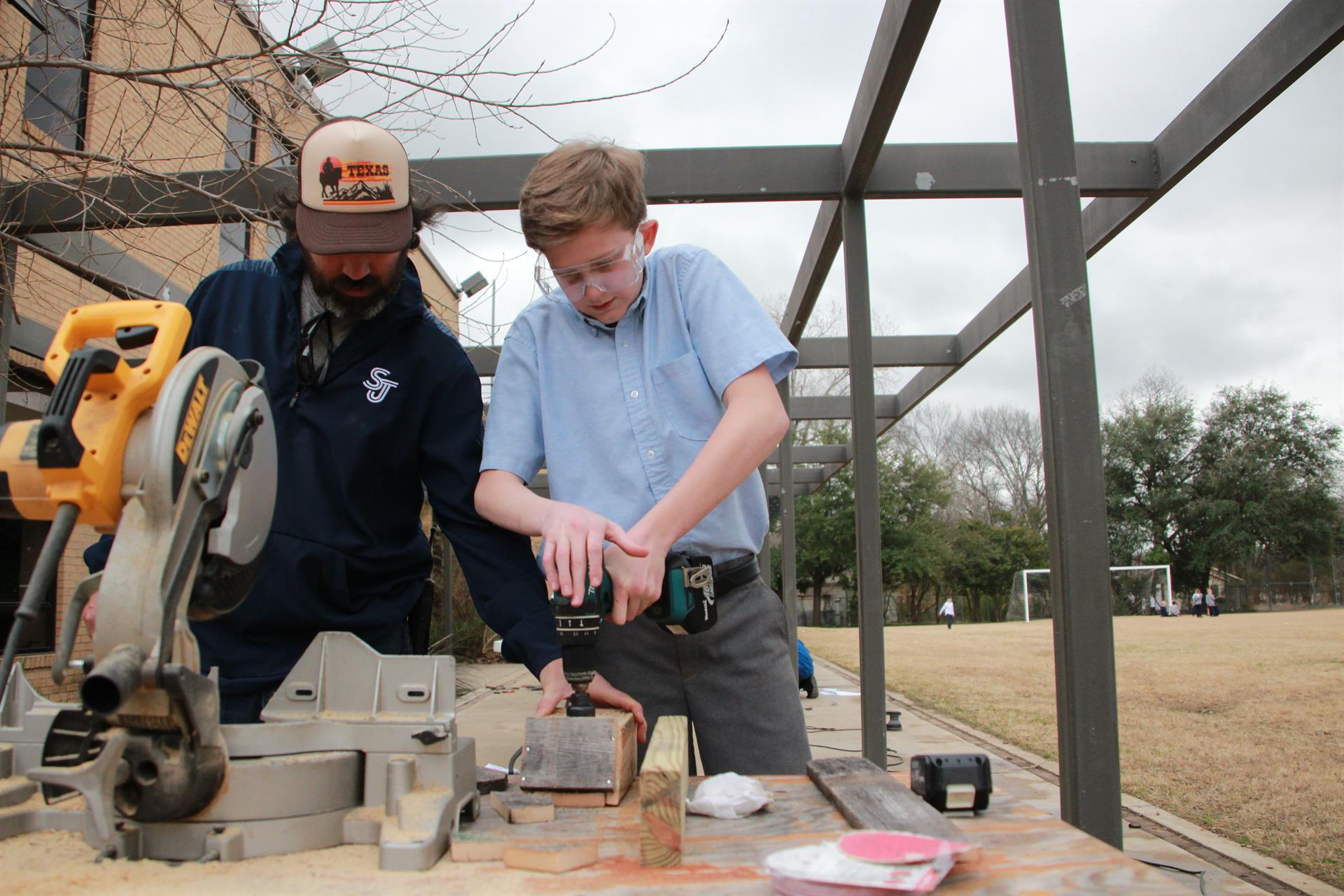 COMMUNITY MAKE DAY
On Saturday morning, 86 students from 33 local area schools joined eight St. John's teachers to sample a few of the great Make! Day activities that St. John's students enjoyed on Friday. Local children were thrilled to get a chance to experience the engaging, creative learning that happens at St. John's every day. 
CLUE: MORE THAN JUST A GAME
Free tuition for a year is better than blackmail money, just ask Mr. Boddy!! 
We have a limited number of tickets left, so put your game piece into play by purchasing your tuition raffle ticket today 
Tickets will be for sale in person at the Crusaders Club Breakfast on Friday or can be purchased any time by visiting the Clue website.
Buy a single ticket for $125, or get the best deal by buying a five-pack of tickets for $500. 
While you are purchasing your tuition raffle ticket, don't forget to purchase your Auction ticket and your commemorative t-shirt for the big night! T-shirt sale ends Friday, February 8.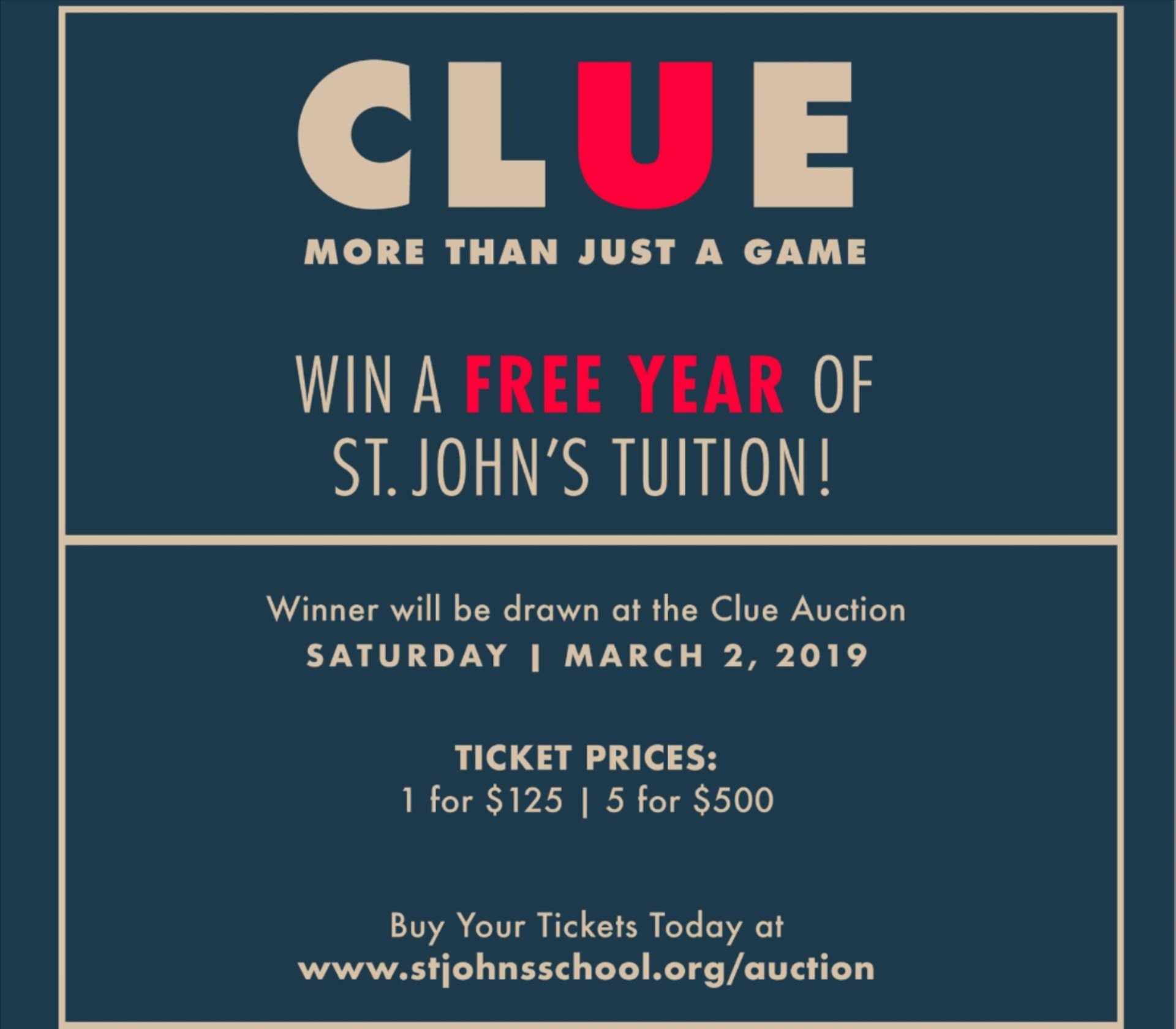 BOX TOPS COLLECTION
Save those Box Tops! Our next Box Tops Collection will be Friday, February 15.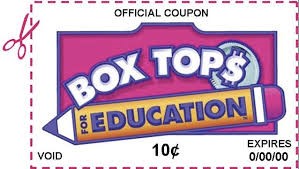 PA WARM YOUR HEART TEACHER LUNCHEON 
The PA needs parents to provide a soup or dessert item for our annual "Warm Your Heart Luncheon" coming up Wednesday, February 13 - please consider signing up today! Soups and desserts may be dropped off in carpool that morning from 7:30 - 8:15 a.m. or dropped off at the Lower School entrance and/or at the front desk after 8:15 a.m.
CHAPLAIN'S CORNER

Our theme in chapel for the whole year is "Testify!" – and the students know it means to tell the truth, the whole truth, and nothing but the truth about who Jesus is and what he's done. But we're also finding, as this theme develops, that hearing Bible stories from the perspective of those who are in them changes those stories and makes us see them differently. We are learning to use our emotional imagination – our empathy – to imagine ourselves in the Bible's stories.  This week we will hear five miracle stories: at least, they are always told as miracle stories.  But from the characters' own emotional perspectives, we find they are about
Releasing the burden of guilt (Jesus heals a paralytic in Luke 5)
A soldier who cares (Jesus heals the Centurion's servant in Luke 7)
When friends turn on us (Jesus' rejection at Nazareth in Luke 4)
Love stronger than death (Jesus raises the widow's son in Luke 7)
Worship brings freedom (A woman anoints Jesus' feet in Luke 7)
In Early Childhood Chapel, we will be hearing some of these same stories, and the Kindergarten will have its final lesson on the Lord's Prayer, which we will use in their chapel hereafter.
Parents, you can help your children practice the skill of empathy by reading Bible stories at home and stopping to ask them, from time to time, what the characters are feeling.  The students are practiced in a good vocabulary of emotion words at school, so they should be able to give some insightful thoughts about the characters you come across. 
St. John's Episcopal School is dedicated to a program of academic excellence designed to train
the mind, strengthen the character and enrich the spirit of each student in a Christian environment.
St. John's Episcopal School | 214-328-9131
stjohnsschool.org