WEEKLY NEWSLETTER                                                  DECEMBER 17, 2018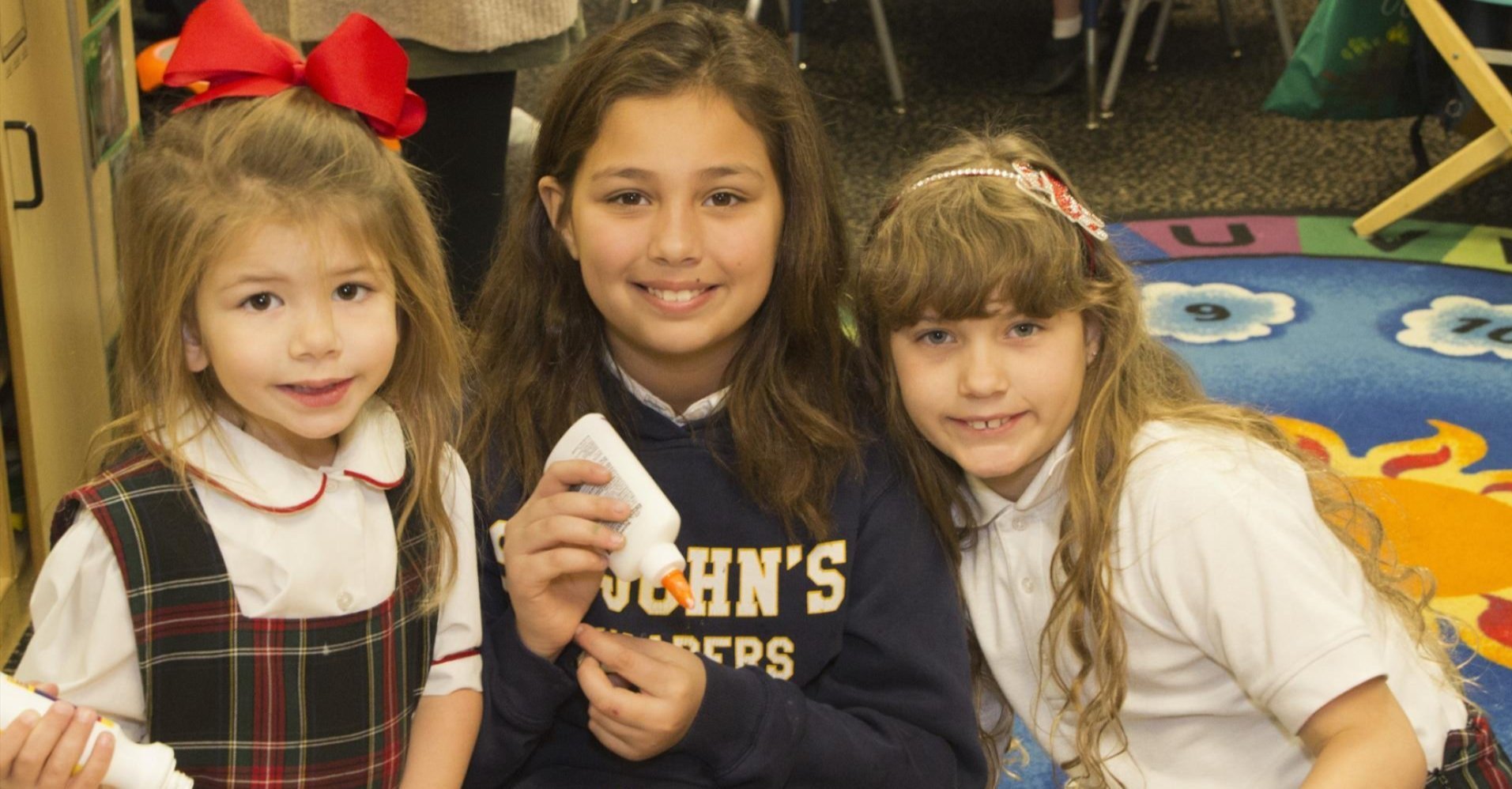 Students made Christmas ornaments at the third Buddy Day of the year.
THIS WEEK'S NEWS AND EVENTS
THANK YOU FROM THE PA FACULTY AND STAFF CHRISTMAS GIFT FUND
On behalf of the Parents Association, we gratefully thank all of the parents and families who contributed to this year's St. John's Faculty and Staff Holiday Fund, helping to give a joyous holiday to so many. We are blessed with an incredible faculty and staff, and your gifts are deeply appreciated by everyone at St. John's!
LOWER SCHOOL ADVENT CAROL SERVICES
Tomorrow, December 18, St. John's families are invited to attend Lower School Advent Carol Services in the Chapel. First through fourth grade students are required to be in full dress uniforms for tomorrow's performance.
First and second grade will perform at 8:15 a.m.
Third and fourth grade will perform at 9:15 a.m.
FACULTY AND STAFF APPRECIATION
Please consider contributing a baked good for breakfast or snack (homemade or purchased) for the faculty and staff appreciation morning this Wednesday, December 19. Baked goods can be dropped off in the morning carpool line outside of Parish Hall.

MIDDLE SCHOOL DAY OF SERVICE
On Thursday, December 20, Middle School students will participate in a Lessons and Carols service, contribute to three on-campus service projects, attend three of their classes, and celebrate the holiday season with advisory parties. StuCo is sponsoring festive dress Thursday, and Middle School students may wear Christmas sweaters and/or socks over/with their uniforms. A few notes:
Sixth graders will be off-campus from 9:00 to 11:00 a.m. to work at Bonton Farms. They may wear free dress appropriate for outdoor work.
Middle School break will be at the regular time of 10:15 a.m.
Fifth, sixth and seventh graders will eat at their regular lunch times.
Eighth graders will eat lunch at 12:15 p.m.
Pickup for all Middle School students will be at 3:45 p.m. There will be no Homework Club or ASP.
JANUARY BIRTHDAY BLESSINGS + LUNCH MENU
The birthday blessing schedule is posted on ParentsWeb (School / Resources). You will also find the monthly lunch menu in ParentsWeb (School / Resources), as well as under the Current Families page of the website. See the January menu.
TIP OF THE WEEK
Tech and media use definitely involves a paradox: It can cause conflict and make us feel compulsive. But it's also an opportunity to bring people together. Especially over the holidays as you're trying to spend some quality time with each other, you can make media one piece of that puzzle. Read these tips on ways media can bring people together.
CHRISTMAS BREAK DECEMBER 21 THROUGH JANUARY 7
There will be no ASP or homework club on Thursday, December 20. Classes will resume 8:00 a.m. on Tuesday, January 8. We wish you and your family a merry Christmas and a happy New Year.
CHRISTMAS EVE AT ST. JOHN'S CHURCH
St. John's Church invites you to join them for Christmas Eve services on December 24. The Family Eucharist is at 5:00 p.m. with a reception to follow in the Parish Hall. A Solemn High Mass begins at 8:00 p.m. in the church. The nursery is available for children 5 and under for both services. Merry Christmas!
HOLIDAY BASKETBALL SKILLS CLINIC
The Crusader Club is offering a basketball skills clinic coached by Blade Basketball from Wednesday, January 2 through Friday, January 4, from 9:00 a.m. to noon. Second through eighth grade boys and girls will have fun while spending time on player development, competitive drills and live gameplay. Get the details and register.
UNIFORM RESALE
Save the date! Uniform resale will take place on Thursday, January 10 from 2:00 to 5:00 p.m. in Parish Hall. Stock up on gently used school items during Uniform Resale. Additionally, the PA needs help with this all-volunteer effort and asks for parents to volunteer for a shift. Uniform donations in good condition may be dropped off in the baskets by the front reception desk. 
PARENT SPEAKER SERIES: OPENING THE CONVERSATION: HAVING DIFFICULT CONVERSATIONS, 
Our next speaker is Yvonne Adams, Director of Equity and Inclusion at St. Stephen's Episcopal School (Austin, TX). On Tuesday, January 8 from 8:00 to 9:00 a.m. she will speak on What is the role of parents in helping students understand diversity, equity, and inclusion in order to live meaningful lives?The goal of this workshop is to increase our understanding of the importance of diversity in our community. As part of that, we will learn how to move from feeling anxious about having potentially difficult, highly-charged conversations about diversity to emphasizing appreciation for the gifts these opportunities bring to our community and our world. Participants also will learn of valuable resources they can use with their children. Reserve your spot today.
THIRD GRADE WATER
Third-grade students are still accepting donations to their fundraising drive for Charity: Water, an organization that brings clean and safe water to people in developing countries. If you would like to contribute, please visit their fundraising site.
SPELLING BEE RESULTS
After almost two months of practice, 23 dedicated middle school students participated in the St. John's Episcopal School annual spelling bee on December 11, under the leadership of librarian Jennifer Powers. Congratulations go to this year's winner, fifth-grader Kelsey Montgomery. Kelsey won after 14 rounds by spelling the word "guaranteed" after battling it out for two rounds with runner-up Will Moore (sixth grade). In addition to Kelsey and Will, seventh-grader Sawyer Beck and eighth-graders Christopher Row and Max Blumenthal finished in the top five. Kelsey will progress to the Dallas County Private School Spelling Bee at the Hall of State in Fair Park on Tuesday, February 12. The winners from that competition (one student representing a private, charter or home school and one public school student) will compete with winners from the 35 Dallas counties in the regional spelling bee in March.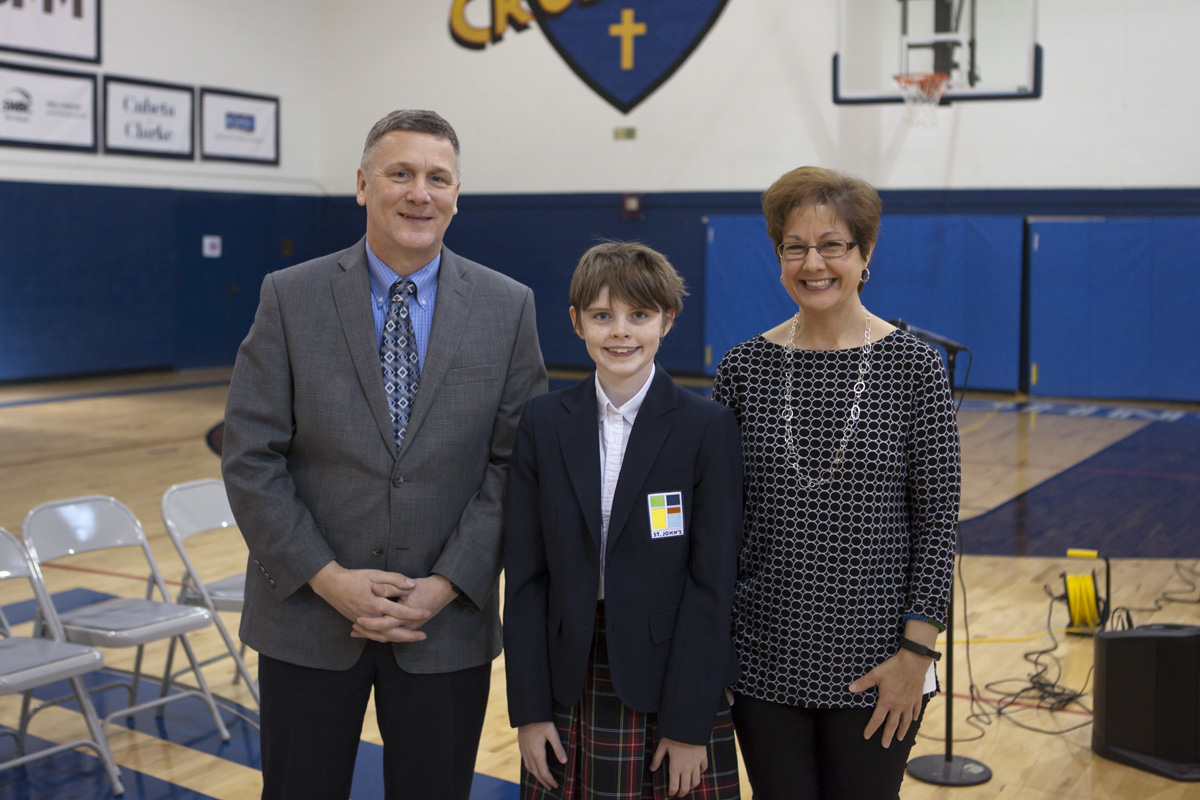 FIRST GRADE PAJAMA PROJECT
The first grade collected pajamas for the Pajama Program, which partners with Scholastic Books to provide a set of pajamas and a book to children in need for the holidays.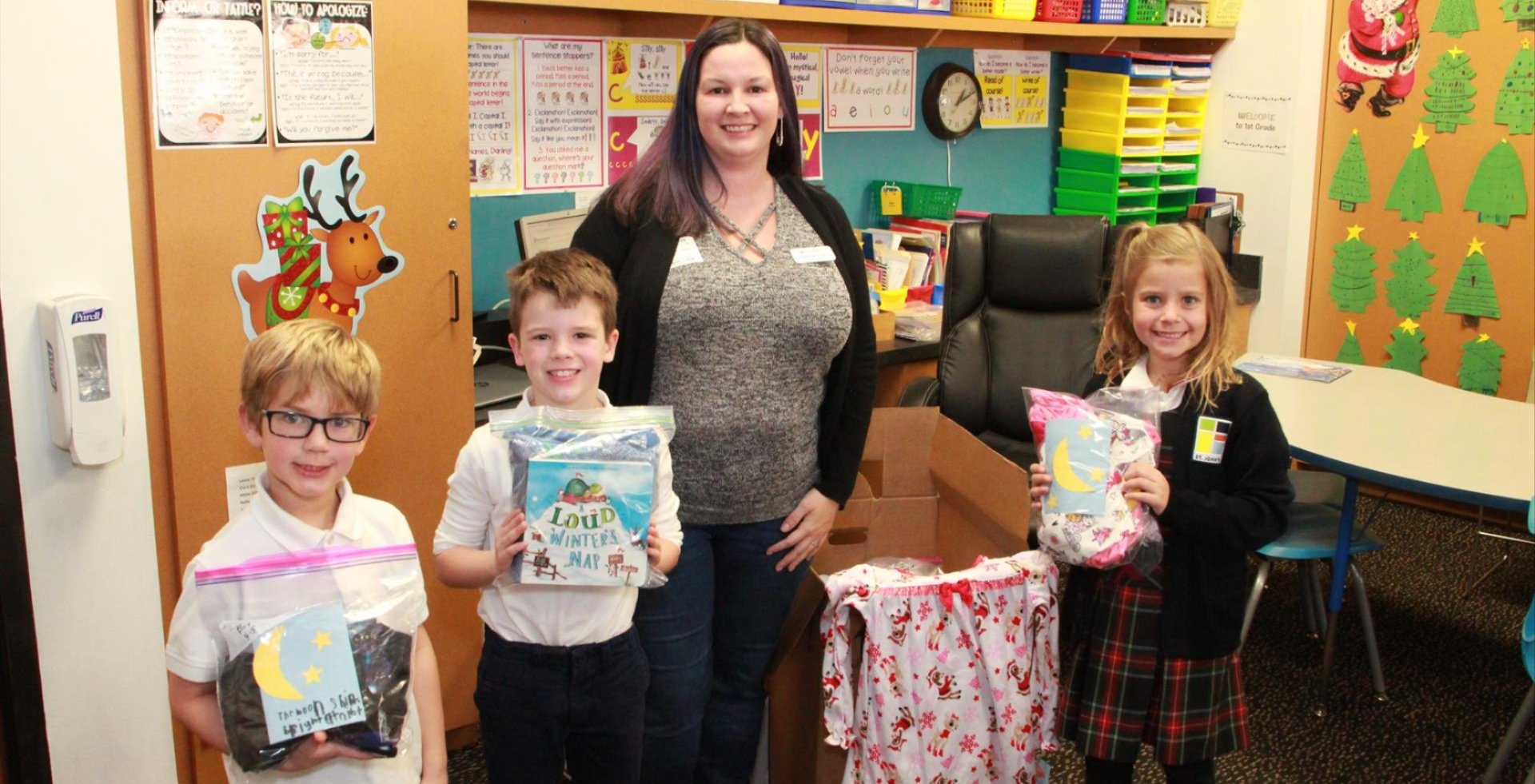 FIFTH GRADE MI ESCUELITA
The fifth grade visited Mi Escuelita last week for their traditional Christmas party with the preschoolers. Together, they played math games, read books, and created Christmas ornaments. Students also donated new and gently used picture books for the preschoolers. 
EIGHTH GRADE SERVICE PROJECT
Eighth grade students traveled to Jubilee Park and Community Center last Wednesday to serve the youngest and oldest members of the community. Ten students helped with the monthly senior citizen bingo games and served lunch afterward. These students had the opportunity to practice their Spanish skills as they read the bingo letters and numbers in both English and Spanish. Other groups spent the morning working with infants and toddlers. They helped with holiday decorations and led the young children in their daily school activities. This was our first year to serve at Jubilee as our December community project and we look forward to further developing the St. John's/Jubilee relationship.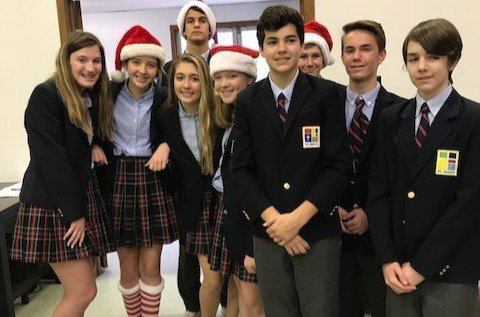 GERMAN TRIP TO KUBY'S
Once again and for the 31st time, Dr. Venable and her sixth, seventh, and eighth grade German students celebrated this Christmas season by going to Kuby's. Many German students consider this outing one of the highlights of their year. From the entire German department, best wishes for Christmas. Or, as they say in German (quite a mouthful!), "Frohe Weihnachten und einen guten Rutsch ins neue Jahr!"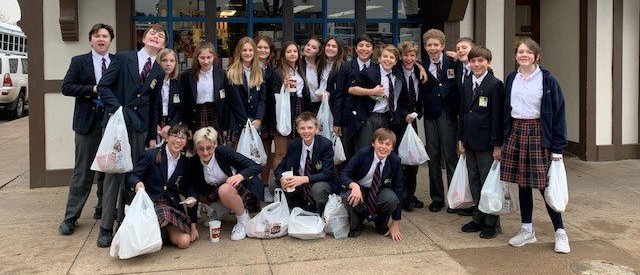 CRUSADER CLUB CARPOOL DUTY
Dads are invited to assist with morning carpool January 14-18, 7:15 - 8:00 a.m. This is a fun, quick way to support the school by helping the little ones out of the cars. Choose a shift.
CHAPLAIN'S CORNER
This week in Chapel is our celebration of Christmas! Lower School classes will be presenting their services of lessons and carols on Tuesday, December 18, and the Middle School will celebrate with a similar service, featuring student musicians and singers, on Thursday, December 20. Parents are encouraged to attend all our Christmas events and enjoy the results of our students' hard work. Congratulations are also due to our pre-k and kindergarten classes for their musical program last Friday.
It has been observed that in modern America we don't sing as much as we used to. In the car, perhaps, or in the shower we may sing along with the latest beats, and certainly singing is part of our various worship traditions. But there is something about this time of year that turns us all into singers: Jingle Bells and Rudolf the Red-Nosed Reindeer are particular favorites among the students and can be heard even in the hallways between classes. In the Christmas story from the Gospel of Luke, the angels sing about peace between God and humanity because of the child in the manger. Among all the ways we honor the birth of Christ at this time – hospitality, parties, ugly sweaters, decorations – perhaps the most appropriate is to raise our voices in song and imitate the angels.
May God bless your family this Christmas season, and may His blessings keep you as you travel, feast, serve others, and above all – as you sing.
St. John's Episcopal School is dedicated to a program of academic excellence designed to train
the mind, strengthen the character and enrich the spirit of each student in a Christian environment.
St. John's Episcopal School | 214-328-9131
stjohnsschool.org