WEEKLY NEWSLETTER                                                  DECEMBER 3, 2018
Middle School students honored with the Penguin Award during last week's chapel.
THIS WEEK'S NEWS AND EVENTS
ST. JOHN'S FUND PARTICIPATION
Thank you, parents, for helping us provide the best resources for your children's education. As you can see in the chart below, many of our classes are very close to achieving 100% participation in the St. John's Fund! Every class that achieves this goal will enjoy a free dress day to celebrate. Who will be first?
If you have not yet had an opportunity to give to our annual fundraising effort, we hope you will consider including St. John's in your year-end giving. Give or make your pledge now.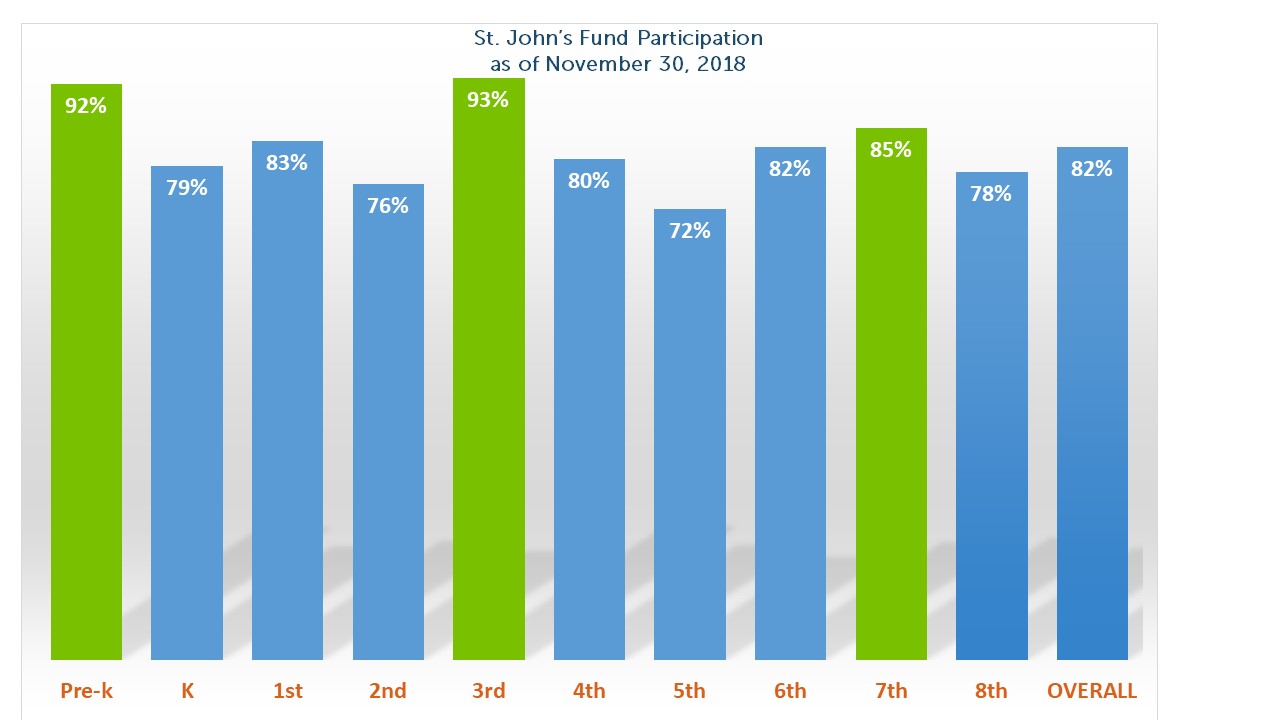 BOX TOPS COLLECTION
Our next Box Tops collection will take place on Wednesday, December 5. The class or advisory that collects the highest number of Box Tops will win a free dress day. Visit Box Tops for Education to become Box Top savvy and get tips on ways to boost your collections. Good Luck!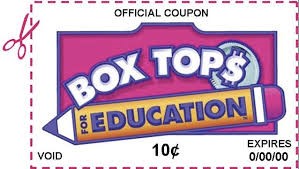 JOIN THE PA FOR MOVIE DAY! 
Come join your St. John's friends on Monday, January 21 at 11:30 a.m. (doors open at 11 a.m.) for a private St. John's screening of The Greatest Showman. The movie will be shown at the Lake Highlands Alamo Drafthouse and your $10 ticket price includes admission and popcorn. A full lunch and drink menu will be available in your seat! Tickets are $10 and will go on sale at 9:00 a.m. tomorrow, December 4 in the Spirit Shop!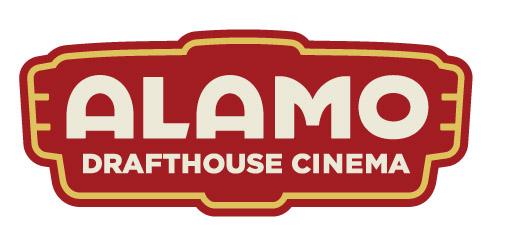 Special thanks to our hosts: The Dekkers Family ~ The Doran Family ~ The Donahue Family ~ The Fisher Family ~ The Gonzalez Family ~ The Gorbatenko Family ~ The Griffin Family ~ The Hardin Family ~ The Henry Family ~ The Schottmiller Family ~ The Schulz Family ~ The Skarbek Family
ALL SCHOOL OPEN HOUSE
St. John's will host an open house for pre-k through eighth grade Wednesday, December 5 from 9:30 to 11:00 a.m. This will be the last admission event of the year. Please invite your friends who are interested. See open house details and R.S.V.P.
MORE BLESSED & LESS STRESSED: BRAIN HEALTHY PARENTING
The Center for Brain Health at the University of Texas at Dallas will be providing tips and tools on how to manage stress and find a new perspective on parenting over the holiday season on Wednesday, December 5 from noon to 1:15 p.m. They will be hosting an engaging presentation with a heart-rate variability experience using the inner balance technology as well as an interactive demonstration of strategic attention at work. Get your tickets here.
FINANCIAL AID APPLICATIONS
The window for financial aid applications for the 2019-20 school year is coming to a close. The deadline to submit applications is Thursday, December 6. Financial aid grants will be included in the re-enrollment contract for the 2019-20 school year. View the Financial Assistance website to begin the application.
CRUSADER CLUB CARES DAY
All St. John's families are invited to join the Crusader Club Saturday, December 8, for the tenth annual Crusader Club Cares Day. This year, we are partnering with the SoupMobile, the Buckner Foundation, and Gateway of Grace. Volunteers will gather in the Lower School commons area by 9:00 a.m. for coffee, snacks and a prayer. Specific instructions for each project will be shared in advance with registered participants. Register now to participate.
WINTER FUN AT ST JOHN'S: BRING YOUR CHILDREN
Get ahead on your holiday shopping while your kids have fun with St. John's eighth graders. We'll have games, crafts, snacks and a movie! Saturday, December 8, 1:00 to 4:00 p.m. at St. John's Owen Gym. The cost is $25 for the first child (pre-k through fourth grade) and $10 each for additional children. Proceeds will go towards the Eighth Grade Gift of Gratitude. Parents and school staff will also be present. Secure your spot now!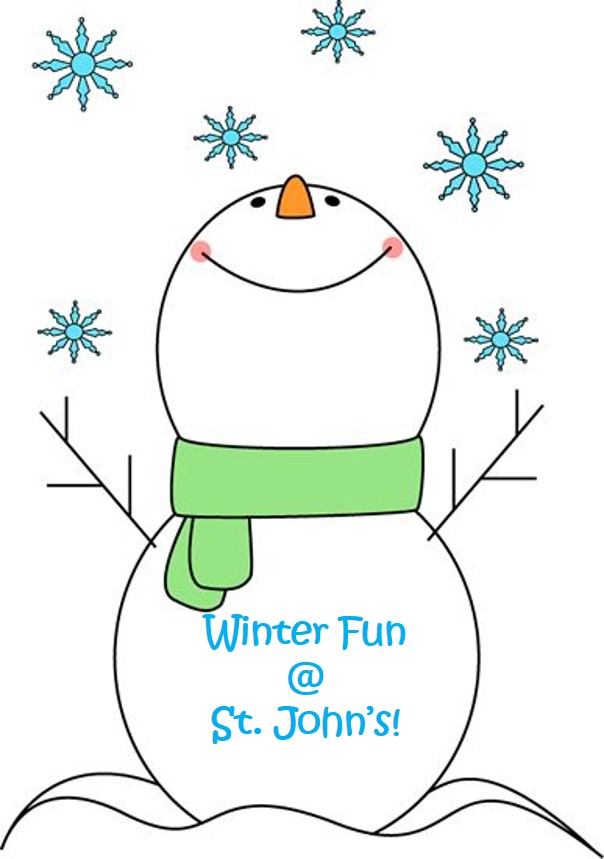 JUBILATE CHILDREN'S CHURCH CHOIR
You and your families are invited to join the St. John's Cantate Deo Adult Choir, Jubilate Children's Choir and instrumentalists on Sunday, December 9 at 5:00 p.m.as we recount Christ's nativity in scripture and in song. In addition to singing some of the great carols of Advent and Christmas, the choirs will sing music of Shaw, Phillips, Vivaldi, Haydn, Darke, and Stanford. All are welcome. The nursery is available for children 5 and under. A reception will follow.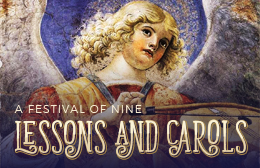 COACHING CLINIC TIME CHANGE
The Crusader Club basketball Coaching Clinic will be held on Sunday, December 9 from 2:00 to 3:30 p.m., instead of 3:00 to 5:00 p.m. This will allow all participants to make it home in time to watch the Cowboys game. This clinic will be open to anyone who coaches or assists with coaching any of St. John's extracurricular basketball teams. Coach John Walker will cover player management, beginner skills, and basketball mindset for coaches of younger athletes. For coaches of older athletes, we will work more on more advanced practice drills and designed plays. Get the details and register.
AFTER SCHOOL PROGRAM - SPRING CLASSES
Enrollment is open for all Spring ASP classes. Spring classes will begin the week of January 28 unless otherwise noted. For class descriptions, dates/times and instructor information, view the ASP page.  Please note that the Books Cooks class and both of the Drama classes are full. To enroll your child in the ASP and/or optional classes, print, complete and return the contract to school. Payments can be made by check (checks made payable to SJES) or through ParentsWeb. Contact ASP director Lani Jones with questions or to be placed on the waitlist.
DECEMBER BIRTHDAY BLESSINGS + LUNCH MENU
The birthday blessing schedule is posted on ParentsWeb (School / Resources). You will also find the monthly lunch menu in ParentsWeb (School / Resources), as well as under the Current Families page of the website. See the December menu.
TIP OF THE WEEK
Perhaps you have been wanting to set new limits around screen time with your children (or for your entire family). It is challenging to tolerate the discomfort of setting boundaries and saying no. It is important for parents to have a plan for effective communication, so that along with a "no," come discussions about why the "no," and collaborative plans for finding alternatives. Here are some tips to open a conversation around "no."
SPELLING BEE
Twenty-four fifth through eighth graders will participate in the Middle School Spelling Bee on Tuesday, December 11, at 8:05 a.m. in the Main Gym.
EAST DALLAS ARTS
East Dallas Arts will present its production of The 25th Annual Putnam County Spelling Bee at St. John's from Thursday, December 13, to Sunday, December 16. East Dallas Arts is a nonprofit organization with a mission to bring the community together by providing opportunities to develop an appreciation for the arts through performance, education and arts experiences. See showtimes and purchase tickets. This performance is PG-13, and may not be suitable for young audiences.
NEW STUDENT ADMISSION APPLICATIONS
The deadline for new student applications is Saturday, December 15. Please go online and complete the application so we can schedule your child's evaluation time. Supplemental paperwork (teacher evaluations, report cards and standardized test scores for middles school students) are due by January 15, 2019 for all grades.
PA FACULTY CHRISTMAS GIFT FUND
Considering a holiday gift for your child's teacher? In lieu of a personal gift, the Parents Association encourages you to contribute to the Faculty Christmas Gift Fund, which is now open. Donations are neither required nor expected, but always appreciated. The fund serves as an inclusive, easy way for parents to show their appreciation and for all teachers to feel parents' gratitude. Donations, which have no monetary limit, received by Friday, December 14, will be divided and hand-delivered to our faculty before Christmas. You may use the link above or drop a check off at the front desk. When you contribute to the fund, you will receive a printable certificate to include in a Holiday card to your teachers, letting them know about the donation.
PRE-K AND K CHRISTMAS PERFORMANCE
Pre-k and kindergarten students will join together to sing Christmas songs, with readings of the Christmas story taken from the Gospel of Matthew and the Gospel of Luke on Friday, December 14 from 2:00 to 2:30 p.m. If you have any questions, please contact Ms. Herod.
LOWER SCHOOL ADVENT CAROL SERVICES
On Tuesday, December 18, St. John's parents are invited to attend Lower School Advent Carol Services in the Chapel, for the following grades:
First and second grade at 8:15 a.m.
Third and fourth grade at 9:15 a.m.
CHRISTMAS HOLIDAY BREAK
The Christmas Holiday Break will begin Friday, December 21. Classes will resume 8:00 a.m. on Tuesday January 8. Please note that homework club and ASP will not be held on Thursday, December 20.
MIDDLE SCHOOL STUDENTS HONORED WITH PENGUIN AWARD
At St. John's, we guide students to discover a passion for learning and for life, teaching compassion, creativity, exploration and collaboration. We are dedicated to supporting the growth of our students throughout their time with us, which is often the result of trying something new, giving extraordinary effort, and acting with an attitude of discovery. 
To recognize these traits, we have adopted the Penguin Award, awarded to two students from each Middle School grade each trimester. The recipients have shown they are willing to plunge into a new project, topic, subject, assignment or area of study. Through their actions, they have been an inspiration to others, and they have demonstrated qualities we value in our graduates, such as tenacity, resiliency, optimism and genuine curiosity. We congratulate the following students, who were honored in chapel last week:
From left to right
Van Alex Ramey - eighth grade
Fia Collins - eighth grade
Elliot McEachern - seventh grade
Griffin Taber - seventh grade
Aidan Moran - sixth grade
Channing Croft - sixth grade
Calder Barfoot - fifth grade
Sydney Terrell - fifth grade
NATURAL POETS
Mr. Adler's class took advantage of the beautiful weather on Tuesday to explore the creek and the outdoor classroom for inspiration for their poetry.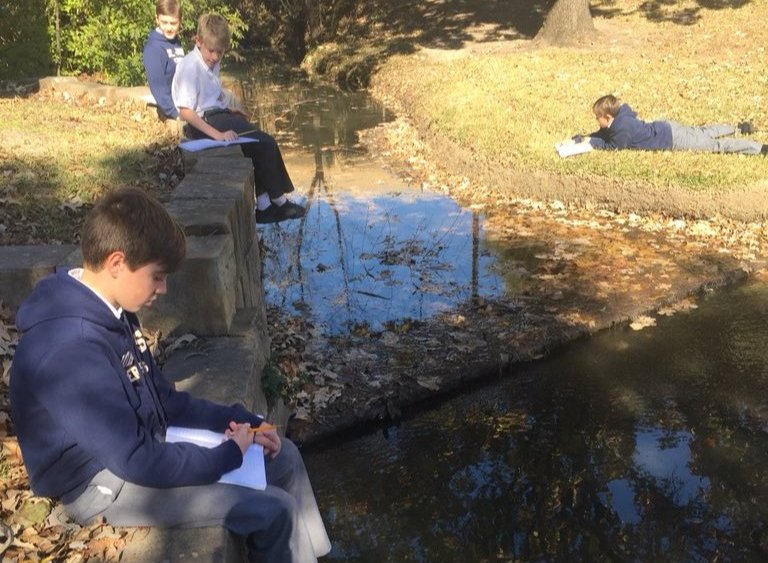 WE NEED YOUR EMPTY SHOEBOXES!
We are collecting empty shoeboxes in preparation for our Middle School Day of Service on December 20. Middle School students will support The Stewpot's Holiday Boxes program, which provides basic necessities wrapped in shoeboxes for the homeless. If you have empty shoeboxes lying around in your home, please send them to school by Wednesday, December 19. Beginning today, December 3, there are labeled shoebox collection areas throughout the school. Thank you!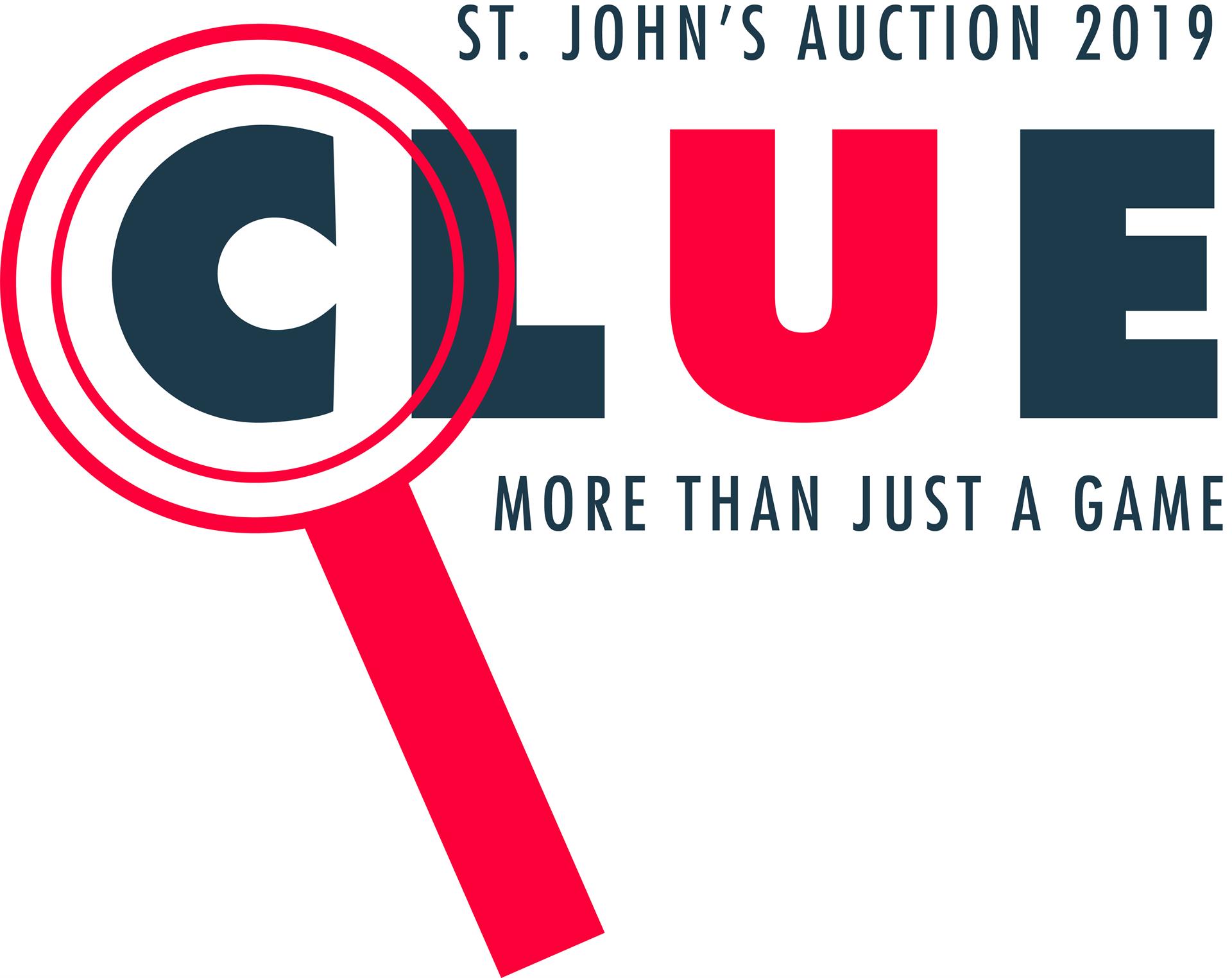 ST. JOHN'S AUCTION 2019
"Life is more fun if you play games." ~Roald Dahl
Did you receive your highly CONFIDENTIAL dossier last week? Sponsorship envelopes were delivered to backpacks on Tuesday for the Parent's Association's 2019 Auction, Clue: More than just a Game, held March 2 at The Hall on Dragon. Help us make Clue a huge success by considering an opportunity for your company or your family to support the event at one of the sponsorship levels - each level offering KILLER perks! Get in the game! This will be one night that you won't want to miss. Check out the website for up-to-date information and to purchase your tickets.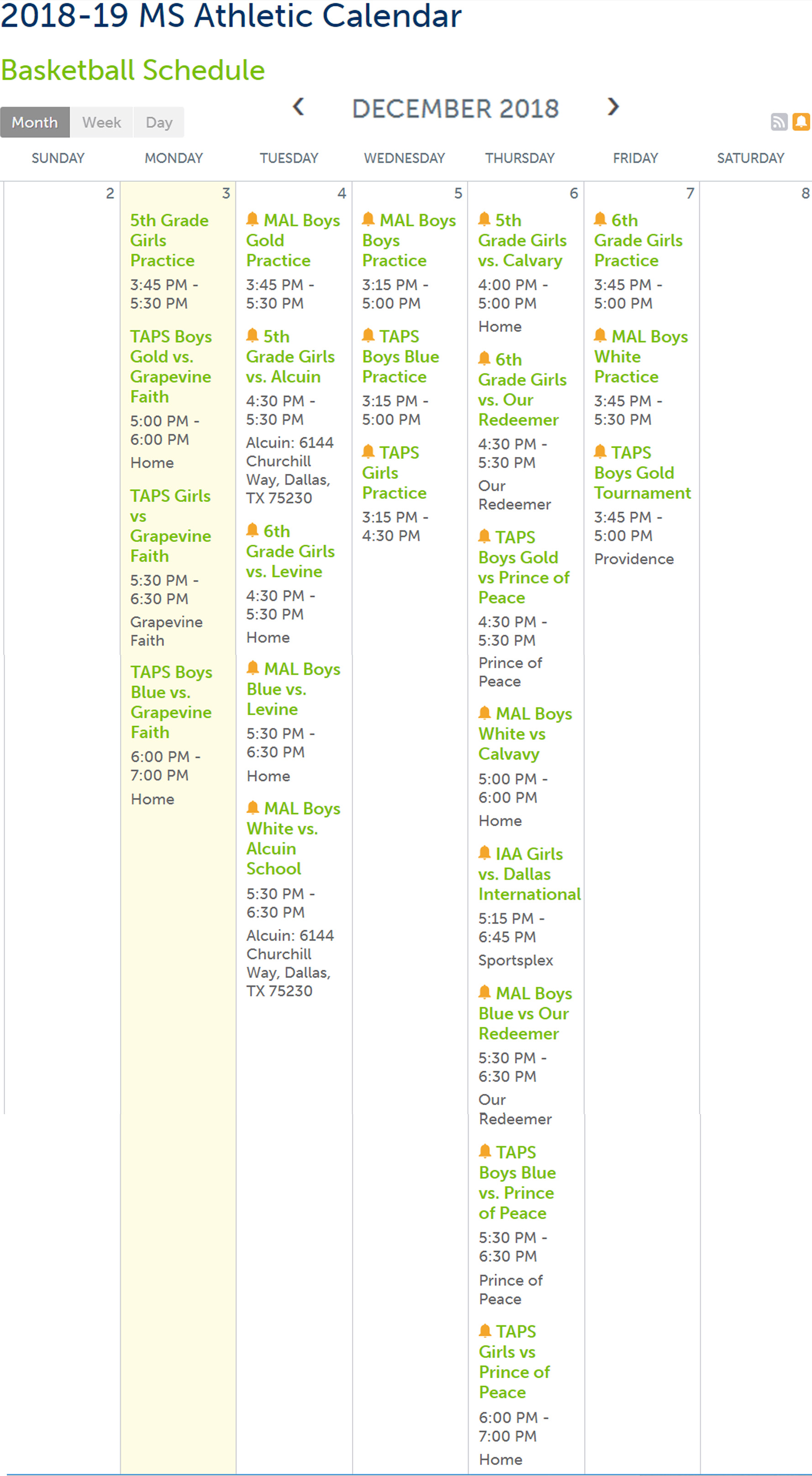 CHAPLAIN'S CORNER
When I visit my family for the holidays, I will almost inevitably drive by this sign. "Henryetta – home of world champion Cowboys Jim Shoulders and Troy Aikman." Aikman has lived in the Dallas metroplex for years now, of course: but the sign shows a lot of civic pride in his achievements. And well it should: a hometown can have a formative effect on a person's character. How we humans adapt to our environments, especially as young people, makes us who we will be for a lifetime.
It is in this spirit that we introduce a new Hymn of the Month in chapel this week: organist Benjamin Kolodziej will teach us about the famous Christmas hymn, "O Little Town of Bethlehem." The story of this well-beloved text includes an Episcopal celebrity of our own, a famous church, and the hand of God working through the stress and strain of the holidays. But at its heart, the hymn calls us to remember the little hometown that imparted something of its character to God's own Son.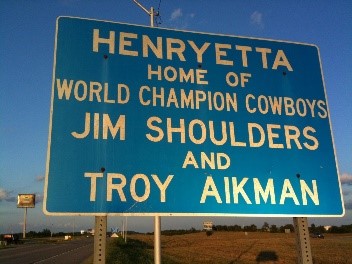 In Early Childhood chapel this week we will be rehearsing for our Christmas chapel and hearing two final, well-known stories of Daniel (we may even see a Lion in the church…). Then we will transition to the stories of Christmas as we prepare for the holiday.
St. John's Episcopal School is dedicated to a program of academic excellence designed to train
the mind, strengthen the character and enrich the spirit of each student in a Christian environment.
St. John's Episcopal School | 214-328-9131
stjohnsschool.org