WEEKLY NEWSLETTER                                                  NOVEMBER 5, 2018

The eighth grade musical, directed by Mr. Parr and Mrs. Haynes, sold-out all four shows.
THIS WEEK'S NEWS AND EVENTS
PICTURE RETAKE DAY
Student photo retakes will take place tomorrow, November 6 from 8:00 to 9:00 a.m. If your child was absent on picture day and you haven't purchased a package, visit MyLifetouch.com and use St. John's code, TX038013Q0. If you would like to request a retake, email Lynn Granello to add your child to the retake list. (Please note: you must return the first set of pictures/proof in order to get retakes.) All students retaking photos must be in full dress including a sweater or blazer.
HEAD OF SCHOOL FINALIST VISIT
Ms. Meshea Matthews is visiting St. John's Monday and Tuesday. Meshea will meet with the community for the Q&A tomorrow, November 6 from 8:15 - 9:15 a.m. in Clements Hall.
FINANCIAL AID APPLICATIONS
Financial aid applications for the 2019-20 school year will become available online beginning tomorrow, November 6 through Thursday, December 6. Financial aid grants will be included in the re-enrollment contract for the 2018-19 school year. View the Financial Assistance website to begin the application. 
PA MEETING W/GUEST SPEAKER TOMORROW
Everyone is invited to the next PA meeting tomorrow, November 6, at noon in Parish Hall. Voting for the PA nominations committee will take place, so please don't miss this important date! A light lunch will be provided. Immediately following the PA business portion of the meeting we will be joined by Elizabeth Didlake, our guest speaker on navigating tough conversations.
Speaker Topic
understanding that conflict is a natural and manageable part of life
coaching children and adolescents through conflict 
discerning between when to let go, when to coach and when to intervene in conflict situations
BOX TOPS COLLECTION
Our next Box Tops collection will take place tomorrow, November 6. The class or advisory that collects the highest number of Box Tops will win a free dress day. Visit Box Tops for Education to become Box Top savvy and get tips on ways to boost your collections. Good Luck!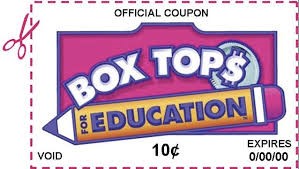 ST. JOHN'S NIGHT AT RAISING CANE'S TOMORROW
Join one of our Community Partners, Raising Cane's, in raising money for St. John's students. Plan to get dinner at Raising Cane's newest Gaston and Garland location tomorrow, November 6. Dine in, pick up or drive-thru between 4:00 and 8:00 p.m., and 15% of sales will be donated to the school (Please mention St. John's when you place your order.)
Volunteers are needed to greet customers and remind them to mention St. John's when they order. Choose a shift and bring the kids!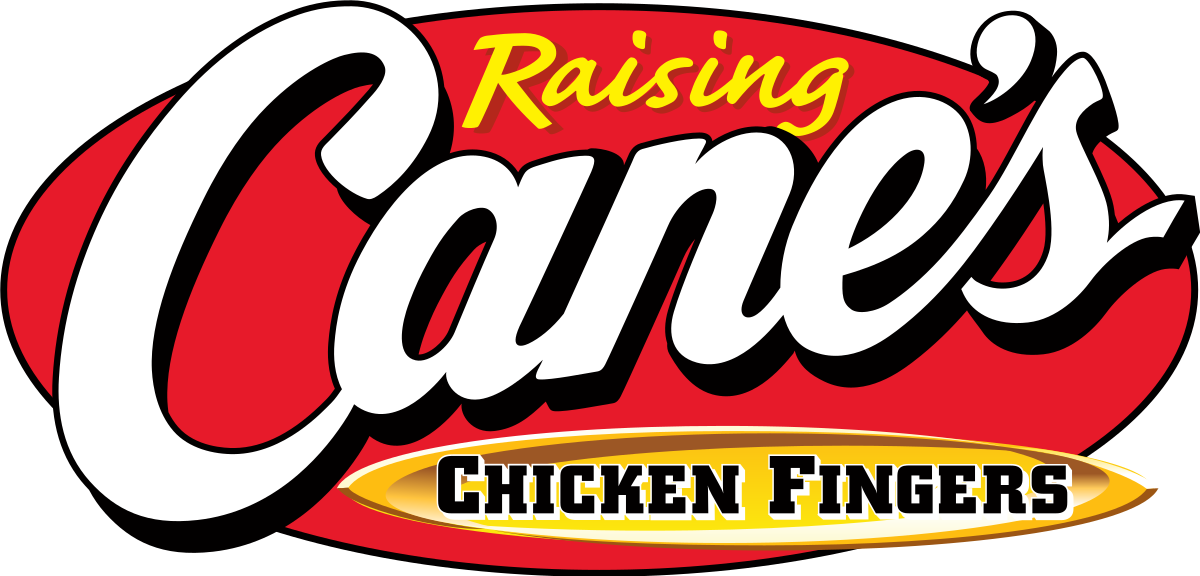 THEOLOGY ON TAP
Father Houk will host a discussion for St. John's dads tomorrow, November 6 in the Parish Hall at 7:00 p.m. Beer will be served.
LOWER SCHOOL ADMISSION COFFEE
St. John's is excited to host another open house. This event will be focused on Lower School families Wednesday, November 7, from 9:30 to 11:00 a.m. Please invite your friends who are evaluating lower school options for their child next fall. See open house details and R.S.V.P.
FOURTH GRADE CANCER FUNDRAISER
On Thursday, November 8, fourth-graders Julia Jane Peale, Bennett Campbell, and Annika Schmitz will begin their collection to donate to the families and victims of cancer and to research for finding cures. A free dress day on Thursday, November 15 will be granted to all students who donate five dollars to the cause by Wednesday, November 14. Student Council will match the dollar amount raised by the students. Money will be collected at lunch for Middle School. Homeroom teachers will collect for Lower School.
SPCA PET FOOD DRIVE
Student Council has kicked off a drive to collect pet food to donate to the SPCA. Cans and bags of food can be left just inside the doors at Lower School and Middle School carpools. StuCo will collect pet food through Friday, November 9.
ZEBRA PHEST
The 12th Annual North Texas Zebra PHest will be on Saturday, November 10. Join us in support of alumna Emma Gray-Gonfalone by participating in this event, which includes a 5K race, 1-mile walk, a free 100-yard dash for kids, face painting, raffle, silent auction, vendor booths, music, pitching booth, photo booth and a picnic. You can even be a virtual runner in support of Emma! Zebra PHest supports the Pulmonary Hypertension ("PH") Association. PH is high blood pressure in the lungs, a serious, debilitating and progressive condition. Learn more about the event.
PRELIMINARY 2019-20 CALENDAR
View the preliminary calendar for the 2018-19 school year. The preliminary calendar includes major holidays and the beginning and end of the school year.
NOVEMBER BIRTHDAY BLESSINGS + LUNCH MENU
The birthday blessing schedule is posted on ParentsWeb (School / Resources). You will also find the monthly lunch menu in ParentsWeb (School / Resources), as well as under the Current Families page of the website. See the November menu.
TIP OF THE WEEK
How do we talk to our children, tweens, and teens about difficult news? This tip of the week, from the producers of Screenagers, provides guidelines from the American Psychological Association as well as questions that you can use when talking about such events.
NEWS FROM THE CLINIC
We will be performing state-mandated spinal screenings for girls in fifth and seventh grades and boys in eighth grade during P.E. classes tomorrow, November 6 and Thursday, November 15th (08- PE 1, 05-PE 1, and 05-PE 3). The purpose of the spinal screening is to detect the signs of abnormal curves of the spine at their earliest stages so that the need for treatment can be determined.
Scoliosis, a common spinal abnormality found in adolescents, is a sideways twisting of the spine. It is usually detected in children between the ages of 10 and 14. Students will also be checked for kyphosis, an exaggerated rounding of the upper back that is often confused with poor posture. Many cases of spinal curvature are mild and require only ongoing observation by a doctor. Some can worsen as the child grows and may require bracing or surgery. Early treatment can prevent the development of a severe deformity, which can affect a child's appearance and health.
Nurses will look at your child's back while he/she stands and then while bending forward. Boys and girls will be seen separately and privately. It will be necessary for students to remove their shirts for the screening, so please be sure girls wear a sports bra to PE.
Parents will be notified of screening results only if a referral for physician follow-up is necessary. Please contact Amy Johns if you have questions.
ANGST MOVIE SCREENING AND HOW TO TALK TO YOUR KIDS ABOUT MENTAL HEALTH
St. John's Episcopal School and Church will collaborate on Tuesday, November 13 at 6:30 p.m. in Clements Hall by holding a film screening and presentation on mental health. The event will begin with a screening of Angst, an hour-long film featuring candid interviews with kids and young adults who suffer, or have suffered, from anxiety and what they've learned about it. The film includes discussions with mental health experts about the causes of anxiety and its sociological effects, as well as help, resources and tools. After the screening, Mark Luff, LPC, will hold a discussion on how to talk to your kids about anxiety and depression Please R.S.V.P. to reserve your spot.
GRANDPARENTS AND SPECIAL FRIENDS DAY
We look forward to seeing our students' grandparents and friends on the morning of Friday, November 16. Invitations were mailed to them three weeks ago. If they didn't receive their invitation, please contact Andrea Tierney to confirm the address and we will ensure that they receive an invitation. Parents - if you would like to assist with Grandparents Day, please help us welcome our guests. View the sign-up to choose a shift. Please note: Grandparents Day concludes at 10:30 a.m. for Lower School and 11:00 a.m. for Middle School. Students not leaving with their grandparents must be picked up by 11:30 a.m. There will be no after-school program or homework club. 
MILLS UNIFORM SALE
Mills Uniform is holding a sale until Saturday, November 17 for all in-store and online orders. See here for details.
ELEVATE
St. John's Episcopal Church's Saturday evening service is now called ELEVATE. With preaching by Fr. Houk and music led by David Porcheddu, every Saturday at 5:30 p.m. we combine a contemplative worship setting with contemporary music, where the ancient words of liturgy and scripture speak to modern lives. Your family is invited.

BOOK FAIR BIRTHDAY CAKE
Students who had a Birthday Book purchased in his/her honor during Book Fair will be served Birthday Book cake on Friday, November 9. Ms. Powers will be contacting teachers with student names and times they'll visit the library for cake.
SIXTH GRADE FLAG FOOTBALL CHAMPIONS
On Tuesday, The St. John's sixth grade flag football team defeated Alcuin 26-19 to win the championship. This victory capped off an undefeated season for the Crusaders, who had their championship dreams put on hold after a loss in the semi-finals last year.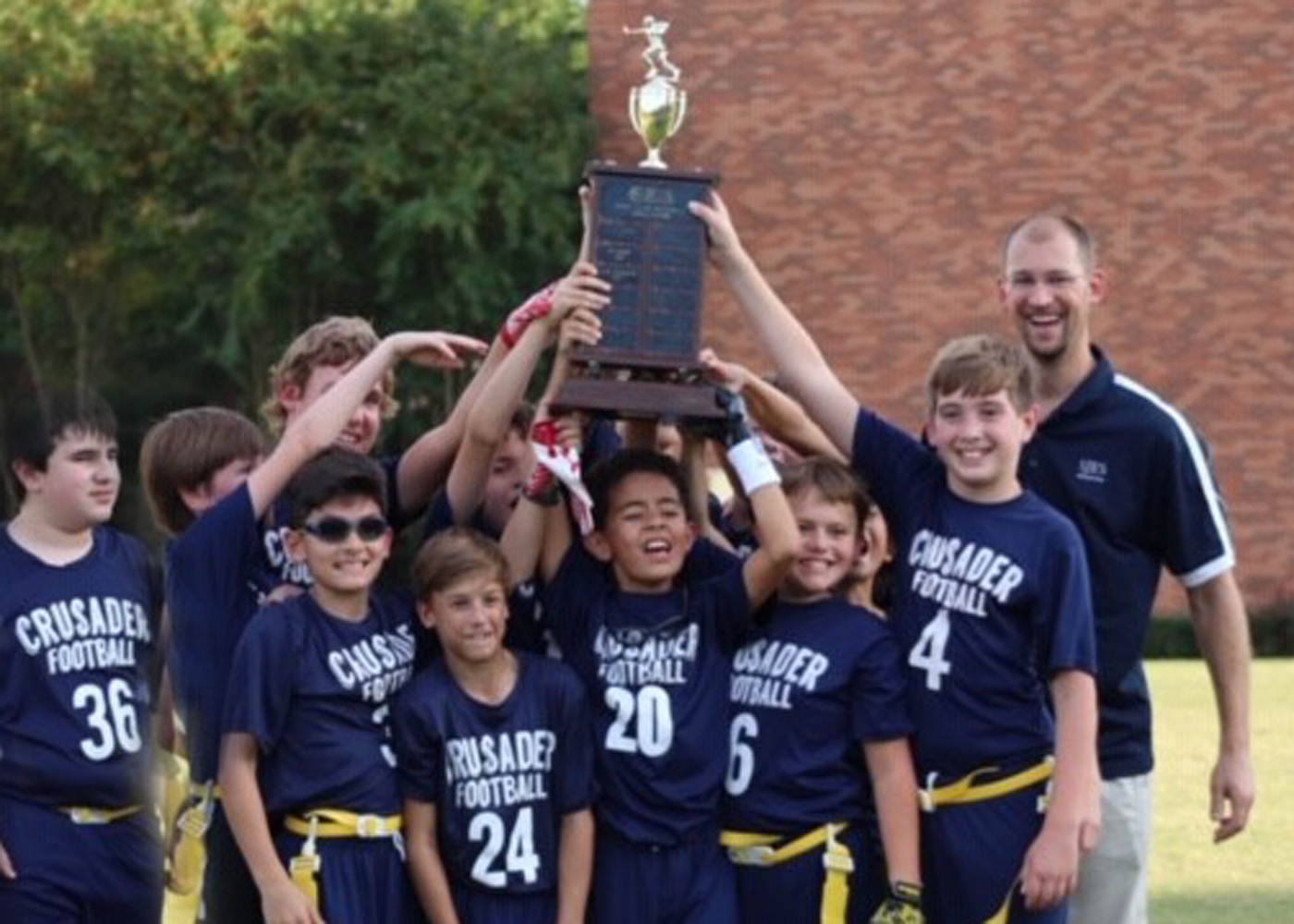 ADDAMS FAMILY
Students, parents and families at four sold-out shows were treated to the eighth grade performance of The Addams Family over the weekend. The brilliant cast of 32 students portrayed the most famous creepy, kooky family as they came to terms with their changing family situation. See the program with the list of cast members. Thanks to the direction of Tom Parr, music direction of Jean Haynes, set design of Donna Knox and costume design of S.K. Hatcher the quirky musical comedy was a huge success! Many thanks to the parents and volunteers who brought snacks, decorated the lobby, helped build, helped paint, coordinated, supported and attended!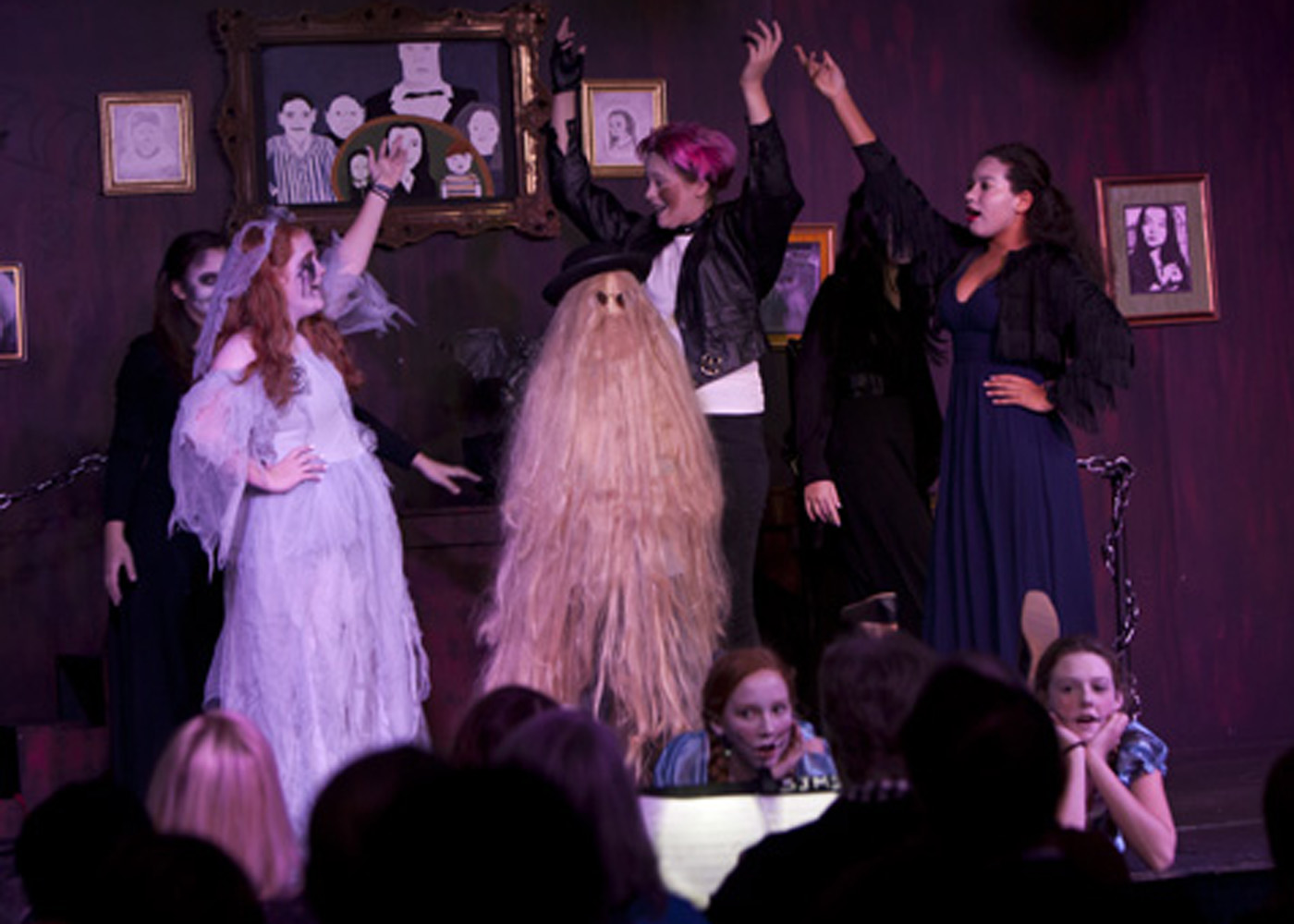 HALLOWEEN PHOTOS
Go to St. John's Facebook page to see the pictures from last week's school Halloween festivities. Follow and like us on Facebook!
RED HOT PEPPERS
Students Wishing to Join: We will host tryouts for the Red Hot Peppers on Wednesday, November 7, 4:30 - 5:00 p.m. in Owen Gym. Our Peppers will continue to be led by coaches Katie Specht and Morgan Martinez. To qualify for Red Hot Peppers, a student must be in first grade or older and be able to jump 10 "basic bounces" in a row without missing. (A basic bounce is a two-foot jump of the rope with no extra bounces in between.)
Returning Jumpers: First practice will be Wednesday, November 14.
Please Note: Jumpers will need to bring his or her sneakers and jump rope each time. Ropes may be purchased at practice for $5. Practices will be in the Owen Gym Wednesdays from 4:30 - 5:30 p.m. Aftercare is available at a special rate of $10 for Peppers who attend Wednesday practices.
CRUSADER CLUB CARPOOL DUTY + COAT DRIVE
Dads are invited to assist with morning carpool November 12-16, 7:15 - 8:00 a.m. This is a fun, quick way to support the school by helping the little ones out of the cars. Choose a shift. In conjunction with this, the Crusader Club is once again hosting a coat drive. Please drop off new or gently used coats (infant through adult sizes) with one of the dads November 12-16. A collection box will also be placed in the front reception area.
LIGHTS OF LAKEWOOD SOCIAL
Join the PA at this very popular family social Friday, December 7, 6:00 - 9:00 p.m. Enjoy the holiday lights while progressing to several houses on Avalon Avenue with surprises at each stop, including festive snacks and drinks, an outdoor movie, petting zoo (new this year!), a carriage ride and pictures with Santa. Generously hosted by the Bare, Berg, Burnett, Campbell, Carter, DeGroote, Hardin, Kipness, Lamont, Methvin, Parkey, Stevens, Stuart and Wylie families. Purchase your tickets starting at 9 a.m. on Thursday, November 8.
CHAPLAIN'S CORNER
What's your favorite Disney princess movie? (Mine is "Beauty and the Beast.") Many little girls dream of being a princess, and this is normal and healthy. Often those day-dreams give us a chance to work out who we would be in a similar situation; they help us create our conception of ourselves. Our saint of the month this week in chapel didn't have to dream about becoming a princess; she was born as a princess, complete with a story-book castle and a prince to marry! But Elizabeth of Hungary, as privileged as she was, found her conception of herself in her prayers and her service to others. From a very young age, she would spend extra time in prayer and in selfless acts to help the poor. As queen, her wisdom and competence as a ruler earned the respect of her peers. When the king was called away, Elizabeth was left in charge of the kingdom – and at that time there was a devastating plague. Always a woman of action, Elizabeth went to the homes of the poor and the sick and nursed them back to health. She spun thread and made clothes for them, and she used a large portion of the royal treasury to feed those who were hungry. St. Elizabeth embodies the values we teach at St. John's. Her commitment to self-sacrificial service came from her love of Jesus Christ. In an age of male dominance, she ruled both competently and differently, and her compassion re-focused the world's attention on the problems of poverty. Elizabeth of Hungary is our saint of the month.
In Early Childhood chapel this week, we see God helping people from all walks of life: a general from a far country, a widow from among God's people, a boy who must overthrow a tyrant, and a girl whose courage will save her people. Parents, with the Thanksgiving holiday fast approaching, this is a great time to tie service to gratitude: we help others because of all the ways that God has blessed us.
St. John's Episcopal School is dedicated to a program of academic excellence designed to train
the mind, strengthen the character and enrich the spirit of each student in a Christian environment.
St. John's Episcopal School | 214-328-9131
stjohnsschool.org